Radi-CAL CP9449, CP9450 and CP9451
The range of four piston Radi-CAL calipers we use in our rear AP Racing by Essex Brake Kits all have the same basic pad shape, however, the pads come in different radial depths / heights (D42-D43 or D50) depending on the disc they're being run on. As such, please be sure to carefully select the pads with the correct radial depth for your specific brake kit! Some general guidelines are below, but it's always a good idea to run a year/make/model search at the top of this page and verify the exact kit you have on your car. When viewing that brake kit, if you click the 'spares and accessories' or the 'technical specifications' tab you'll be able to see the proper radial depth of the discs and pads in your brake kit. We have tried to make this as clear as possible in as many places as possible on our website, and Essex cannot be held responsible if you purchase the incorrect pads for your calipers.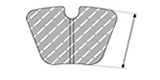 General Guidelines for Radial Depth:
More on Radial Depth

The radial depth of the pad friction material is the height of the friction puck from top to bottom. If you run a pad with too small of a radial depth on your discs, you will be leaving a small unswept 'ring' around the disc near the attachment points to the hat (the pad will not hang low enough in the caliper). Leaving a portion of the disc face unswept can create a temperature differential across the face of the disc, and doing so could lead to premature disc cracking. Conversely, if you run a pad with too large of a radial depth, it will hang down too far in the caliper and potentially make contact with the disc hat.
Which Ferodo Brake Pad Compound is Right for Me? (DS3.12 vs. DS1.11 vs. DS2500)