AP Racing Radi-CAL Brake Fluid




IMPORTANT SUPER 600 BRAKE FLUID INFORMATION: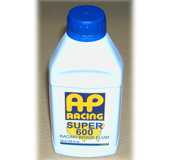 AP Racing has become aware of a potential labeling issue on Super 600 Brake Fluid for the US market, where it does not confirm to FMVSS No. 116 Brake Fluid labelling
There is no issue regarding the fluid this is only a product labeling notification. Any customers that have Super 600 fluid please contact AP Racing and we will arrange a re-labeling / exchange service.




Something for Every Enthusiast
AP Racing offers the perfect brake fluid for your car, regardless of whether you're chasing groceries or lap times.The AP formulations below have been refined over many years under the most arduous conditions encountered at the highest levels of motorsport.These fluids are some of the most popular used today in Formula 1, NASCAR Sprint Cup, WRC, ALMS, etc. All AP Racing Brake Fluids with the exception of R4 are compatible with all hydraulic brake systems designed to conform to S.A.E. J1703 requirements, which means they're just at home on the road as they are on the track..
Following the successful launch of Radi-CAL™ R4 racing fluid in 2014, AP Racing chose to change the packaging and names of all of its fluid options to create uniformity across the line. NO alterations have been made to the actual fluids themselves, and the former product names are listed below.

Radi-CAL™ R4 (new in 2014)
R4 has been explicitly designed to perform better than any other product at the extremes of heavy duty braking performance, and is currently the fluid of choice at the elite level of motorsport. With the highest dry boiling point of any racing brake fluid currently available at 644°F, R4 stands alone.
Radi-CAL™ R3 (formerly branded PRF)
'Typical' New Dry Boiling Point: 320°C (608°F)
'Wet' E.R. (Equilibrium Reflux) Boiling Point: 199°C (399°F)
Prior to the development of R4, R3 was the fluid of choice in many professional racing series around the world.Conforms to and exceeds FMVSS 116 DOT 4 and SAE J1703 and J1704.
Radi-CAL™ R2 (formerly branded Super 600)
'Typical' New Dry Boiling Point in excess of: 312°C (594°F)
'Wet' E.R. (Equilibrium Reflux) Boiling Point: 204°C (399°F)
R2 Brake Fluid is intended for competition use. Color variations may occur in R2 brake fluid due to its manufacturing process.This has no effect on the quality and performance of this product.
Radi-CAL™ R1 (formerly branded AP551)
'Typical' New Dry Boiling Point: 269°C (516°F)
Minimum 'Wet' E.R. (Equilibrium Reflux) Boiling Point: 151°C (304°F)
R1 can be used for either competition or road use.
Factory R DOT 5.1 (formerly branded DOT 5.1)
'Typical' New Dry Boiling Point: 269°C (516°F)
'Wet' E.R. (Equilibrium Reflux) Boiling Point: 187°C (369°F)
Ideal for High Performance Road Applications.
Notes: All AP Racing Brake Fluids are Polyalkalene Glycol Ether based and are not a silicone based fluid. AP Racing does not sell and does not recommend mixing a silicone based brake fluid with any of their fluids.
AP Racing Brake Fluid Comparison

| | | | | | |
| --- | --- | --- | --- | --- | --- |
| | R4 | R3 | R2 | R1 | Factory R DOT 5.1 |
| Dry Boiling Point (°F) | 644 | 608 | 594 | 516 | 516 |
| Wet Boiling Point (°F) | 399 | 399 | 399 | 304 | 369 |
| Intended Application | Endurance Racing | Sprint Racing | Racing / Track Day | AutoX/Road | AutoX/Road |
| Retail Price per 500ml | $39.25 | $29.95 | $19.95 | $17.95 | $12.95 |