Brake Fluid
IMPORTANT SUPER 600 BRAKE FLUID INFORMATION: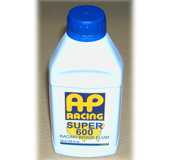 AP Racing has become aware of a potential labeling issue on Super 600 Brake Fluid for the US market, where it does not confirm to FMVSS No. 116 Brake Fluid labelling
There is no issue regarding the fluid this is only a product labeling notification. Any customers that have Super 600 fluid please contact AP Racing and we will arrange a re-labeling / exchange service.