AP Racing Big Brake Kits
For many enthusiasts, an OEM brake system just won't cut it. OEM brake systems are typically designed to be quiet, easily mass produced, and above all cheap. Unfortunately these design objectives aren't exactly in line with the goals of most enthusiasts, who crave the latest technology and highest performance. Regardless of what you're seeking in brakes, Essex has you covered.

Our partner in providing you with the ultimate brake system for your car needs no introduction. With countless wins in Formula 1, NASCAR Sprint Cup, ALMS, DTM, and WRC, AP Racing components are the choice of champions at all levels of motorsport, and the most desirable name in brakes.

Regardless of whether you lean further towards street or track performance, we have excellent options available in our three categories of big brake kits:

AP Racing Factory Big Brake Kits- If you mainly drive your car on the street, but would like something that can handle the occasional track day, this is likely the brake system you've been seeking. These systems are fully designed, manufactured, and assembled by AP Racing in England, and imported to the USA by Essex. Read more about Factory Big Brake Kits.

Essex Designed AP Racing Competition Brake Kits- If your primary goal is lowering lap times, our Competition Kits featuring components by AP Racing deserve a closer look. Light, stiff, and loaded with the latest technologies and materials, these kits have the singular mission of making you go faster. Drawing upon 30 years of experience in servicing the professional racing industry, Essex selects the appropriate AP Racing calipers and AP Racing discs, and mates them to brackets and disc hats of our own design and manufacture. Read more about Competition Kits.
Essex Designed AP Racing Radi-CAL Competition Brake Kits- While our standard Essex Designed AP Racing Competition Brake Kits remain an excellent choice for chasing lap times, our Radi-CAL Competition Brake Kits bring the bleeding edge of racing brake technology to the common enthusiast. These systems include all of the standard features of our Competition BBK's, but leverage AP Racing's Pro5000R Radi-CAL's to increase stiffness, lower mass, and optimize cooling and wheel fitment.
Which Type of Brake Kit is Right for me?

Please take a look at the chart below for some basic comparisons between our two big brake kit product lines. How serious you are about your time at the track will likely be a large determining factor in which product line is the best fit for you. Regardless of which avenue you pursue, you can be confident you'll be getting the highest quality, best performing system available today, with a pedigree second to none.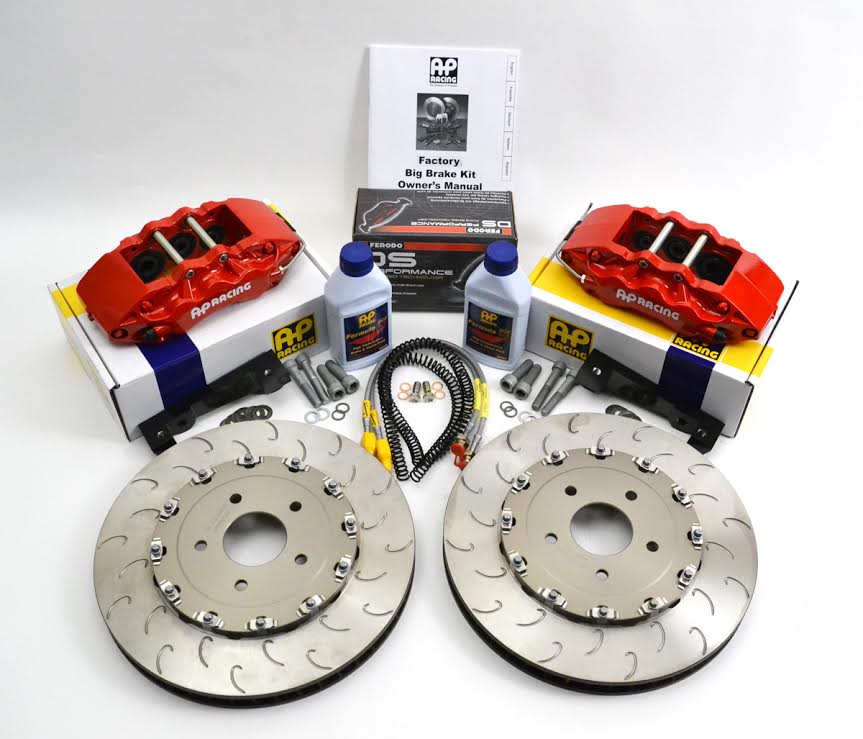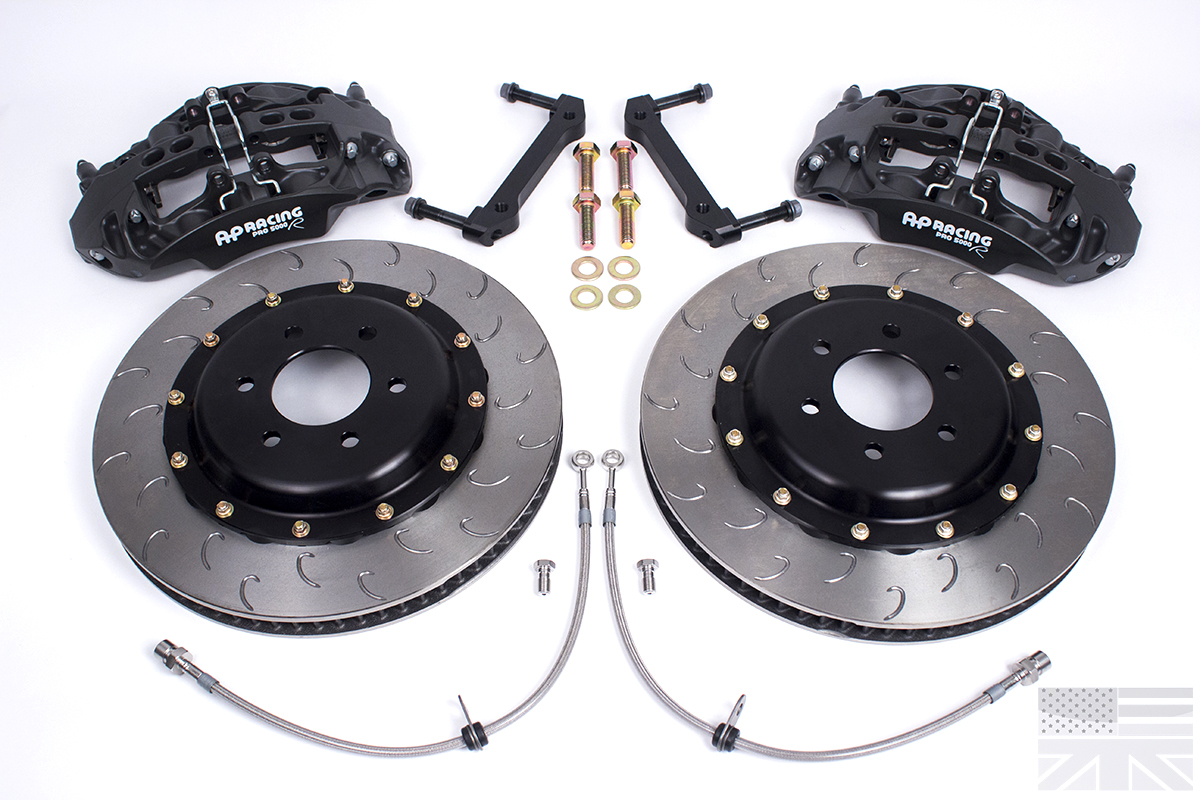 | | |
| --- | --- |
| | |
| Carefully chosen piston sizes for proper brake bias | Carefully chosen piston sizes for proper brake bias |
| Front-only systems mate perfectly with OEM rear | Front-only systems mate perfectly with OEM rear |
| Seamless integration with OEM ABS and master cylinder | Seamless integration with OEM ABS and master cylinder |
| Simple, bolt-on installation | Simple, bolt-on installation |
| Calipers | Calipers |
| Four or six piston painted calipers- Red, Black, Silver | Four or six piston anodized calipers |
| Differential bore aluminum pistons with dust boots | Differential bore stainless steel pistons with no dust boots |
| No anti-knockback piston springs | Anti-knockback piston springs |
| High temperature piston seals | High temperature piston seals |
| Discs | Discs |
| Directional AP Racing with varying vane count | Directional, high vane count, AP Racing Discs |
| Varying disc slot and drill patterns depending on application | Patented AP Racing J Hook disc slot pattern |
| Disc diameters tend to be larger and fill out wheels | Disc diameters optimized to maintain low weight |
| Disc width designed to fit OEM wheels when possible | Disc width chosen for heat capacity |
| One-piece or two piece discs | Two-piece |
| Anodized aluminum disc hats (on two-piece designs) | Anodized, low weight, high airflow aluminum disc hats |
| Fixed or floating disc hats | Fixed or floating disc hats |
| Other | Other |
| Anodized aluminum or steel caliper brackets | Anodized aluminum caliper brackets (some with brake ducts) |
| AP Racing street pads included | No pads included |
| AP Racing DOT5.1 road brake fluid included | No brake fluid included |
| Goodridge Stainless Steel Brake Lines included | Spiegler Stainless Steel Brake Lines included |
| All mounting hardware and install instructions included | All mounting hardware and install instructions included |