AP Racing J Hook Disc Replacement Ring (380x36mm)- Left Hand
Part #: 20.05.10013
Brand: AP Racing
14.96" x 1.417" (380mm x 36mm) 72 Vane, D70, J Hook Left Hand Iron Brake Disc
Replacement front disc ring for select AP Racing by Essex road systems
Huge increase in airflow, cooling capacity, and durability vs. OEM discs
Designed for: Road, club racing, time trial, autoX, HPDE
Weighs 23 lbs.
AP Racing P/N CP7177-449GA
Replacement hardware (not included with ring) - Road System Disc Hardware Kit
AP Racing J Hook discs are the epitome of endurance racing components. They will hold up extremely well to any abuse you plan to throw at them. These discs have been proven time and again in professional racing, winning many races and even championships (ALMS, Rolex, Grand Am, etc.)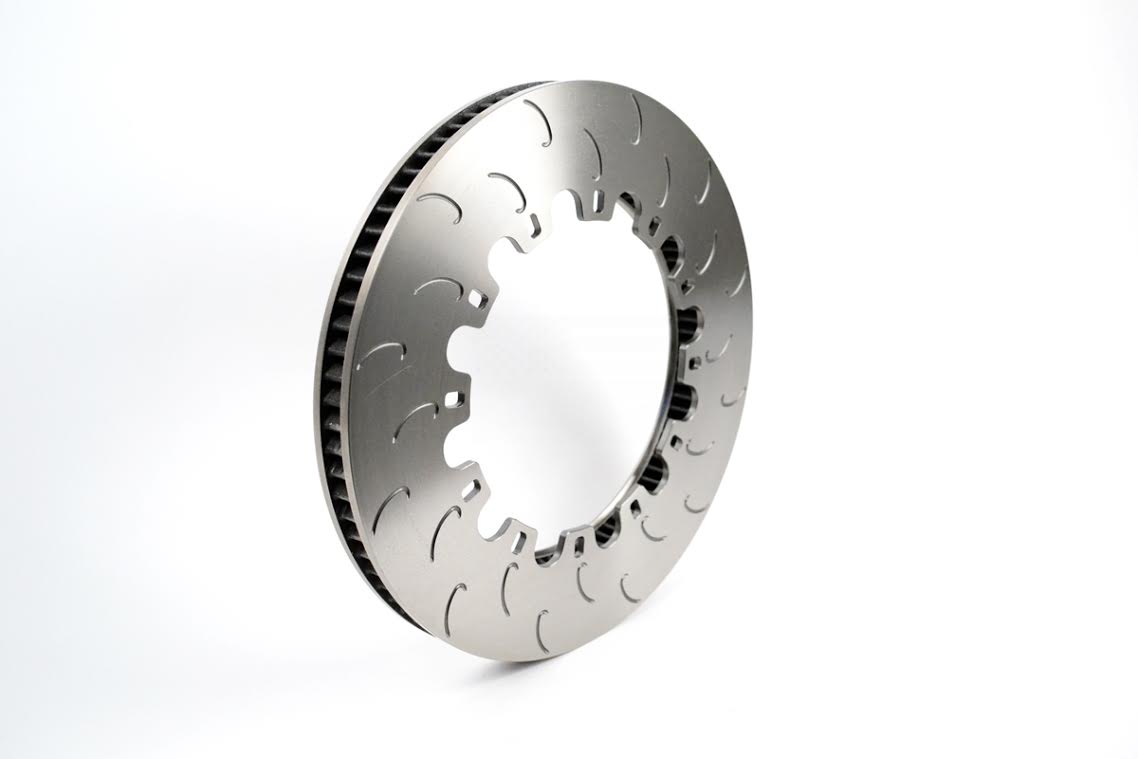 Internal Vane Quantity and Quality
The internal vane design on AP J Hook discs is quite a bit different vs. OEM-style discs and other brands of aftermarket discs. Many OEM discs feature a pillar vane design, which can be thought of as a group of posts or pillars connecting the two disc halves together (see pic below). The pillars are not organized linearly from the outside to the inside of the disc, and turbulence is created as air flows through and among them. Pillar vane discs are therefore not particularly well suited to heat evacuation. The goals of a pillar vane design are disc face stability for low NVH (Noise, Vibration, Harshness), and a low cost of production. Pillar vanes are non-directional, and the same part number is used on both sides of the car (again for cost reduction). Other OEM discs feature a straight, non-directional internal vane. While that type of vane flows more air than a pillar, it does not move nearly as much air as the directional vanes featured in AP Racing's discs. Having directional vanes means that AP Racing discs are handed. There is a unique left disc and a right disc in each pair, and they cannot be swapped from side-to-side on the car. The orientation of the vanes is optimized to spin in a certain direction, pumping the maximum amount of air possible through the disc. The shape of these internal vanes is also optimized to promote smooth airflow.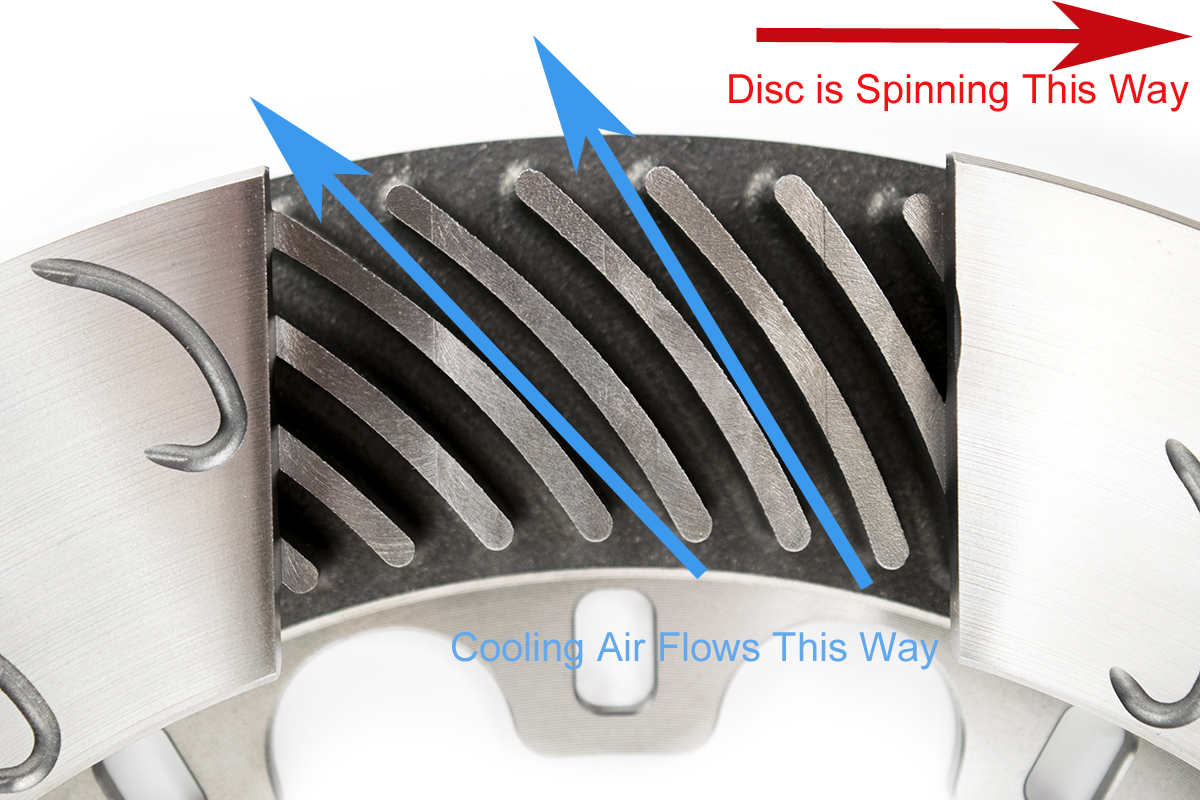 In addition to having a superior internal vane design, AP Racing discs have far more of them! Most aftermarket discs have 30 to 48 vanes. After extensive CFD and thermal stress analysis, AP designed the J Hook's with a high vane count (typically 60 to 84 depending on application). Having more vanes increases airspeed and heat transfer through the disc, reduces air recirculation between vanes, and reduces deflection at the disc face. Compared to an OEM-style disc or competitor's 48 vane discs, the 60+ vane discs are less prone to coning, distortion, and cracking, while providing less brake fade, reduced judder, more even pad contact, and a longer service life.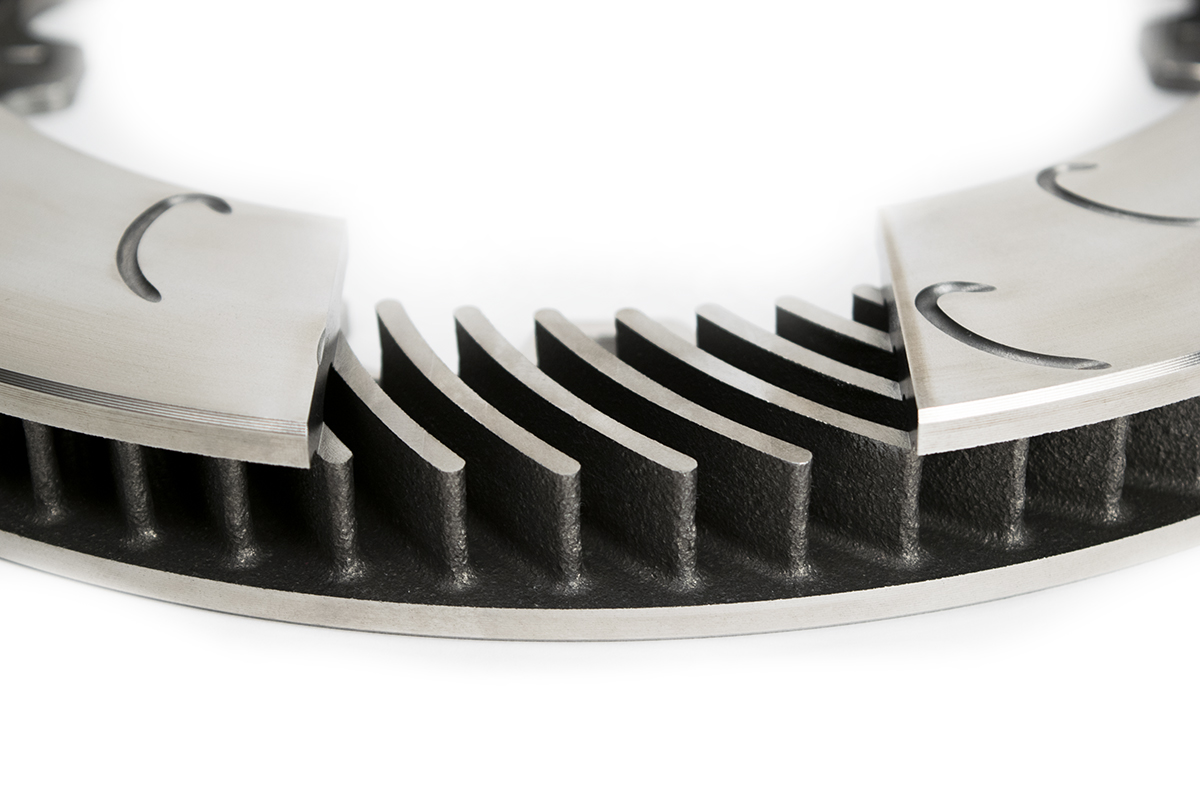 Exclusive AP Racing J Hook Slot Pattern
When you cut a slot or drill a hole in a disc you impact heat transfer. The area around the slot or hole acts as a cool spot when the disc heats up, which is not ideal. Ideally, heat is distributed uniformly around the disc so it can be hit with the cooling air that is pumping through the disc, radiate outwards away from the disc, etc. Cool spots create stress risers and increase the likelihood of the disc cracking. They also cause the face of the disc to distort unevenly, leading to uneven pad deposits, vibration, and judder.
The OEM discs avoid this problem by simply leaving the face blank. While the risk for NVH goes down, so does the pad bite and feel of the disc through the brake pedal. Competitive aftermarket offerings typically have straight slots, which tend to leave cool spots across the disc face between the slots.

During exhaustive R&D testing, AP's J Hook design was found to create a constant pathway of evenly distorted material on the face of the disc. The hooks are spaced out as evenly as possible both around the circumference of the disc, as well as from the inside edge (where the hat attaches) to outer edge, with a slight overlap to promote even heat distribution/distortion. In addition to reducing cracking, the even heating of the disc also helps provide an even transfer layer of pad material on the disc when you bed them in.

Additionally, the J Hook slot pattern produces a greater number of leading edges for the pads to bite into vs. a traditional curved slot pattern, and particularly a plain-faced disc. While this may lead to slightly more whirring or scraping noises from the discs when applying the brakes, the benefits of more even heat distribution, less propensity to crack, cleaner pad material transfer during bed-in, and more bite far outweigh the slight increase in NVH for the serious enthusiast.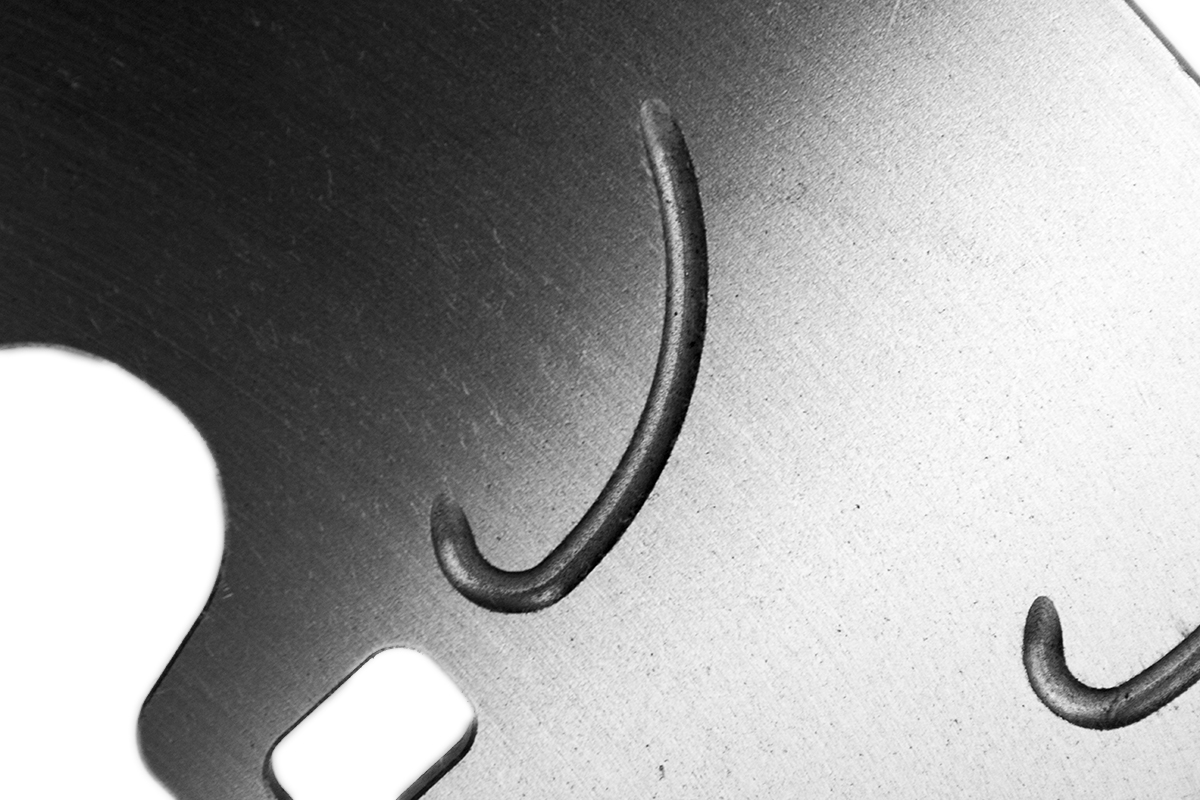 Complex Metallurgy Developed Through 50+ Years of Experience
AP Racing has been designing brake components for more than 50 years. They've had their components on cars that have won more than 750 Formula 1 races! On any given race weekend, AP J Hook discs can be found on 75% or more of the NASCAR Sprint Cup grid. AP has learned from these experiences, and have developed a proprietary iron alloy with extreme durability, designed specifically for what you intend to do with it (flog the hell out of it). The primary objectives with OEM discs are simple: they must be cheap and easy to produce. The design objectives for these two products are vastly different.