Killing your weak S197 Mustang Brakes at the Track?
08.17.2016
The S197 Mustang (model years 2005-2014) is one of the most frequently overlooked track car bargains of today. They're powerful, handle well, and prices have dropped to the point where they've become a viable reality for the typical enthusiast to own and operate. The GT trim level is going to be your best bang-for-the-buck as a track car, but it does have some deficiencies. Brakes are fairly high on that list, and the front brakes take the most abuse by a fair margin given the layout of the chassis. The OEM discs on all S197 GT's are one-piece, Plain-Jane designs, while the factory calipers are uninspiring 9 lb. bricks. Frankly, they're just not up to snuff if you plan to drive the car in anger on-track.
S197 GT's fall into two basic camps: 2004-2010 and 2011-2014. The earlier cars had a 4.6L V8 outputting 315 HP, with a curb weight of 3500-3600 lbs. The front discs were a smallish 315x30mm (20 lbs.), and asking them to handle a car of that mass and power is a tall order, particularly with sticky tires attached. Ford executed a raft of changes to the GT in 2011, adding a new 5.0L with 415 HP, while bumping the curb weight to a hefty 3500-3700 lbs. They did increase the diameter of the standard front brake disc slightly on the GT to 336mm x 30mm that weighed 21 lbs. However, those discs remained one-piece, low vane count, non-floating units, while the standard calipers were still heavy, mushy, two piston sliders. In summary, regardless of which model year you choose, the GT can quickly burn down the standard front brakes in just a few laps of the typical road course.
With the 2011 changes Ford also introduced an optional "Brembo Brake Package" for the GT. These brakes featured a four piston fixed caliper and a 355x32mm one-piece, non-floating disc. These cars were also outfitted with heavy 19x9" wheels. While these brakes are an improvement over the standard brake packages, they are still saddled with all of the features that plague most OEM brake systems designed for the street. The calipers are heavy (8.2 lbs.), have aluminum pistons, no anti-knockback springs, and dust boots that incinerate. The 355mm discs in the Brembo package weigh 26 lbs. each, have a low vane count, and aren't floating. They don't flow much air, which means scorching hot pads and brake fluid, potential brake fade, and poor wear rates. These kits are fairly inexpensive to purchase, but you'll be increasing unsprung weight while throwing consumables (pads and discs) at them constantly.

Now that S197 GT's are more cheap and cheerful, people are pumping these cars up with some serious mods, such as cramming a lot of horsepower under the hood with aftermarket forced induction kits. Massive cars with big power and wide tires are hell on brakes. To complement our previously released CP8350/325mm BBK, we have created two new Essex Designed AP Racing Competition Brake Kits to tame the S197 chassis. The first is our CP9660/372mm kit, and the second is our CP9668/372mm kit. The main difference between these two is pad thickness. The CP9660 takes an 18mm thick pad, while the CP9668 is a bit wider and takes a huge 25mm thick pad, and offers a quick release for speedy pad changes during an endurance race.
The calipers in both of our new systems are six piston AP Racing Radi-CAL units featuring ventilated stainless steel pistons, anti-knockback springs, extraordinary stiffness and cooling, and a pad shape offered by just about every race pad manufacturer on earth. Despite have two to four more pistons than the OEM calipers, our calipers weigh pounds less than all of them! The AP Racing Radi-CAL is a revolutionary caliper design that has dominated professional motorsports over the past 9 years since their introduction. You can read more about them in "The AP Racing Radi-CAL story".
Both of our new kits feature enormous 372x34mm disc, but still maintain 18" wheel fitments. Our discs are pulled directly from the top levels of motorsport, and are a two-piece fully floating design with 84 directional vanes. Despite their incredible heat capacity, at 22 lbs. they weigh roughly the same as the OEM 336x30mm one-piece standard discs!
You can see complete details of each kit on our product pages:
Below are a few before and after shots of a 2010 Mustang GT with standard brakes vs. our CP9660/372mm BBK. Our system takes the brake system from ordinary to extraordinary in a hurry.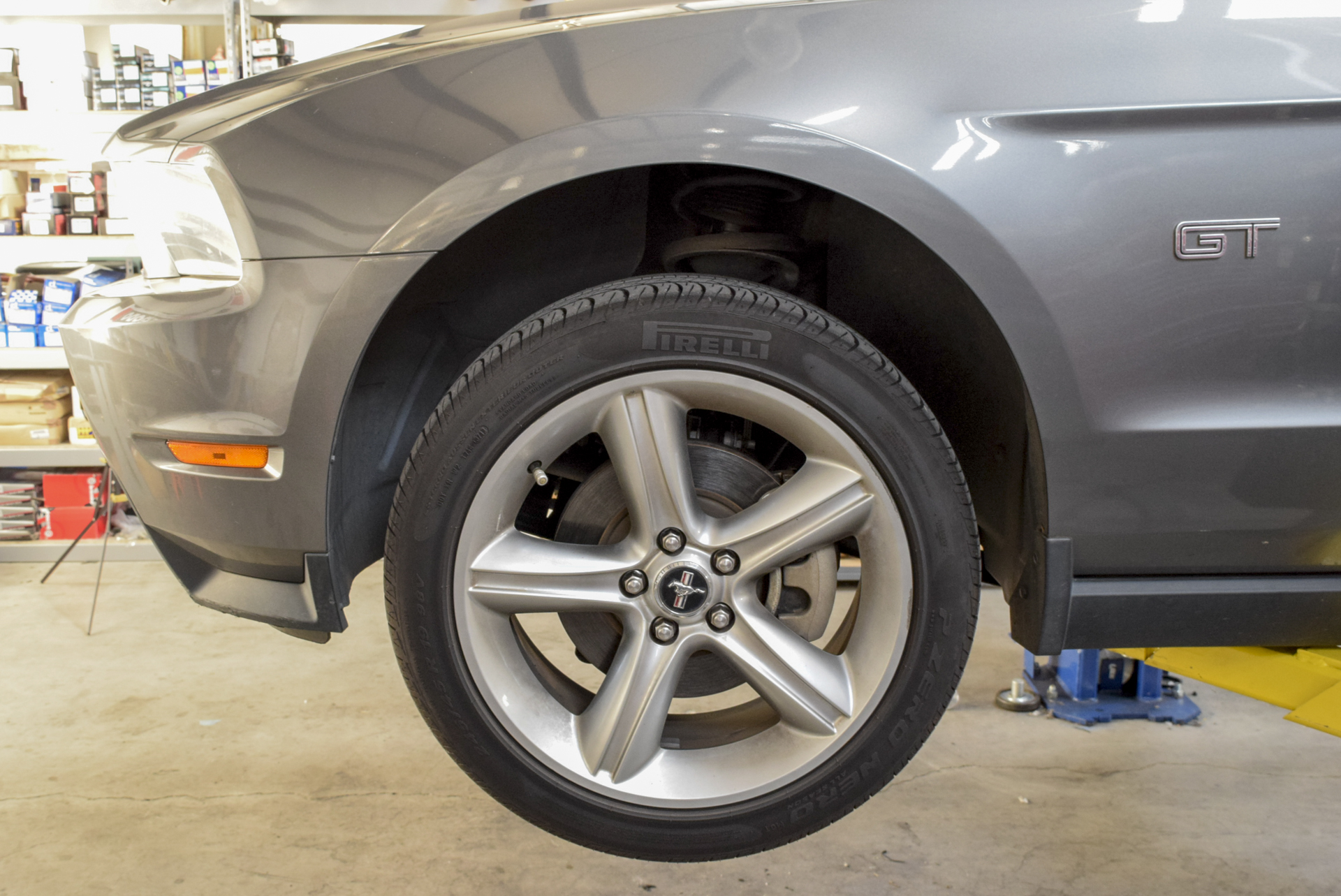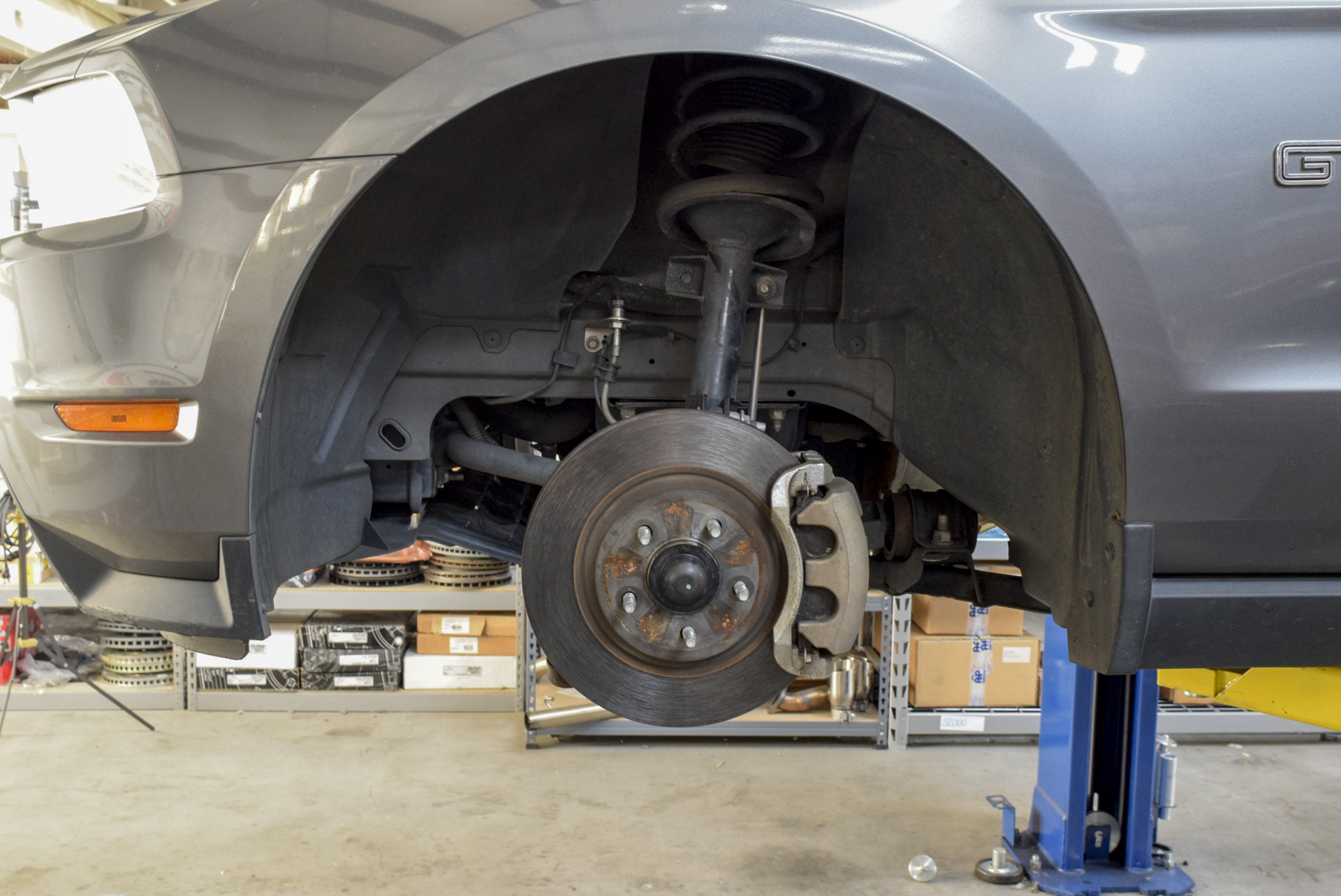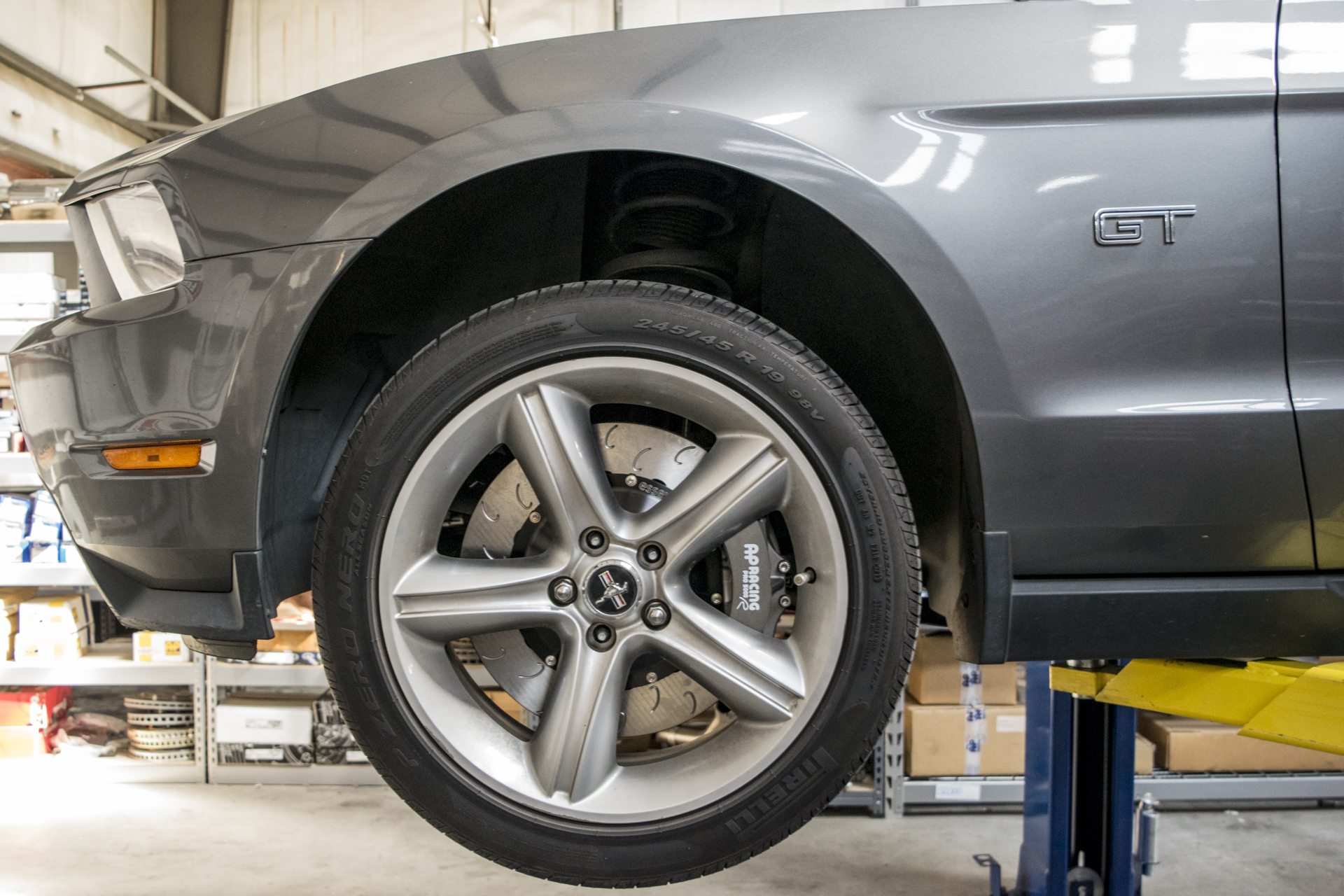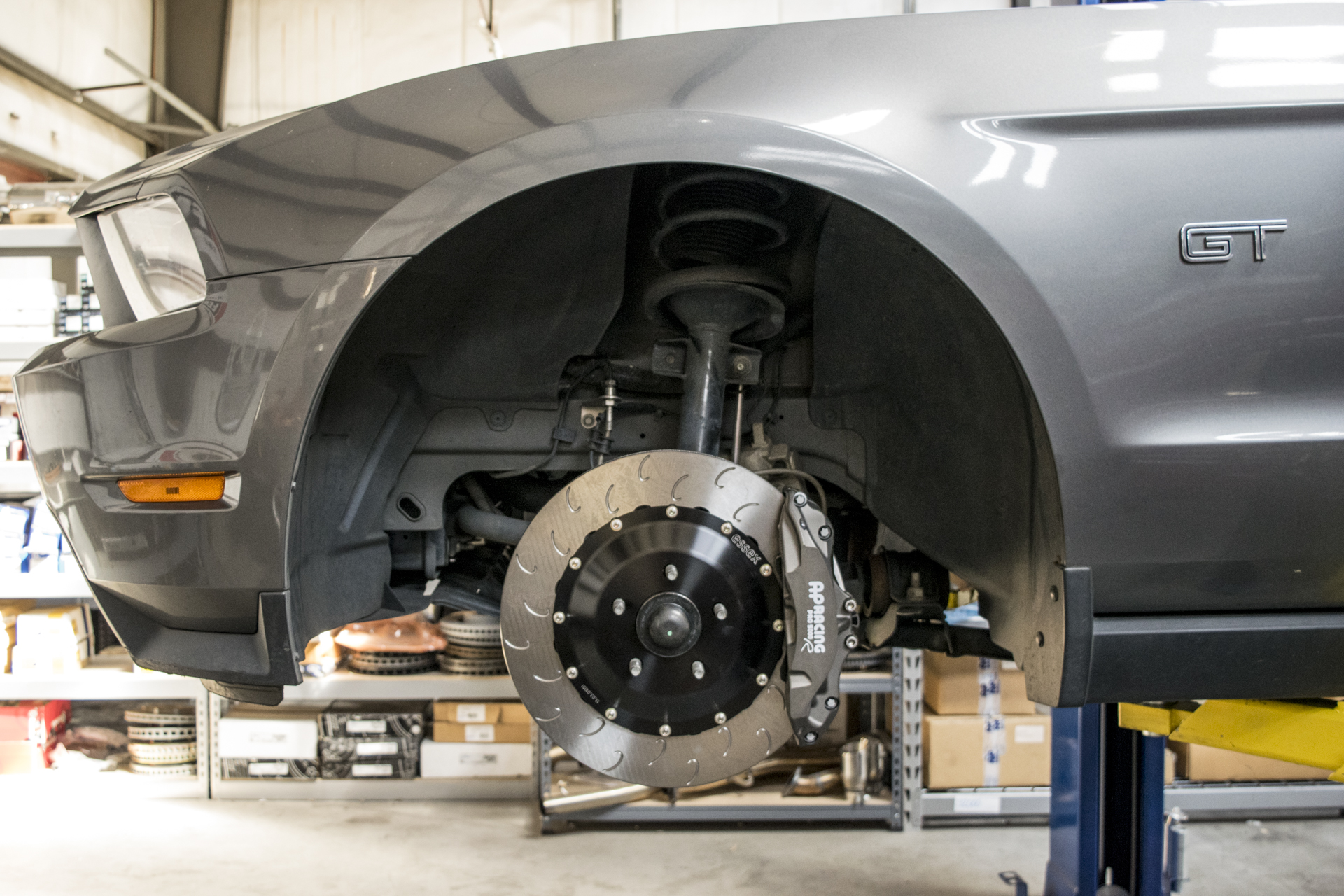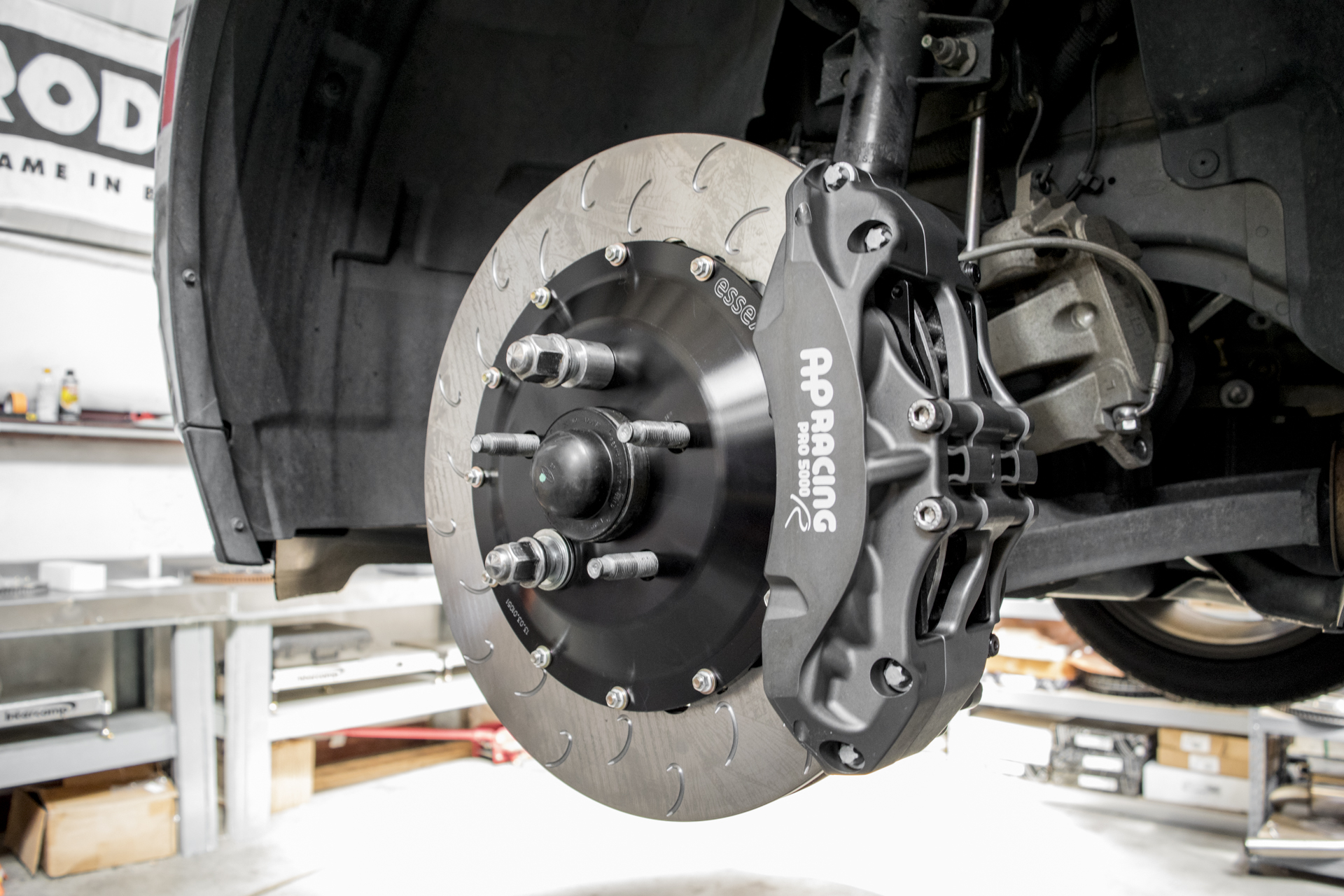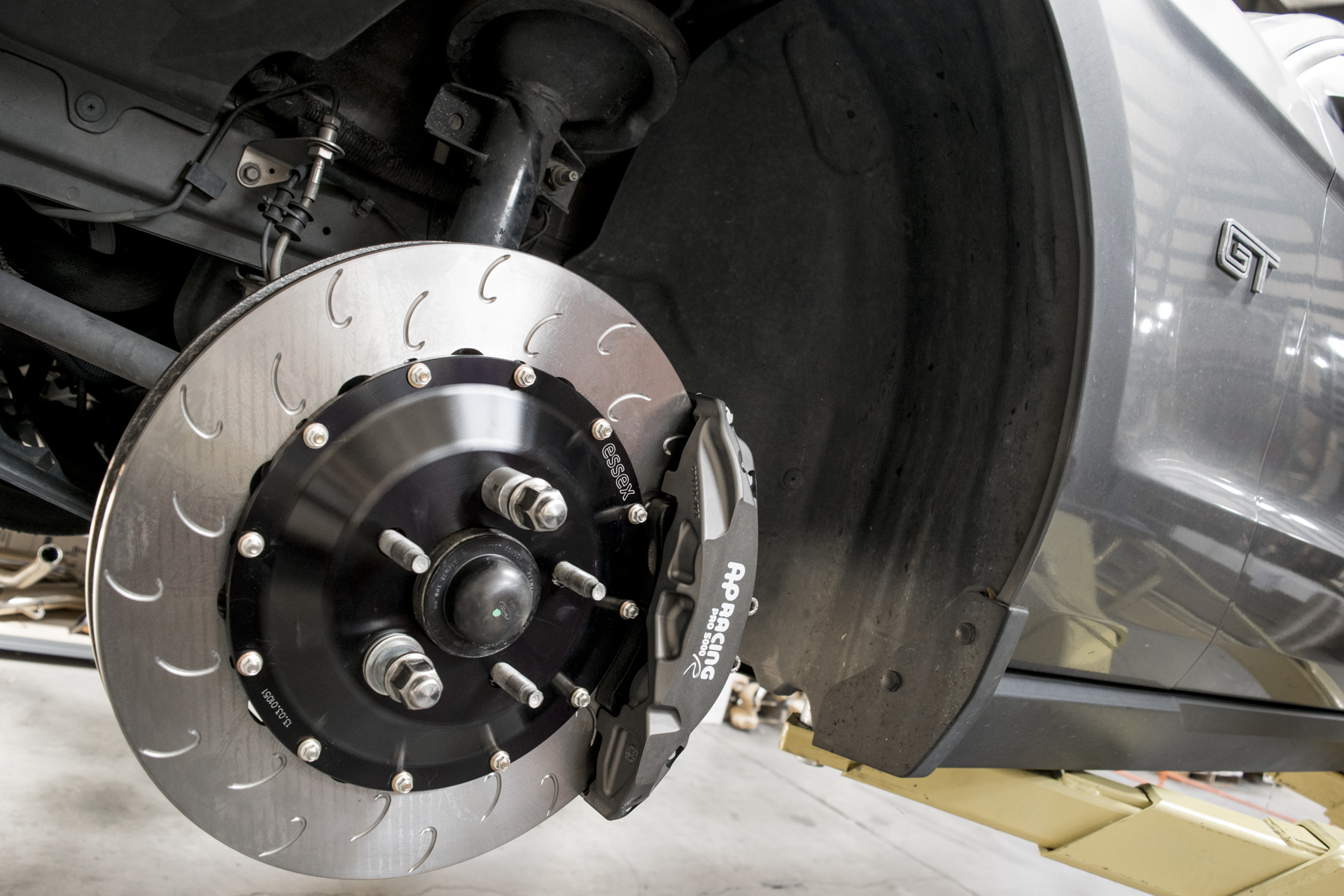 Share:
---
« Back to Listing