BMW M4 AP Racing Competition Brake Kit prototype installed
02.10.2016
The protoyping phase for our front Essex Designed AP Racing Radi-CAL Competition Brake Kit is now complete! We're moving into production, and we plan to start delivering the first kits in 6-8 weeks. Our kits provide a laundry list of benefits over the OEM front brakes, including an 8-10 lb. unsprung weight reduction! For those considering the Carbon Ceramic brake option, this is a far superior alternative. With our kit you're getting a large chunk of the weight savings you'd see with the Carbon Ceramic option, but none of its disadvantages. Our spare iron disc rings cost only $399 vs. thousands for the carbon ceramic discs! You're also getting a caliper that is light years beyond the factory equipment in terms technology, design, and performance. Our system is very similar to the AP Racing Radi-CAL brake systems that the factory BMW race cars run.
We have two front kit options for the F80/F82 M3/M4. The first is our CP9660/372mm kit, and the second is our CP9668/372mm kit. The main difference between the two is pad thickness. The CP9660 takes an 18mm thick pad and fits behind the OEM 18" and 19" wheels without a spacer. The CP9668 is a bit wider, takes a 25mm thick pad, and offers a quick release for speedy pad changes during an endurance race. It will not fit behind the OEM wheels without a spacer, but will clear some aftermarket wheels without one.

You can see complete details of each kit on our product pages: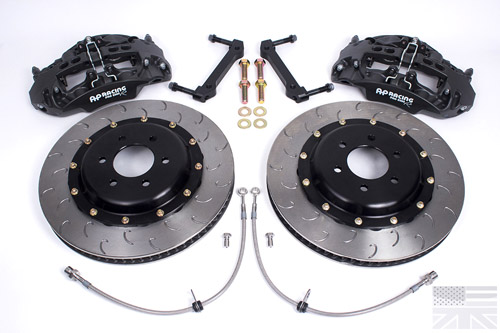 Advantages Over OEM Brake System
Approximately 8-10 lbs. of unsprung weight reduction vs. the OEM standard front iron brake package
AP Racing Radi-CAL calipers are the stiffest, lightest, and most technologically advanced calipers available at any price
CP9668 calipers use a 25mm thick, commonly available brake pad shape
Ventilated, domed back, stainless steel pistons keep heat out of the brake fluid and provide an ultra-firm pedal
Mitigation of pad knockback via anti-knockback springs behind the caliper pistons
Anodized caliper finish that is resistant to wear and deterioration at elevated temperatures
Stainless steel caliper hardware for a long caliper service life under frequent pad change conditions
High temperature, low drag seals that will hold up to track temps= less rebuilding and longer service life
No dust boots to burn up
Simple pad change with two bolts or quick-change spring clip, no caliper removal required
Lifetime professional caliper rebuilding support by Essex (at a fee)- pull off your calipers, send them to us, we clean, inspect, and rebuild them
Available disc burnishing service ensures that your kit arrives ready to be installed and driven hard immediately
Championship winning, 84 vane, fully floating, AP Racing J Hook racing discs with 12 attachment points to hat
Anti-knockback/anti-rattle disc attachment hardware
Replacement iron disc rings available at an extremely competitive replacement price
Disc metallurgy specifically designed to handle the temps typically seen on track offer a long service life
Highest quality, Spiegler stainless steel brake line with clear sheath that reduces compliance over OEM rubber desig
You can check your wheel fitment using our templates:
CP9660 wheel fitment template F80/F82 M3/M4

CP9668 wheel fitment template F80/F82 M3/M4

Comparison of CP9668, OEM caliper, and CP9660. The OEM calipers look rather low-tech and pedestrian next to AP's latest designs. Despite having a considerably larger footprint, two extra pistons, and stainless steel pistons (rather than aluminum), are calipers are still 1-2 lbs. lighter!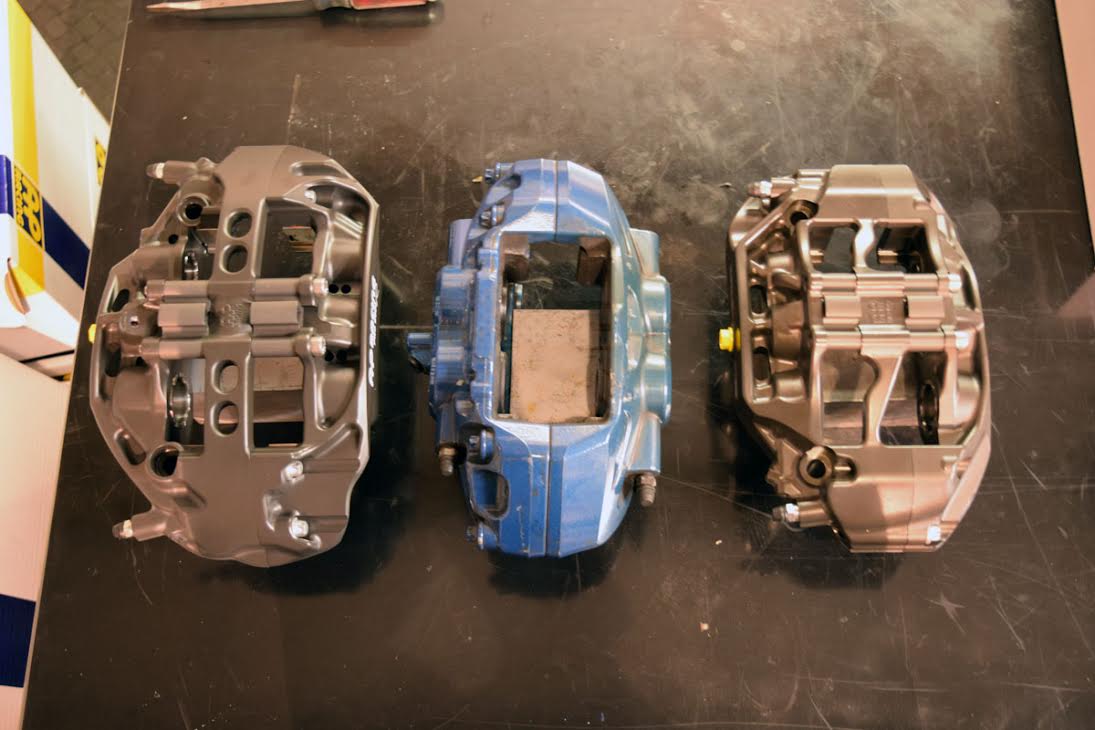 Here's an interesting shot...pad thickness across all kits. At 25mm thick, the CP9668 pads in particular (far right) are seriously beefy!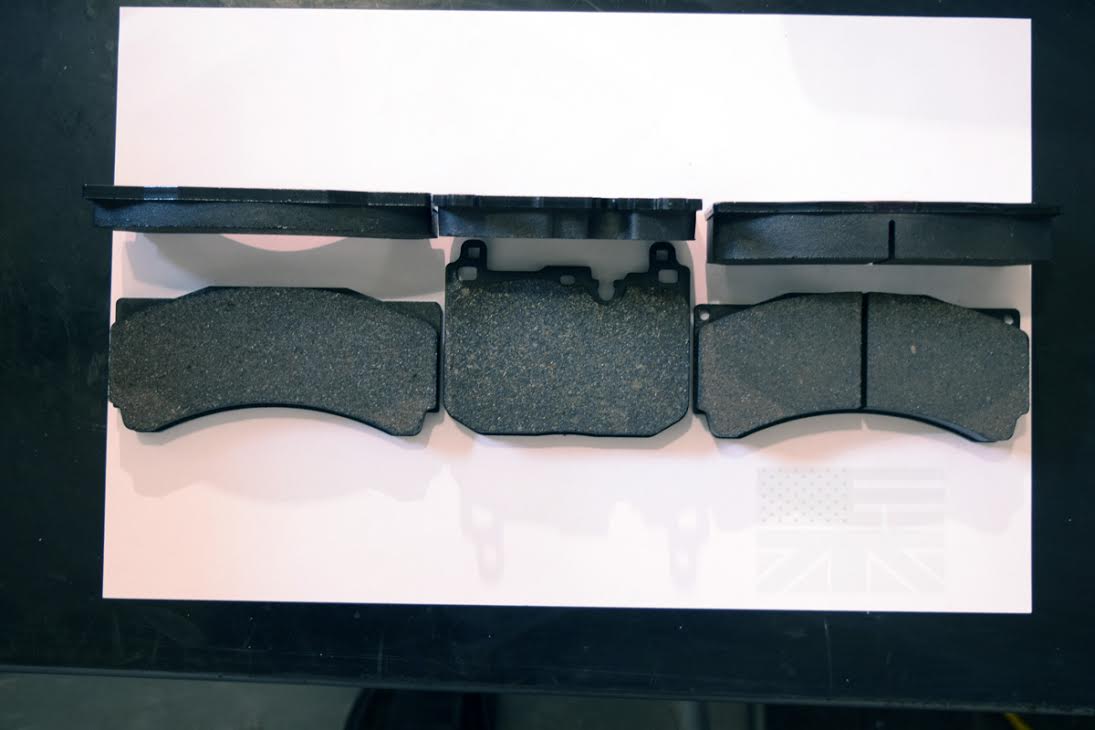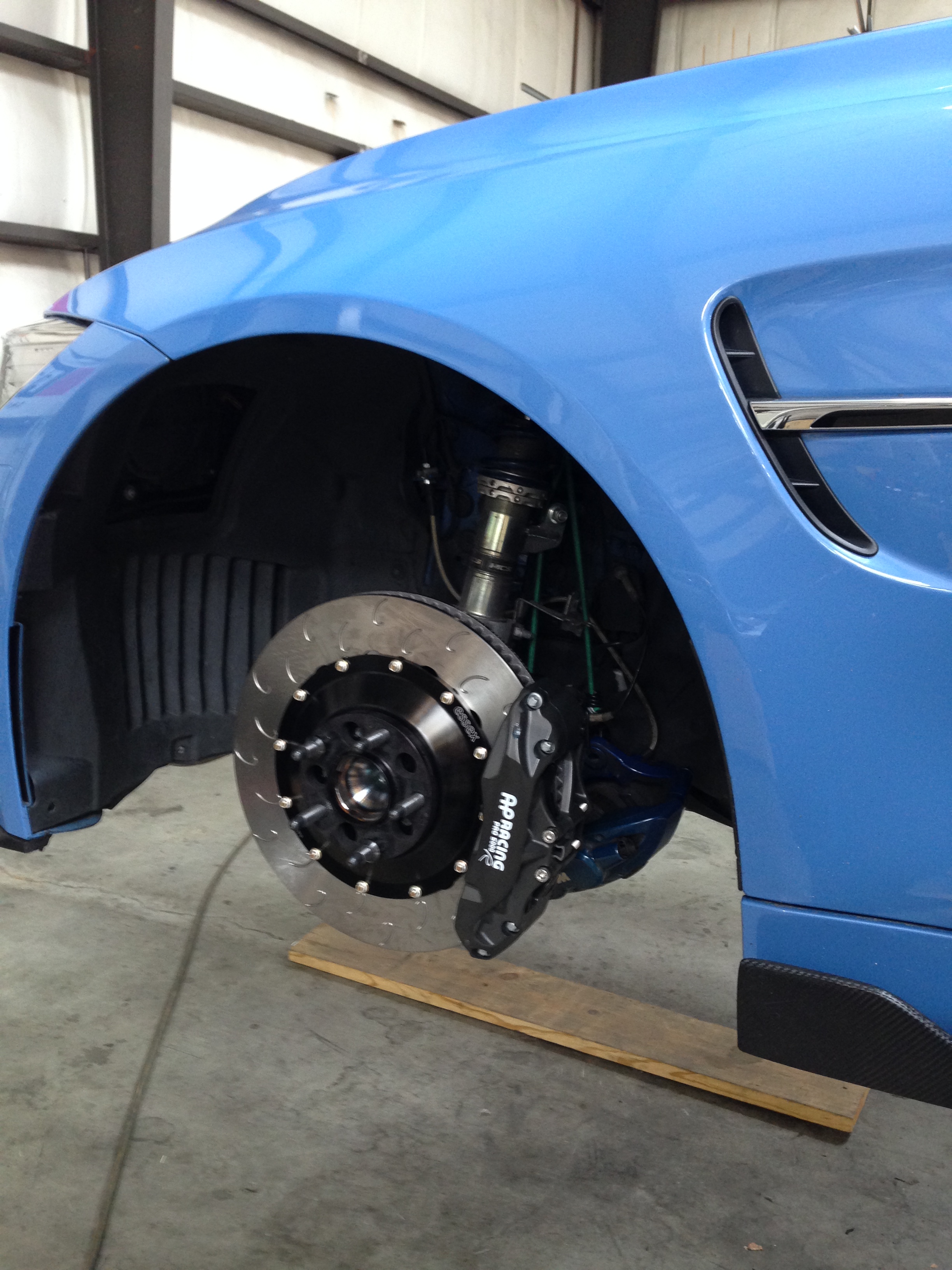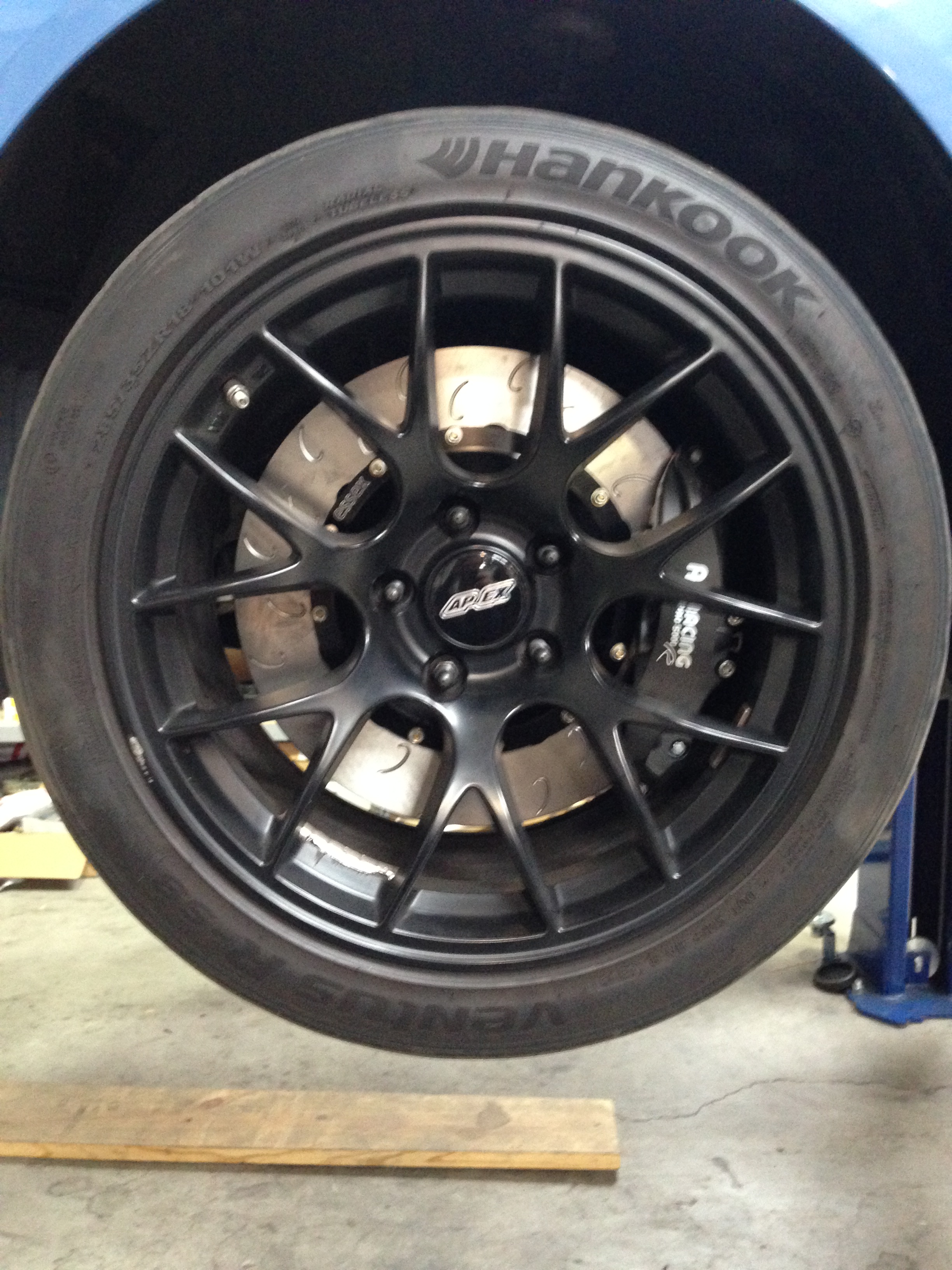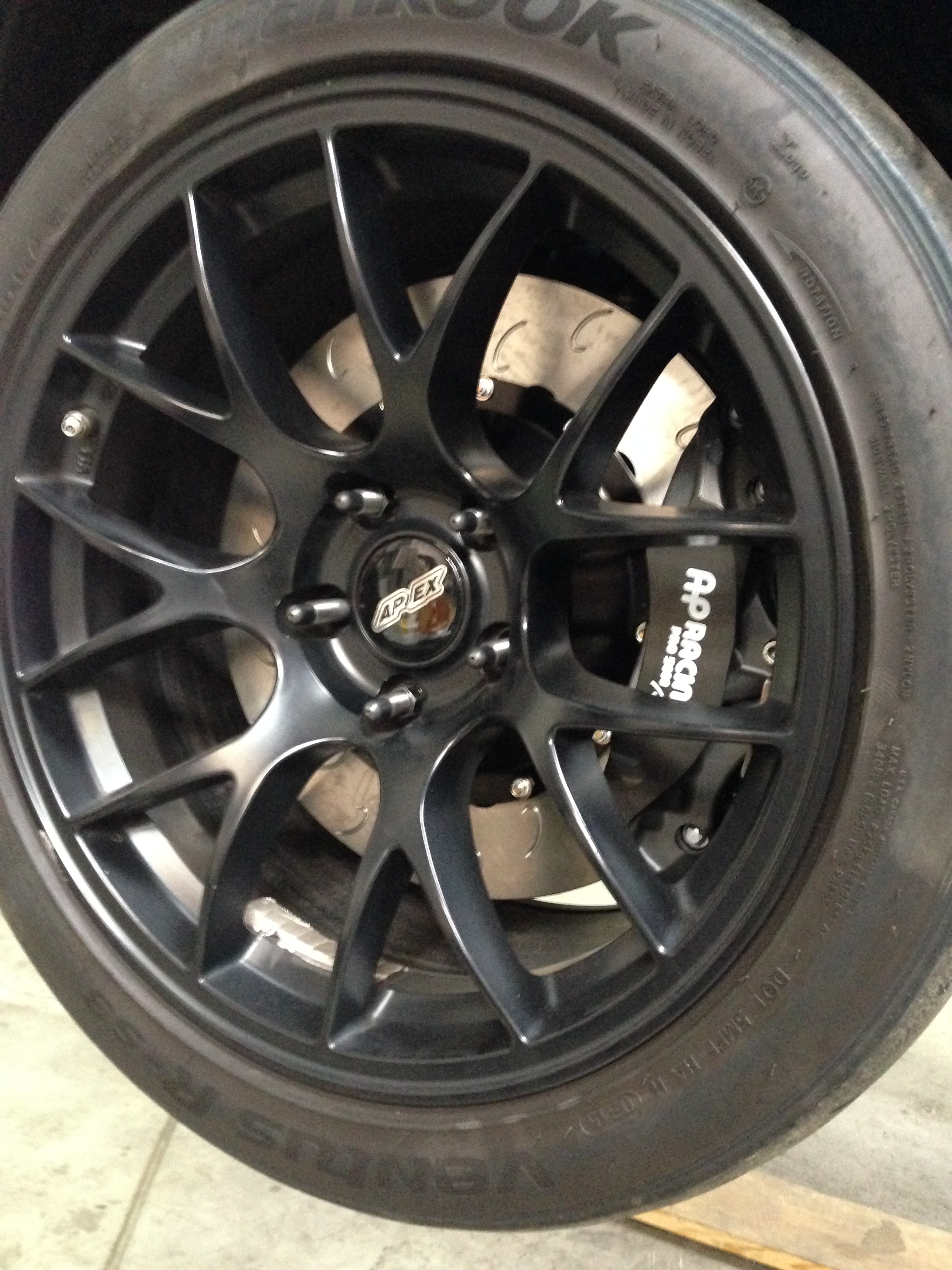 We put some speed holes and channels in the bracket to save some ounces: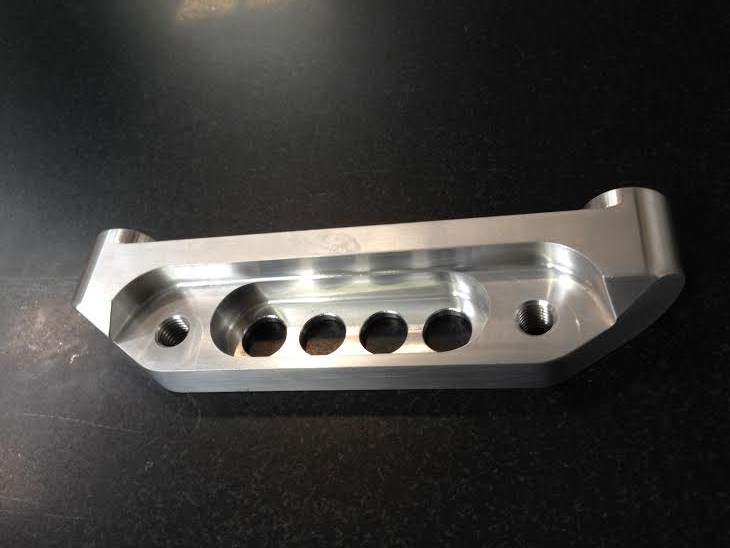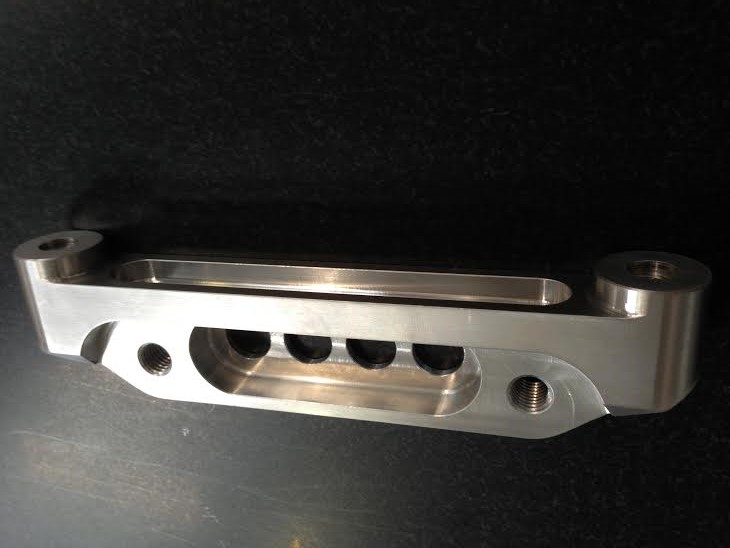 We plan to release a matching rear kit later this year.

Share:
---
« Back to Listing