The AP Racing Radi-CAL Story
04.17.2015
Written by Jeff Ritter

With AP Racing's latest Pro5000R calipers arriving soon on our shores, we've pulled together some information that traces and explains AP's Radi-CAL design philosophy. These materials give some insight into the theory behind the design, the impressive benefits it provides, and the success this revolutionary technology has had at all levels of professional motorsport. We'll also give you an all-angles look at the incredible Pro5000R designs.
What is Radi-CAL?
"Radi-CAL" is a blanket term used to describe AP Racing's patented asymmetrical brake caliper design. Radi-Cal technology is grounded in Computer Aided Design (CAD) and Finite Element Analysis (FEA), and allows for organic, alien-looking designs that are a radical departure from conventional caliper designs of the past. Calipers leveraging the Radi-CAL design philosophy are widely considered the pinnacle of current brake caliper technology. Since their inception in 2007, these revolutionary calipers have amassed a lengthy string of race victories at all levels of professional motorsport, while redefining brake performance expectations.
An Eye-Opening Maiden Voyage
The first on-car application of the AP Racing Radi-CAL occurred during a confidential NASCAR test on August 6th, 2007 at Road Atlanta. Tony Stewart had won two out of the past three Nextel Cup races and was preparing for a race on August 12th at Watkins Glen International. Although Tony's team, Joe Gibbs Racing, was pushing towards the end of an extremely successful season on AP's latest conventional caliper system, AP encouraged the immediate implementation of the new CP5845 Radi-CAL based on the astounding results they had achieved during dyno testing (a 33% reduction in deflection vs. the leading caliper at the time). The Gibbs team liked the idea of a potentially significant technical advantage for the Glen, a track that is notoriously brutal on brakes, so they installed them on the car for testing.
Stewart drove the new Radi-CAL system back-to-back with the conventional AP short track setup, and the results were both instantaneous and impressive. Stewart and the team noted a marked improvement over the existing setup on all parameters: improved pedal modulation and required effort, a noted reduction in braking distance, and a substantial temperature reduction. In an unprecedented move at the elite level of the sport, the team decided after only one day of testing to run the new calipers in a race that was less than a week away!
The results at the Glen were just as dramatic and remarkable as what occurred during testing. Tony Stewart was leading the race at Lap 45, but spun going into Turn One. He then had to fight his way back through the pack, ultimately passing Jeff Gordon under braking in that same turn with only two laps remaining. Stewart went on to claim the win, and in doing so set the stage for the Radi-CAL's future dominance in motorsports. After the race, one of the larger teams complained to NASCAR officials that Stewart's Radi-CAL brakes offered him an unfair advantage. As a result of the ensuing investigation, it was decided that even though the CP5845 caliper was technically compliant with the rules, they couldn't be run again in a race until they were available to all of the teams. The calipers were immediately put into full production and adopted by most of the major teams. AP Racing Radi-CAL's have since been a fixture on most of the front-running cars in the NASCAR Cup series, and many other professional racing series as well.
The Radi-CAL Concept
The Radi-CAL design process allows for stiffness and weight optimization far beyond what was previously thought possible in a brake caliper. Compared to a more traditional design, caliper material is redistributed based on dynamic, rather than static, loads placed on the caliper. In other words, the caliper is not designed to be a stiff box to hold brake pads while sitting on a table. It's designed to efficiently press brake pads against a disc while withstanding the torque generated by a car doing 200mph and decelerating at 4 G's. AP's brilliant engineers figured out how to assess the dynamic real-world stresses placed on the calipers under race conditions. They then threw away the caliper design 'rulebook,' and altered the fundamental structure of the brake caliper to accommodate those loads. The resulting designs were dubbed "Radi-CAL" because of their radical departure from conventional caliper design.

The result is a very alien looking design. The mass of the caliper is located on a diagonal, rather than a square box. They tend to be wider than traditional calipers, but much of that mass sits inboard of the caliper centerline due to the asymmetrical form. The Radi-CAL design is a model of efficiency, and contains many voids in places where traditional calipers have a significant quantity of material. All unnecessary mass is either removed from the caliper, or relocated to where it is actually needed to accept a dynamic load.
The key benefits of the Radi-CAL design are:
Massive Stiffness Increase- A 30+ % increase in both static and dynamic stiffness allows for far less deflection under load, which means superior pedal feel & modulation, more even pad wear, and longer caliper service life.
Considerable Mass Reduction- Removing all extraneous caliper mass lowers the caliper weight, despite the huge stiffness increases.
Optimized Airflow- Air moves around and through the caliper more efficiently, providing superior heat evacuation.
Efficient Packaging- The wide, asymmetric caliper profile and internal porting allows the caliper to fit into tighter spaces.
These intricate calipers have traditionally been machined from proprietary aluminum alloy billets. As one can imagine, machining away all of that material to achieve the final form is both time-consuming and costly. As a result, the price of these calipers has historically been prohibitive for the average club racer, time-trialer, or HPDE participant.
For a more in-depth look at the Radi-CAL design concept, please see the magazine scans below. They are primarily from two outstanding publications: RaceTech International Magazine, and Racecar Engineering Magazine. If you're even remotely interested in the latest technology that goes into modern racing vehicles, do yourself a favor and check them out!
Pro5000R= The Everyman Radi-CAL
It has taken eight years, numerous generations of the design concept, and advancements in manufacturing techniques, but the Radi-CAL has finally evolved into a viable solution for racers and enthusiasts of all levels and budgets. While many products are supposedly born in racing, there can be no doubt about the Pro5000R pedigree. These calipers are direct descendents of the current crop of F1 and Sprint Cup calipers. They don't look ordinary, because they're not ordinary. They're the epitome of pure racing design: elegant, sparse, and brutally effective. And while they embody and employ the Radi-CAL design philosophy of the past, they also add some outstanding new features that enhance their practicality, convenience, and appeal. Quite simply, they are the lightest, stiffest, and most technologically advanced brake calipers that have ever been within the average enthusiast's grasp. Moving forward they will form the foundation for our Essex Designed AP Racing Competition Brake Kits.
Standard Features
The initial Pro5000R caliper range includes several variants of a four piston and two six piston designs with the following features and benefits:
Radi-CAL asymmetric design

Superior dynamic stiffness under load
Reduced mass
Superior Cooling

Radial mount, drop-forged, 2-piece construction

Versatile mounting options
Increased stiffness
Simple pad change without removing caliper

Ventilated, domed-back, stainless steel pistons

Stainless steel rejects heat infiltration into brake fluid
Ventilation provides additional cooling behind brake pad
Domed-back increases piston stiffness and improves pedal feel

Anti-knockback piston springs

Tames pad knockback & retains high/firm brake pedal

Internal fluid porting (no bleed screw on outer caliper half)

Decreases bleed screw damage potential
Simplifies bleeding process
Improves wheel spoke clearance

Stainless steel wear plates

Reduces caliper body wear from brake pad backing plate
Lengthens caliper service life
CP9440 (front) / CP9441 (rear)
Weight without pads= 3.3lbs./1.5Kg.
The CP9440 is a four piston caliper designed for front applications. It is suited to disc diameters of roughly 330x28mm. The CP9441 variant has smaller pistons and is designed for rear applications.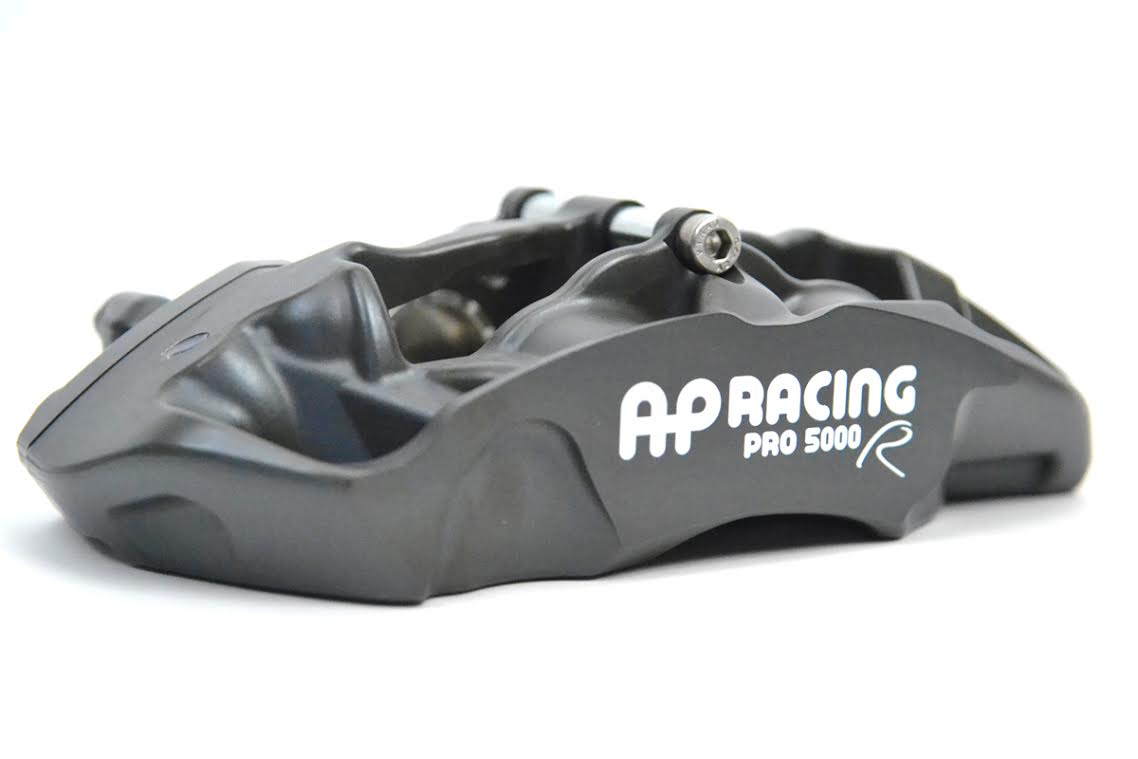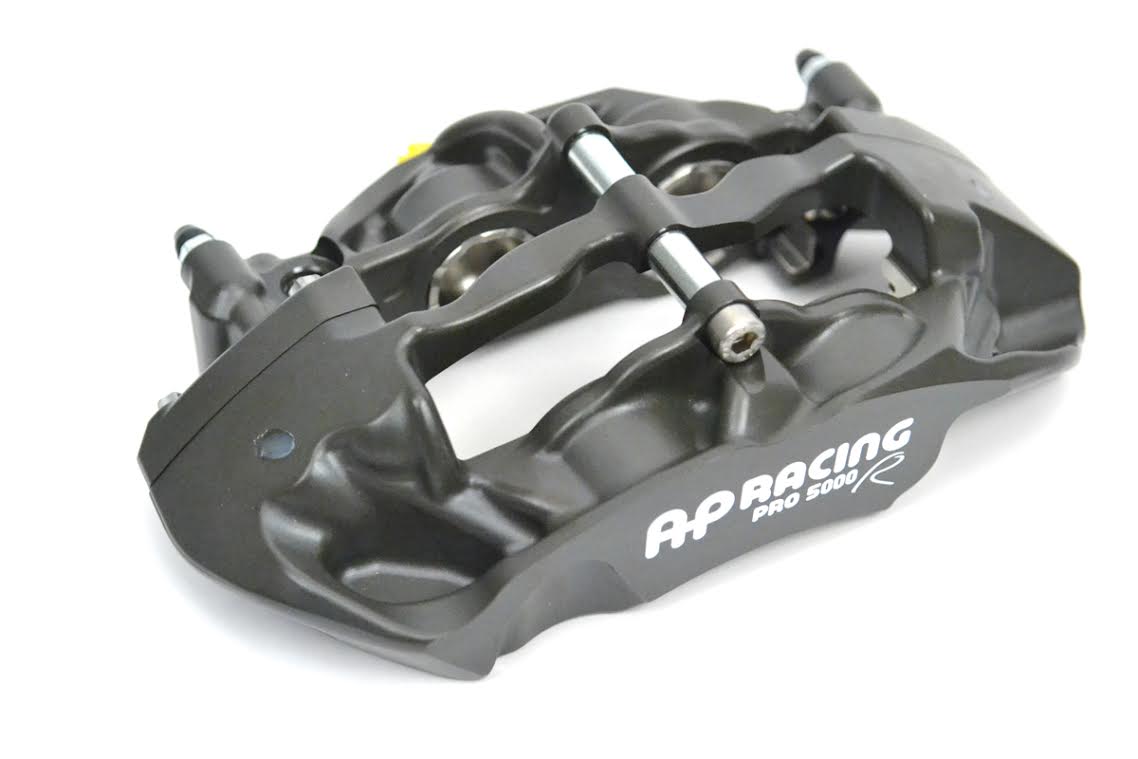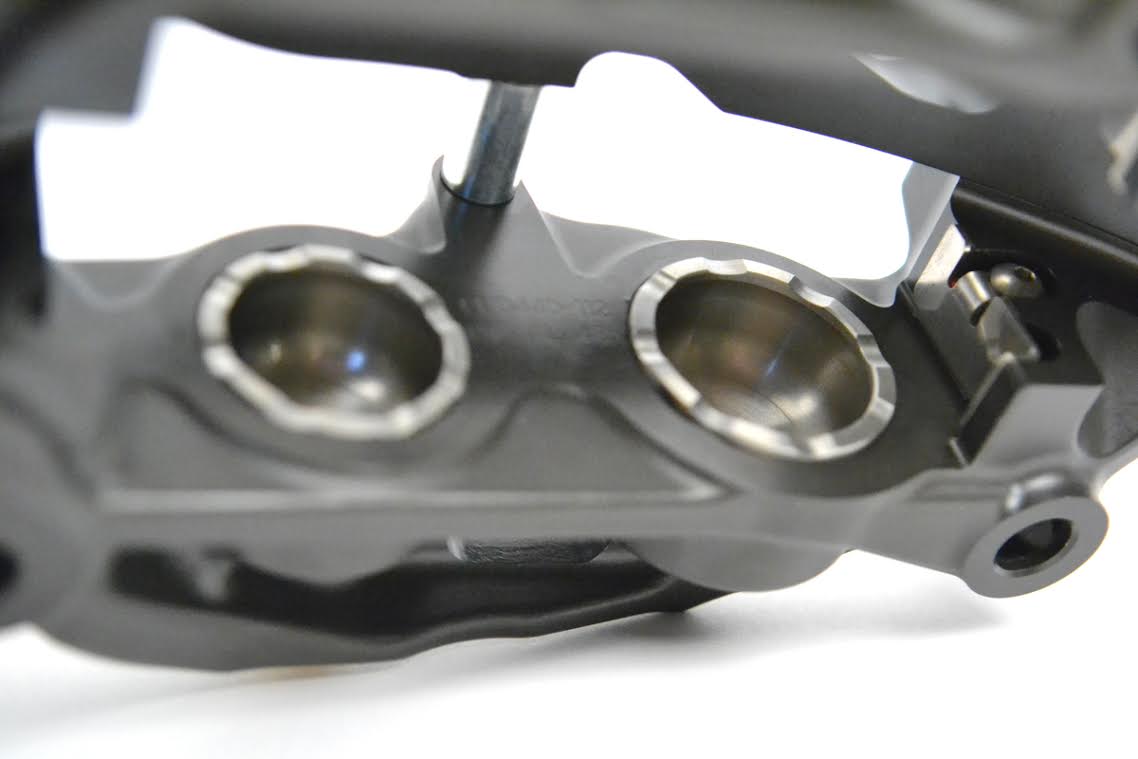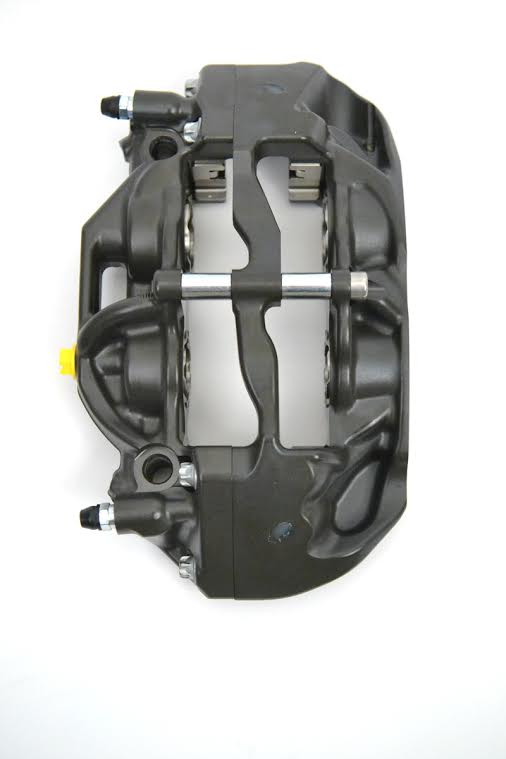 CP9660
Weight without pads= 6.13lbs./2.78Kg.
The CP9660 is a six piston design that is comparable in footprint to AP's venerable CP5060 Pro5000+ caliper. It is suited to discs of approximately 355-380 x 32-36mm. It takes an 18mm thick, commonly available pad shape.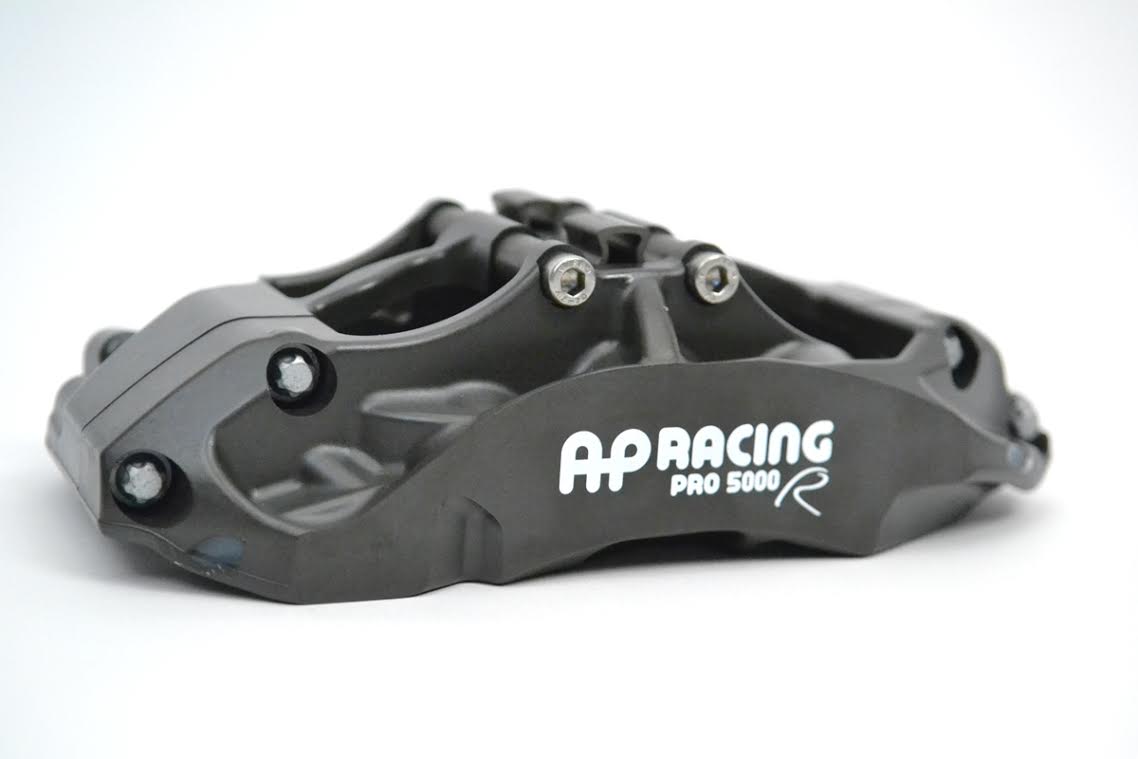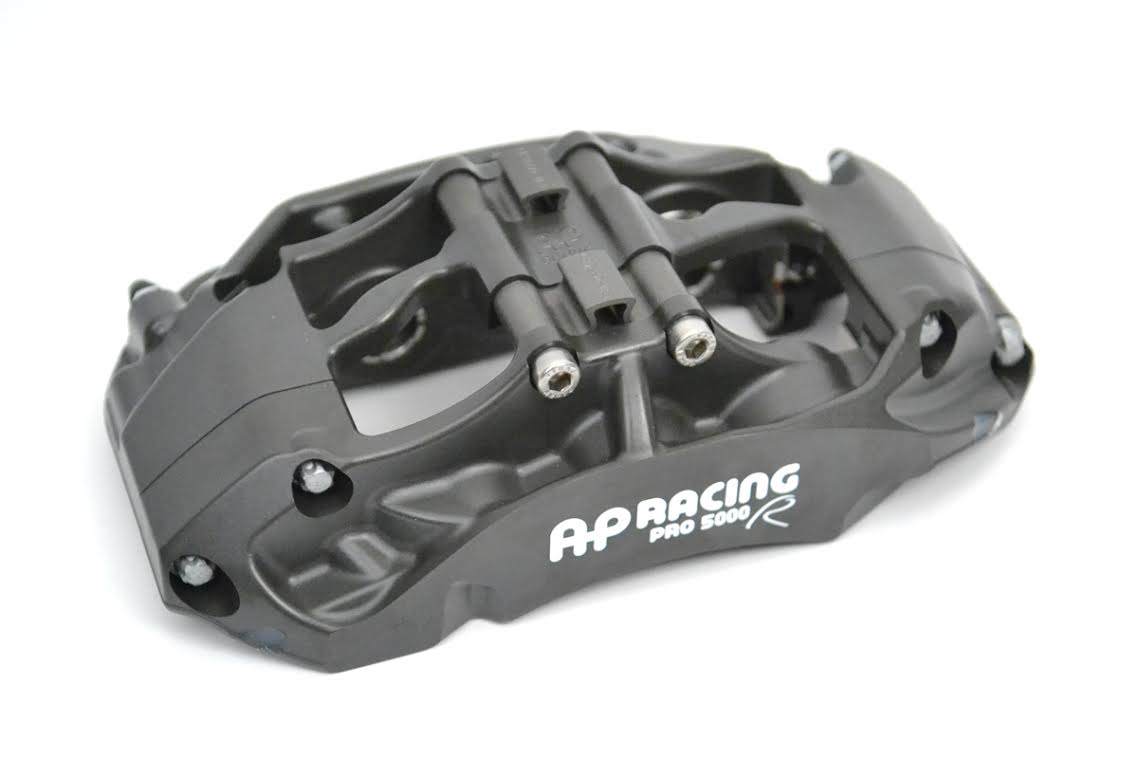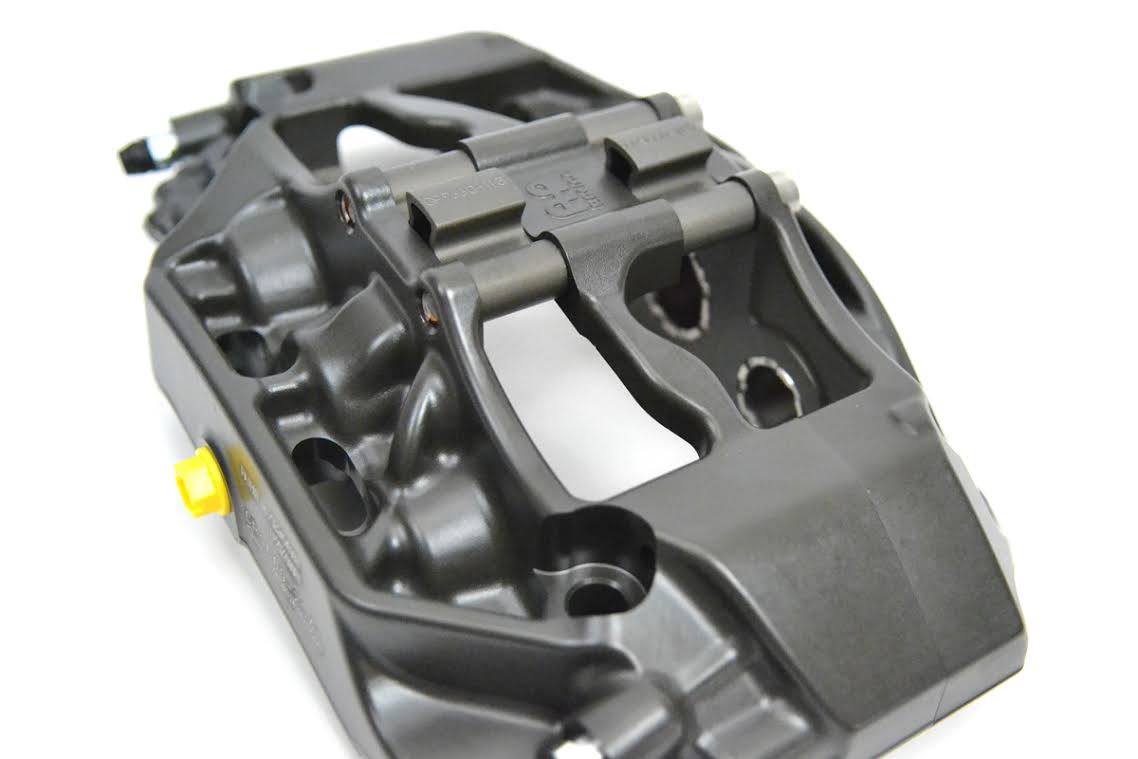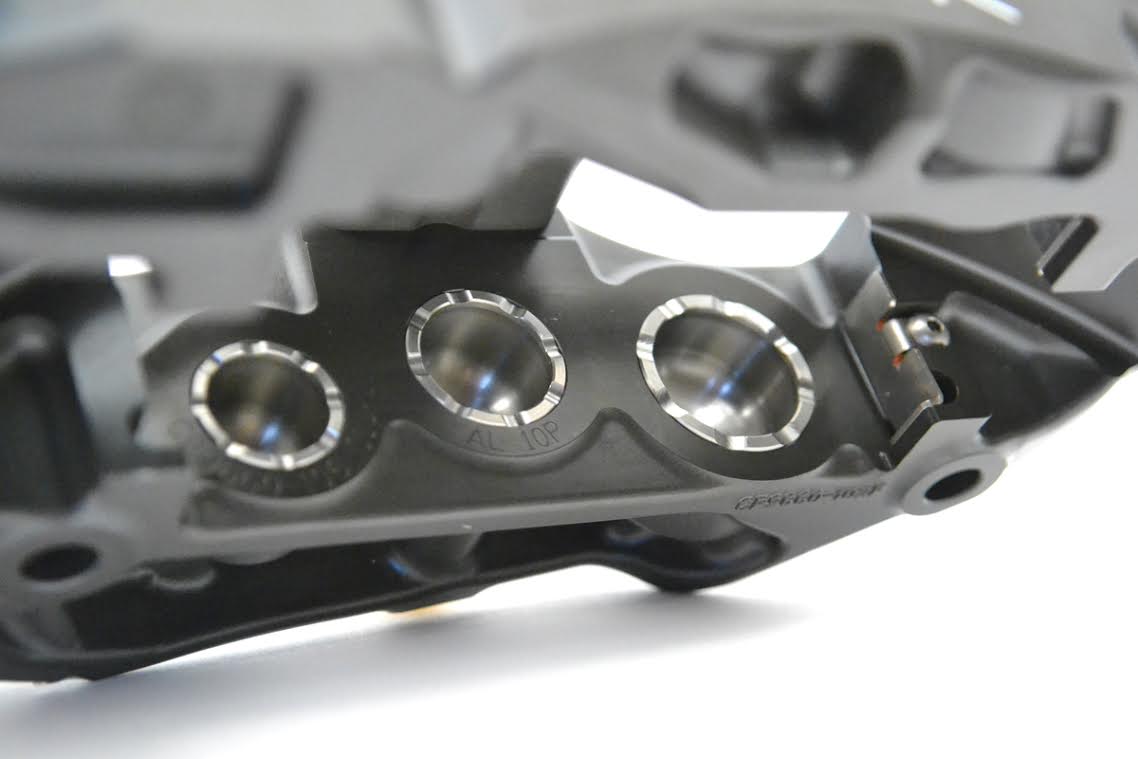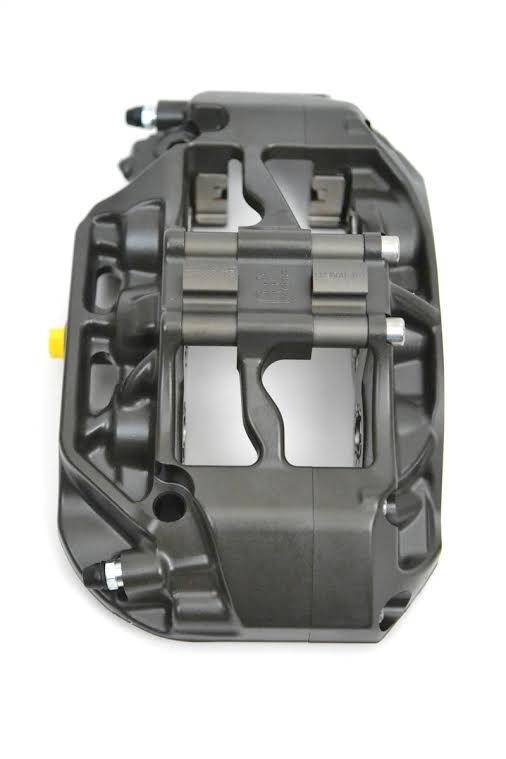 CP9668 & CP9665

Weight without pads= 6.83lbs./3.1Kg.
The CP9668 is a slightly larger six piston vs. the CP9660, and is geared towards endurance racing. It is built around a 25mm thick version of the same pad shape used in the CP9660. It comes standard with two bridge options: Fixed and a quick-release spring clip.
The CP9665 is very similar to the CP9668, except it uses 210mm mounting centers (rather than 180mm), as well as a slightly larger pad shape.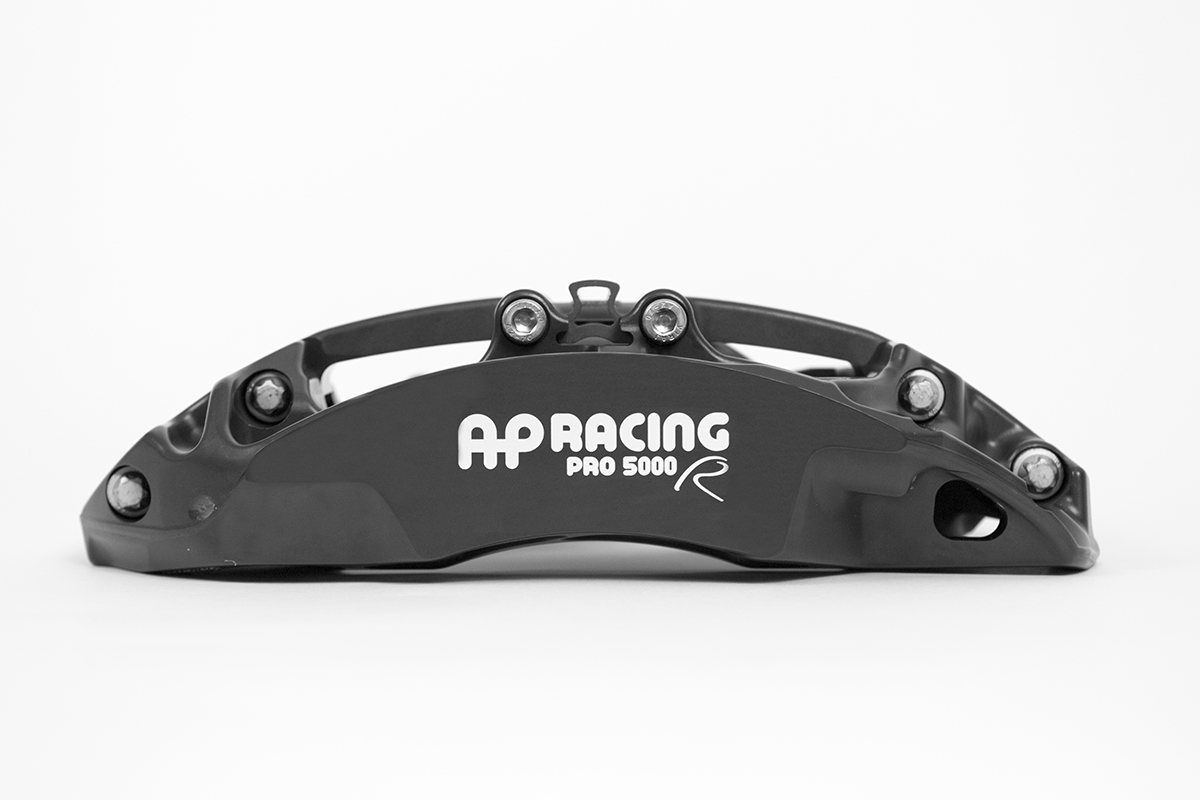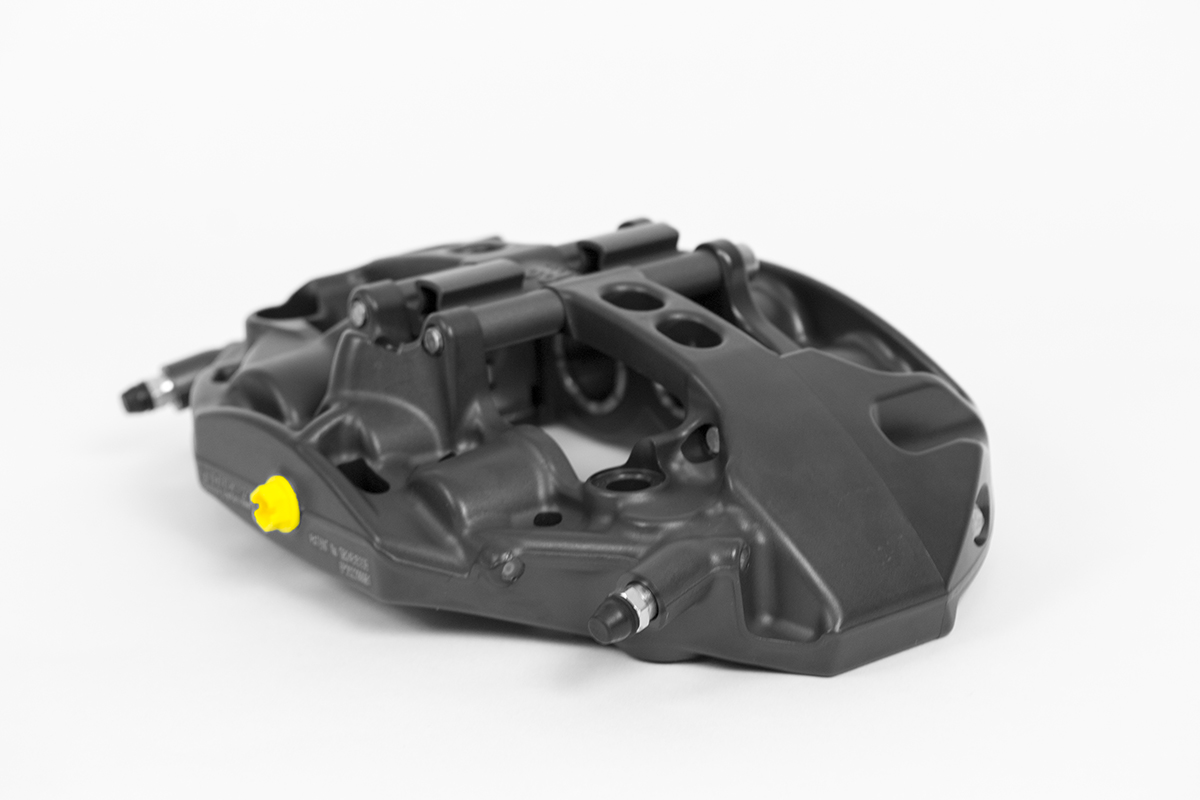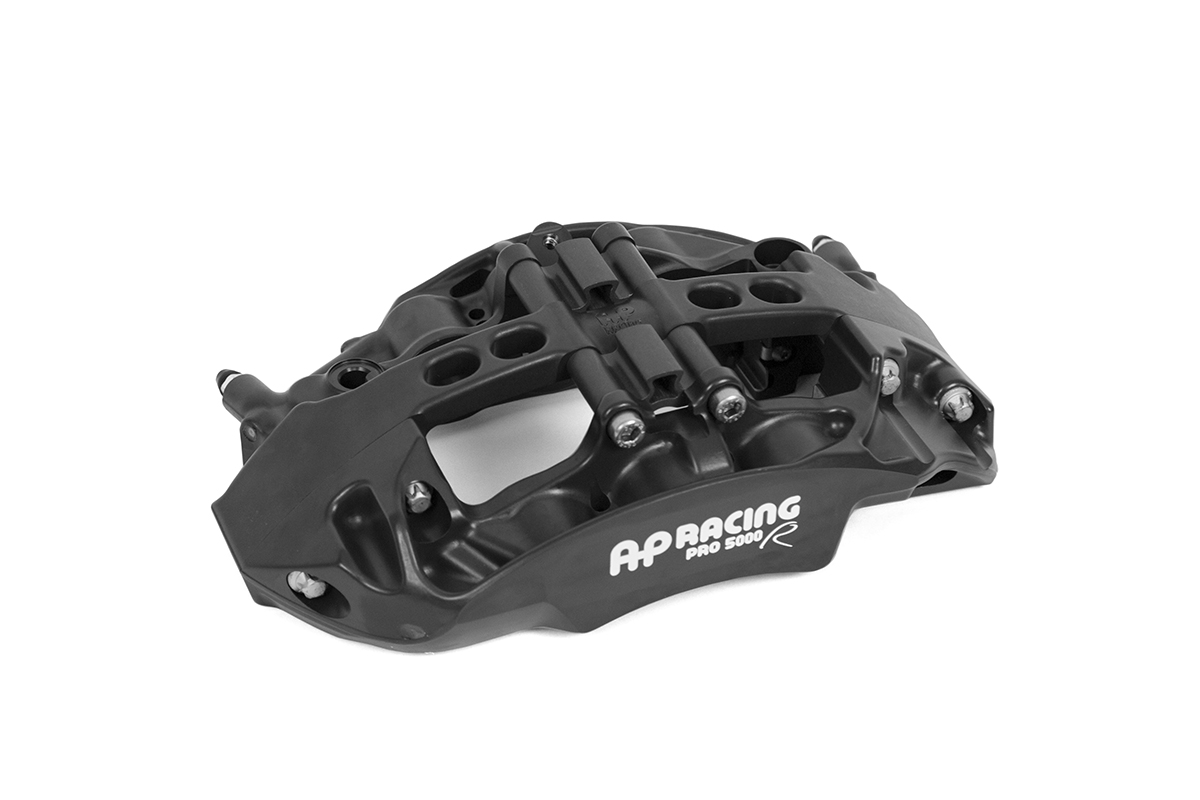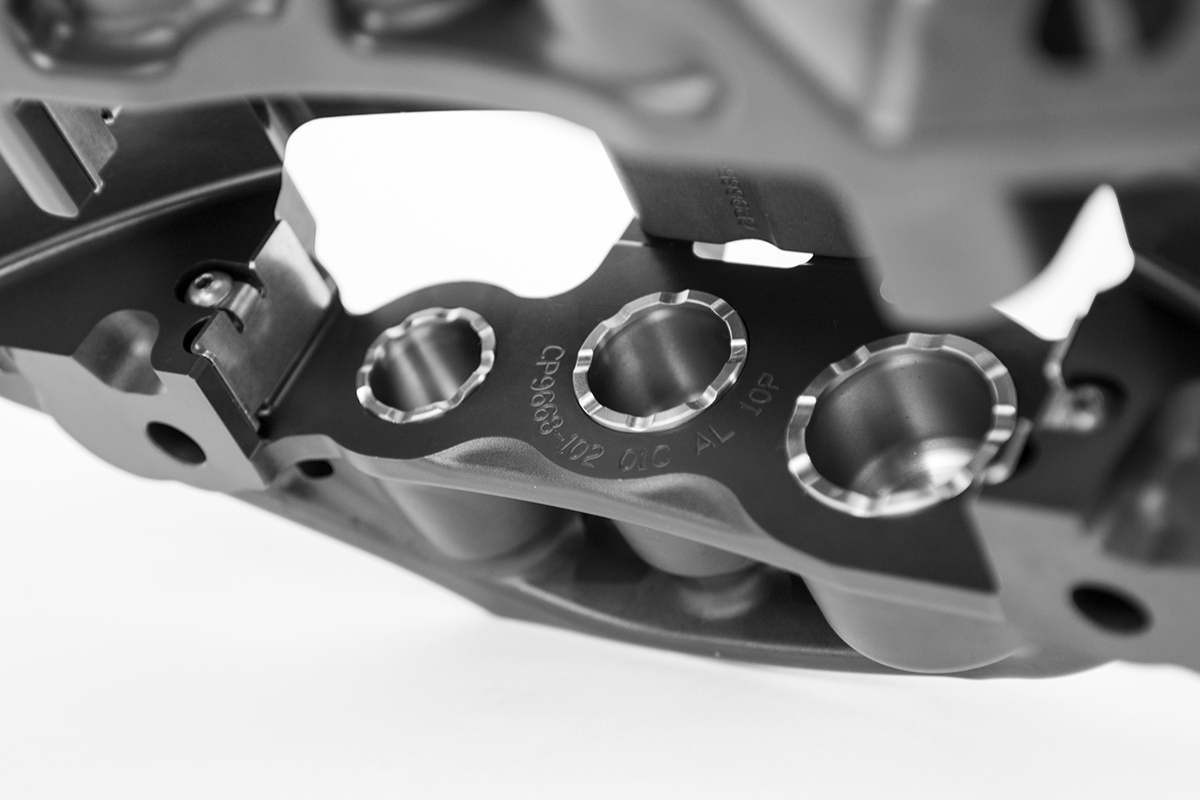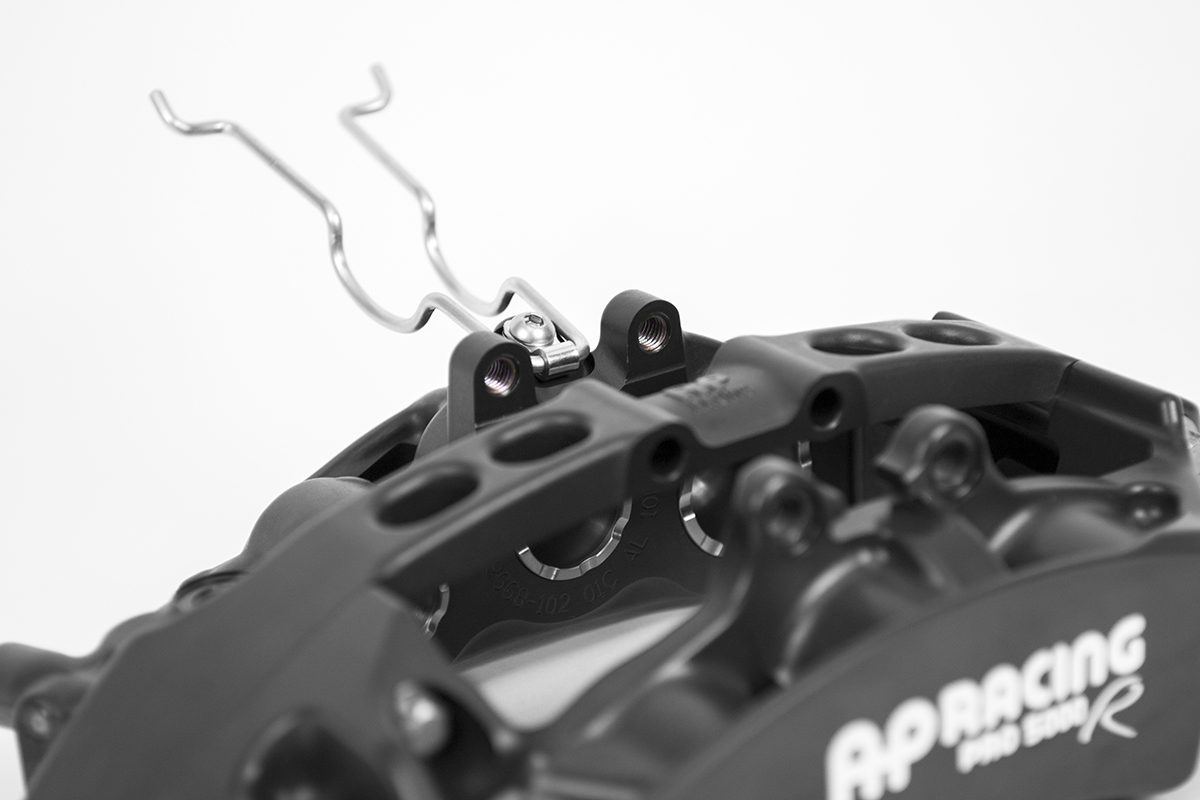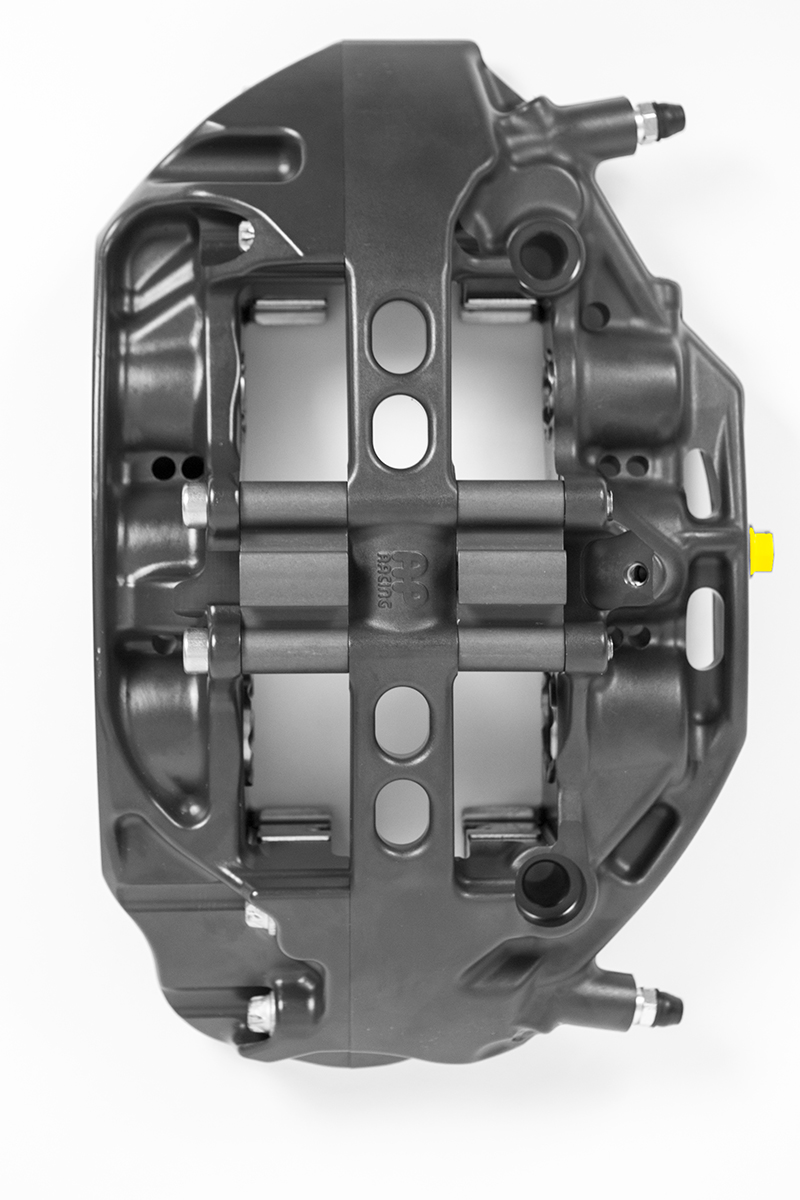 Family photos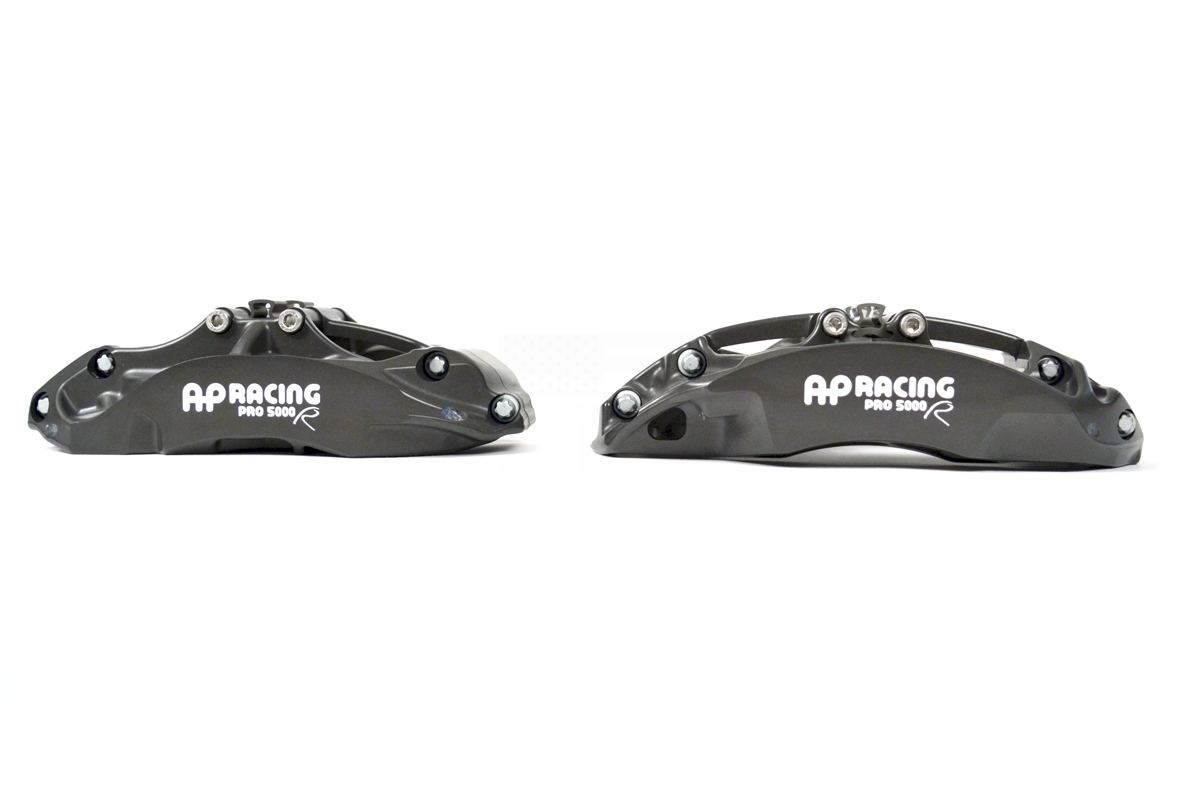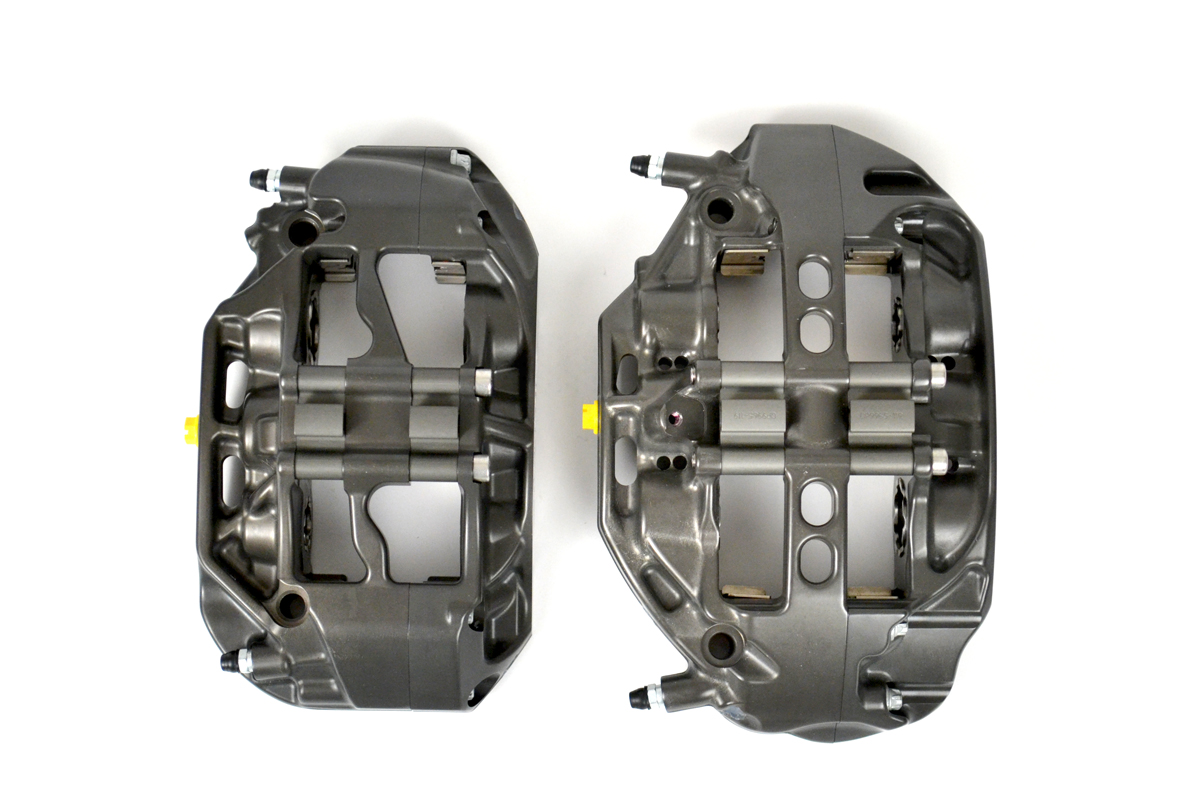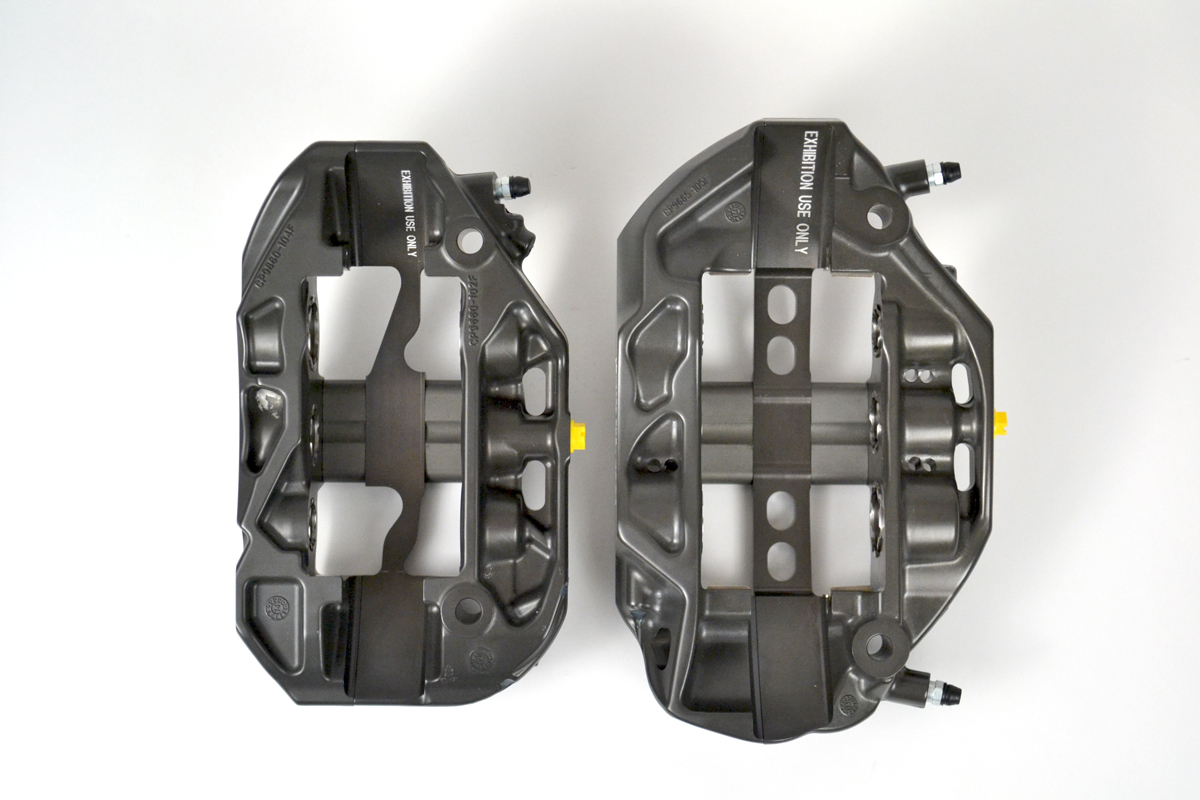 Meet the Parents
Below are a few of the Radi-CAL designs that have shaken the professional racing world over the past few years. While looking at these pics you'll quickly realize that there's nothing pedestrian or watered-down about the Pro5000R range. They are the real deal.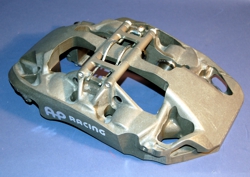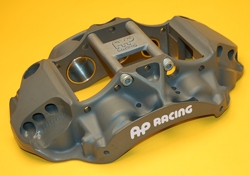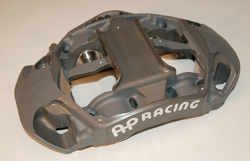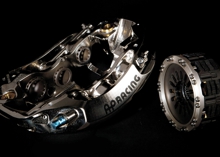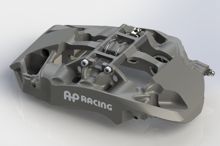 In the Press
As described above, the Radi-CAL created quite a stir when it was unleashed into the world of professional motorsports. Below is a selection of articles about the Radi-CAL from some of the most highly respected publications in the racing business. Again, if you've never read one of these magazines, go find one now!
Racecar Engineering December 2007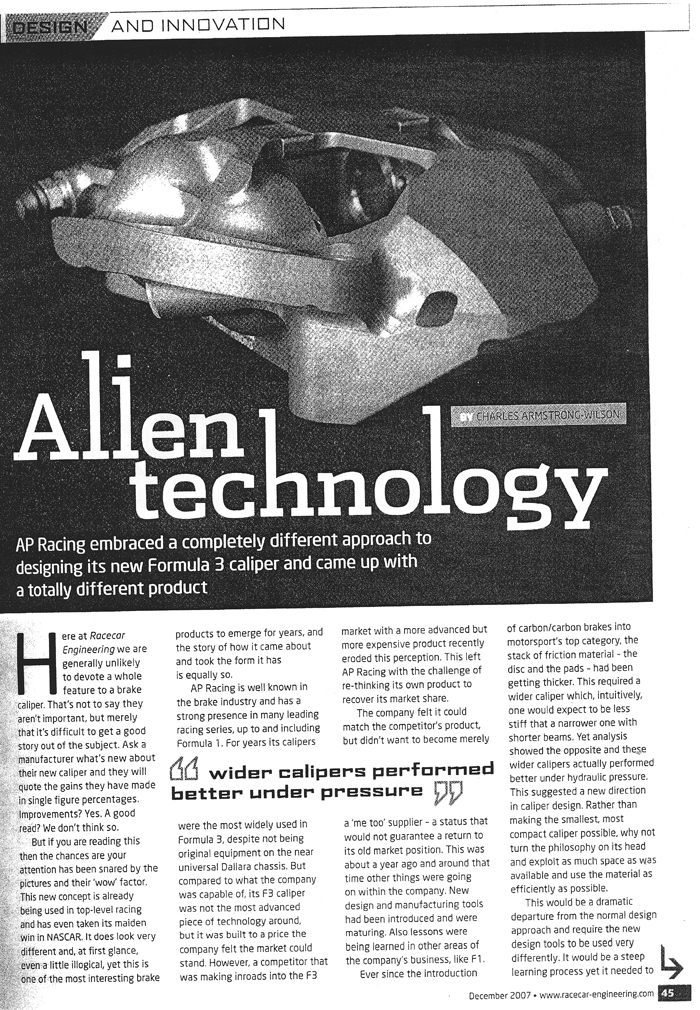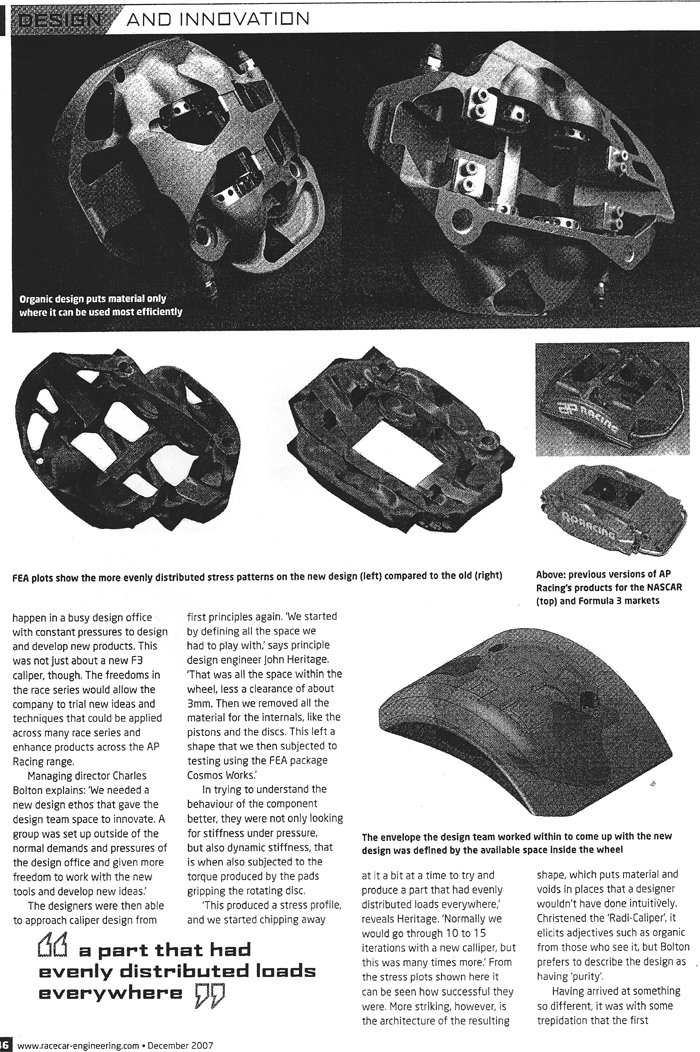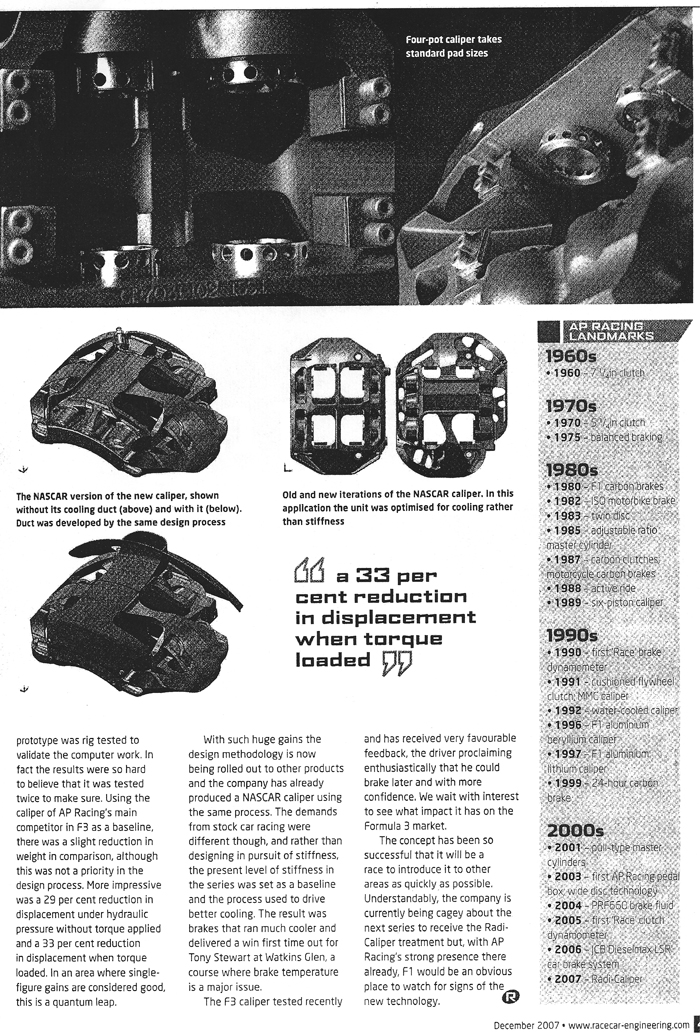 Racecar Engineering June 2008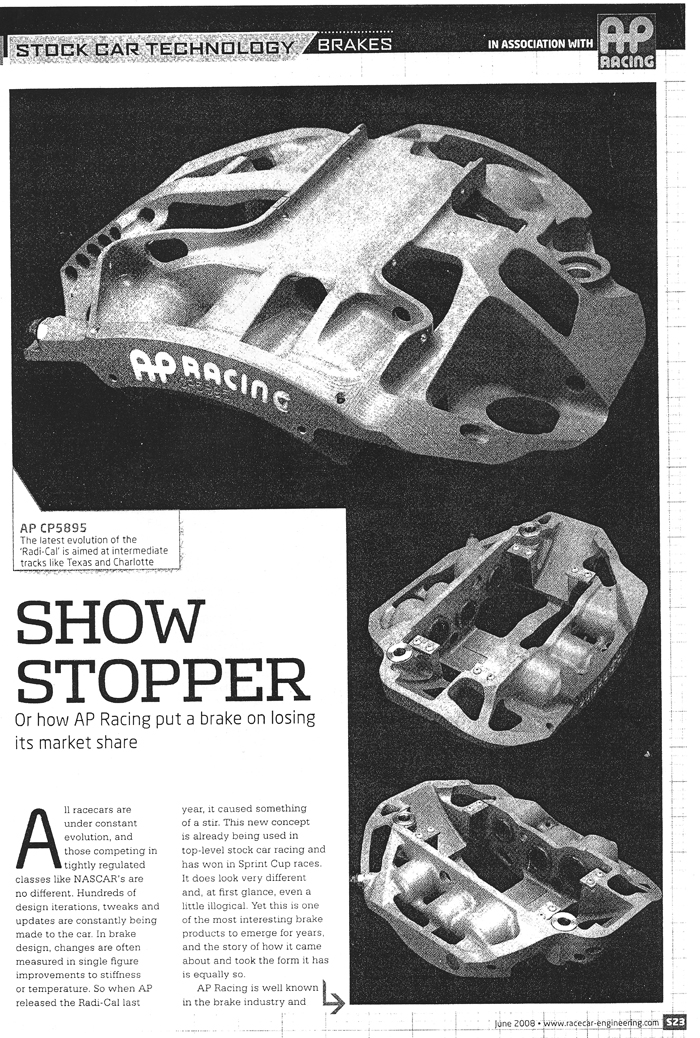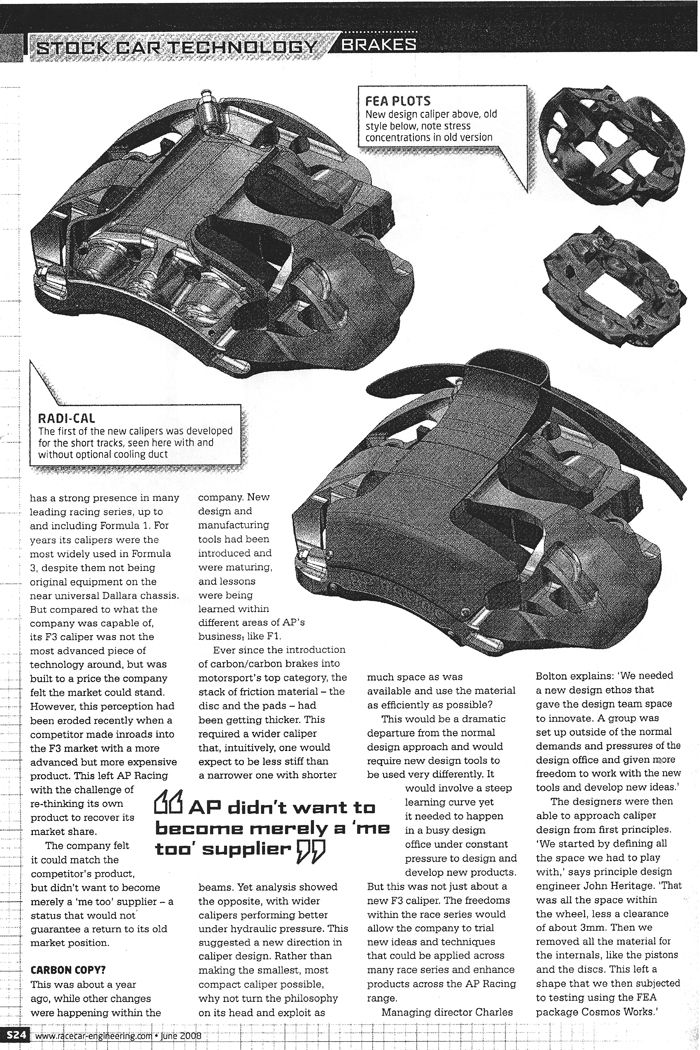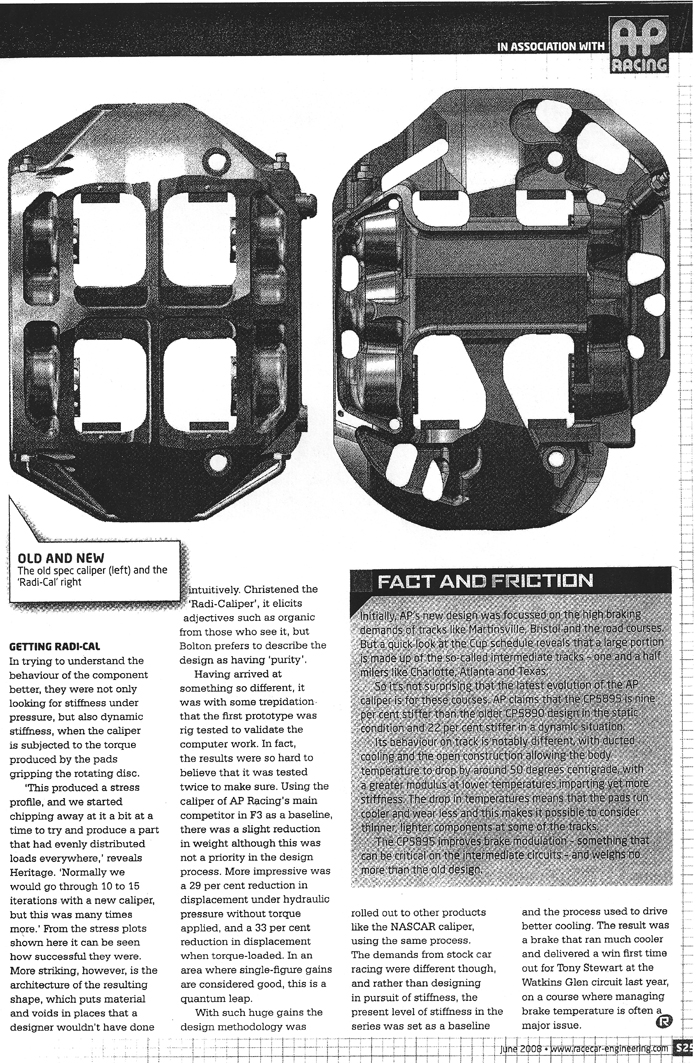 RaceTech November 2007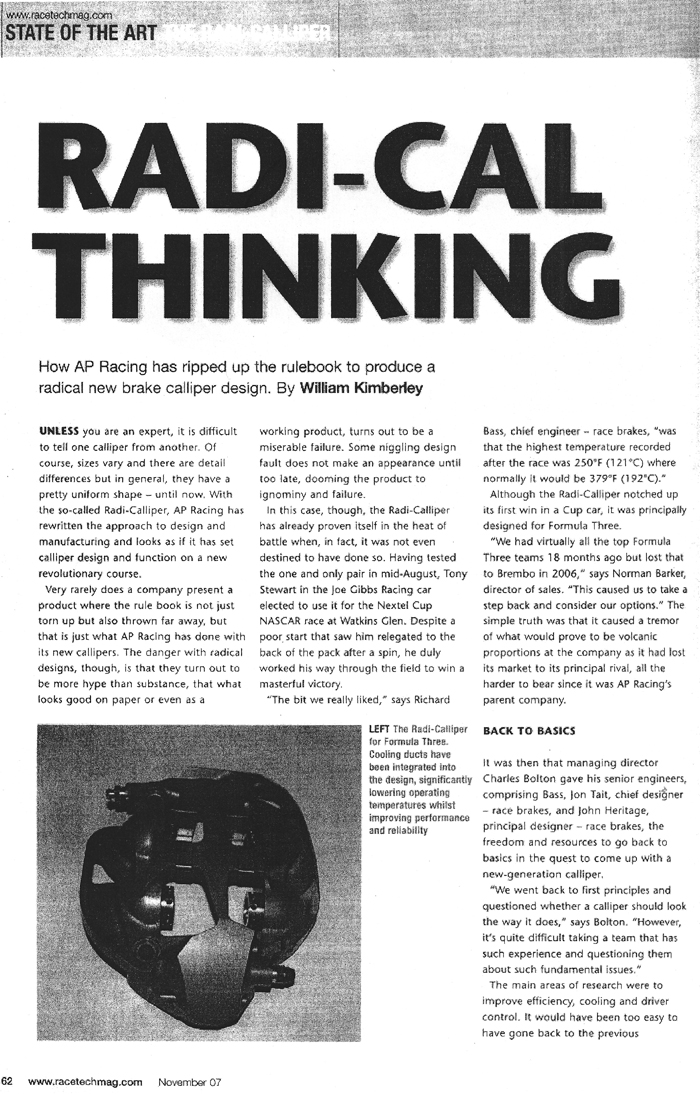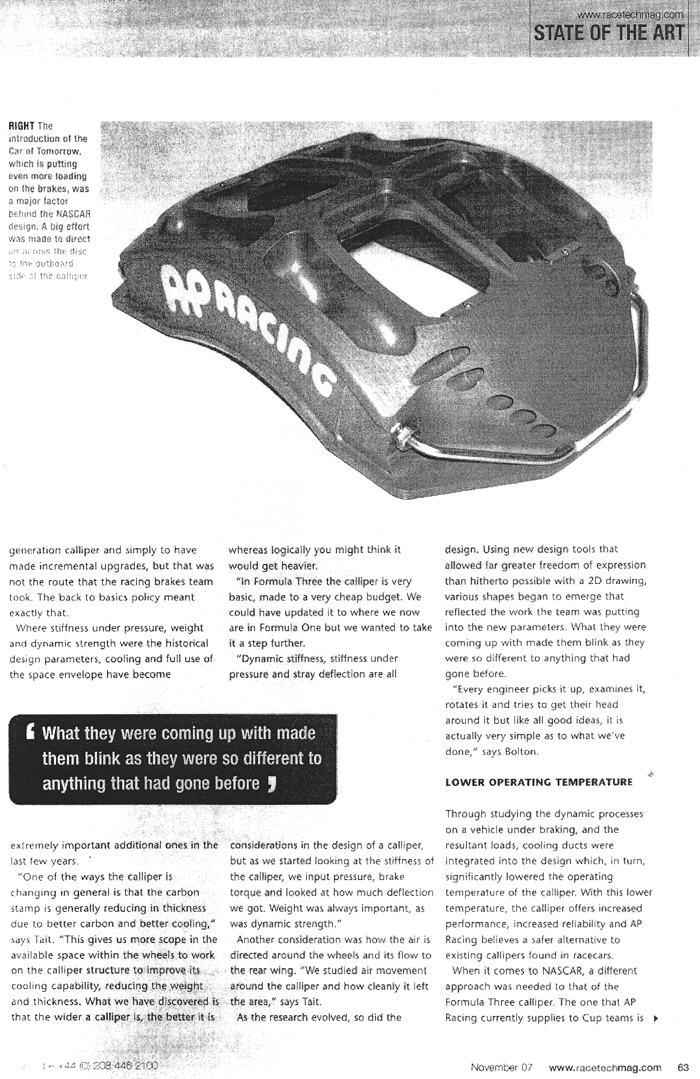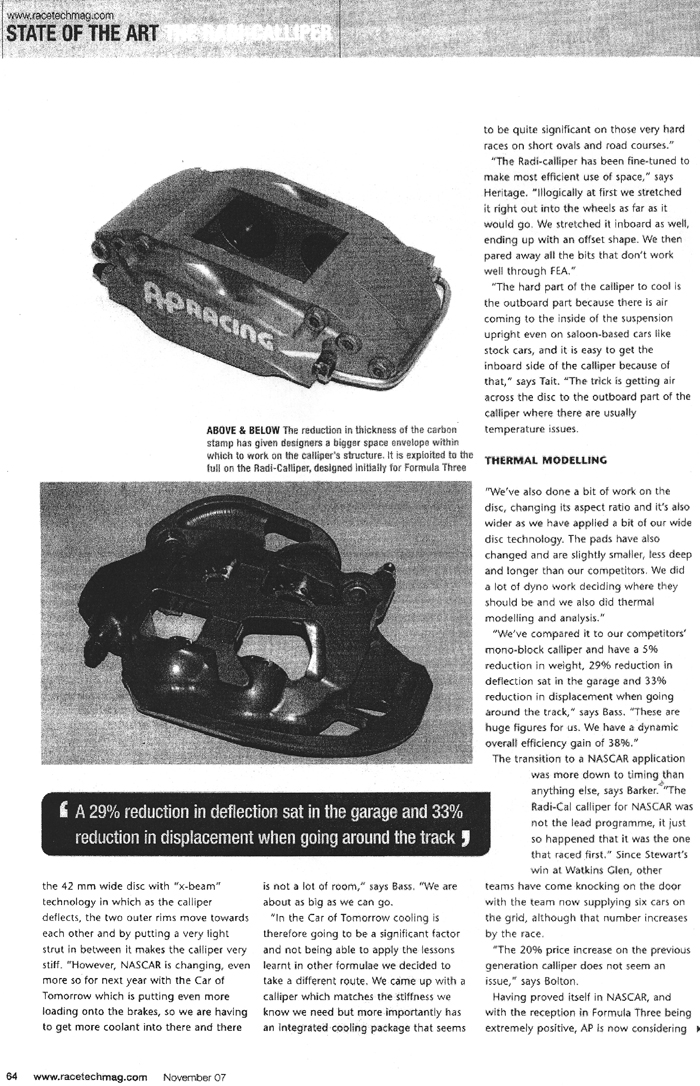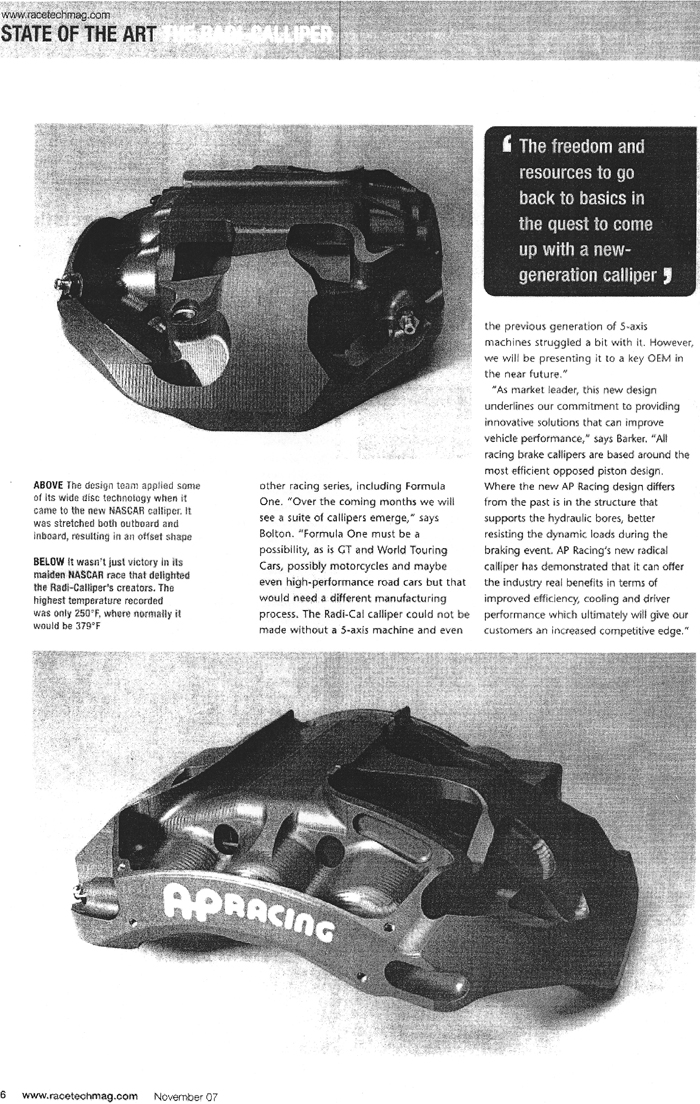 Yahoo Euro Auto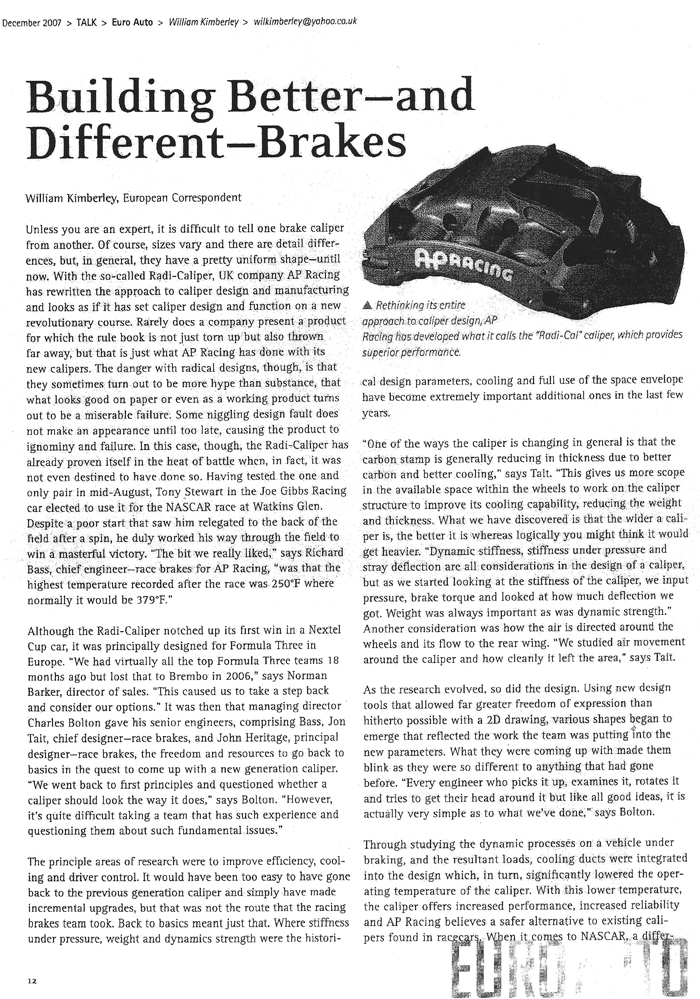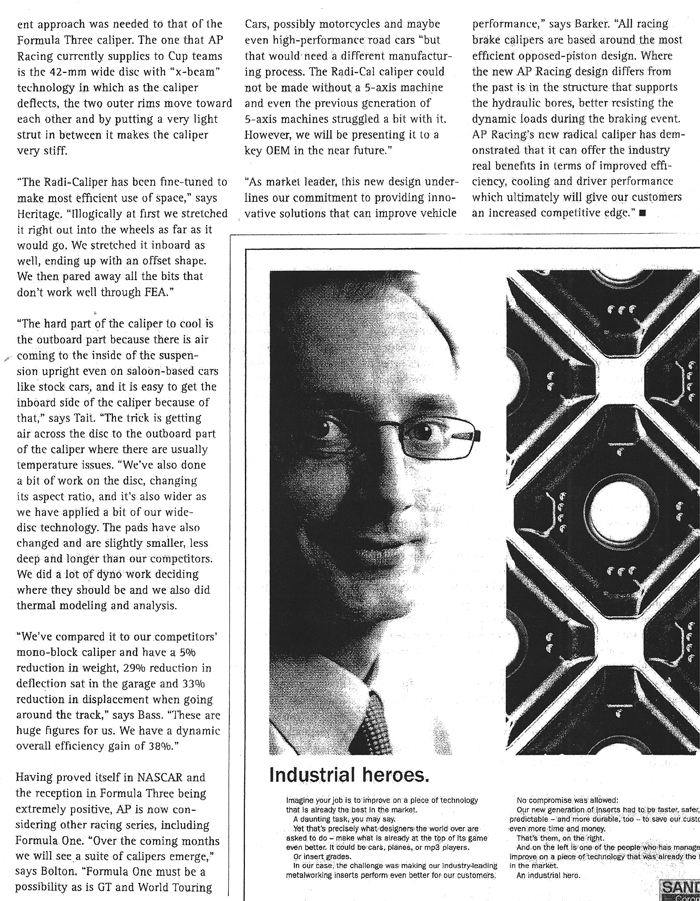 RaceTech Special Report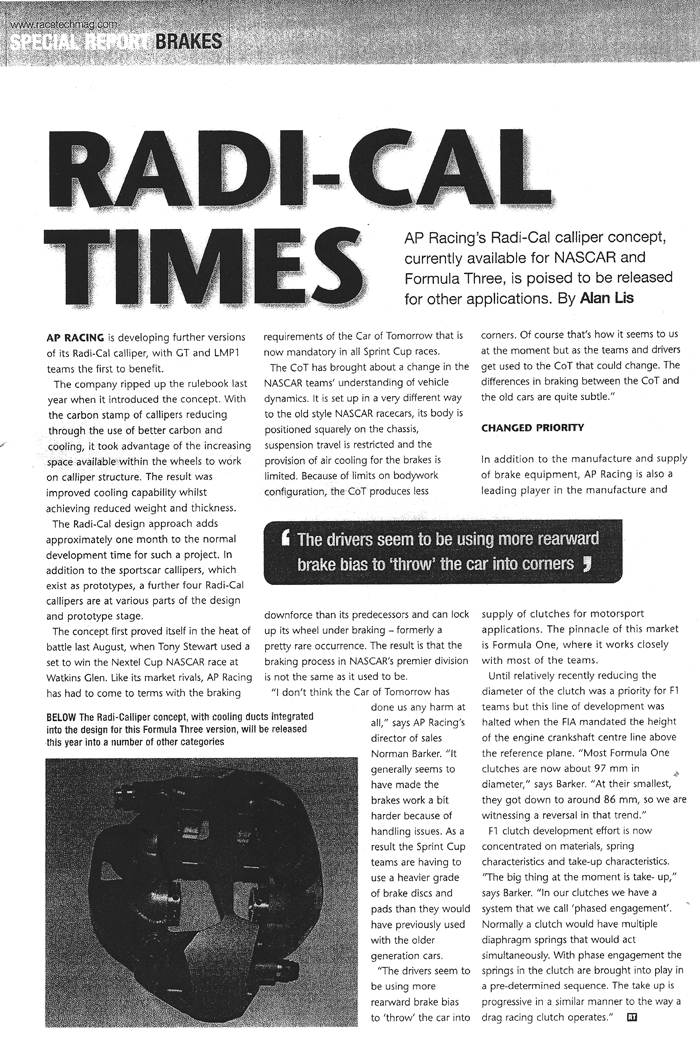 RaceTech Special Report Pro5000R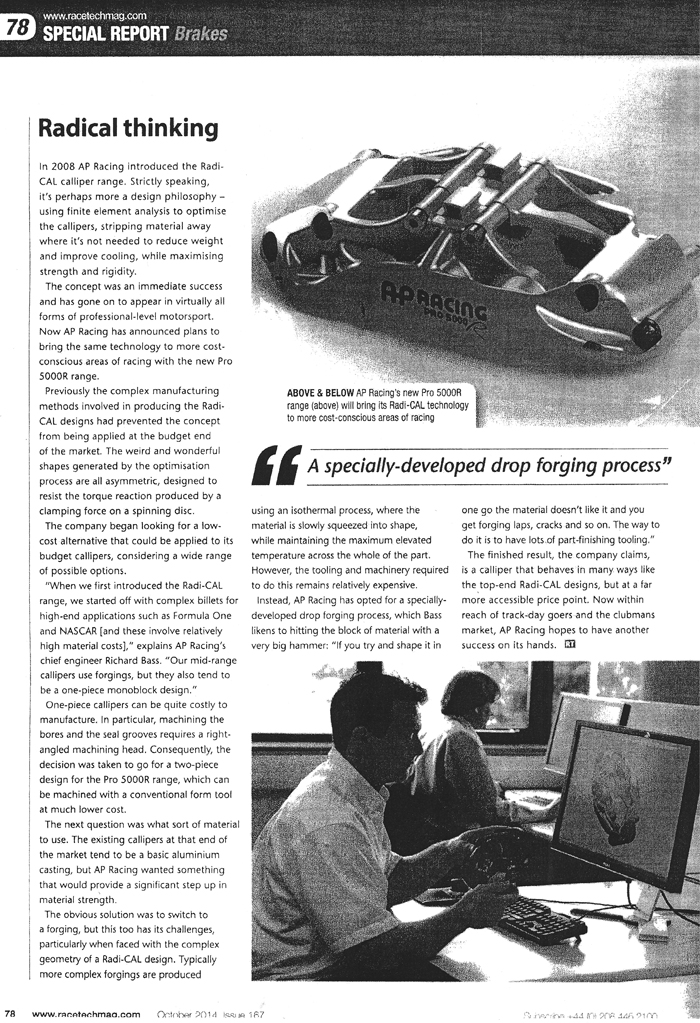 Share:
---
« Back to Listing