Toyobaru 86 Brake Kits: Gen.1 vs. Gen.2
02.14.2022
We recently had the new 2022 Subaru BRZ and 2022 Toyota GR86 in for measurement. While the GR86 has the same suspension spindle and brakes as the Gen.1 cars, the Gen. 2 BRZ arrived with a new aluminum steering knuckle that prevents our original CP8350/299mm (Sprint) and 325mm (Endurance) brake systems from fitting. We therefore had to redesign our 299mm and 325mm systems for the new BRZ. Both kits have new caliper brackets and new disc hats with different offsets.
When measuring and analyzing the new 2022+ BRZ and GR86, we also made a few additions and changes to our overall brake kit lineup as follows:
We retired our first generation CP8350/325mm (Endurance) system, #13.01.10006. That system came with an integrated brake duct provision that we are no longer offering for several reasons. We found that many of our clients, if not most, weren't using the duct provision, and over the past ten years since that kit's introduction we have also been moving away from recommending the use of brake ducts with any of our Competition Brake Kits. You can see the myriad of reasons why in our blog article, "Do I Need Brake Ducts for my Track Car?" The iron disc ring in our new 325mm system is also fresh design with a slightly shorter radial depth and a new slot pattern. It weighs approximately 1.5 lbs. less vs. our older kit while adding a substantial amount of durability.
We have added several new larger six-piston front systems that feature AP Racing's incredible Radi-CAL calipers. There are two front systems featuring 355x32mm discs, and two kits with a 372x34mm discs. Each disc size comes with one of two Radi-CAL Pro5000R caliper choices, the CP9660 (narrow) or the CP9668 (wide). You can read about the differences between those calipers in our article, "Sibling Rivalry: Which AP Racing Radi-CAL is right for me, the CP9660 or CP9668?"
A new Rear Radi-CAL system is now available, designed to mate with any of our front Radi-CAL six piston systems.

Our new rear system can be technically mated to either of our front CP8350 systems without any issues. It just won't match aesthetically.
If you search for your specific year/make/model on our website, you will see all our kit offerings laid out for your vehicle. Below is an overview of those options, along with some notes on choosing amongst the various options.
Gen.1 BRZ, FR-S, GT86 (2012-2020…model year 2021 was skipped)
Our lineup for your car includes:
Gen.2 BRZ (2022+)
Our lineup for your car includes:
If you had our original CP8350/299mm Sprint Kit #13.01.10005 or our now discontinued CP8350/325mm Endurance Kit #13.01.10006, it will NOT fit on your new 2022 BRZ. Our advice would be to sell your old kit complete on the used market. We do NOT recommend selling individual pieces of the kit. Essex does not offer individual brake kit components separately to people trying to piece together their own kits (although we do sell individual components to existing customers who have damaged something that needs to be replaced). As such, an individual purchasing your used kit components would not be able to piece together their own complete kit (see this article for details on that policy). Complete kits also tend to bring considerably more money on the used market, and our kits typically sell for about 65-70% of their original MSRP (depending on condition).
Our newly designed CP8350/299mm Kit, #13.01.10153
Newly revised CP8350/325mm Kit, #13.01.10147
Four Radi-CAL front kits, with two different caliper options (CP9660 and CP9668), and two different disc options (355x32mm or 372x34mm)
Our new Radi-CAL rear kit, #13.01.10150
GR86 (2022+)
Our lineup for your car includes:
Here's a chart with all the Essex front brake kit options compared to stock:

Wheel Fitment
Some notes on 2022+ BRZ and GR86 OEM wheel fitment.
Our new 299mm and 325mm systems will both clear all OEM 2022+ 17" and 18" BRZ and GR86 wheels without a spacer.
Our front CP9660/355mm Radi-CAL system will clear the OEM 18" BRZ wheels without a spacer, but will NOT fit inside stock 17's.

We have not yet tried to fit this kit inside the OEM 18" GR86 wheels.

Our CP9668/355mm and both of our 372mm kits will NOT clear any of the stock wheels.
Our rear Radi-CAL system will clear the OEM 17" rear GR86 wheels and the 18" rear BRZ OEM wheels.

We have not yet test fit the rear OEM GR86 18s or the OEM BRZ rear 17s.
Before selecting any of our systems, please be sure to check our wheel fitment templates! Each of our applications has a unique fitment profile, and our new 299mm and 325mm systems do not fit the same as our old systems. Please watch the video below to see how to find our wheel fitment template for any system you are considering.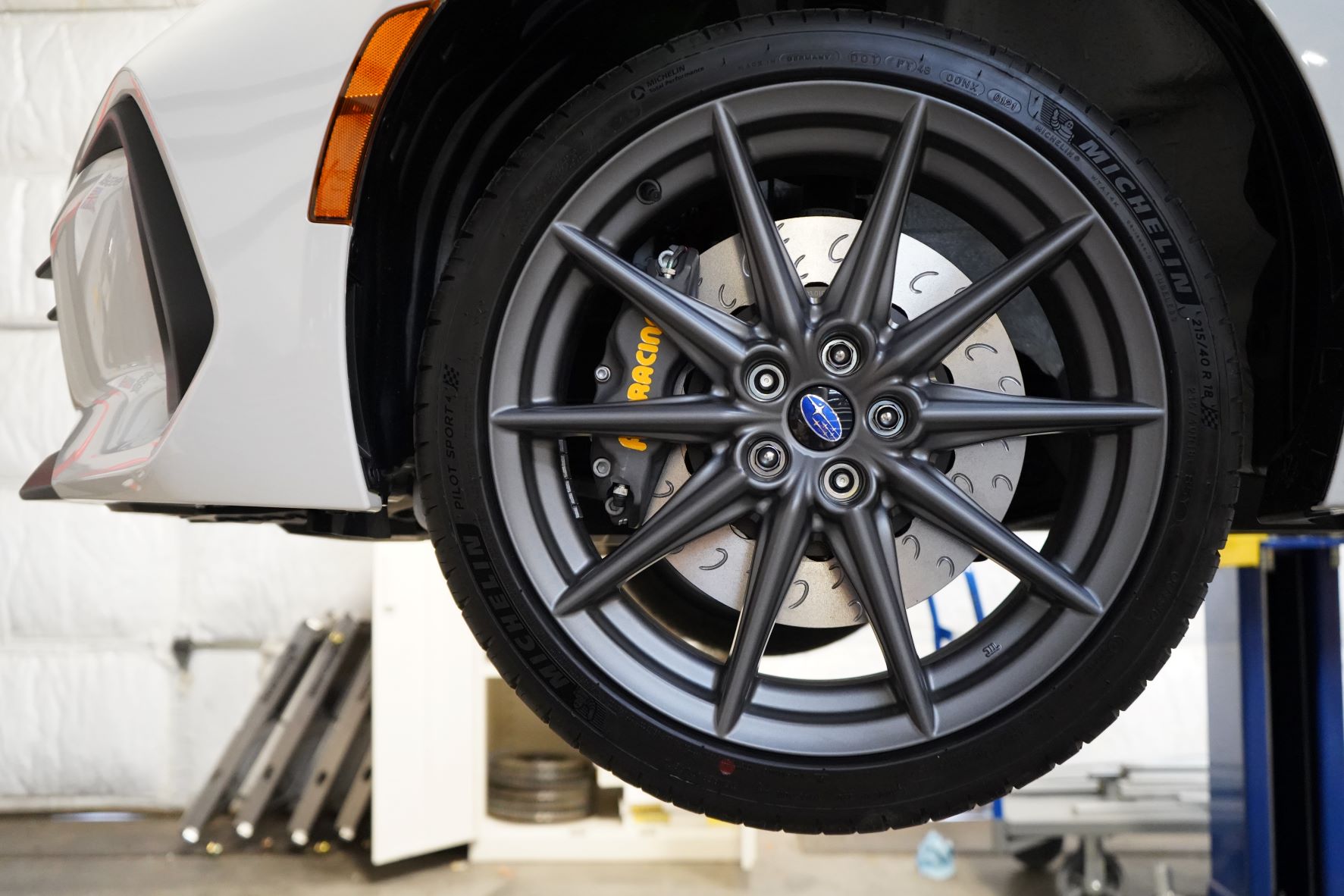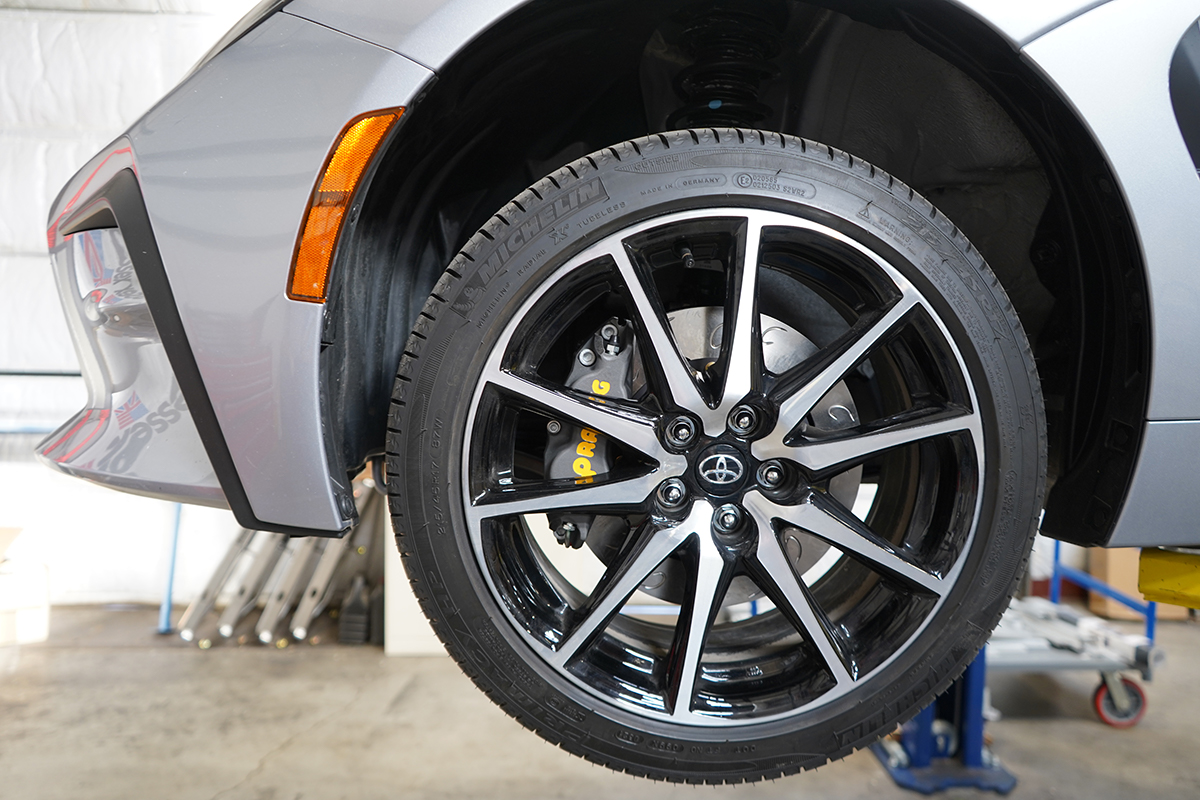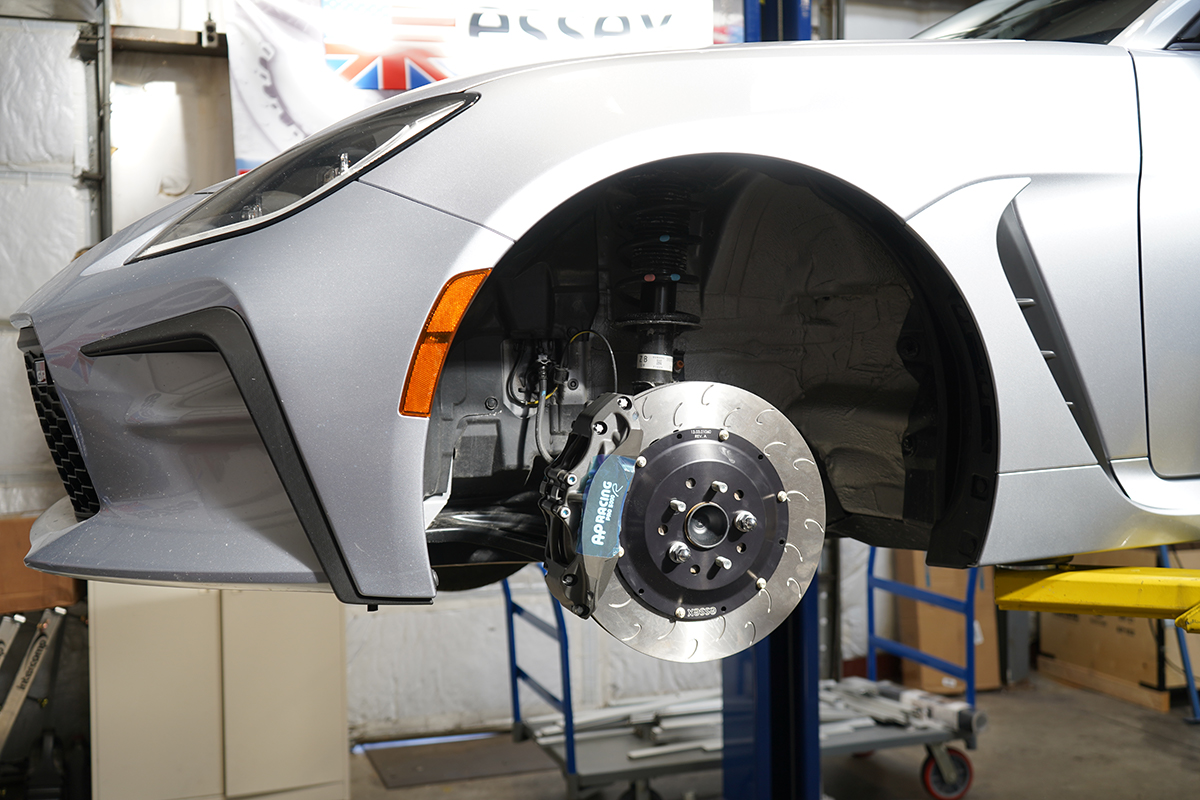 Share:
---
« Back to Listing