New Product: BMW G80 G82 G87 M2 M3 M4 Competition Rear Brake Kits!
11.02.2023
All AP Racing By Essex Competition Brake Kit options for the G80/G82/G87 M3, M4 & M2 can be found here.
For those looking to reduce unsprung mass while also adding the ability to run smaller, lighter track wheels/tires on your newer G80/G82/G87 BMW M car, we are excited to announce Rear Axle Competition Brake Kits. Like other kits in our Radi-CAL product line, they feature the renowned AP Racing Pro5000R calipers, in this case paired with our 365x30mm 2-piece floating discs. Proven over many thousands of track miles, our discs are highly efficient and able to absorb and shed heat far more quickly and effectively than the OEM units, while also weighing less and typically lasting longer.
One of the recent developments and significant challenges for upgrading brakes on newer vehicles is the adoption of Electronic Parking Brakes or EPBs. Instead of traditional drum-style parking brakes behind the center of the rear disc, many OEMs are now incorporating electrically-actuated units either built into the primary caliper itself or in tandem as a secondary unit. BMW chose the former on the latest M cars, and replacing that caliper-integrated OE setup with our Pro5000R four piston racing caliper meant that we had to develop a tandem solution along the lines of the latter, in order to retain a parking brake on the car. The result is our new Competition Rear Brake Kit below with EPB, which not only shaves 6 lbs., but drastically increases the your M2/M3/M4's braking efficiency and durability for track applications, while maintaining EPB functionality through a very robust and reliable solution. We also know that many of you would rather save even more weight (and $$$) on your track-only Bimmers, so we're offering a version without the EPB that drops 20 lbs. from the rear axle!
What are the advantages of AP Racing by Essex Competition Brake Kits vs. OEM?
Shave approximately 6 pounds of unsprung weight from your M car's rear axle while retaining an Electronic Parking Brake (EPB) or eliminate roughly 20 lbs. with our EPB-delete variant
Allow you the option to run lightweight 18" and 19" track wheels and tires (use our wheel template PDFs here to confirm fitment: EPB kit / non-EPB kit
Both EPB and non-EPB packages fit behind the OEM BMW 20" rear wheels without a spacer
Dramatically increase your brake pad options. Radi-CAL calipers use some of the most common pad shapes on the market, and every pad manufacturer makes the shape in nearly all of their compounds
Easier pad changes with only a single bolt to loosen/tighten on the AP Racing CP9449 caliper
Every component designed to resist the heat of extended track sessions
Pistons sized properly for balance and to allow for seamless integration with OEM master cylinder and ABS system
Below are all of the new G80/G82/G87 rear kit options:
Anodized CP9449 365mm Competition Brake Kit
Anodized CP9449 365mm Competition Brake Kit w/EPB
Electroless Nickel Plated CP9449 365mm Competition Brake Kit
Electroless Nickel Plated CP9449 365mm Competition Brake Kit w/EPB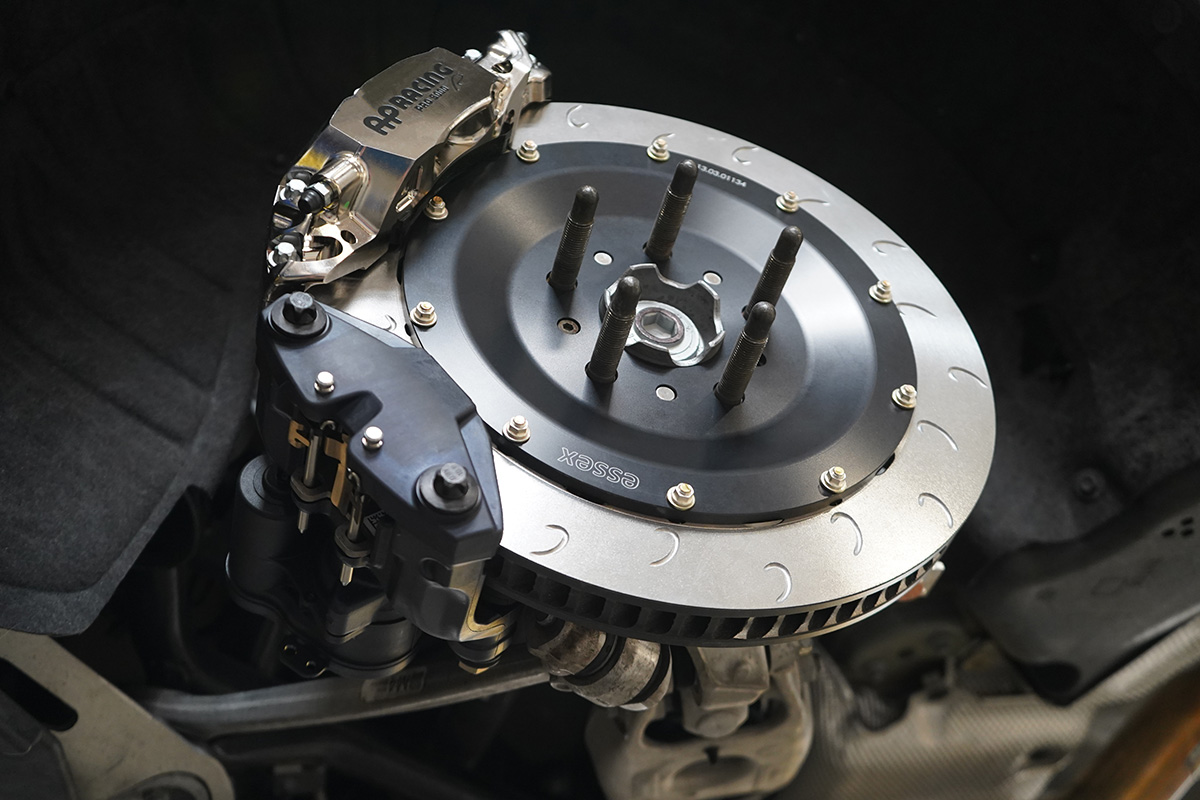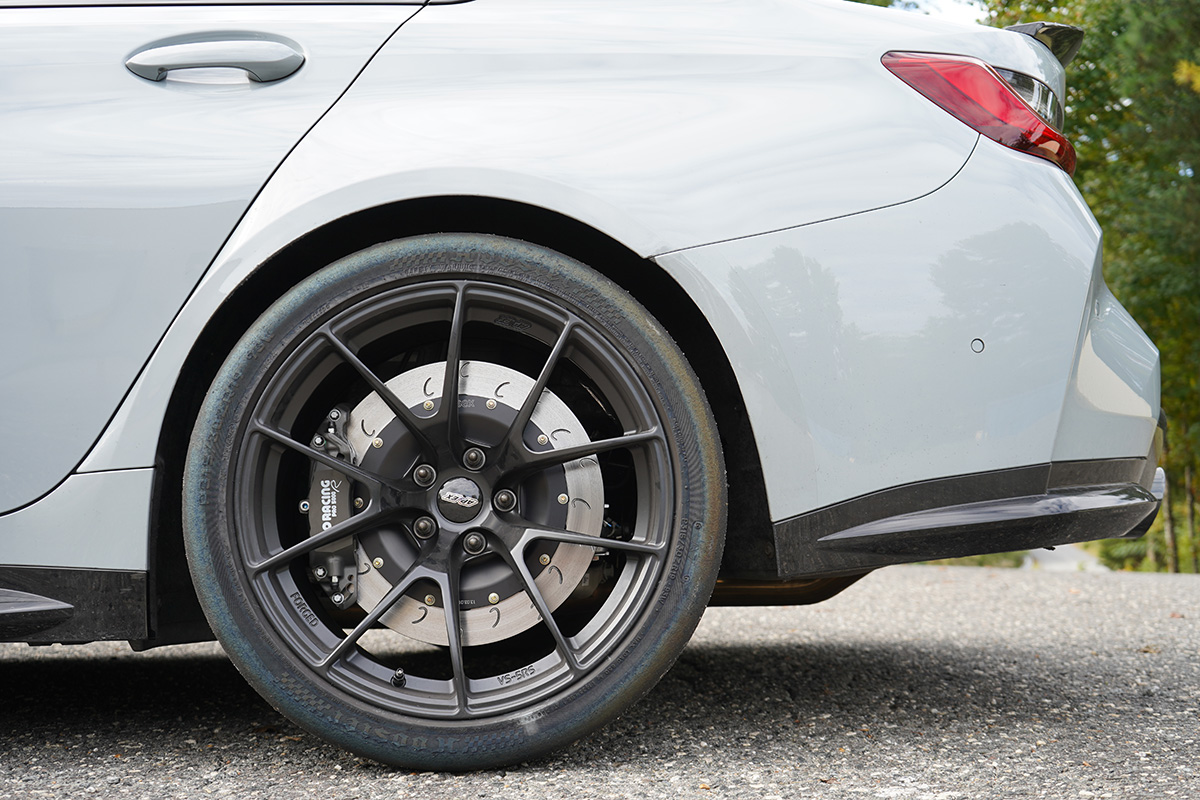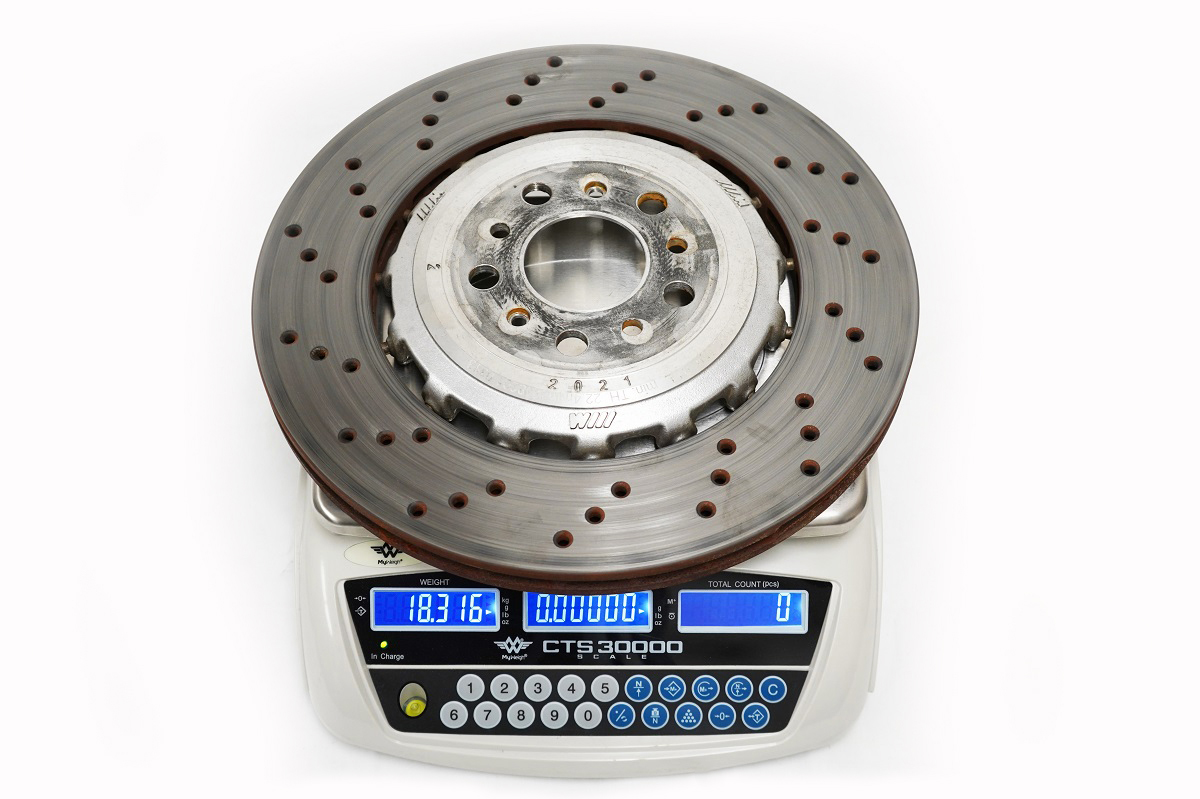 BMW's M Compound rear discs measure 370mm across and weigh in at 18.3 lbs., despite having a thickness of only 24mm. In contrast, the AP Racing by Essex 365x30mm disc tips the scale at 15.3 lbs., saving 3 lbs. of unsprung weight per corner disc, yet increasing rotor ring thickness by 6mm.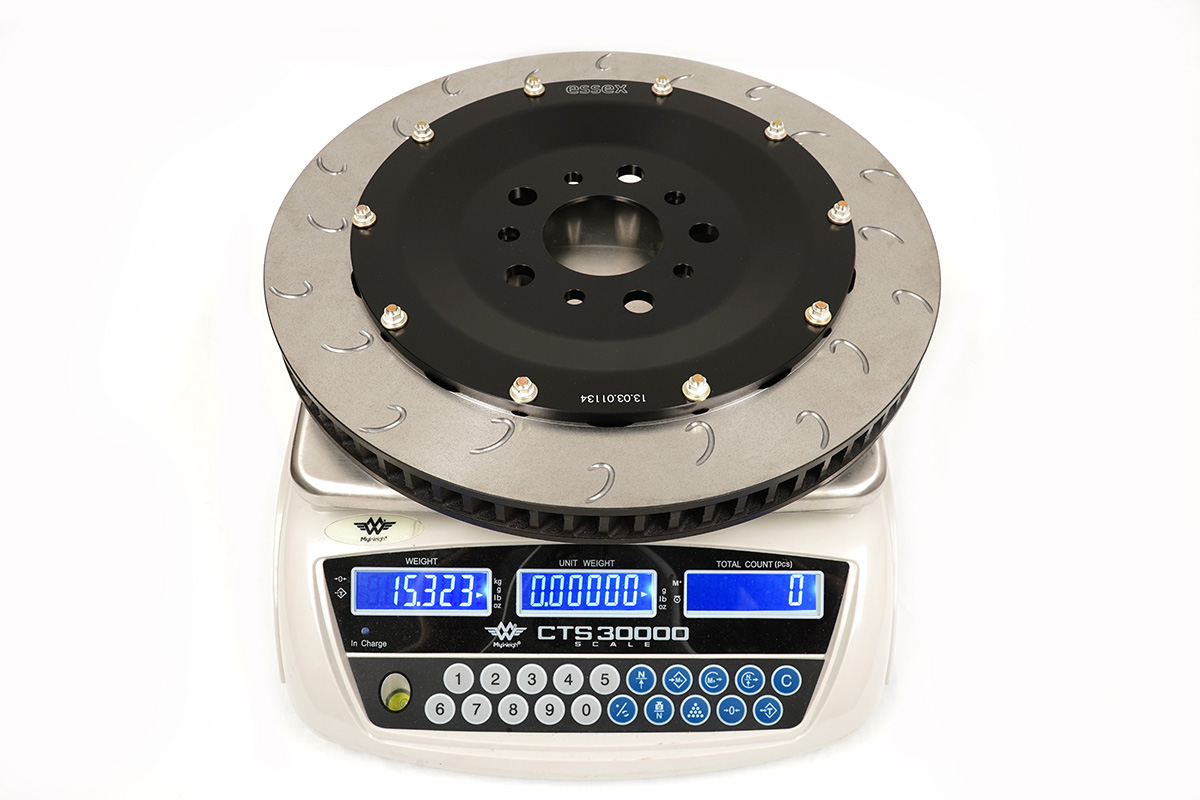 For some reason, on these latest M cars, BMW opted for a single piston sliding caliper with integrated Electronic Parking Brake. It has a large amount of mass for its small size at 13.5 lbs. (without pads).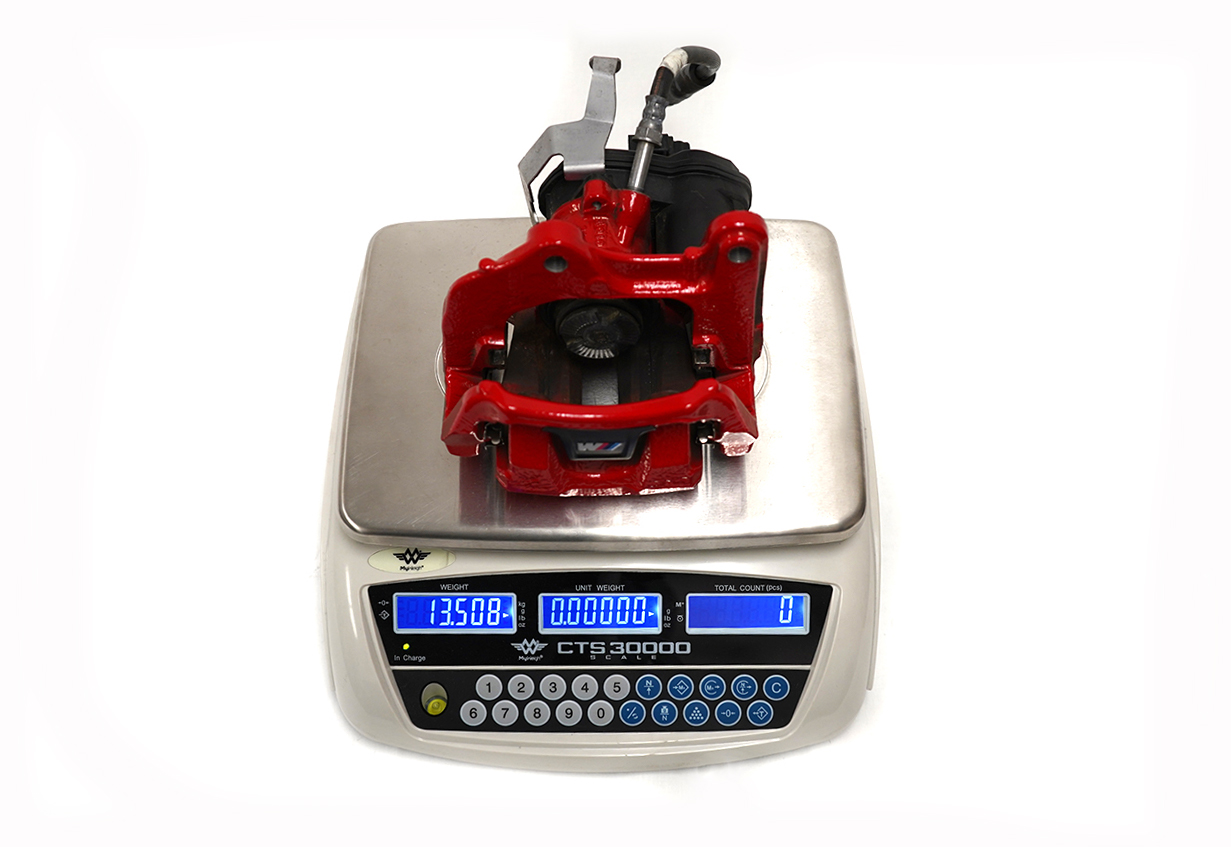 The AP Racing Pro5000R CP9449 is truly a featherweight by comparison at 4.79 lbs. despite having 4 horizontally-opposed stainless steel pistons and a much stiffer forged aluminum structure.
Sliding calipers like BMW's EPB-integrated unit certainly have a role to play on non-performance oriented street cars, but they're a bit out of place on these latest M2/M3/M4's. With 450+ hp, gobs of turbocharged torque, and no shortage of weight to manage (lap after lap), the race-proven CP9449 is a much smarter choice for a serious track driver, with improvements across the board and even easier pad changes!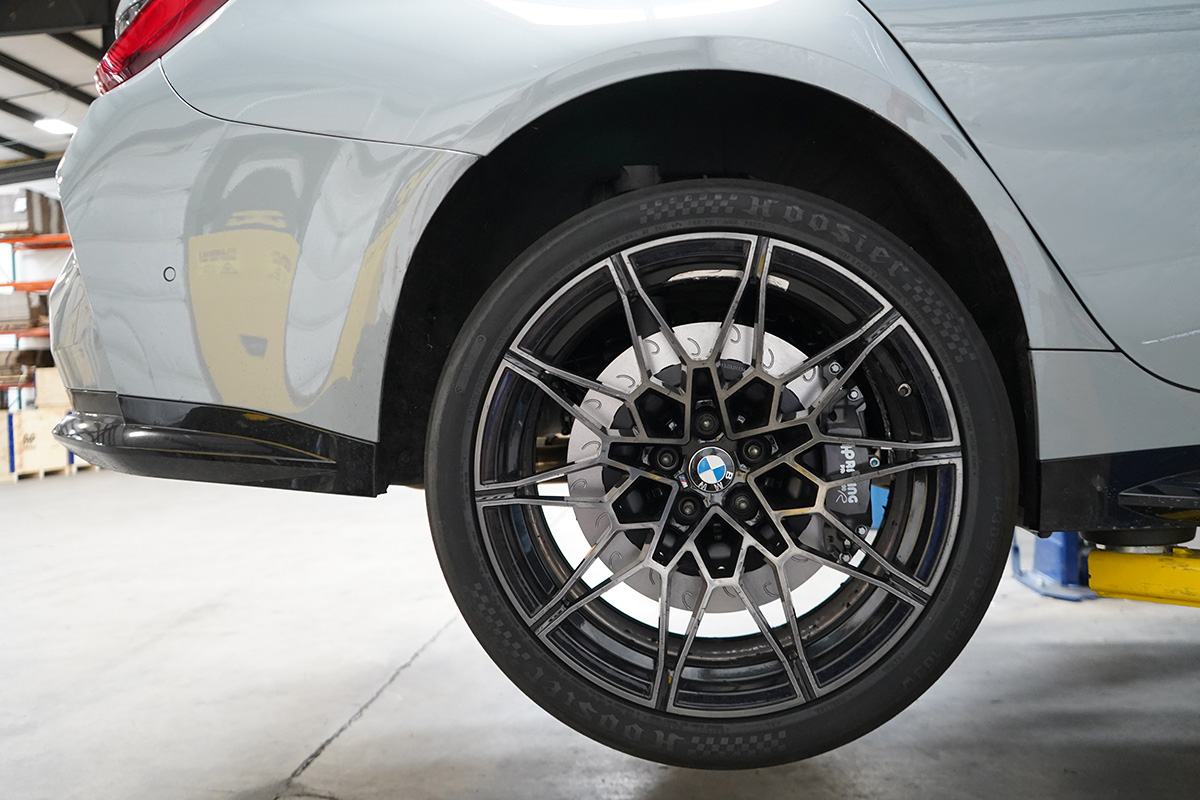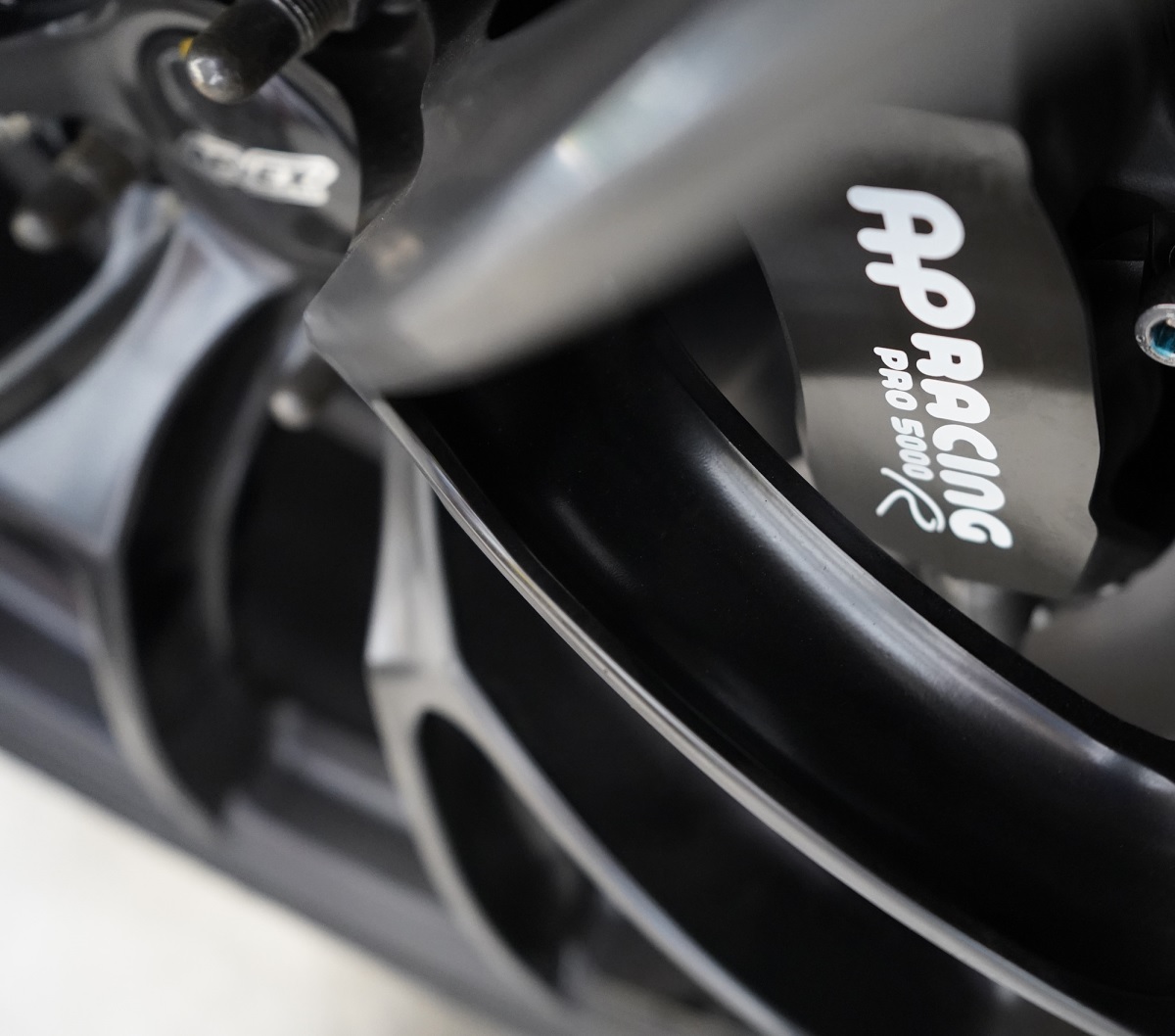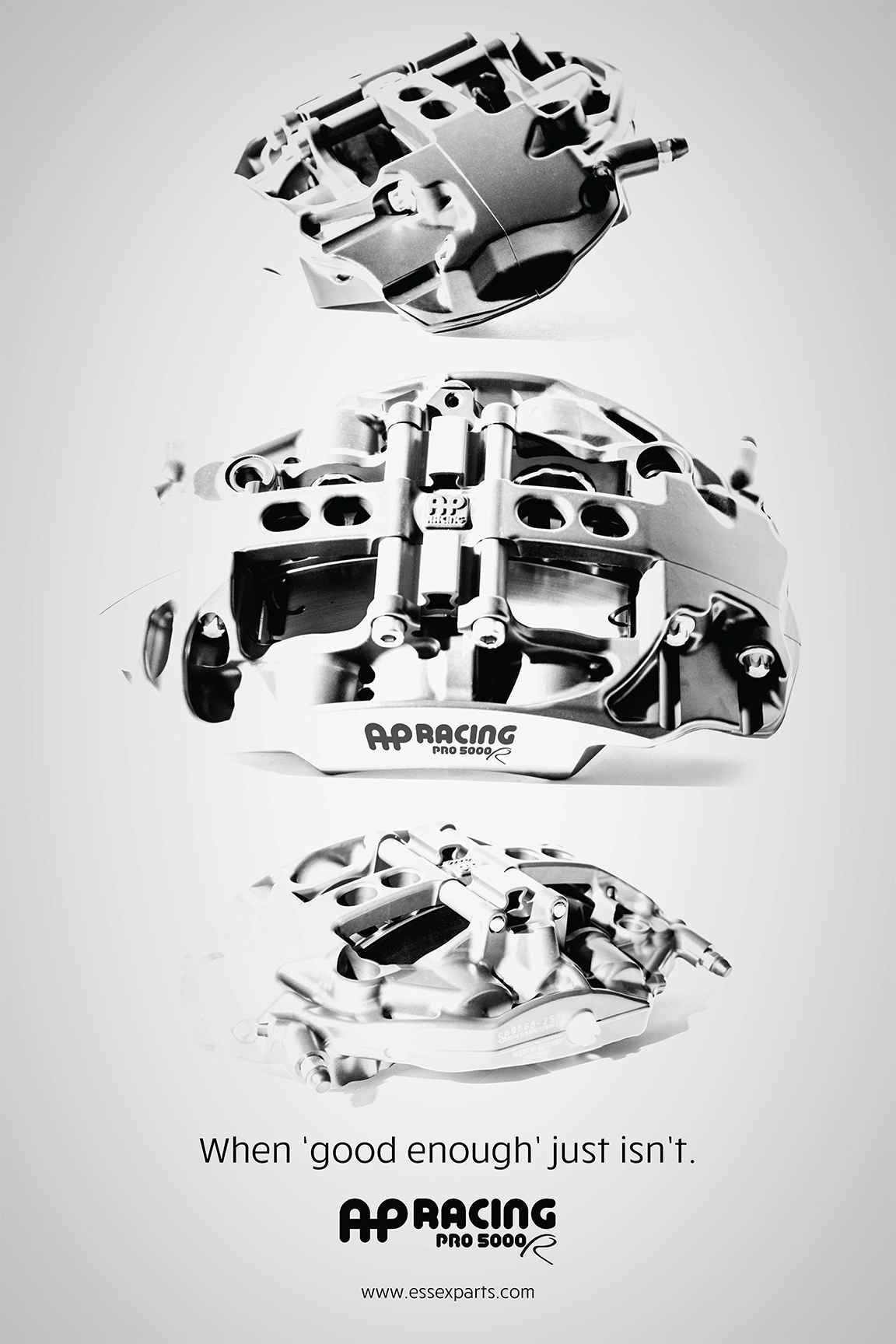 Share:
---
« Back to Listing