Coming soon...Radi-CAL Competition BBK and 2-piece J Hooks for your Audi TTRS!
01.22.2018
The 2017+ Audi TTRS is available with front carbon ceramic brake discs as part of the $6,000 Dynamic Plus option package. A customer of ours ticked that box, and was rewarded with destroyed discs and pads after only a day and a half at the track! He came to us looking for a alternate solution that would provide greater durability, superior feel, and far lower long-term running costs. We obliged, with a clear upgrade path towards braking bliss.
We are currently developing three brake upgrade options for the TTRS. Since all of our options use the same discs, they offer the flexibility of a staged upgrade path. If budget is a concern, the discs can be added first, followed later by the calipers/adapter brackets. If you'd rather just shelve the heavy, bulky factory 8 piston calipers, you can skip straight ahead to one of our complete brake kits, which include AP Racing's revolutionary Pro5000R Radi-CAL calipers.
Option #1 is our Essex Desgined AP Racing 2-piece J Hook disc kit. We replace the OEM 370x34mm front discs with incredibly stout 372x34mm AP Racing J Hook discs that have 84 internal vanes. AP Racing J Hook discs have repeatedly proven themselves to be the coolest-running, longest-lasting discs in the industry, winning countless races and championships across a diverse array of motorsport venues. Our discs weigh roughly 20 lbs. each, and they only push the caliper out 1mm further towards the wheel barrel vs. the OEM discs. That ensures that proper brake bias is maintained, and wheel fitment remains virtually unchanged vs. stock (an important consideration for those running 18" track wheels). Even though you won't be changing them often, it's comforting to know that our replacement iron rings are a very reasonable $399 each. For reference, OEM carbon ceramic replacements retail at roughly $5500 per pair! If you're worried that they're not big enough, that definitely should not be a concern. We have lots of 700-1000 HP C7 Z06's running our 372mm discs with great success. You can read about some of them elsewhere on our blog. Efficiency is just as important as size when it comes to brake discs.
Options #2 and #3 are our Essex Designed AP Racing Radi-CAL Competition Brake Kits. Since its introduction, the AP Racing Radi-CAL has redefined brake expectations from F1 to club racing. The patented Radi-CAL is stiffer, lighter, and runs cooler than any other caliper on the market. Both of our kits will feature our 372x34mm AP Racing J Hook discs. These discs provide 84 directional cooling vanes, a fully-floating aluminum hat, and AP's patented J Hook groove pattern. Again, these are the same discs in our Option #1 above, so if you start with the discs, you can always add the calipers later when you fry the factory ones.
Brake kit one will feature the CP9660 Radi-CAL, which weighs a mere 6.1 lbs. and uses a commonly available 18mm thick pad. Our second kit leverages the 6.9 lb. CP9668 Radi-CAL, which uses pads that are a full inch thick (25mm)! Both calipers feature a removable bridge, which makes pad changes a breeze. The CP9668 even has a quick-change bridge clip option, that allows for pad changes without any hand tools. With either of our kits it will take longer to raise the car and remove the wheel than it will to change pads! Due to their lightweight construction, our kits will only weigh 3-4 lbs. more per side than the OEM carbon ceramic disc setup. Both kits also will fit inside a wide range of 18" wheels, allowing for lighter wheels, and a huge range of less expensive track rubber. Finally, both kits also use a commonly available pad shape that has been around for a very long time. Just about every manufacturer makes this shape in all of their compounds, and you don't need to buy one box per caliper like the OEM shape, which can dramatically reduce your pad costs.
Our brake kits will feature the same Pro5000R Radi-CAL calipers featured on Audi's factory RS3 LMS racecar, and the VW Golf GTI TCR. These calipers have been proven over many miles of endurance racing.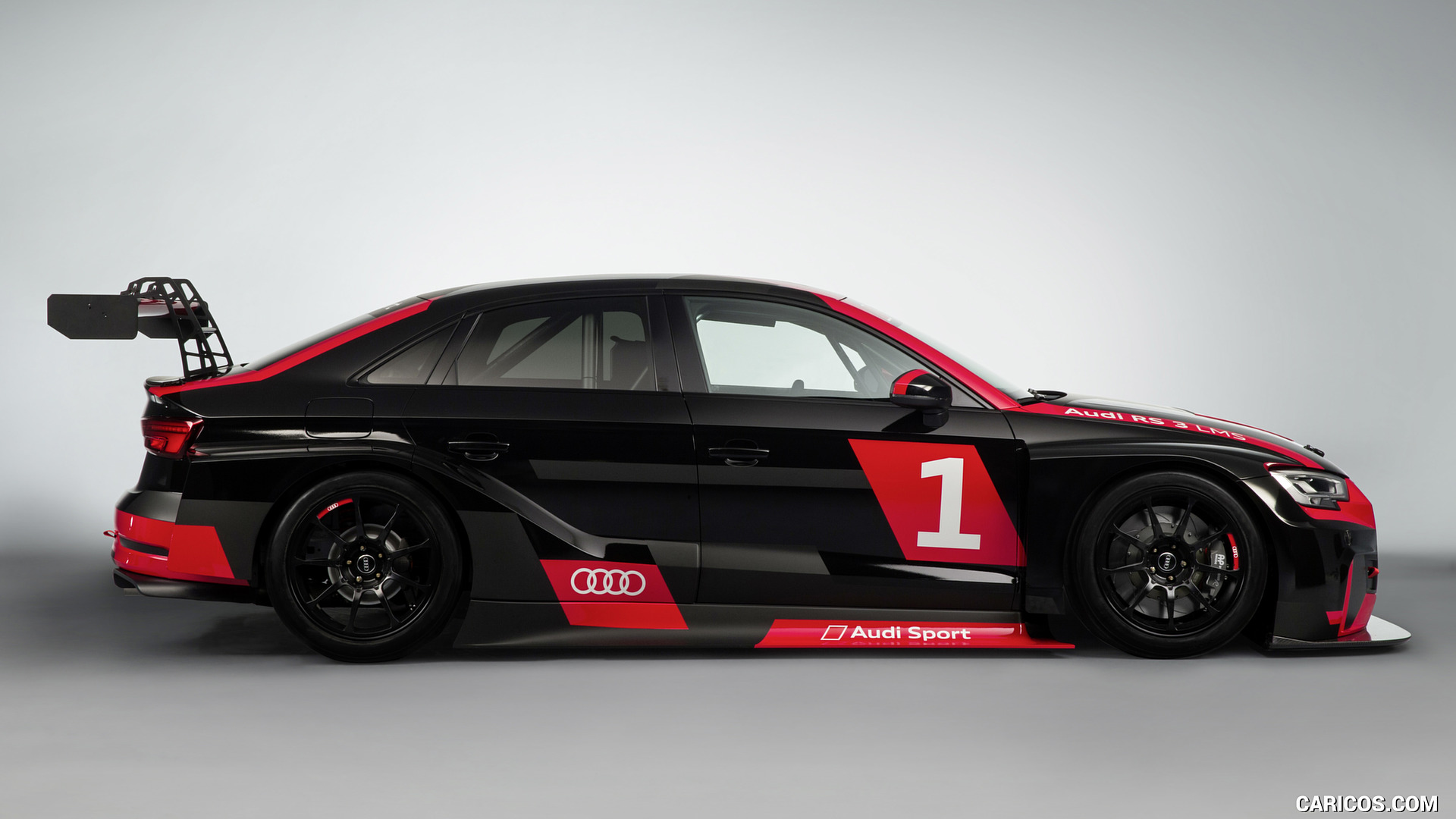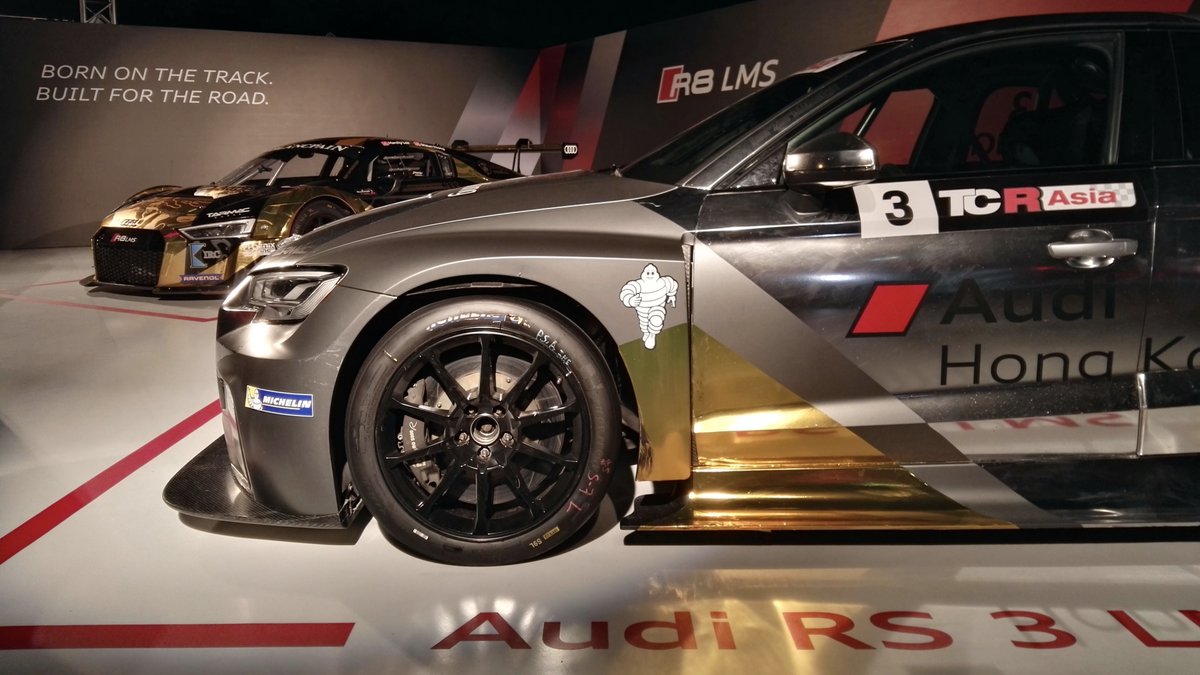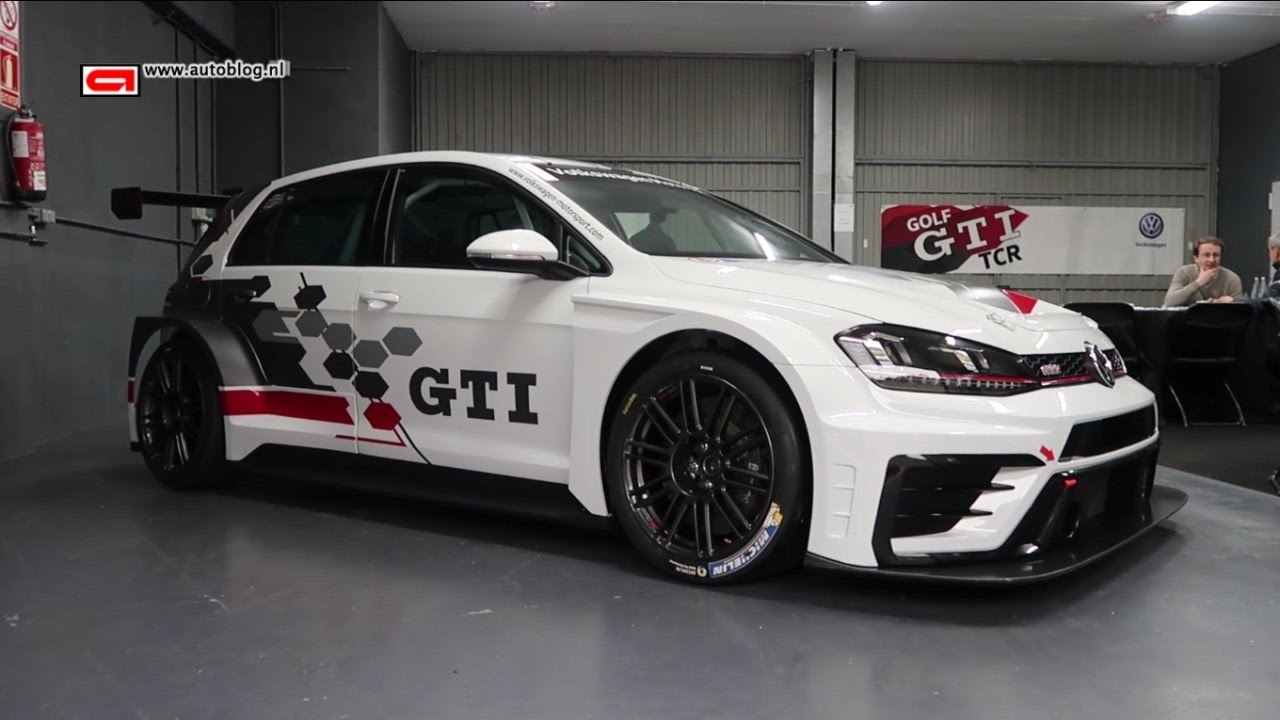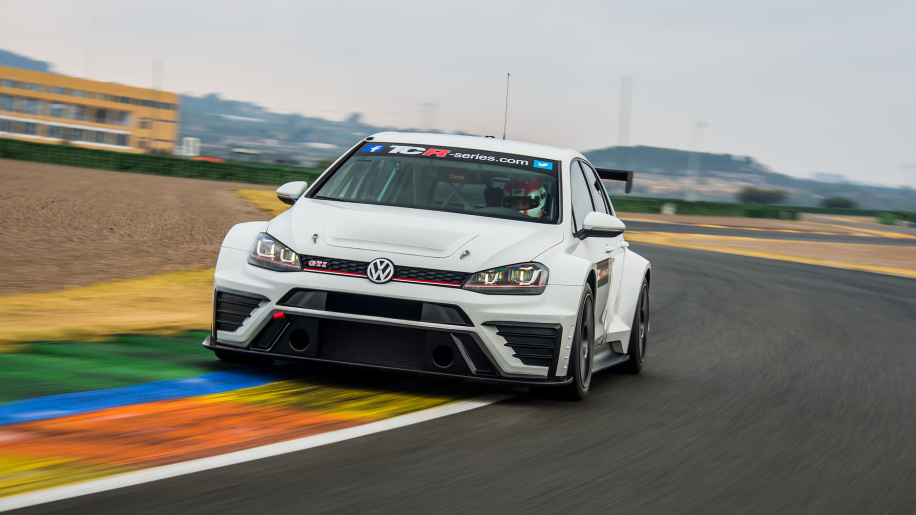 In summary, if you want maximum performance and the lowest long-term costs for your TTRS, pull off your OEM front brakes and shelve them in your garage. Install one of our upgrades, and beat them up for the next few years. When it comes time to sell your car, you'll have fresh OEM brakes to install, and it won't look like the car went through a war. You'll also be able to sell our brake kit for about 60-70% of what you paid for it. That means you'll have several thousand dollars coming back to you, rather than having to fork out a big chunk of money, only to give it away.

The video below highlights some of the advantages of our system compared to the OEM components. In this case we were looking at the OEM calipers from a Gen. 6 Camaro, but many of the comments hold true vs. the factory TTRS calipers.
Comparison Pics

We took a close look at the OEM calipers from our customer's car, just to see what kind of damage was done in a very short period of time (eight sessions at Sebring, five of which were in the rain). The piston dust boots were completely fried and are now useless. You can also see that the caliper body got extremely hot and started to change color in numerous locations. Our calipers hug the disc with a much tighter envelope, allowing for greater wheel fitment options, and you can also see the massive difference in thickness between the pads our CP9668 caliper uses vs. the OEM pads.
From left to right: CP9660, OEM, CP9668: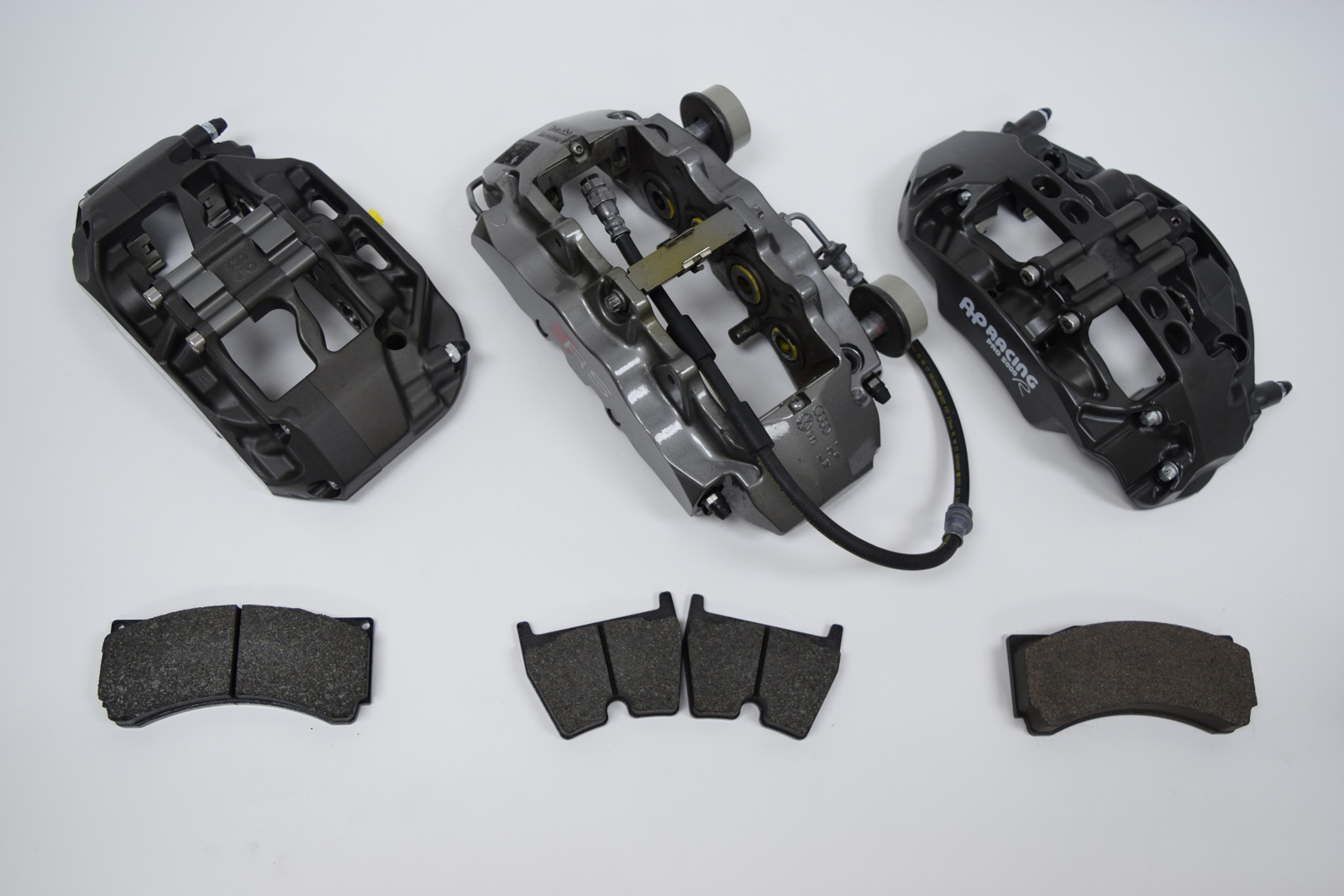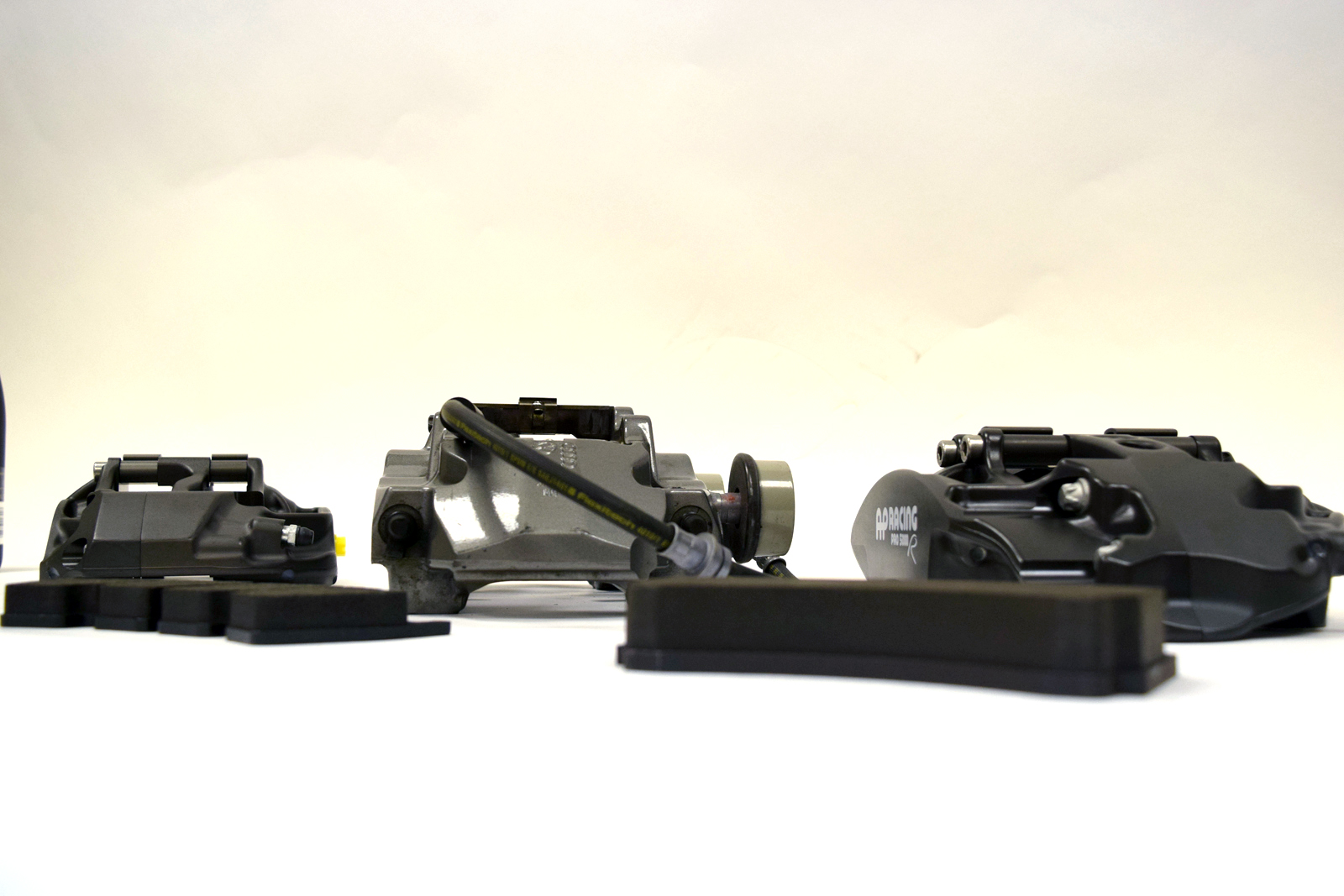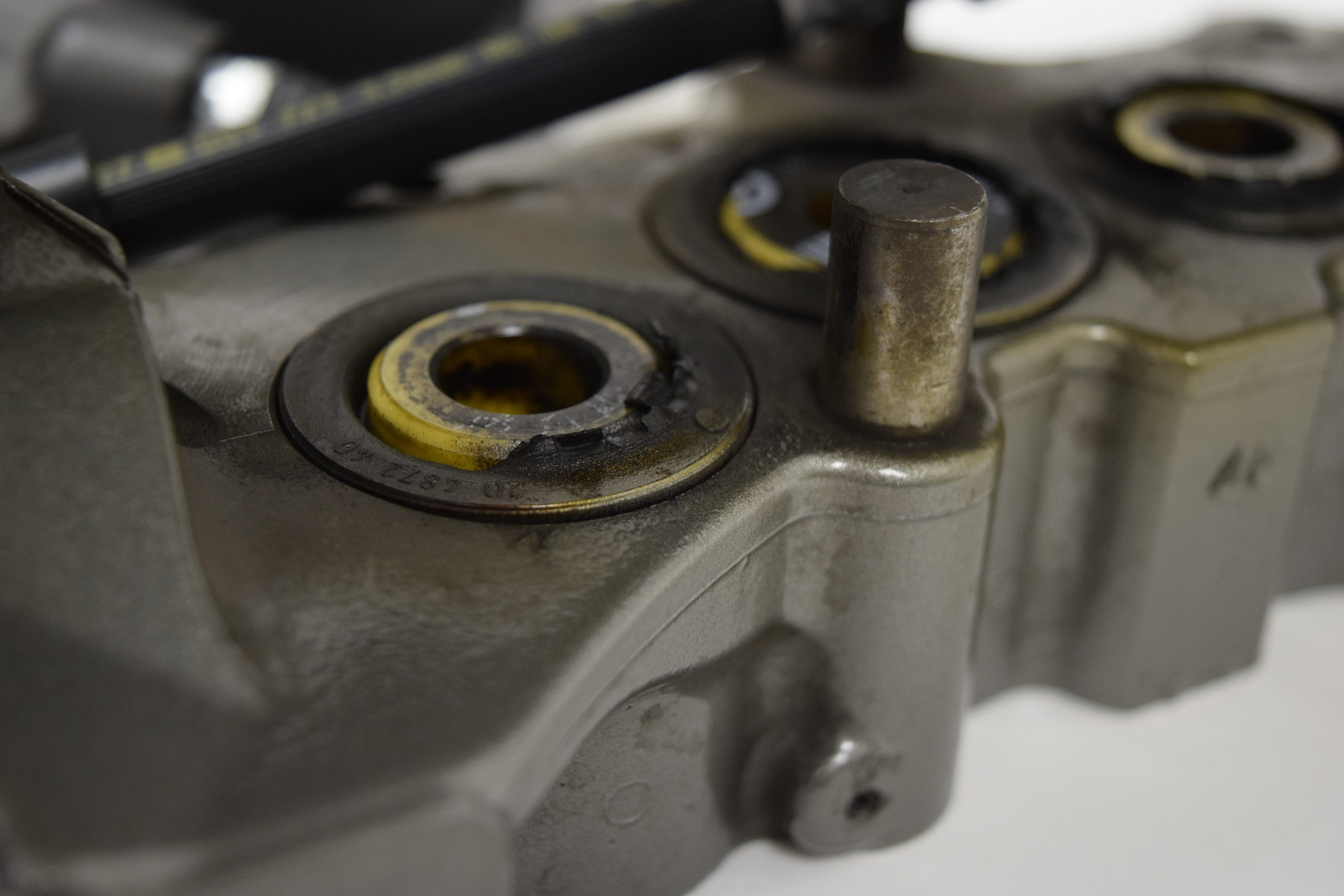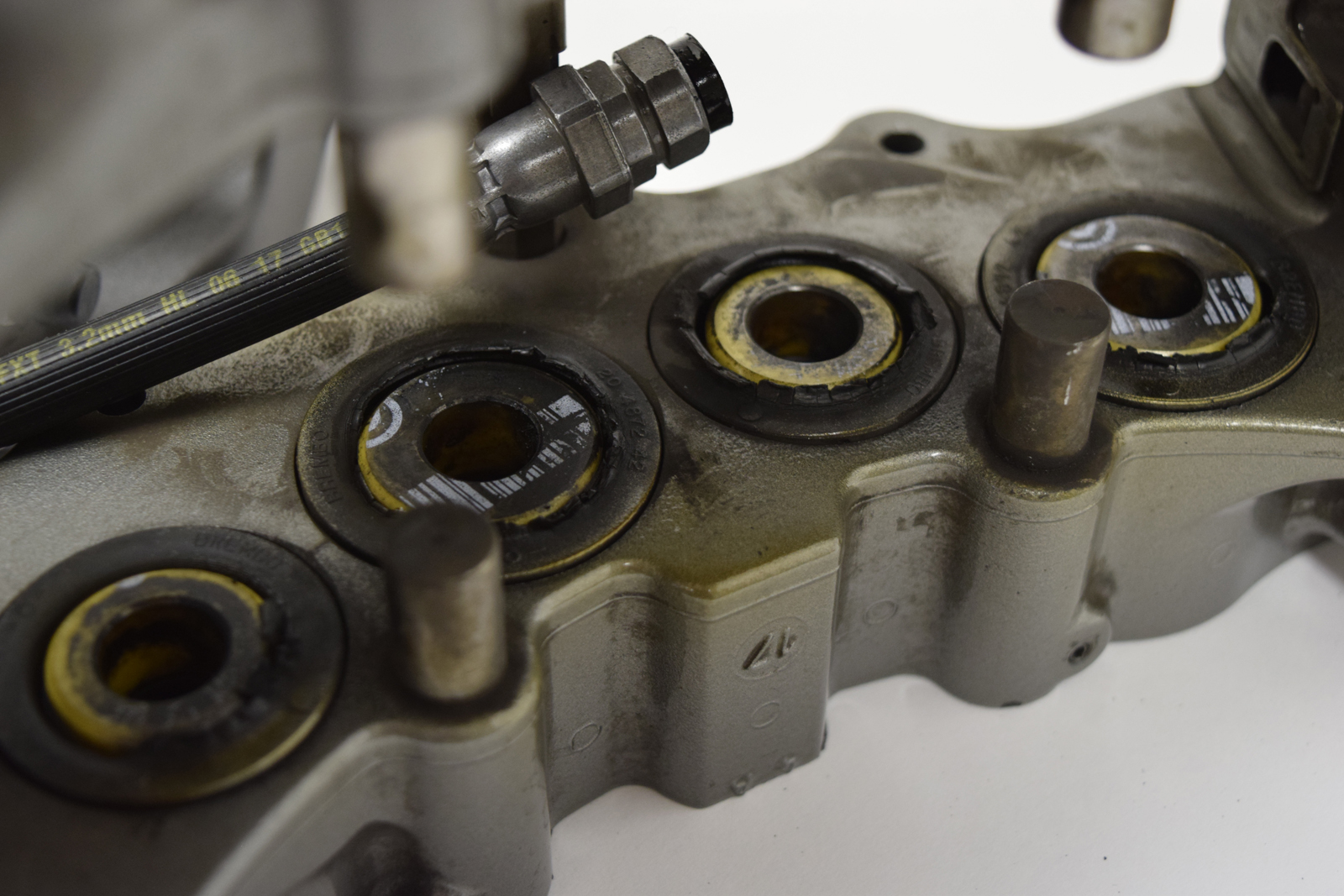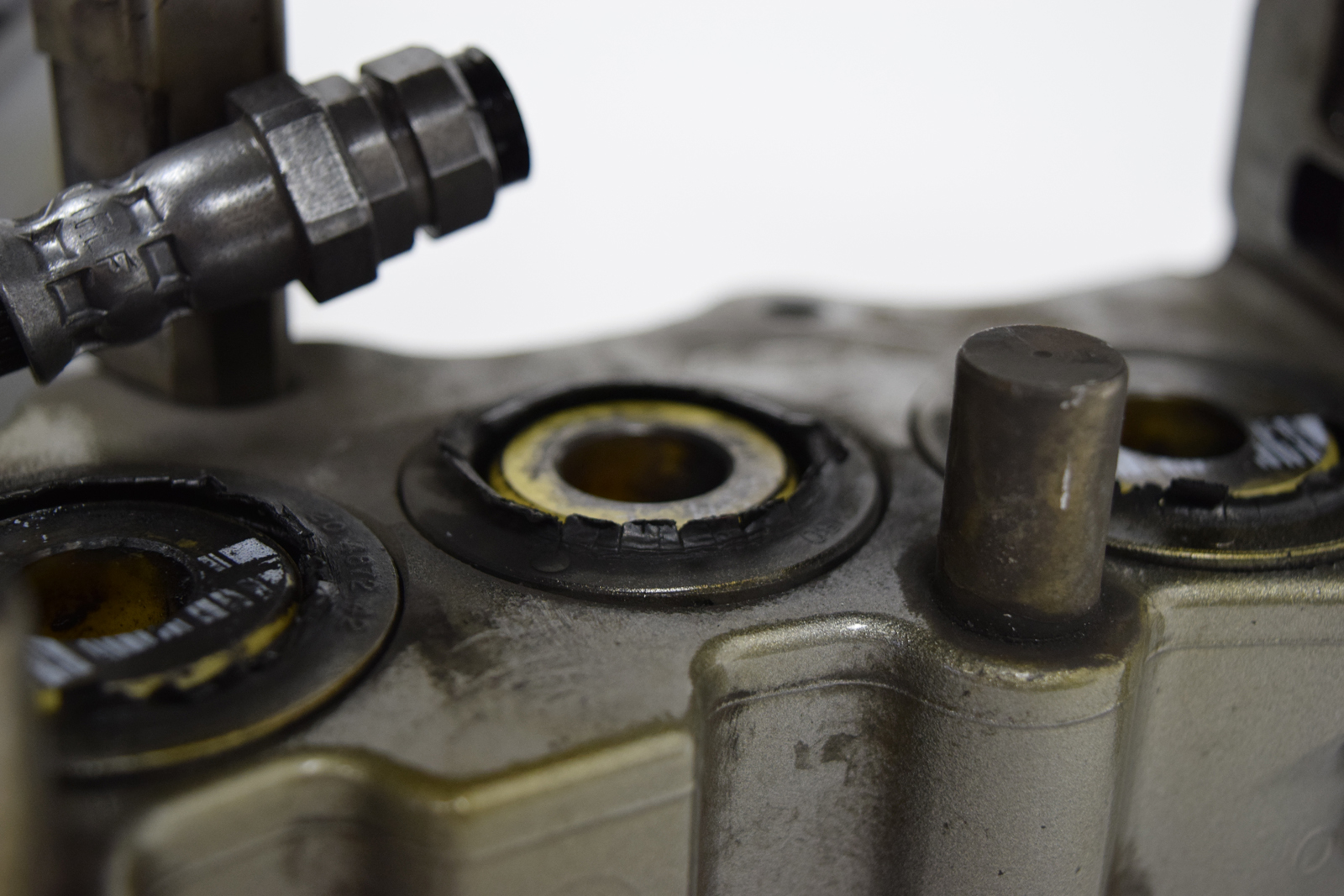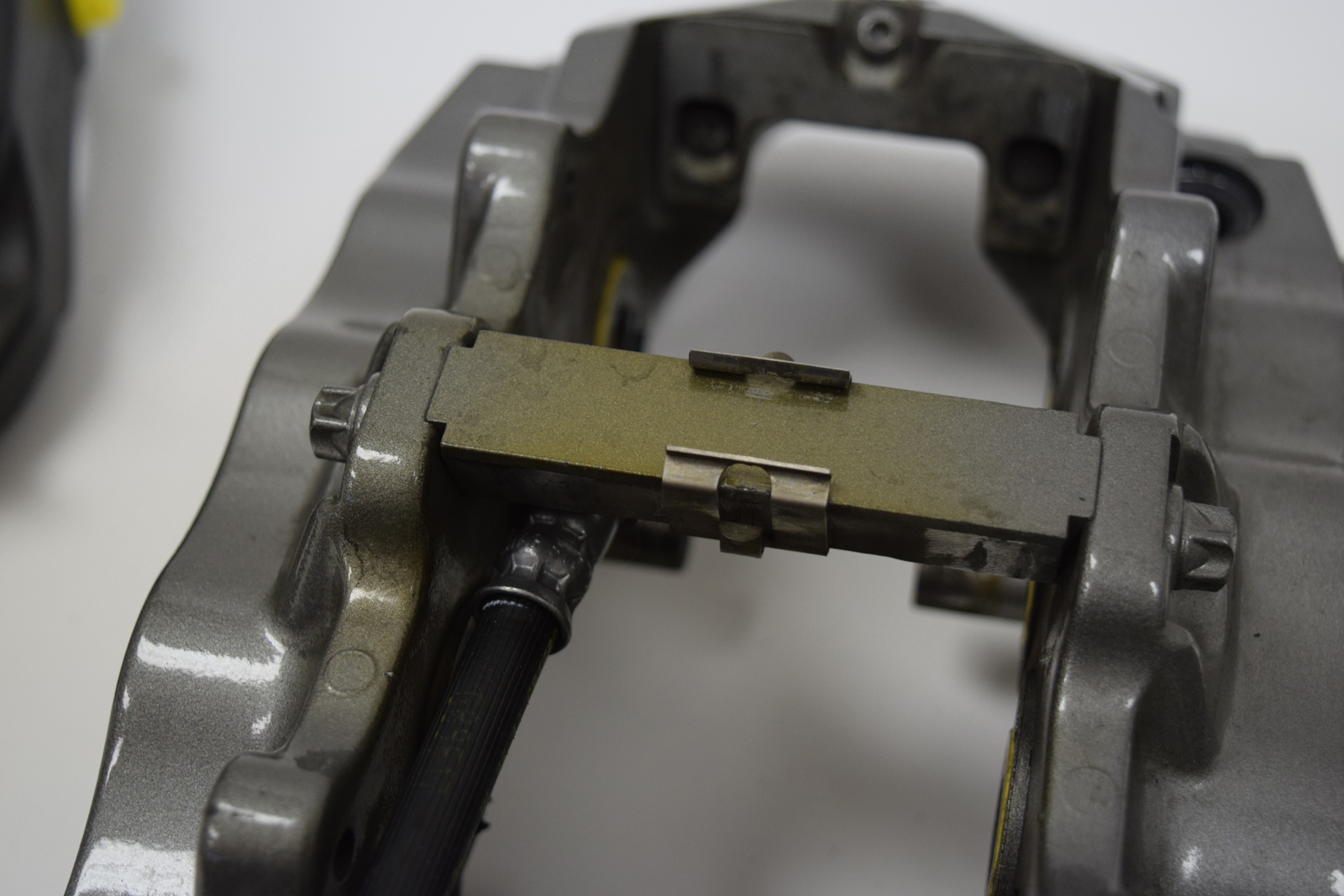 CP9668 pad vs. OEM pad.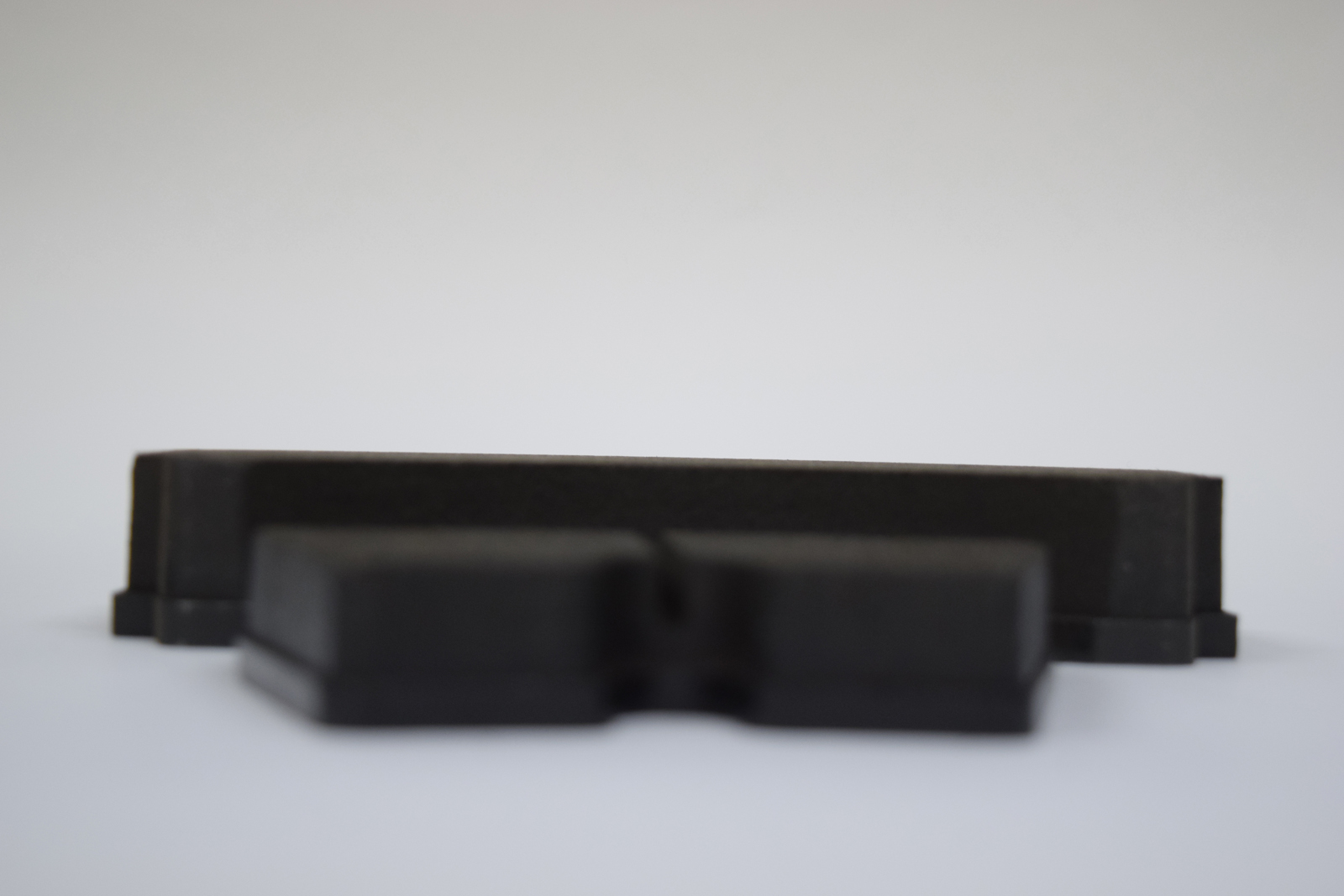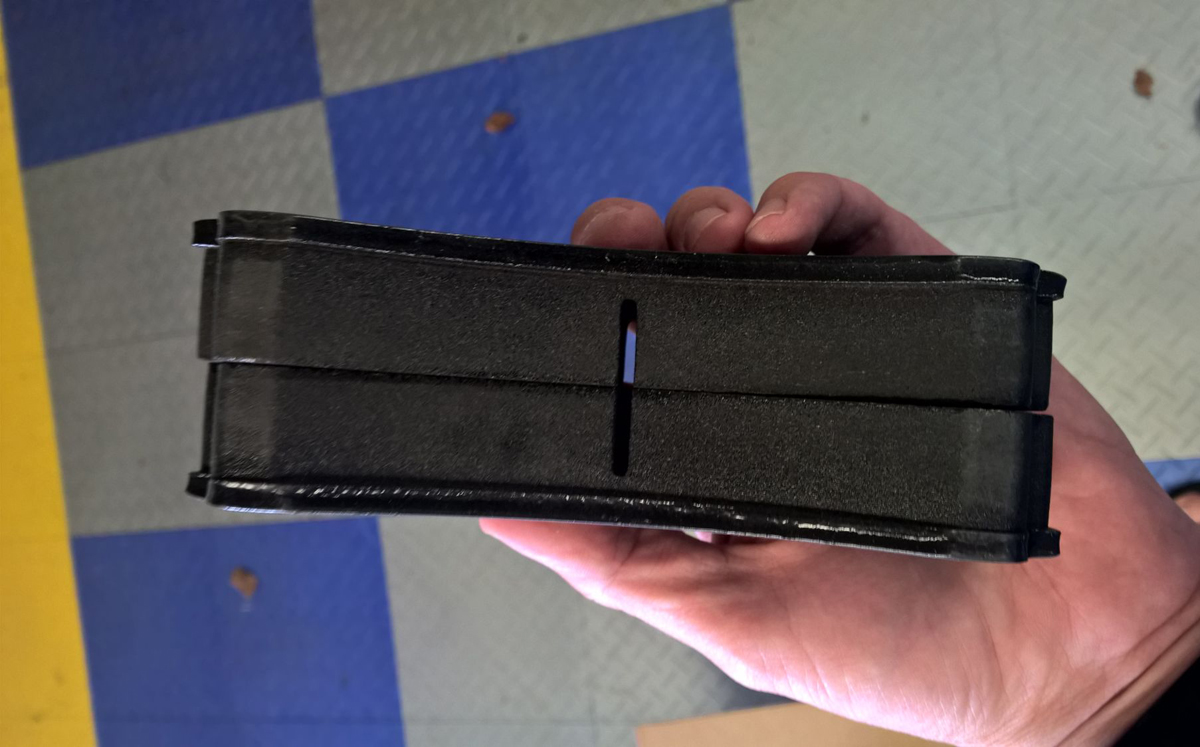 The OEM calipers have large weights/vibration dampers hanging off their sides to combat NVH.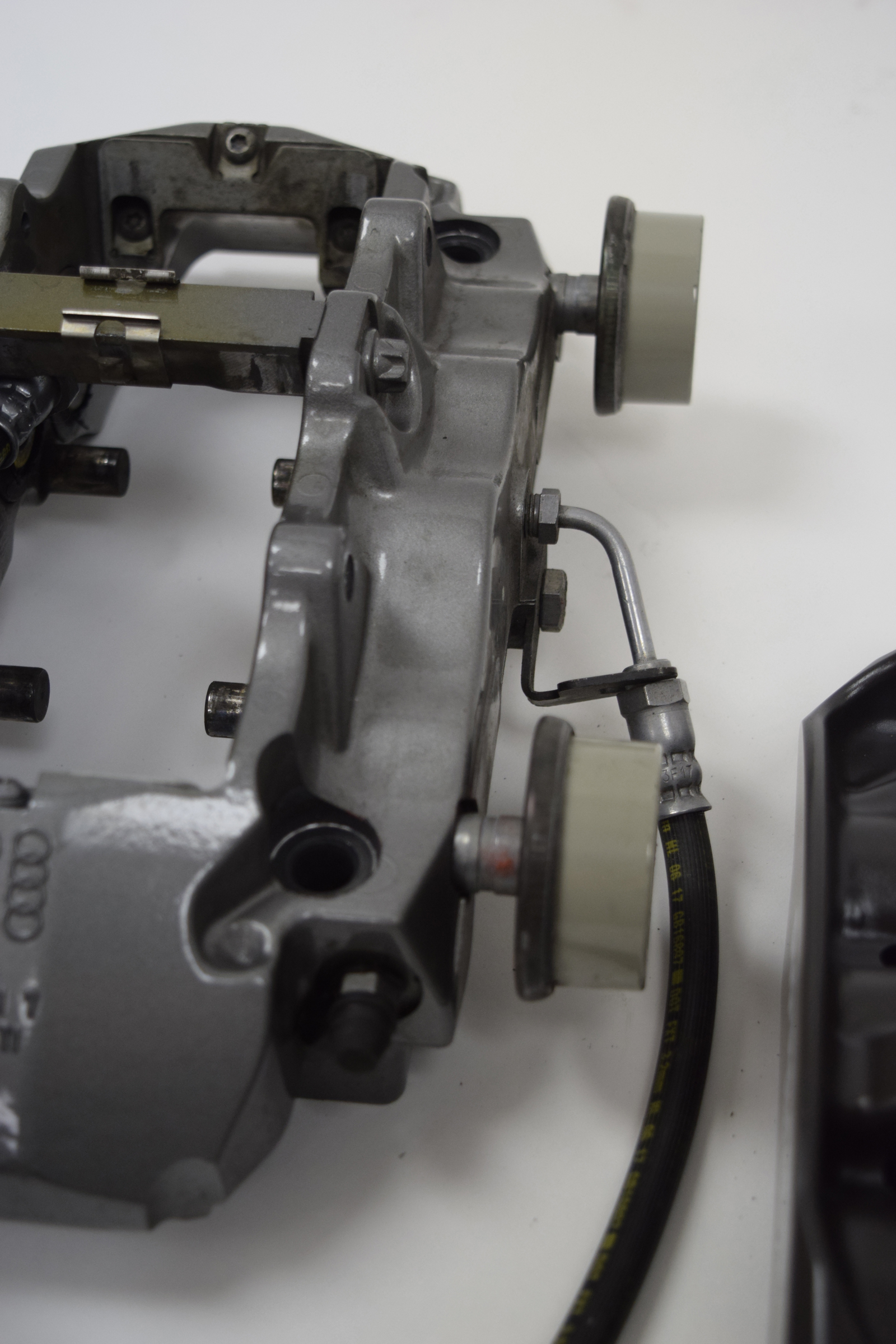 Here's are the pistons on the AP Racing Radi-CAL Pro5000R: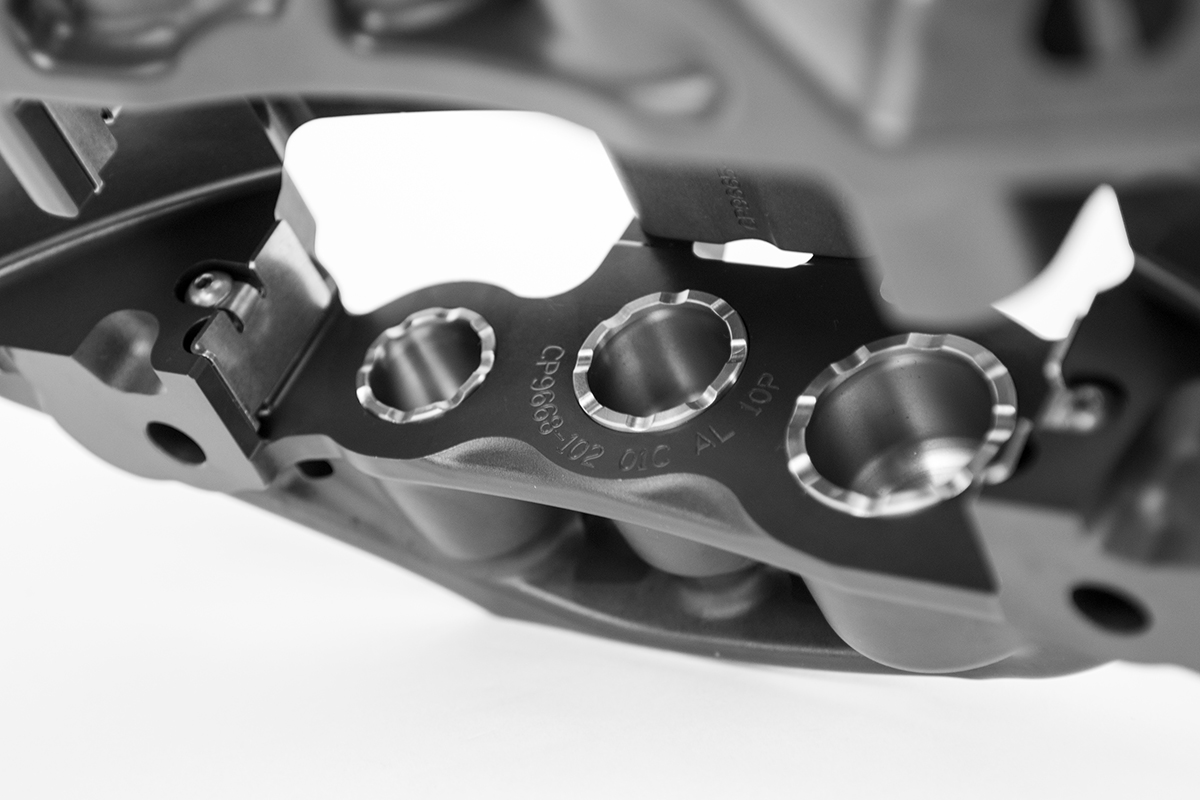 CP9668 quick-release bridge: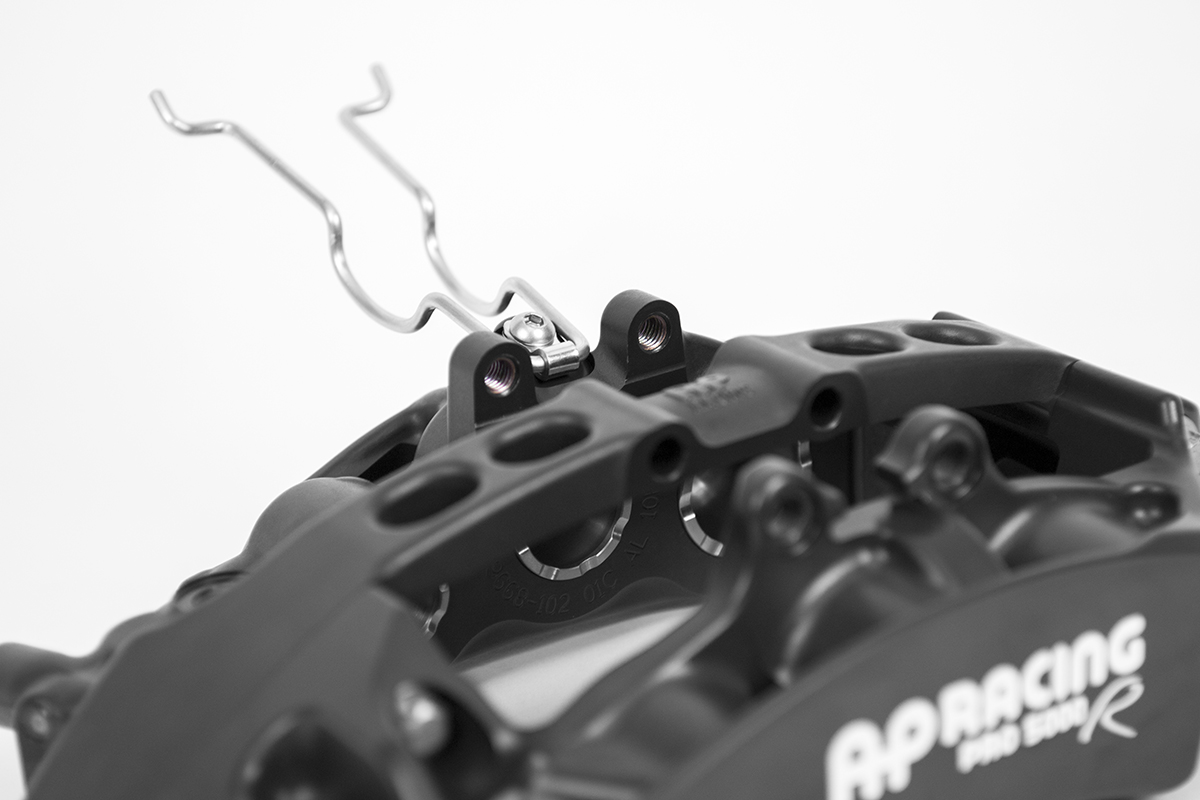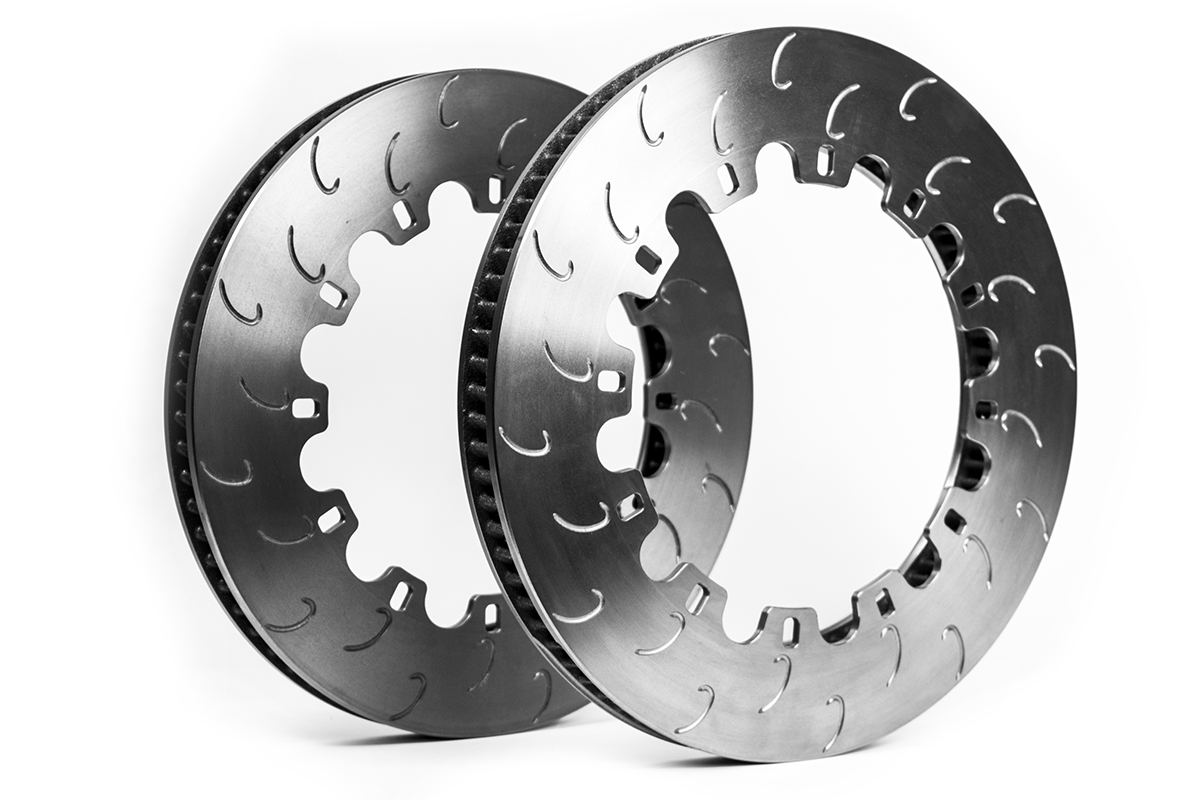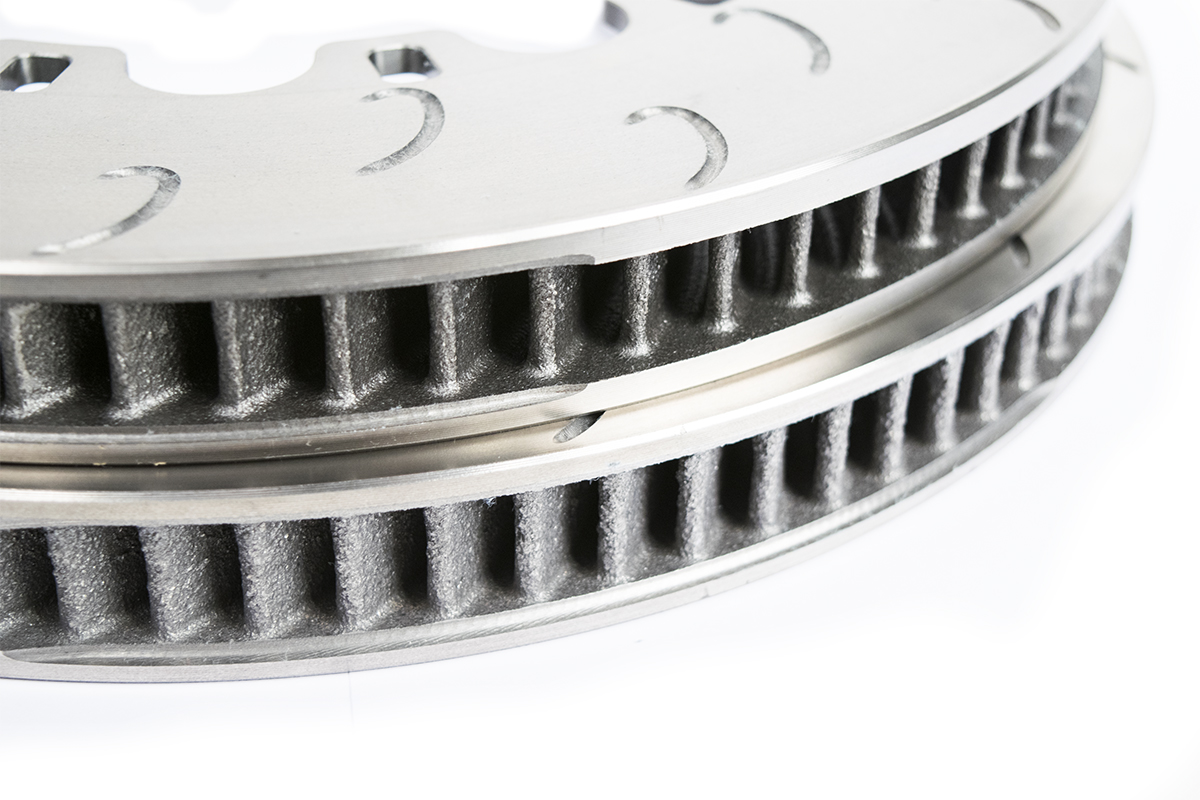 Why Carbon Ceramic Discs are a Poor Choice for Track Use
In the past few years, Carbon Ceramic brake discs have become increasingly popular on high-end sports cars as either standard equipment or as a factory installed option. Although expensive, they're a great choice for a car that is used exclusively on the street. They save a large amount of unsprung weight, they don't generate much brake dust, have low NVH, and they may even last longer than the rest of the car! For the avid track enthusiast however, they're typically not the best choice.
On the racetrack however, repetitive stops from high speeds generate considerably higher brake disc temperatures vs. what could ever be legally or sanely achieved on the street. Various manufacturers producing the current crop of carbon ceramic discs claim to match iron disc durability on the track, but our experience tells us otherwise. While they may be less resistant to warping or deformation at repeated elevated temperatures, the biggest problem with carbon ceramic discs is that they tend to oxidize at track temperatures, showing rough surface eruptions on the disc face. In some cases the oxidation is terminal (chopped fiber discs), and the discs must be scrapped once it occurs. In other cases (continuous fiber discs), the discs can be resurfaced, but only a limited number of times and at a high cost. Most carbon ceramic discs are measured in terms of minimum mass, rather than the traditional minimum thickness used to measure iron discs. Once the minimum mass is reached, the carbon ceramic disc is trash.
Below is an oxidized carbon ceramic disc. Notice the dark spots in which the surface is flaking off / eroding. When your disc looks like this, it has become a $2,000 paperweight!

Other Potential Pitfalls with Carbon Ceramic Discs
Low airflow- If you look at a specific car model that offers both iron and carbon ceramic discs as an option, the carbon ceramic discs will almost always be considerably larger in overall dimension, with a specific emphasis on a tall radial depth (distance from outer disc edge to inner disc edge). Whereas an iron disc uses a web of directional internal vanes to speed airflow through the disc, most carbon ceramic discs rely on their large surface area to radiate heat into the air surrounding the disc. Hence, the tall radial depth.
Expensive and limited range of compatible brake pads- There aren't many brake pad options with carbon ceramic discs. The pads must be compatible with the specific disc material being used, and if they aren't, they can destroy the discs in a hurry. Since brake pads are a very personal choice to most track junkies, carbon ceramic discs don't provide many options for the driver to chase a desired feel. Also as noted above, carbon ceramic discs tend to be very tall radially, which means very large brake pads are required. In the world of brake pads, price is usually directly proportional to size: Bigger = more expensive.
Poor feel- Experienced drivers will tell you that cast iron discs provide superior pedal feel due to less compress-ability. Some drivers find that carbon ceramic discs feel soft or abrasive at lower temperatures, but feel like stone with little modulation once they heat up. Feel and the resulting confidence is rather important when hurtling towards a guardrail at 150mph!
High replacement disc cost- Carbon ceramic replacement discs can be hideously expensive. If you do wear out or damage a disc, it can cost thousands of dollars to replace each one. When running carbon ceramic discs hard on a racetrack, the odds of having to replace one or more of them increases exponentially vs. if you only drive your car on the street.
Damage-prone- Many manufactures suggest covering their carbon ceramic discs when handling them, so they are not chipped or fractured. One knock when changing a wheel can destroy a disc. Additionally, some chemical wheel cleaners or abrasives used in car detailing can damage carbon ceramic discs.
Splinters- Carbon ceramic discs shouldn't be handled with bare hands, as they can leave carbon splinters in the skin.
Greater sensitivity to burnishing/bedding-in- Most manufacturers have an explicit, and sometimes intricate, set of instructions for bedding-in their carbon ceramic discs. Iron discs can typically be prepared via a simple series of stops from 60-80 mph with the brake pad of choice.
Carbon Ceramic is NOT Carbon/Carbon
At this stage you may be saying to yourself, "But I saw that the XYZ professional race cars were running carbon brakes at the track." The carbon brakes currently being used in professional racing are carbon/carbon (abbreviated C/C), which is actually a different material vs. the carbon ceramic discs used on road cars. The carbon ceramic brake discs on road cars are a Carbon Ceramic Matrix (CCM). In recent times many professional racing series (F1, ALMS, IRL, etc.) have switched to carbon/carbon brake discs in an effort to reduce weight. Carbon/Carbon is an outstanding lightweight material for racing, but requires heat before it starts to generate usable friction. As such, they're completely ill-suited to a typical morning commute in a road car!
Iron Disc Benefits
So what can AP Racing J Hook iron discs do for a car previously equipped with carbon ceramic discs?
Increased airflow and slower heat transfer to other brake components- AP Racing J Hook discs have a unique, high-count vane design that promotes airflow, heat evacuation, and rapid cooling. They don't rely on a large surface area to cool via radiation. The iron discs will move more air than your carbon ceramic's, and as a result they won't heat your brake pads, caliper pistons, and brake fluid up as quickly. You'll be able to run longer sessions without brake fade, and you'll enjoy the confidence that comes along with them. They'll also make any brake ducts that you have on the car more effective and useful.
Huge range of compatible brake pad compounds- Iron discs will open up a much greater range of available brake pads. You'll be able to achieve a different feel, and tailor your brake setup depending on your needs and environment, whether that is running an AutoX or the most demanding racetrack in your area. You'll also likely be paying less per brake pad set than you were previously, and your pads will last longer.
Inexpensive spare discs- You'll no longer have to spend thousands of dollars when it's time to replace your discs. AP Racing J Hook's typically only cost $300-500 per iron disc ring, so you won't have to stress about anything happening to them. They're inexpensive enough that you can always keep a spare set on hand, so you won't have to worry about any brake-related downtime when you're out at the track.
Durability- Iron discs can take a beating. You can stash your spares in your race trailer, and you won't have to worry about handling them, covering them, dinging them, or chipping them when changing your wheels.
As you can see, although iron discs do come with a slight weight penalty, they're still the smart choice if you run your car hard on the racetrack. They're the obvious solution that has been proven countless times on tracks around the world, at all levels of motorsport.
Among iron disc choices, there are none better than AP Racing J Hooks. AP Racing J Hook Discs are the epitome of endurance racing components. They will hold up extremely well to any abuse you plan to throw at them. These discs have been proven time and again in professional racing, winning many races and championships (ALMS, Rolex, Grand Am, etc.).
Share:
---
« Back to Listing