AP Racing Radi-CAL Brakes for the 992 Turbo and Turbo S
09.06.2022
Click the links below to find these products in our web store:

Front AP Racing by Essex Radi-CAL Competition Brake Kit for the 992 Turbo

Rear AP Racing by Essex Radi-CAL Competition Brake Kit for the 992 Turbo
The Porsche 992 Turbo/S mates the off-the-line grunt of an EV to the top-end pull of the finest supercars, and it can waltz through the twisties alongside hypercars. And that's in stock form, before the boost is even turned up! In summary, the 992 Turbo is a beast, and a great alternative track weapon for well-heeled Porschephiles who want more oomph than a GT3 can provide.
However, one of the downsides of the Turbo S in particular, is that it is only available with the Porsche Ceramic Composite Brake (PCCB) System. We've all seen the horror stories of Porsche owners destroying their PCCBs on track and being faced with a $30,000 service bill. As described at great length in our previous blog article, "Are Carbon Ceramic Brake Discs Better than Iron", the PCCB setup is only a sustainable option for heavy track use if you literally have money to burn (in the form of oxidizing brake discs).
A superior track alternative to carbon ceramic discs is good old-fashioned iron. While they aren't as sexy of a material choice, they've been proven countless times to be brutally effective under the most grueling racing scenarios. Unfortunately, iron discs add weight, which is precisely the reason carbon ceramic discs exist: to save unsprung weight. That is why the idea of replacing the OEM PCCB discs with iron alternatives in the stock PCCB sizes causes would-be buyers to vacillate, or to skip the conversion all together.
Fortunately, our new AP Racing by Essex Radi-CAL Competition Brake Kit solves this dilemma by providing an iron brake system that retains most of the unsprung weight advantage of PCCBs without all the negatives of carbon ceramic discs. That is accomplished by applying the latest in brake technology to both the calipers and the discs. In this article we'll examine the laundry list of benefits that AP's F1-derived technology can provide the 992 Turbo owner who tracks his car. We'll focus mostly on the Turbo S variant, since that is the most potent option, but ironically comes from the factory with the brake system least suited for heavy, extended track use!
If you want to skip all the details, here is a short summary of our brake system benefits:
Iron discs are much more resilient under heavy track use, and replacement costs are a tenth of PCCB ($600 vs. $6,000 per disc)
Our front AP Radi-CAL iron brake system adds less than one pound per side of unsprung weight vs. the OEM PCCB setup, and only four pounds per side in the rear.
Our Radi-CAL system fits inside 19" wheels, which the OEM PCCB discs cannot do, allowing for additional unsprung weight reduction plus improved tire options
For those with factory iron brakes who swap between road and race pads, our AP Racing Radi-CALs feature a removable bridge, making pad swaps far faster and easier than the stock calipers
Commonly available AP Racing pad shapes provide a wide selection of brake pad choices to tailor system feel and performance
Removing the stock calipers and PCCB discs allows them to be preserved undamaged, retaining the vehicle's future resale value
Our systems typically trade hands on the used market at 65% or more of their original MSRP, lowering the long-term cost of ownership. Use them for a few years and recoup a large portion of your initial investment.
Parking brake remains fully functional with the AP Racing system
When is bigger no longer better?
On the 992 Turbo S, the OEM brake components are gigantic. The front discs measure 420x40mm and are mated to bulky 10 piston calipers. The rears are 390x32mm and rest inside heavy four piston calipers with a fixed bridge. Why are the stock brake components so huge? To radiate heat. Heat does not flow through carbon ceramic discs as readily as it does through iron. Carbon ceramic discs rely more on radiation from a large surface area to cool. Carbon ceramic discs are designed to have a very wide friction face, or swept area, to radiate as much heat as possible. That means the disc must be extremely large, and the pads required to mate to those discs are also large, heavy, and expensive. Finally, the calipers must be equally large to accommodate those hefty pads!
One of the downsides to having such physically large components is weight. Even though the carbon ceramic material itself is lightweight, there is a lot of it due to the huge disc and pad sizes! The front calipers have 10 pistons. That means when it's time to service them, it's 10 piston seals, dust boots, and/or pistons that need replacing. You'll also note that the OEM calipers have a fixed bridge on top of the caliper. While this isn't much of an issue for PCCB owners who don't plan to swap pads, it is a serious hassle for iron disc owners who must remove the calipers every time they want to change brake pads. Conversely, the bridge on our AP Radi-CAL caliper can be taken out with two hex head bolts, ensuring fast and easy pad changes without removing the caliper.
For a sense of scale, below are some comparison pics of our front six piston AP Racing Radi-CAL calipers next to the stock 992 Turbo S front calipers.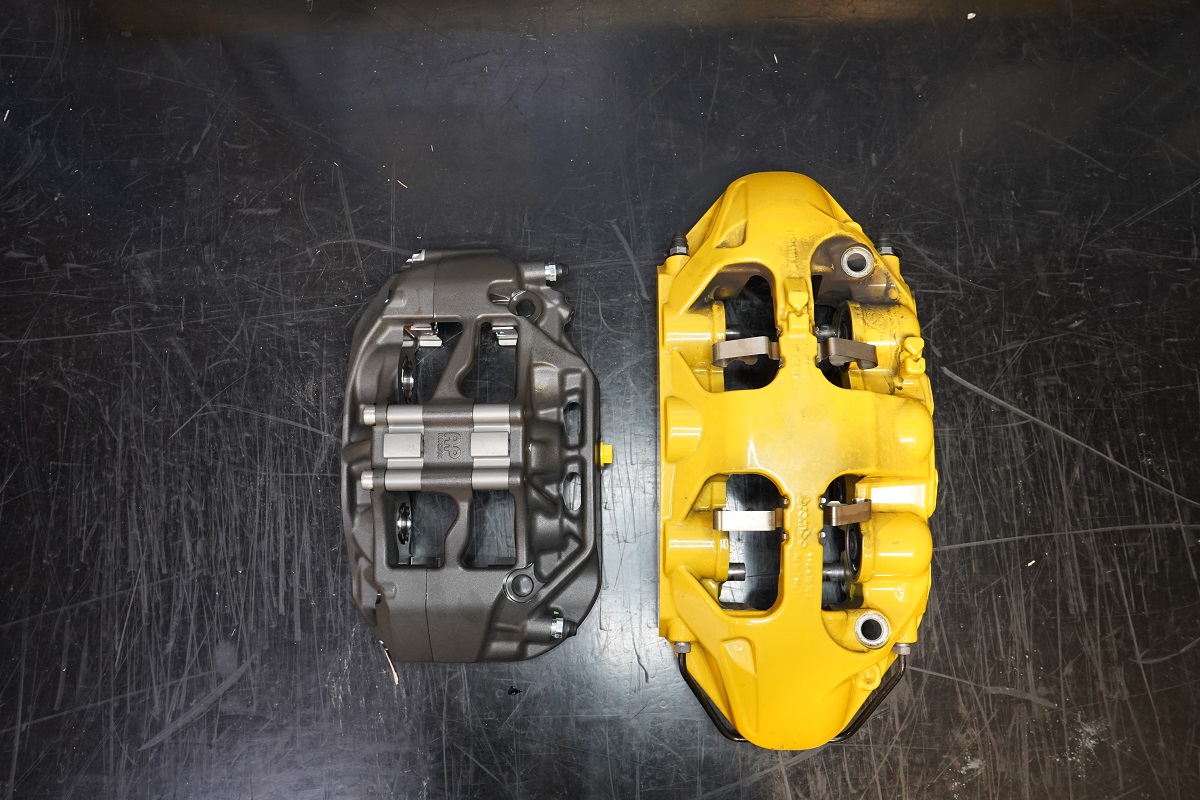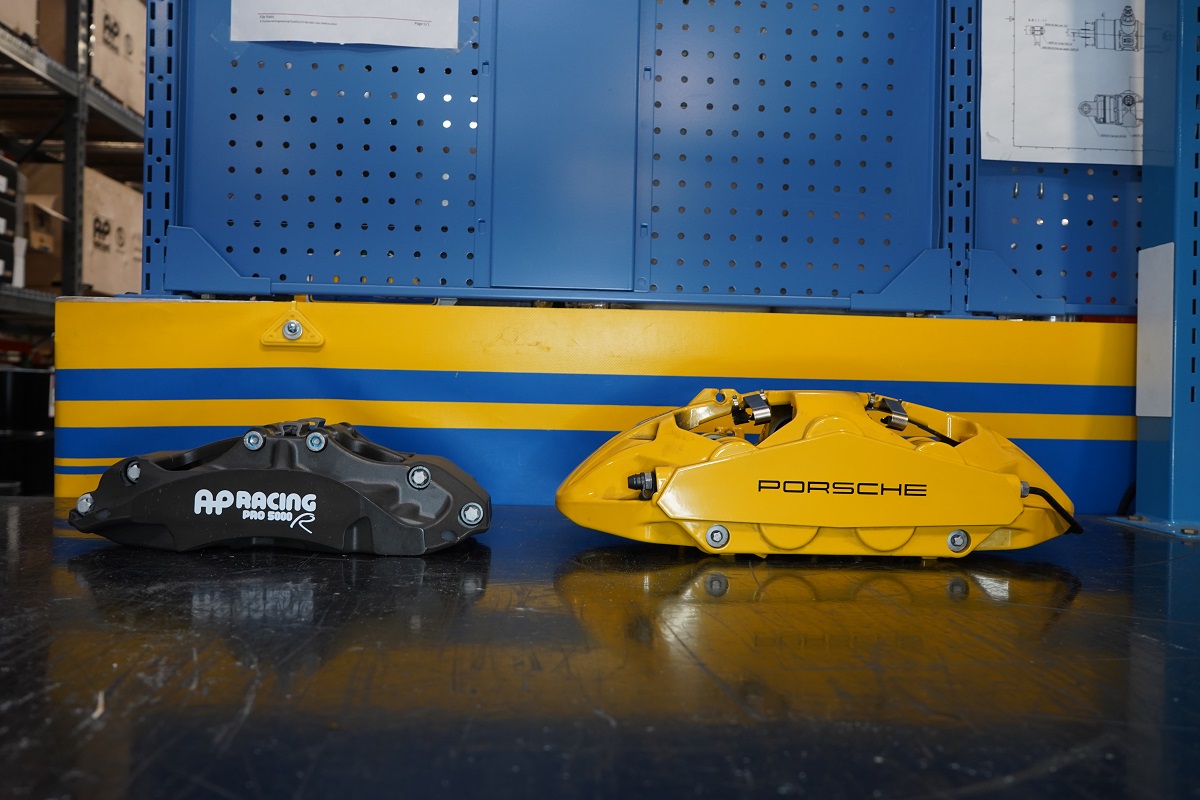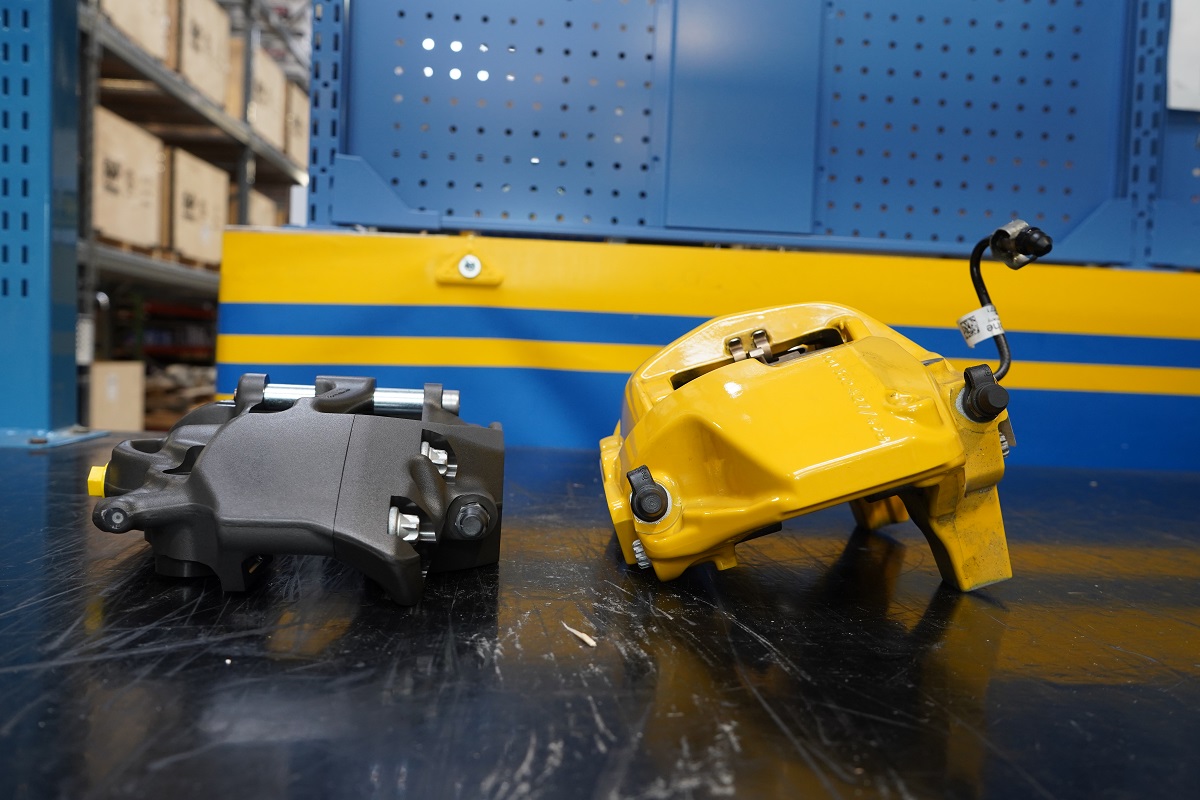 While the rear calipers aren't quite as massive, yet they still weigh 50% more than the AP Racing Radi-CAL, and they also have a fixed bridge, making pad changes a time-consuming chore.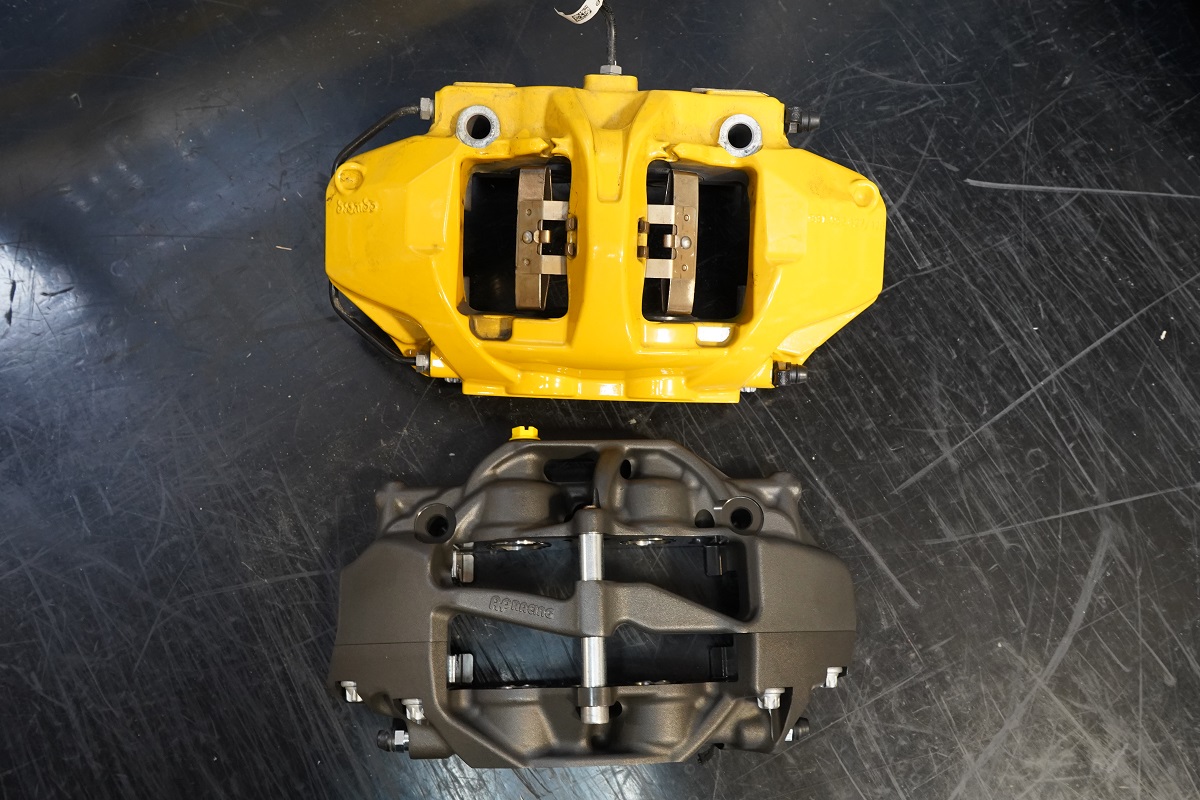 Not surprisingly, with the substantial difference in size comes a significant weight difference. The AP Racing Radi-CAL calipers are much lighter than the stock units, and due to their extreme physical dimensions, the PCCB discs are not much lighter than our smaller iron AP Racing J Hook Discs. Below is a breakdown of our AP Racing Radi-CAL Kit component weights in lbs. vs. the OEM PCCB setup:
Front
OEM PCCB
Caliper= 11.5
Pads= 6.0
420x40mm Discs= 18.0
Total brake corner weight= 35.5 lbs.

Essex/AP Racing Radi-CAL BBK
CP9661 caliper= 6.1
Caliper bracket= 1.0
Pads= 5.2
Assembled 390x36mm discs= 24.0 lbs.
Total brake corner weight= 36.3 lbs.

Rear
OEM PCCB
Caliper= 7.5
Pads= 3.3
390 x 32mm discs= 13.5
Total brake corner weight= 24.3 lbs.

Essex/AP Racing Radi-CAL BBK
CP9449 caliper= 4.85
Caliper bracket= 0.7
Pads= 3.85
Assembled 380x30mm discs= 19.1
Total brake corner weight= 28.5 lbs.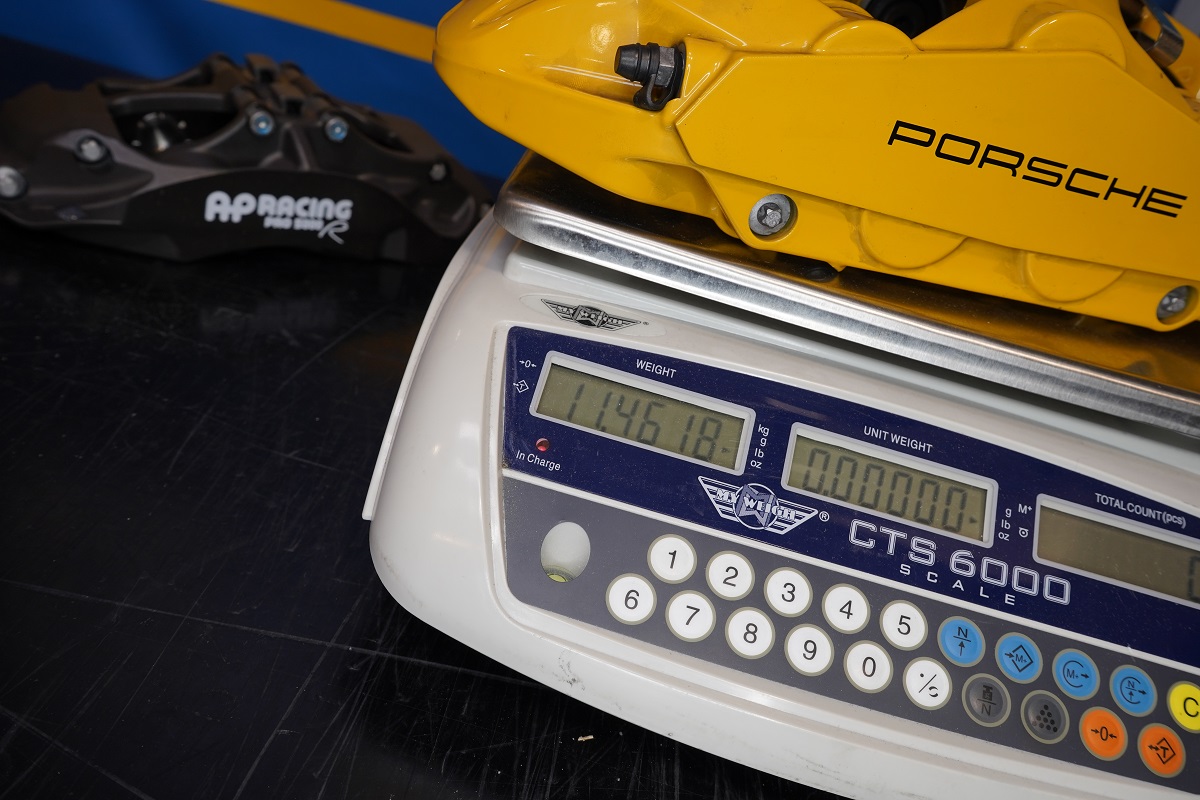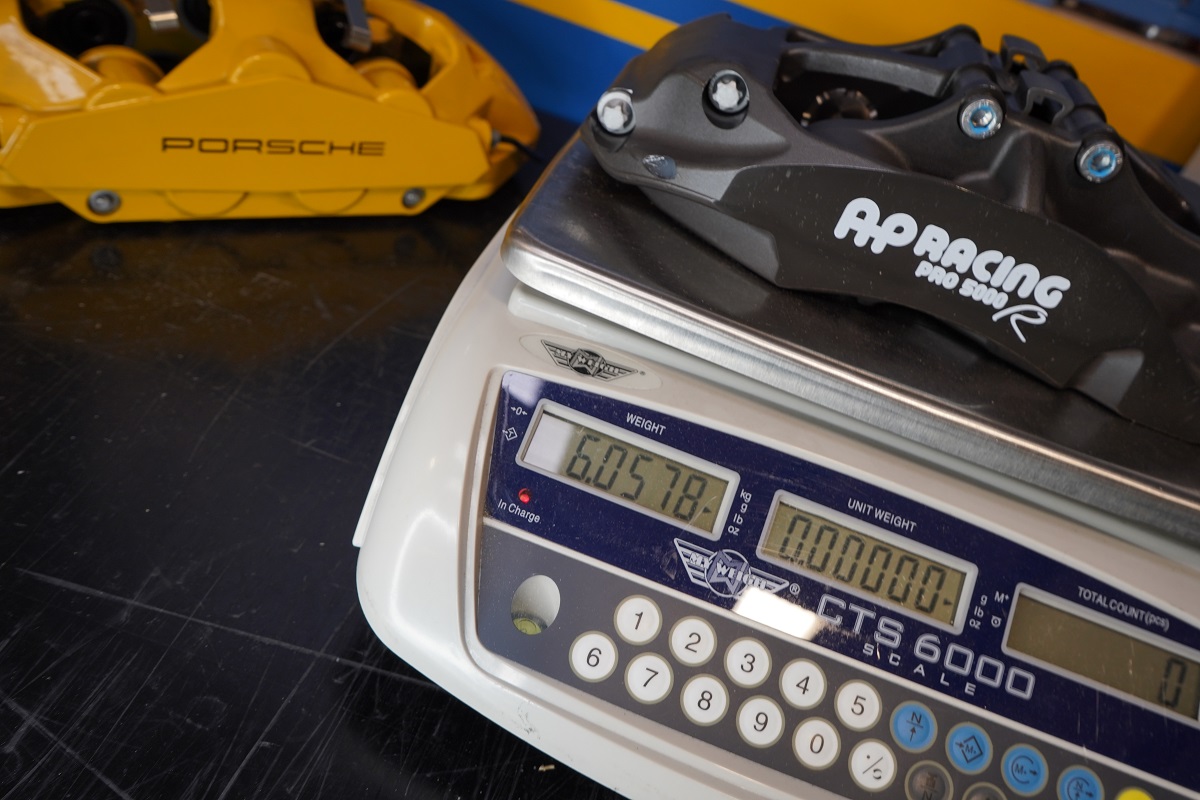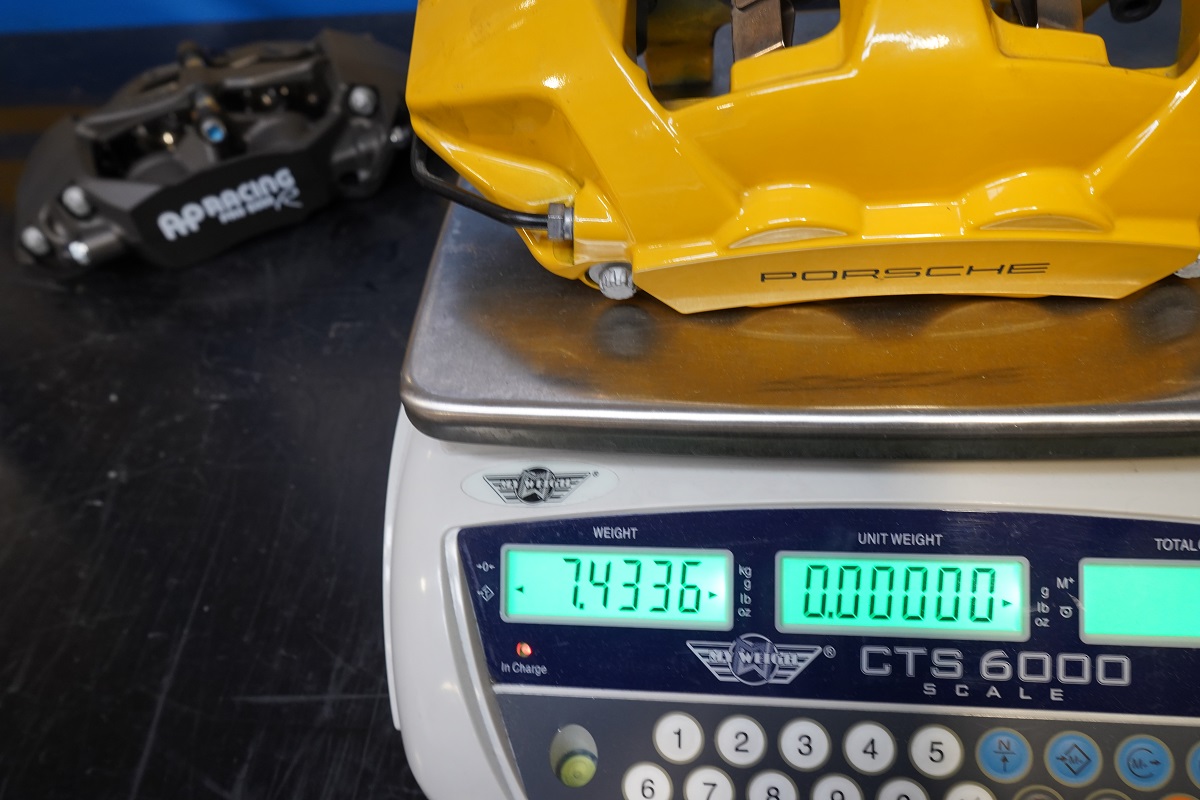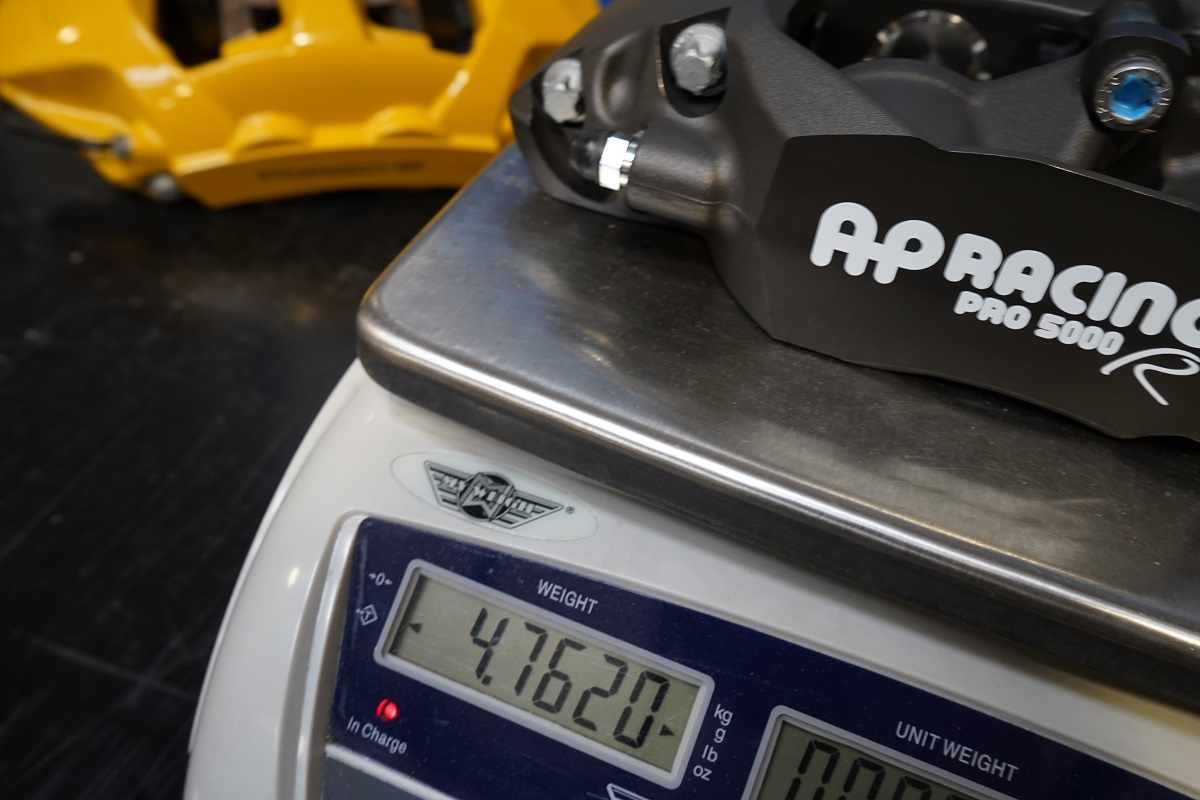 Below are the front and rear disc weight comparisons: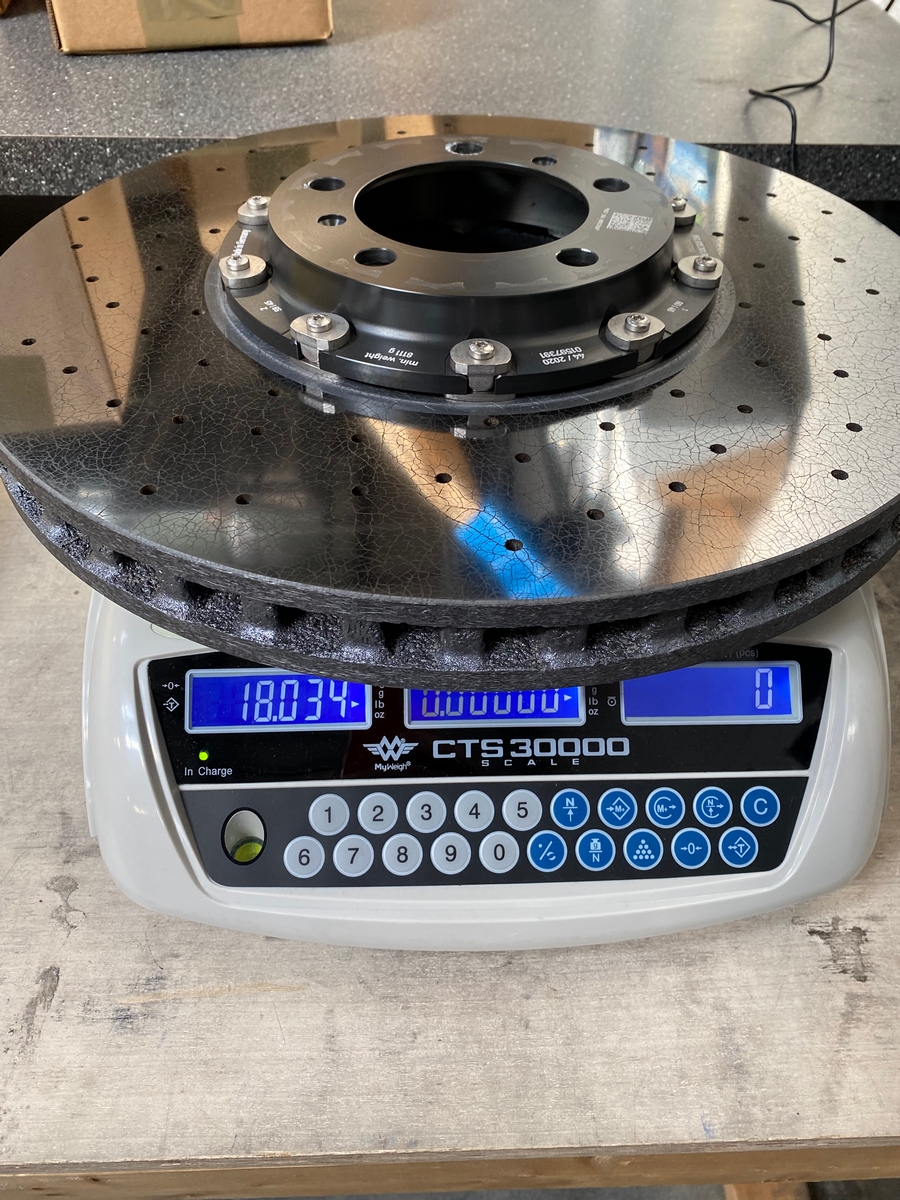 *Note: The disc below shows a prototype hat and does not include several ounces of attachment hardware.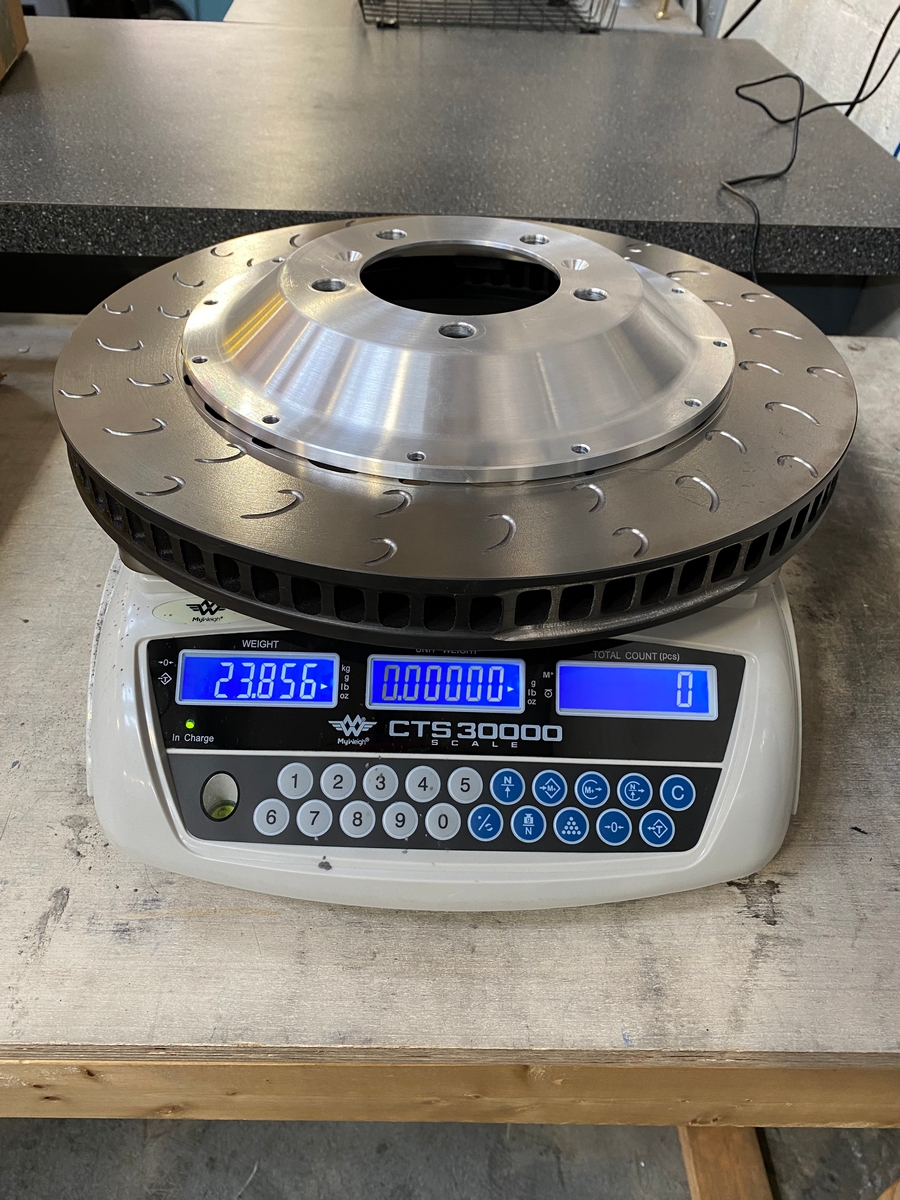 Rear discs compared below: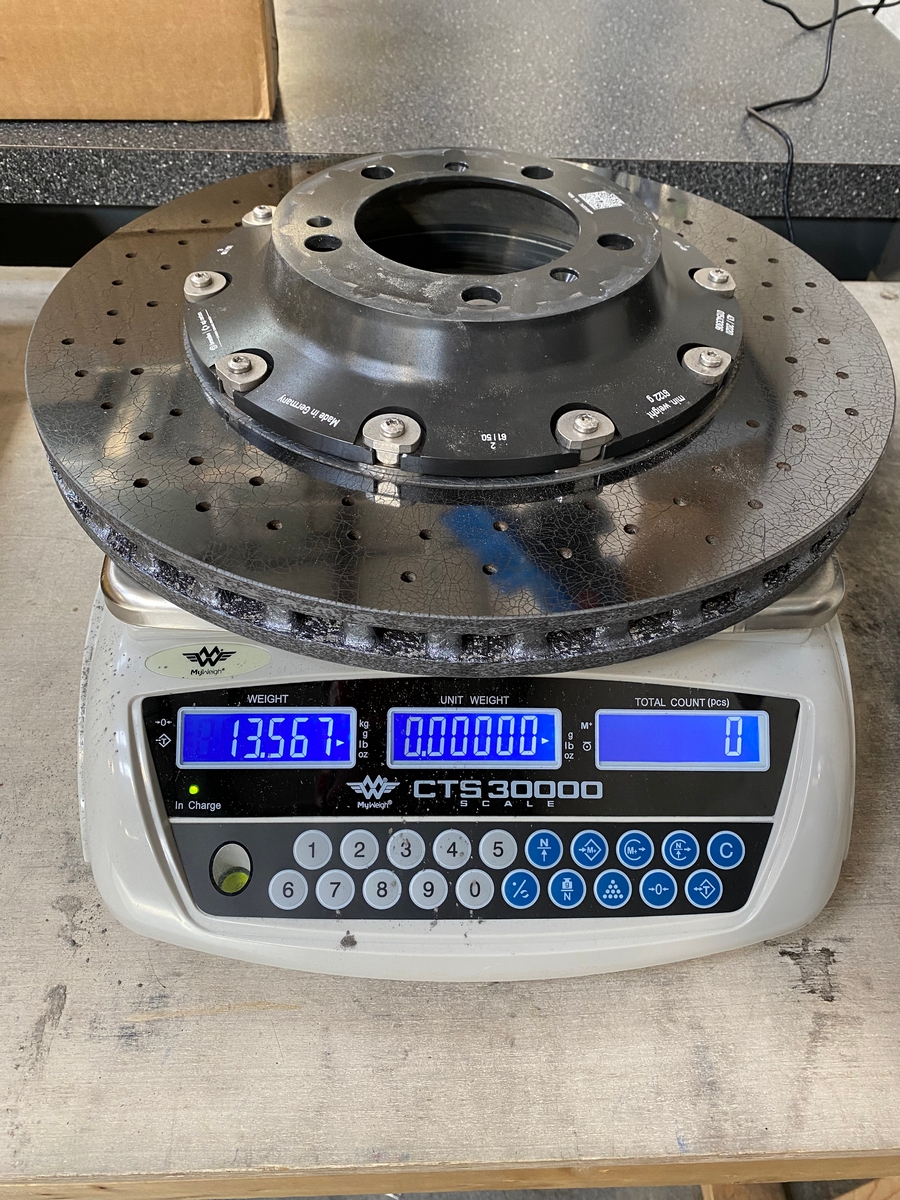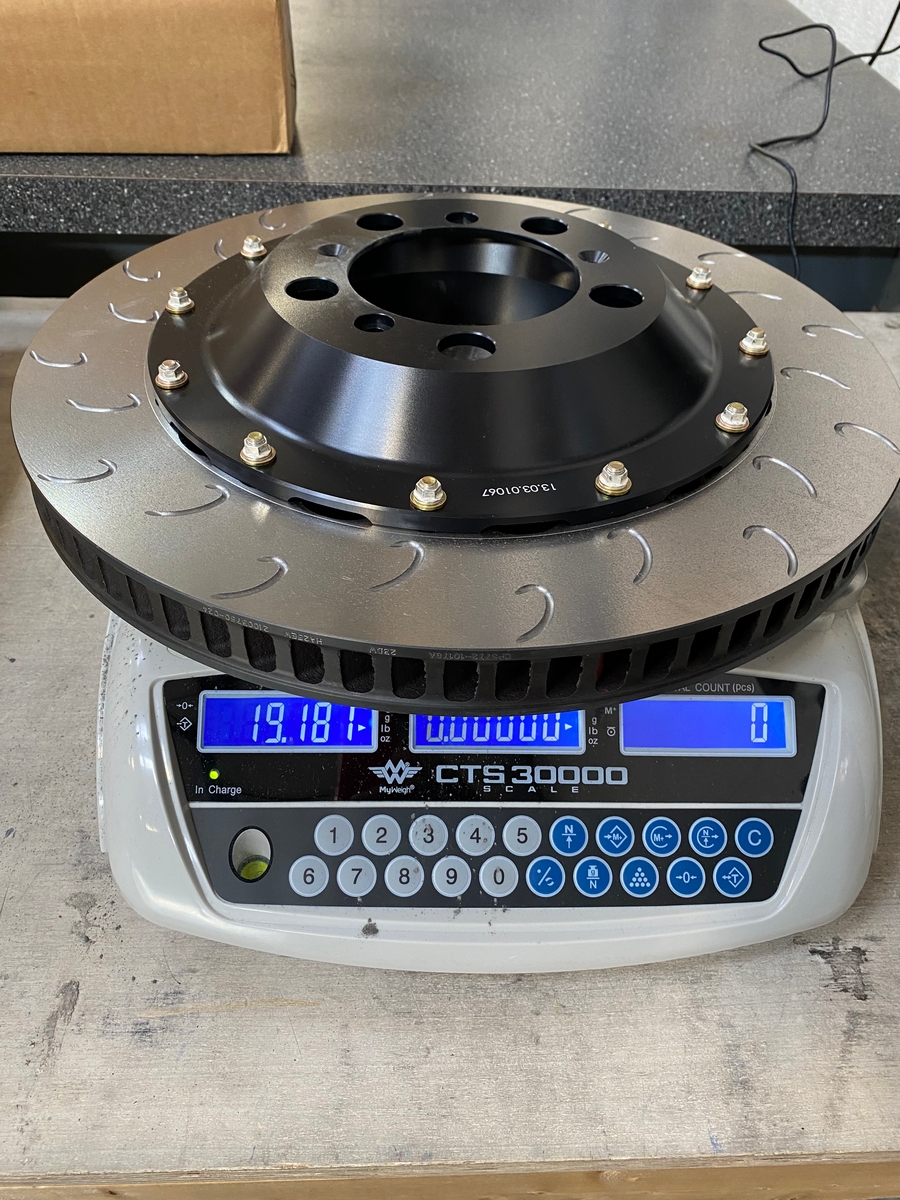 Wheel and tire choice

Anyone who tracks their car wants to run the smallest, lightest wheel and tire combo available. Our AP Radi-CAL system's compact dimensions allow for 19" wheel fitments, whereas 20's are a minimum requirement to clear the OEM PCCB system. So not only does the AP Racing system retain most of the unsprung weight savings of PCCB, you also have the ability to run a lighter-weight wheel and tire package, while also gaining more tire choices in the process. With AP J Hook Discs, there's no concern about chipping your discs, which is a legitimate concern with carbon ceramic discs. A quick perusal of Rennlist will reveal many instances of rocks getting snagged between a PCCB caliper and wheel barrel, destroying the carbon ceramic discs in the process.

Pad swaps and options
Our AP Radi-CAL calipers have been a revelation to hundreds of Porsche GT3 owners over the past few years, and we've been told by many that our system was worth it just for the easy pad swaps! The fixed bridge on the stock calipers makes it time-consuming, messy, and expensive (if you're paying somebody) to swap the pads. While this is isn't as much of an issue with PCCBs, it is a concern for those with factory iron brakes who use their car for both road and track duty. The video below provides some insight into just how easy it is.
Long-term Running Costs and ROI
Let's face it, the 992 Turbo S is not the most economical car to run on the track. Even if you can afford to replace the PCCB pads and discs on any type of regular basis, why would you want to waste $30k+ doing so? At the end of the day, the pads and discs are consumable items. They're no different than gasoline. You burn them up or crack them to pieces, then you throw them away. When you do the math, the long-term value of our iron AP Racing system is impossible to beat. Below is a ballpark retail price list for OEM brake components:
OEM Iron System
Front disc pair= $1631.00
Front caliper pair= $1968.00
Front OEM pads= $352.00
Total front= $3951.00
Rear disc pair= $1510.00
Rear caliper pair= $1402.00
Rear OEM pads= $343.00
Total rear= $3255.00
Total OEM front/rear car set iron brakes= $7206.00

OEM PCCB System
Front disc pair= $10,882.00
Front caliper pair= $2774.00
Front OEM pads= $786.00
Total front= $14,442.00
Rear disc pair= $10,600.00
Rear caliper pair= $2136.00
Rear OEM pads= $688.00
Total rear= $13,424.00
Total OEM front/rear car set PCCB brakes= $27,866.00

At roughly $12,000 for all four corners, our complete brake kit is closer in price to the OEM iron components, but our kit is by far the superior investment. One of the best features of our brake systems is that they hold their value extremely well due to their durability, serviceability, and AP Racing's stellar reputation as a top OEM supplier. Our brake kits typically change hands on the used market for about 65-70% of what they cost new. If you spend roughly $12k on our four wheel kit, you can expect to get $7,000-$8,000 back when you sell them used. That means you can buy them, enjoy them, beat them up, sell them for thousands of dollars, and still have your fresh OEM brakes sitting in your garage, ready to drop on your car when you're ready to sell it. That is absolutely not the case with OEM brake equipment. If you destroy your calipers, ruin the painted caliper finish, or oxidize or chip your OEM PCCB discs, those components will be worth very little, or even nothing in many cases.

In summary, the scenario described above can mean the difference between laying out many thousands of dollars for new brake components when you sell your car (only to hand that money to the new owner) vs. collecting thousands of dollars at the time of sale. If the new owner prefers the AP Racing setup, you'll still have a fresh set of OEM brakes on the shelf. You'll be able to either factor them into the deal, or sell them another Turbo owner for a handsome sum. Regardless of which brake system the new owner prefers, you still win.
Theory vs. Practice
We can discuss with the theory, but it's easier to just provide a relevant example of how our Radi-CAL Competition Brake Kits perform in the real world. In this instance, it's on a 700 WHP 991.2 Carrera T. Videos included, to show that the driver isn't just pussy-footin' around!

https://www.essexparts.com/news-blog/911-carrera-t...


Summary
Iron discs are much more resilient than carbon ceramic under heavy track use, and replacement costs are a tenth of PCCB ($600 vs. $6,000 per disc)
Our front AP Radi-CAL iron brake system adds less than one pound per side of unsprung weight vs. the OEM PCCB setup, and only four pounds per side in the rear.
Our Radi-CAL system will fit 19" wheels, allowing for additional unsprung weight reduction plus improved tire options
Unlike the OEM calipers, our AP Racing Radi-CALs feature a removable bridge, making pad swaps incredibly fast and easy
Common AP Racing pad shapes provide a wide selection of brake pad choices to tailor system feel and performance
Removing the stock calipers and PCCB discs allows them to be preserved undamaged to retain future resale value
Our systems typically trade hands on the used market at 65% or more of their original MSRP, lowering the long-term cost of ownership
Parking brake remains fully functional with the AP Racing system
Click the links below to find these products in our web store:

Front AP Racing by Essex Radi-CAL Competition Brake Kit for the 992 Turbo

Rear AP Racing by Essex Radi-CAL Competition Brake Kit for the 992 Turbo
by Jeff Ritter
Share:
---
« Back to Listing