Porsche racer couple equips their GT3 and Cayman with AP Racing and Ferodo
07.20.2023
Lately we've been noticing a trend that makes us extremely proud: More and more of our clients are equipping multiple cars in their stable with AP Racing by Essex Brake Kits. As some of the most hardcore track rats around, these owners are at times tracking their cars on a weekly basis. As the most intensive users of our products, they recognize the value our brake kits bring to their track experience more than anyone. Thankfully, they haven't been shy about sharing their satisfaction!

One of our Porsche clients, Dave, recently let us know about the positive experiences he and his wife Rita have had with our Radi-CAL Pro5000R Competition Kits and Ferodo Racing DS3.12 pads installed on their 991 GT3RS and 987 Cayman racecar. Both vehicles see tons of track time, and he was kind enough to offer feedback on the performance, durability, and convenience our brakes have provided. Here's what Dave had to say:

"I have Full AP Racing kits on both my 19 GT3RS and my 09 Cayman S racecar, and I run 3.12 on both. I have never had any sensation of brake fade and I get 6-10 track days out of a set on both. I just read the Racing and track owners guide, and I was happy to see the recommendation to swap pads from inside out every so often. I have been doing this for a long time, and I always wondered if I was being smart. Tires only last about 2 days each, so I always rotate the pad when changing tires. This is made much easier because the AP Racing calipers have open backs making it very easy to swap/rotate the pads. I always take an extra set of pads front and rear for each car. My Cayman and my RS both take the same front pad, the rears on the Cayman are smaller. So my overall point is, AP Racing and Ferodo 3.12 pads are awesome for track and race. My RS sees very little street time, and the Cayman sees none, so the 3.12's are always on the car. The J Hook rotors last forever, I've changed both fronts and haven't needed to change the rears on either. Each car sees 40-50 track days a year. Had the AP kits on both for about 2 years"
Enjoy some shots below of this dynamic Porsche duo in action, and remember that couples who race together, stay together! :)

Brake kits being used:

GT3RS (Front: CP9661 394mm Kit / Rear: CP9449 380mm Kit)
Cayman (Front: CP9661 355mm Kit / Rear: CP9451 340mm Kit)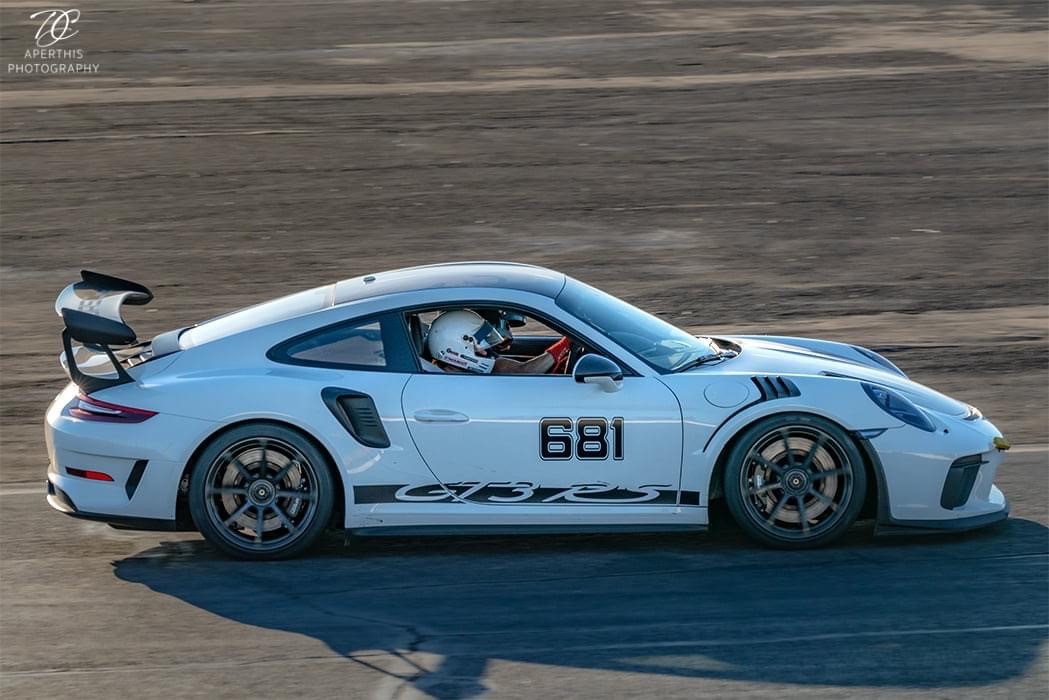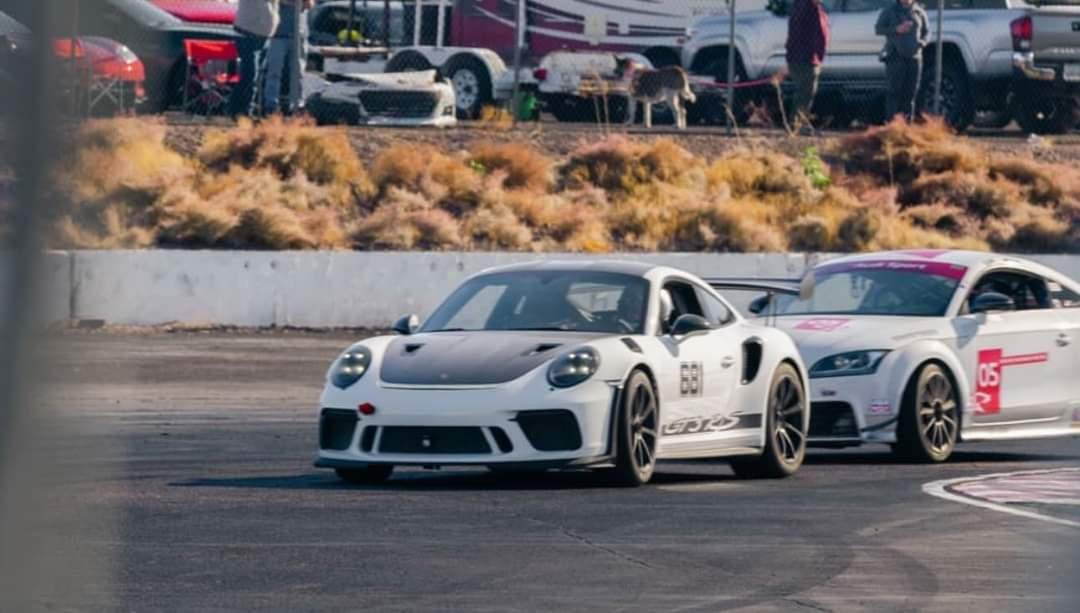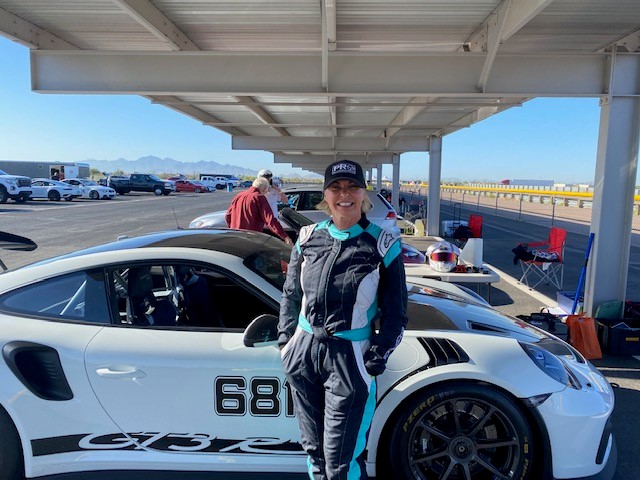 Rita next to the car, then laying down some race laps.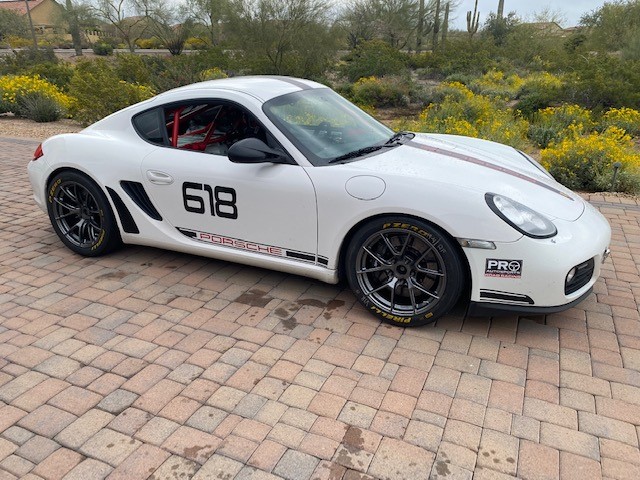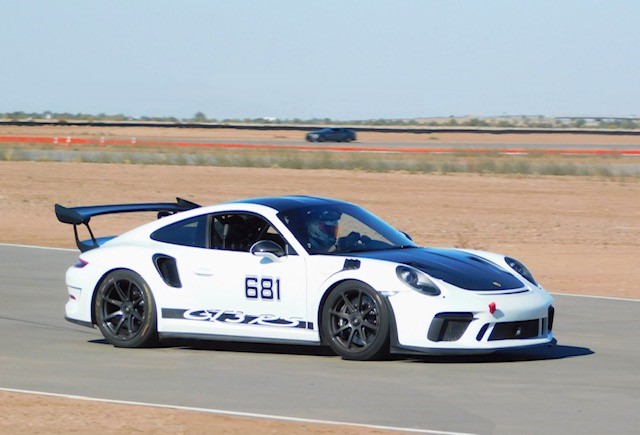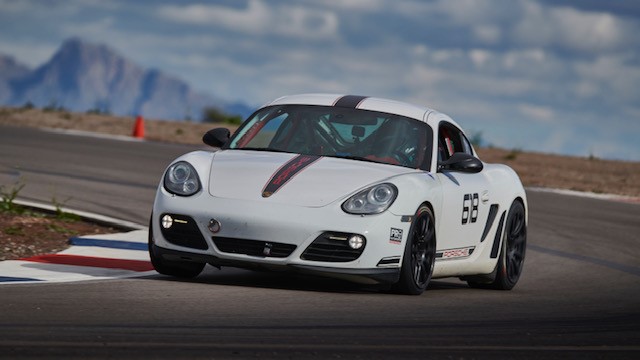 Share:
---
« Back to Listing