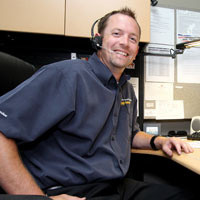 Ryan Jones, Aftermarket Product Manager
Ryan is a versatile "car guy" who has worked in both the business and mechanical sides of the automotive industry for over a decade. Ryan got his start under the car, performing general mechanic work, race car fabrication/preparation, and high-end body work on exotics, classics, and hot rods. After graduating from UNC-Wilmington with a B.S. in Business Management in 2000, he worked as a purchasing agent for a large off-road manufacturer/distributor.
Ryan joined the Essex team as a Sales Associate in 2003, but his role has expanded significantly. Ryan acts as the purchasing agent for several of Essex's product lines, contributes heavily to product and data management, and because of his technical expertise, has become a key liaison for many of the professional race teams.
« Back to Listing