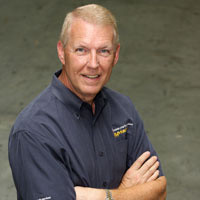 Ken Gordon, President
Ken's involvement in motorsports commenced shortly after his return from the Vietnam War in 1971. Ken cut his teeth in SCCA Formula Vee from 1971-76, and then transitioned to racing on two wheels. He raced motorcycles with the AMA and in amateur Hare Scrambles, Cross Country, and Motocross from 1977-79, and also did some bicycle racing from 1979-81.
Ken was back in the cockpit of a racecar from 1982-87, this time in an SCCA Formula Ford. He won the 1984 SE Division Regional Championship, and qualified for and raced in the 1986 FF SCCA National Runoffs. Ken's passion for racing runs deep. In addition to consuming his free time, Ken's obsession with racing spurred him to start his own racing parts supply business in 1982, Atlanta Racing Hardware. Ken then joined the Essex Racing team full-time as the Parts Manager in 1986. In 1992 Ken used his earnings to buy into the business, and has served as President of Essex Parts Services since 1999. Ken has been a member of the SCCA for 30+ years, and an American Motorcycle Association member 20+ years, logging 100,000+ motorcycle road miles, and countless off-road miles. Ken's need for speed has also taken him to the air recently, where he earned his Private Pilot license in 2008. Ken flies his Cessna 182 for both business and pleasure.
« Back to Listing