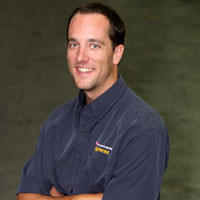 Jeff Ritter, Manager- High Performance Division
After graduating with honors from Bucknell University, Jeff spent the first five years of his professional career conducting marketing research, product development, and sales forecasting for ACNielsen BASES, a global leader in the consulting field. During that time, Jeff became an avid automotive enthusiast, spending his weekends at AutoX, HPDE, and Time Trial events throughout the Northeastern United States.
In 2003, Jeff decided that cars and racing were more than a hobby, and pursued a career in the industry. He looked for a small, quickly growing company in the automotive aftermarket, and found a good opportunity at StopTech, a manufacturer of high performance brake systems. Jeff held the Sales Manager position at StopTech from early 2004 through the end of '07. By the time he left, the company was selling as much in a month as they did during his entire first year. Jeff was involved in nearly every aspect of the business, including: retail, OEM, and wholesale sales, marketing, product development, customer service, web development, and production management.
Jeff was recruited by Essex in 2008 to further develop Essex's aftermarket brake program, and the High Performance Division has since flourished into a multi-million dollar business unit under his guidance. He continues to attend track days in his spare time, and has been a driving instructor for numerous organizations around the country. In addition to driving the wheels off of anything he can get his hands on, Jeff also enjoys playing guitar, spending time with his two daughters, and playing tennis.
« Back to Listing