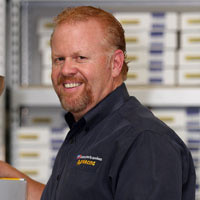 Jeff McChesney, Outside Sales
Jeff McChesney has been working as a brake specialist in the motorsports industry for 15 years. He started at Wilwood Engineering in 1994, where he remained until joining Essex in 2006. Jeff brings a deep technical knowledge to the Essex sales team, and has become a well-known face in the pits at pro racing events around the country.
As with most of the Essex staff, Jeff spends a large portion of his spare time going fast. His weapon of choice for the dirt is a Yamaha quadrunner, and he spends his road time on Harleys. He's known around AP Racing and other parts of the British Isles simply as "That Biker Guy."
When asked to reflect on his years at Essex, Jeff's reply was succinct and in his typical fashion, "I hope Ken Gordon will continue to let me work here for as long as I want, because I have bills to pay and I really need the money."
« Back to Listing