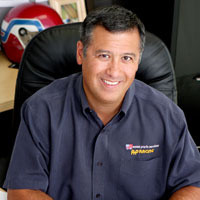 Jack Horowitz, General Manager
Jack Horowitz's unique career in motorsports has evolved through gaining experience in all aspects of racing. Jack has built cars, crewed for pro race teams, supplied teams and racers with parts, and has even driven the cars himself!
Jack's entry into motorsports began more than twenty years ago as an intern engineer with the famed Fabcar Engineering, where he learned the art and science of building race cars. Being immersed in racing culture quickly took its toll, and Jack came down with the go-fast sickness. Beginning in the SCCA Formula Ford Class, Jack earned victories in his first year of racing. In his second season he was invited to the SCCA National Championships, where he was awarded the Atlanta Region SCCA Rookie National Driver of the Year. That success landed Jack a ride in a NASCAR Busch Grand National car for the Road Atlanta round, where he qualified 13th, ran in the top ten, but had his engine expire 10 laps from the finish.
After witnessing NASCAR's marketing powerhouse in action, Jack realized that the available business prospects surrounding NASCAR would enable him to participate at a more professional level than if he pursued a professional road racing career. As a result, Jack spent a couple of years as a crew chief with a NASCAR All-Pro team, learning the craft of racing stock cars on short ovals. With the knowledge gained from that endeavor, Jack subsequently built his own NASCAR All-Pro car to compete in the tough Southeast Region. Jack won several top ten's, while continuing to market his team to the business world. At that stage, the demands of the business world consumed most of Jack's time, so he began winding down his driving time.
In the fall of 2002 Jack was recruited by Ken Gordon, the president of Essex Parts Services. As NASCAR became more deeply entrenched in Charlotte, Jack and Ken decided to move the business from its twenty year home in metro Atlanta. Once a new home for the business was found in Charlotte, Jack was responsible for the planning and logistics of the move, the renovation and preparation of the new space, as well as the management of the transitioning workforce.
Essex has since enjoyed a 300+ percent increase in revenues, with Jack taking a critical role. His entrepreneurial spirit has gotten him heavily involved in all aspects of the business, from sales and marketing, to managing Essex's relationships with their vendor partners, overseeing business operations, and planning for future growth with Ken.
« Back to Listing