Which Ferodo Brake Pad Compound is Right for Me?
02.02.2022
Not a day goes by when we aren't asked for a Ferodo pad recommendation. Choosing the correct compound to meet your needs depends solely on your priorities. How will you use your car, and what are you trying to get out of your pads? In this article we'll compare how three of Ferodo's most popular pad compounds stack up against each other across a range of characteristics. While there are other Ferodo compounds available, we have found that the DS2500, DS1.11, and DS3.12 will satisfy the vast majority of driver needs and wants. In other words, one of these three compounds will serve you well, regardless of how you'll be using your car.
As you read through these comparisons, you should start to get an idea of which one might be the best fit based on your needs and how you plan to use your car. Please keep in mind however, that choosing brake pads is all about tradeoffs. There is no one perfect pad for all situations and usage environments. To make the correct choice, you'll need to determine which characteristics are most important to you and purchase accordingly. For each quality or characteristic below, the three compounds are ranked in order from best to worst on that characteristic. Since feel is subjective, that category is not ranked in any particular order.
The descriptions below are based on internal and external dynamometer testing, track-testing, and real-world feedback from the many thousands of customers we've helped driving a diverse array of racecars, sports cars, and sedans. Our clients range from novice HPDE drivers to lifelong, elite-level professional racers.
Please keep in mind that Ferodo classifies all three of these compounds as race compounds, not road compounds.
Fade Resistance and Max Operating Temperature
DS3.12- DS3.12 has the greatest max operating temp and fade resistance of any pad in the Ferodo lineup. On our dyno we took this compound through repeated series of stops over 1600°F with no fade, and we're unaware of anyone ever fading this compound in real-world use.
DS1.11- DS1.11 also has an outstanding max temp and fade resistance, just not quite as high as 3.12. We're not aware of anyone who has faded them, and most people differentiate between the DS1.11 and DS3.12 based on feel.
DS2500- Despite its excellent manners, the DS2500 has superior fade resistance vs. any street or sport pad on the market. They are extremely popular for someone who wants to use their car as a multi-purpose vehicle. If you have a heavy, powerful car and want to run race tires on the track, you may find the upper reach of their temperature range. That said, we've had cars like the C7 Z06 run the DS2500 in our AP Racing brake kit on street tires at VIR without fade. Many of our AP Racing by Essex Brake Kit customers can get away with running the DS2500 on the track with street tires because our systems run considerably cooler than an OEM brake package.
Durability / Wear Rate (miles per pad swap):
DS3.12- The DS3.12 is an endurance racing pad and is the longest-lasting pad in the Ferodo DS lineup, as proven on both our brake dynamometer, track testing, and client race reports. It's tough to pinpoint the actual number, but all data suggests something along the lines of 15% longer pad wear than the Ferodo DS1.11. This compound has now had several winning seasons in GT endurance racing around the world. The higher mu of the 3.12 will wear discs a little faster than the DS1.11, but overall, they are still easy on discs vs. other race pad brands when run at track temps.
DS1.11- DS1.11 is also an endurance racing compound. It will last a fairly long time vs. many other pad compounds on the market but does not last quite as long as the DS3.12. They are very gentle on discs at track temperatures when a proper pad transfer layer is maintained.
DS2500- The DS2500 will not last as long as the DS3.12 or DS1.11 when consistently tracked at high temperatures on heavier, more powerful cars, particularly when run on race tires.
Feel, Feedback, Stability, and Torque Curve (not ranked in any order)
DS3.12- DS3.12 has a considerably higher mu (coefficient of friction) than the other pads in the Ferodo lineup. That means they will feel 'grabbier' when the brakes are applied, particularly at track temperatures. Some people find them borderline too grabby on street tires, and ABS will intervene with less leg force than it will with the other Ferodo compounds. Those switching from other Ferodo compounds to the DS3.12 typically need a few sessions to relearn how to apply their brakes. You don't need to stand on the brake pedal to get a response, and they respond extremely well to proper squeezing or brushing of the brakes to settle the car. The DS3.12 torque curve is table-top flat, which means they respond the same way to pedal inputs at all temperatures. The top drivers love them for this incredible consistency, as they always feel the same throughout an entire lap or race. On the Essex dyno, the DS3.12 showed the flattest, most consistent torque curve of any pad compound from any brand ever tested.
DS1.11- The DS1.11 has a lower mu than the DS3.12 at all temperatures and can be characterized as a moderate mu pad vs. other endurance racing compounds. They require more pedal force than the DS3.12, and they have a slightly declining torque curve as temperatures rise. As they get hotter and you dive deeper into a turn, you may feel like you need to push a little harder on the brake pedal to elicit the same response (which is a feel many drivers actually prefer). Some drivers feel that the DS1.11 is more controllable on street tires than DS3.12 since ABS cannot be activated as easily.
DS2500-DS2500 has a considerably lower mu than the DS3.12 and DS1.11 at all temperatures. They are a better match to street tires than they are with racing tires. While their performance is stable, their torque curve declines more with temperature than the other compounds. Despite the lower torque curve, they are going to feel far better than a pure street pad at any temperature experienced on a racetrack.
Manners (cold bite, noise, dust, disc wear)
DS2500- Despite technically being a race pad, the DS2500 has very good manners, and are by far the best in this area out of the Ferodo DS line of pads. They have more than ample cold bite and as long as they are bedded-in properly, the 2500 typically doesn't make any noise. When they do, it is a small squeak or chirp on the tail end of a stop. They are no harsher on discs than typical street pads. They have a moderate amount of dust that would be similar to the typical OEM pad on a European car, but the dust is not harsh and won't cause any problems with paint finish, etc.
DS3.12- The DS3.12 has low to moderate cold bite. You do need to give yourself a little extra space on the first couple stops when they are cold. As with any higher mu race pads, they will wear your discs significantly faster than a road pad when run cold. They are virtually silent on most applications, making them extremely rare among race pads, which typically squeal like a stuck pig when run cold! The dust is heavier than the DS2500, but most people don't have any trouble removing it.
DS1.11- For most people the DS1.11 has an unacceptable noise level when driven cold. They squeal and scrape when cold, and even sometimes when hot. Some owners drive them to and from the track, but they definitely aren't 'date night' pads. Cold bite is not especially good, but they aren't quite as harsh on discs as the DS3.12 when cold due to their lower mu (which falls between the DS2500 and DS3.12). Dust is like most other race pads, but not corrosive or problematic.
Again, keep in mind that performance is relative. These are race compounds and are not going to perform as quietly or dust-free as a pad designed explicitly for those purposes


Price
DS3.12- The DS3.12 is the culmination of 100+ years of Ferodo pad research and development and is the costliest compound to produce in Ferodo's lineup. It is leveraged by championship-winning race teams around the globe and carries a premium price that is comparable to other elite-level options. Keep in mind however, that DS3.12 is one of the longest-lasting options available, and your actual track miles per dollar may be considerably higher with the DS3.12 vs. other alternatives. The fact that they can potentially eliminate the need to purchase multiple sets of pads (and spend valuable time constantly swapping them) makes them an even greater bargain.
DS1.11- DS1.11 is produced using many of the same ingredients as DS3.12 and carries a similar price tag.
DS2500- Given its incredible versatility and unique capability as a dual-purpose pad, DS2500 is one of the best bargains in enthusiast brake pads today. It mates manners similar to an aggressive street pad with the fade resistance and track capability of a race pad, at a price resembling many OEM replacement pads. If you assign any type of cost to the number of pad swaps the DS2500 can save you, its remarkable value becomes apparent.
Disclaimer and note on copper
Ferodo Racing Brake Pads are designed and sold for off-road use only. They contain copper, and it is up to the owner to determine their fitness, suitability, and legality for the environment in which they intend to run them.

Summary
While there are other Ferodo DS compounds available, Essex has chosen to focus our efforts primarily on the three discussed in this article. Some of the other DS compounds are either very similar in some manner to one of these three, or they don't apply to the type of driving our North American customers do. Having additional options would simply make the decision more complicated than it needs to be. As noted earlier, we have found these three compounds to provide outstanding performance for the numerous and varied ways in which our customers drive. In other words, one of these three pads should make you happy, regardless of how you're using your car!
If you enjoyed this article, please be sure to check out our related articles:
Essex track and racing pad owner's guide
Can I run my OEM brake pads on the track?

Please check out our Ferodo product page for more details on each compound, and be sure to use our year/make/model search at the top of this page to find pads for your car.

by Jeff Ritter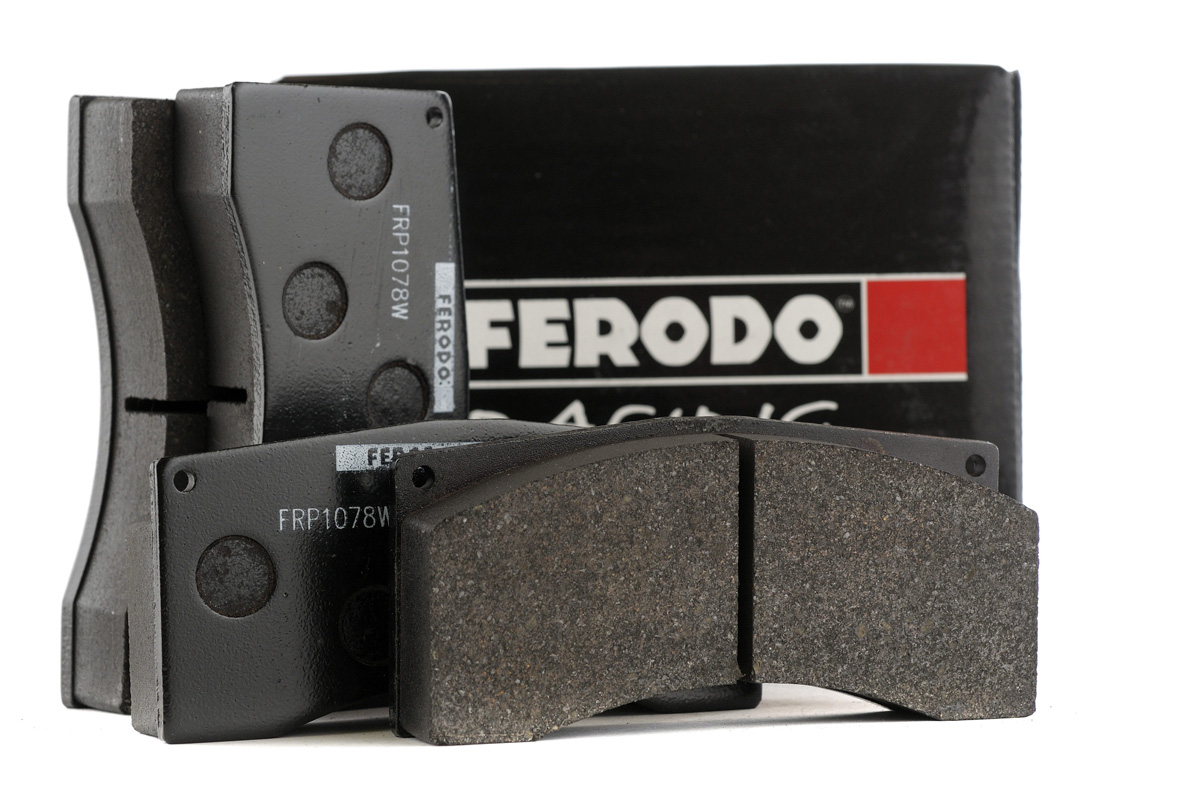 Share:
---
« Back to Listing