Shave 40 unsprung pounds from your BMW M2 Competition!
12.19.2018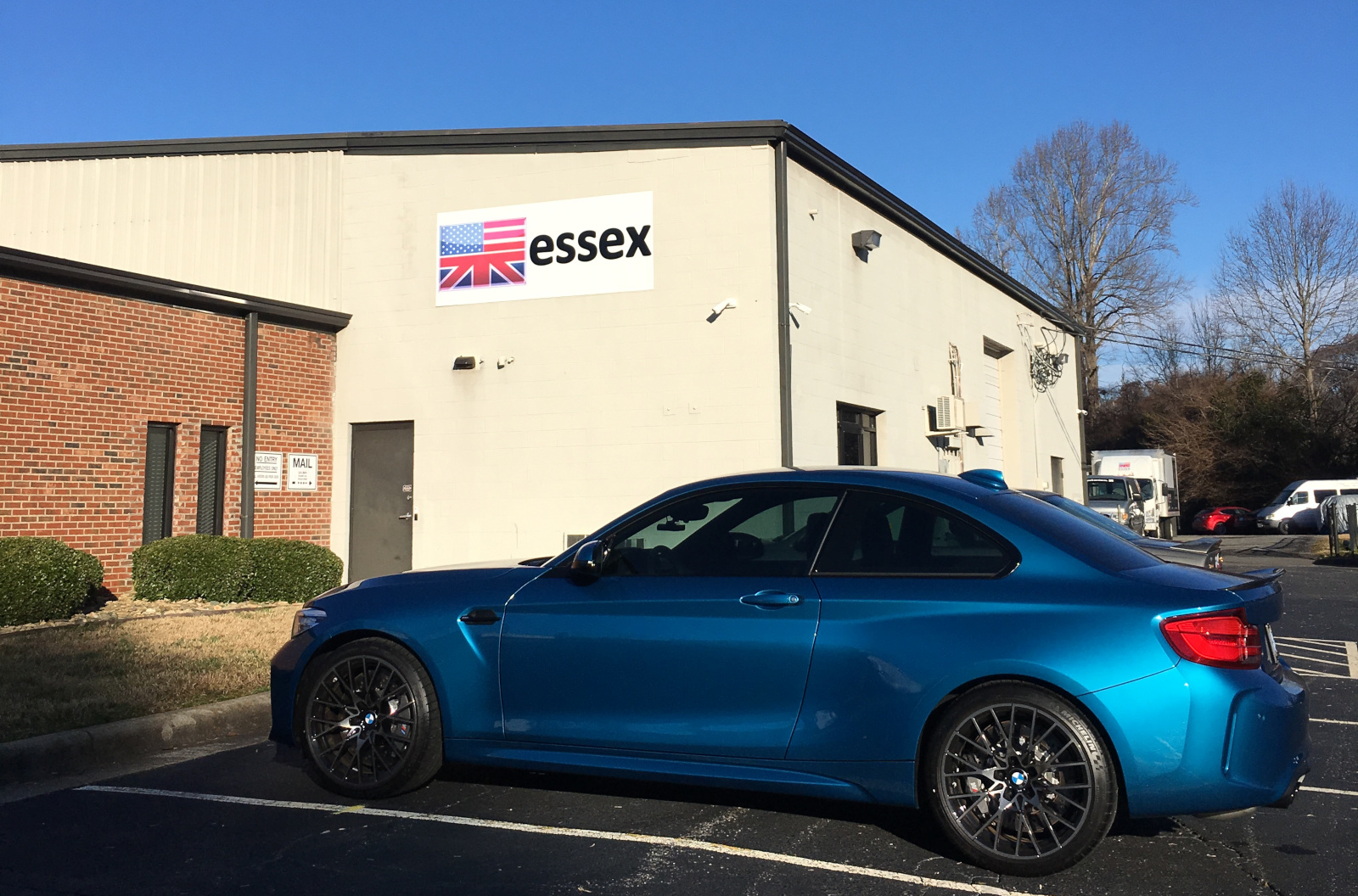 If you're looking for a current BMW M car for track use, the 2019 M2 Competition is arguably the one to have. A huge horsepower and torque bump, improved cooling, and increased rigidity catapult an already great chassis to the next level. However, one inclusion from the factory that leaves room for improvement is the oversized brake package. While the new setup certainly looks more durable than the one from the '16-'18 M2, it also has some significant downsides that Essex decided to remedy.
As we've all witnessed over the past couple decades, modern sportscars are packing on the pounds like a chubby kid at the Golden Corral Buffet. The days of sub-3,000 lb. M Cars are gone, and the lightest offerings in the range now top 3500 lbs. With a 1/3 tank of gas, the car we measured tipped the scales at 3,520 lbs. With a 180 lb. driver, you're looking at 3,700 lbs. of whistling German metal hurtling towards the apex of Turn 1 at Road America. The high curb weight coupled with additional horsepower is a recipe for brake problems, and we understand why BMW wanted to beef up the standard brake package vs. prior model years, which have proven problematic for many heavy track drivers. Their solution was to throw gigantic brake components from a much larger vehicle at the problem, using blunt mass to absorb heat. We went about solving the problem in a much different manner, foregoing the sledge hammer in favor of the scalpel.
The OEM front disc is a monstrous 400x36mm dual-cast unit with 30 curved vanes, and it weighs an obscene 30.4 lbs.! That weight comes despite there being holes drilled in the discs, which incidentally, will cause them to crack more quickly vs. slots or a plain face. The front OEM Brembo caliper is an enormous six piston unit that weighs 10.7 lbs. bolted to its carrier bracket. Even the pads are heavy (5.8 lbs per caliper), since they have large NVH weights on the backing plate designed to quell noise and vibration. One of the most notable OEM caliper design features is the fixed bridge on top of the caliper, which means the whole caliper must be removed every time you want to swap pads. The calipers are painted silver to give them a racy look, and they're mounted on a separate caliper mounting bracket since they weren't originally intended for the M2 chassis.
By contrast, the front six piston AP Racing Radi-CAL calipers in our Essex Designed Competition Brake Kit weigh 6.2-6.9 lbs., while our 372x34mm, 72mm, fully floating 2-piece discs weigh 21.4 lbs. When all the bits are tallied, our front system removes approximately 25 unsprung lbs. from the nose of the car! The pads in our calipers can be changed in minutes without removing the caliper via two hex-head bolts, and our CP9668 caliper even has an optional spring clip bridge that permits pad changes without any tools. Our calipers also have domed-back, ventilated stainless steel pistons with anti-knockback springs, high temperature internal seals, and offer far more pad compounds available from all the major pad manufacturers. Possibly one of the best features of our systems is that they will fit inside popular 18" track wheels, which is an impossibility with the OEM brake package.

Moving to the rear of the car, the story is similar. The OEM rear disc is 380x28mm, and is also quite hefty at 21.2 lbs. (roughly the same as our front disc), and the rear caliper/bracket weigh about 8 lbs. The AP Racing CP9451 Radi-CAL weighs a feathery 4.85 lbs., and our 365x30mm rear J Hook Disc weighs16.8 lbs. assembled. Our total weight savings in the rear is 12 unsprung pounds, while retaining full parking brake functionality. When combined with our front kit, the total unsprung weight savings obtained with our kit is approximately 37 lbs.!
What can our Essex Designed AP Racing Brake Kit do for you?
Knock close to 40 unsprung pounds from your car. There's no easier, bolt-on way to drop that kind of weight from this car.
Allow you to run 18" track wheels and tires. If you shave another 5 lbs. per corner moving to a lightweight 18" wheel/tire package, you could push your weight unsprung savings to over 60 lbs. You'll also vastly increase your potential tire choices, and lower your per tire cost by a great margin.
Dramatically increase your brake pad options. The AP Racing Radi-CAL uses one of the most common pad shapes on the market, and every pad manufacturer makes the shape in nearly all of their compounds.
Allow you to move to a 25mm (1 inch) thick pad while still fitting behind the OEM wheels. Our CP9668/372mm system features pads that are a full inch thick. No spacer is required behind OEM wheels, and as noted, you'll be able to stuff them behind 18" wheels
Handle absolutely anything you can throw at them, while feeling exactly the same on the first and last lap of the day. If you're concerned that our 372x34mm discs somehow aren't large enough, you shouldn't be. We've been winning races and championships on these discs for years on cars with more power, more weight, wider tires, and more aero than the M2 Competition. You can see customer feedback and reviews of our 372mm systems elsewhere on our Essex Blog.
What do I do with my OEM brake system?
Option A: Shelve it in your garage
Our brake system is a significant investment, but it truly is an investment. Our brake packages typically change hands for 65-70% of their original MSRP on the used market. That means when the time comes to move onto your next ride, you can pull our kit from your car and get thousands of dollars for it. You'll have your pristine OEM brake system sitting on the shelf, so you won't have to go out and buy a bunch of OEM brake parts to prep it for sale. The OEM calipers and discs also won't look like they went through war, so you won't have to worry about scaring off potential buyers because your brakes look ragged-out.
Option B: Sell your OEM brakes to another M2/M3/M4 owner
Not everyone wants the ultimate brake package for their M car. Many just want something big that looks cool, or anything more durable than the base setup. If you pass your giant OEM setup down the road, you'll have several thousand dollars to put towards our brake system. When it comes time to sell the car, you could either leave our system installed (one of the few potential mods that arguably adds value), or sell our kit and pick up a base brake package for peanuts on the used market.
As you should be able to see at this point, our systems provide a laundry list of advantages vs. the OEM M2 Competition brakes. If you're serious about having the most capable, versatile, best-performing brake system on your M, you should give our systems a close look. Click here to see all of our Essex Designed AP Racing Radi-CAL Competition Brake Kits for the 2019 M2 Competition.

Tipping the scales...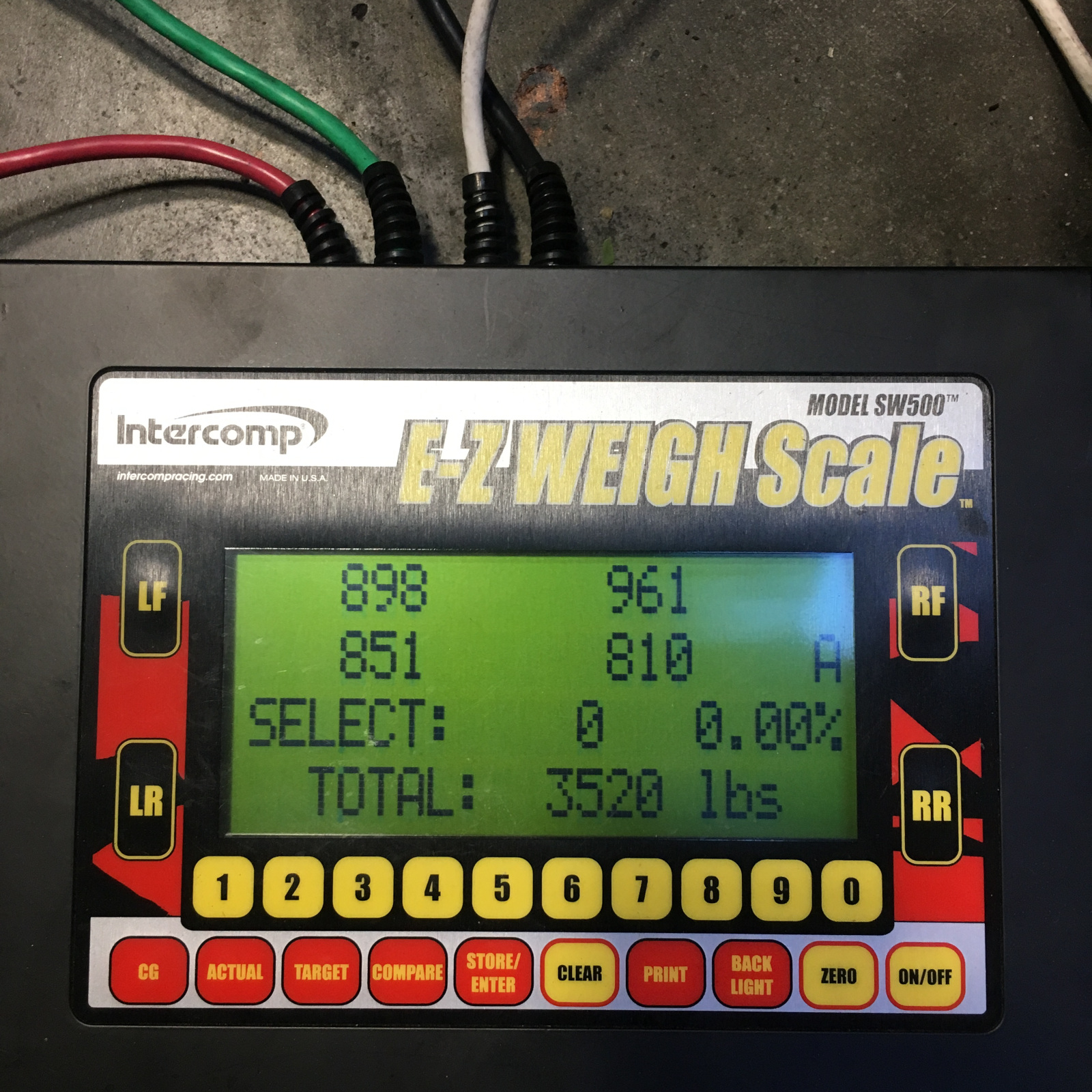 OEM front disc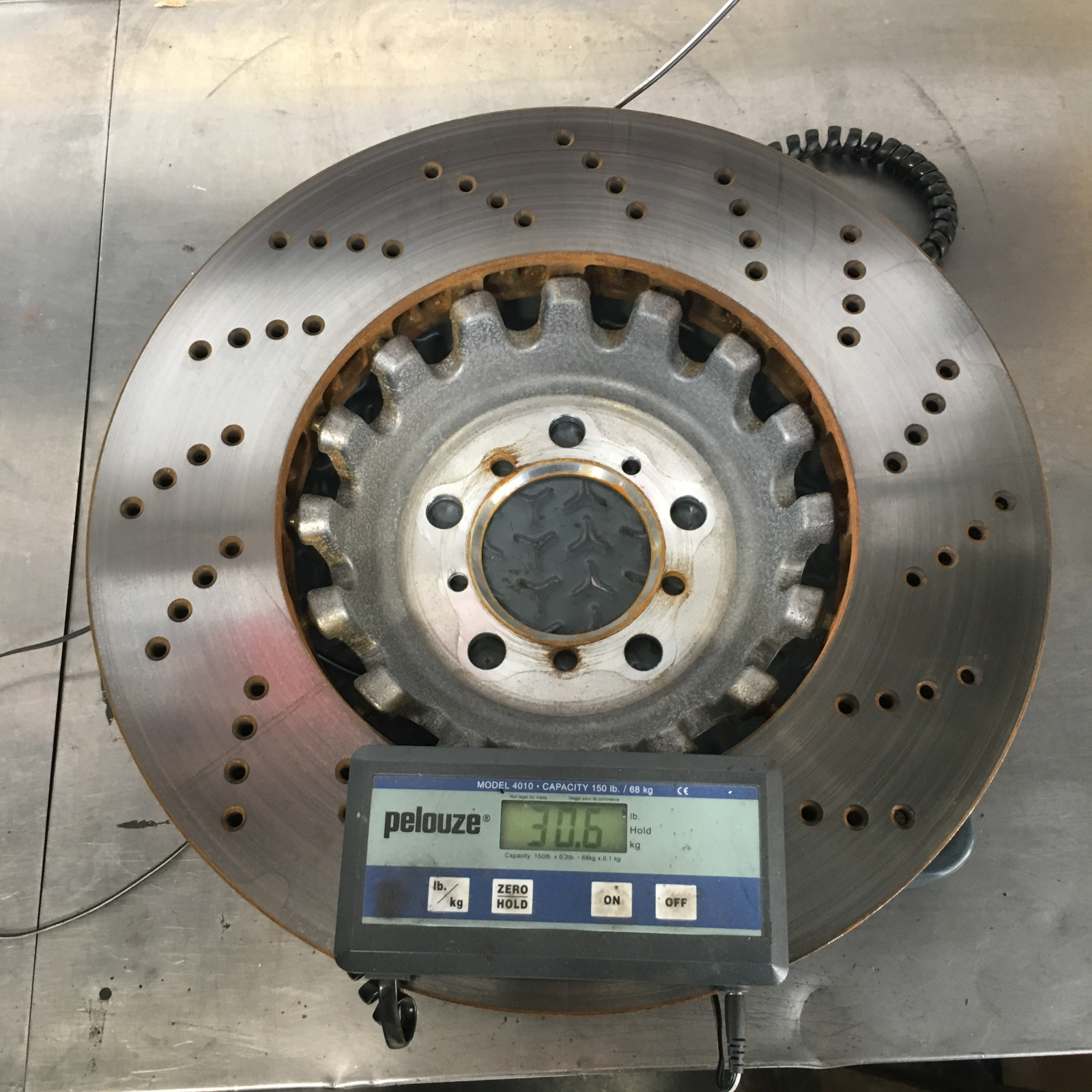 Essex Designed AP Racing front disc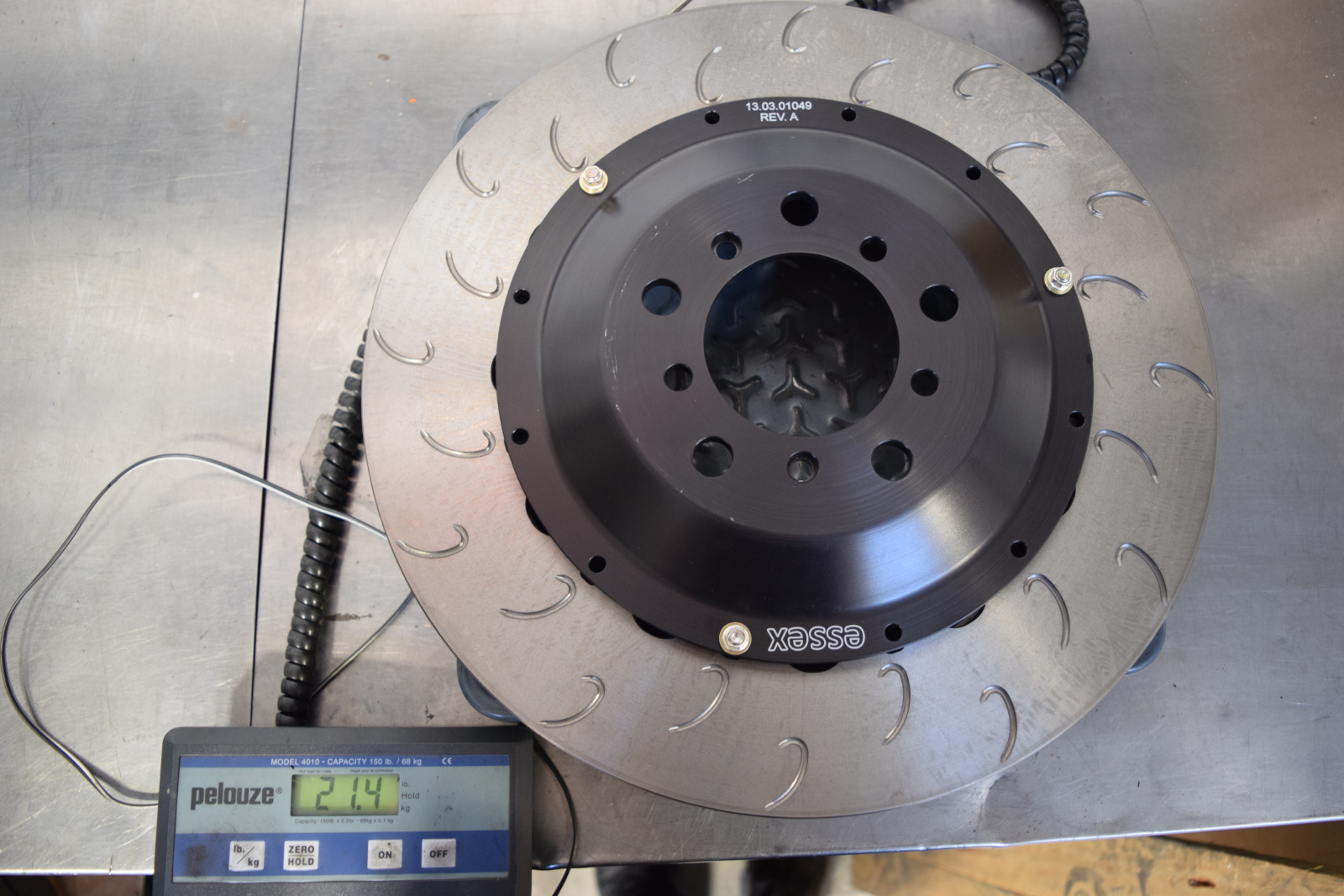 OEM rear disc

Essex Designed AP Racing rear disc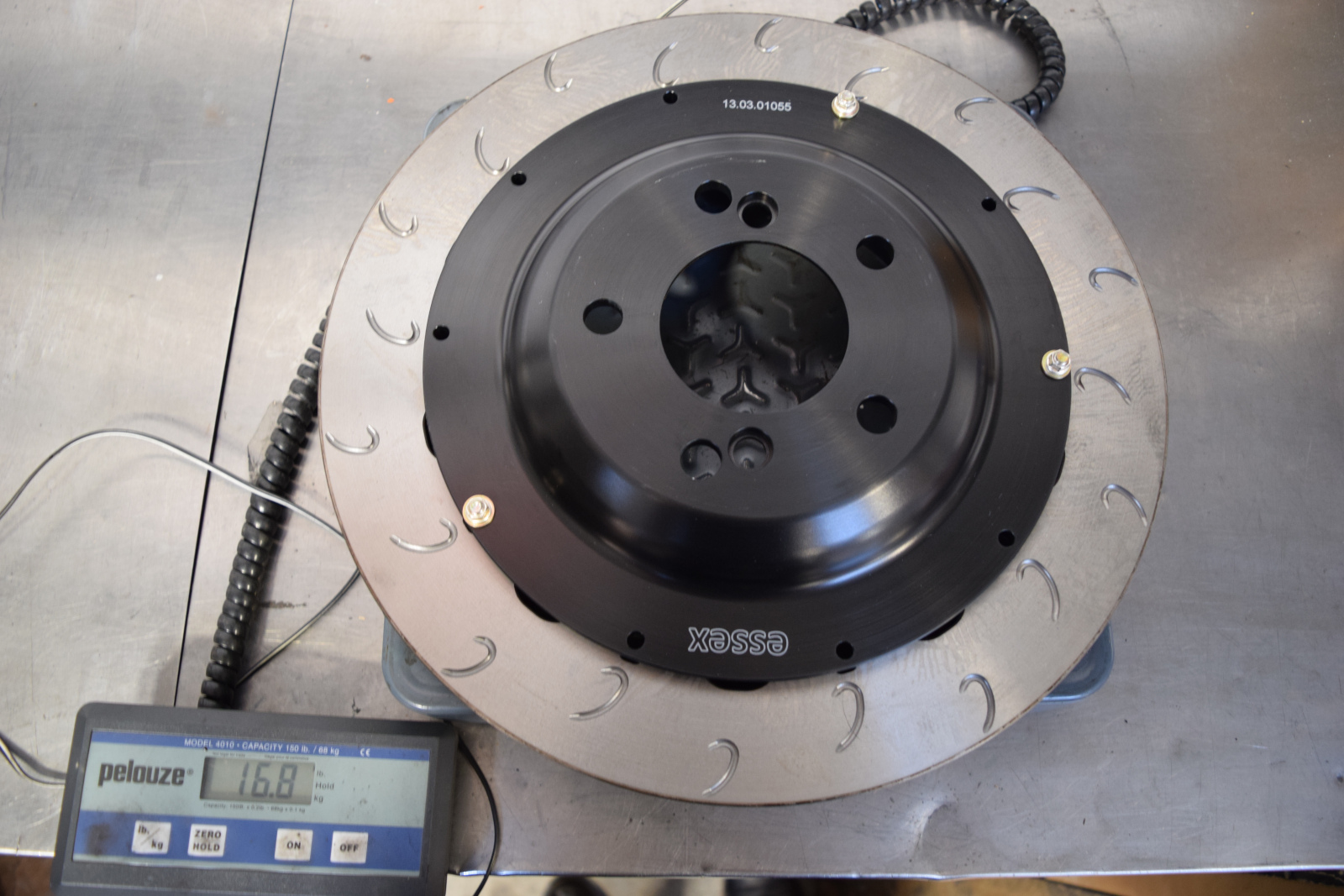 OEM front caliper with fixed bridge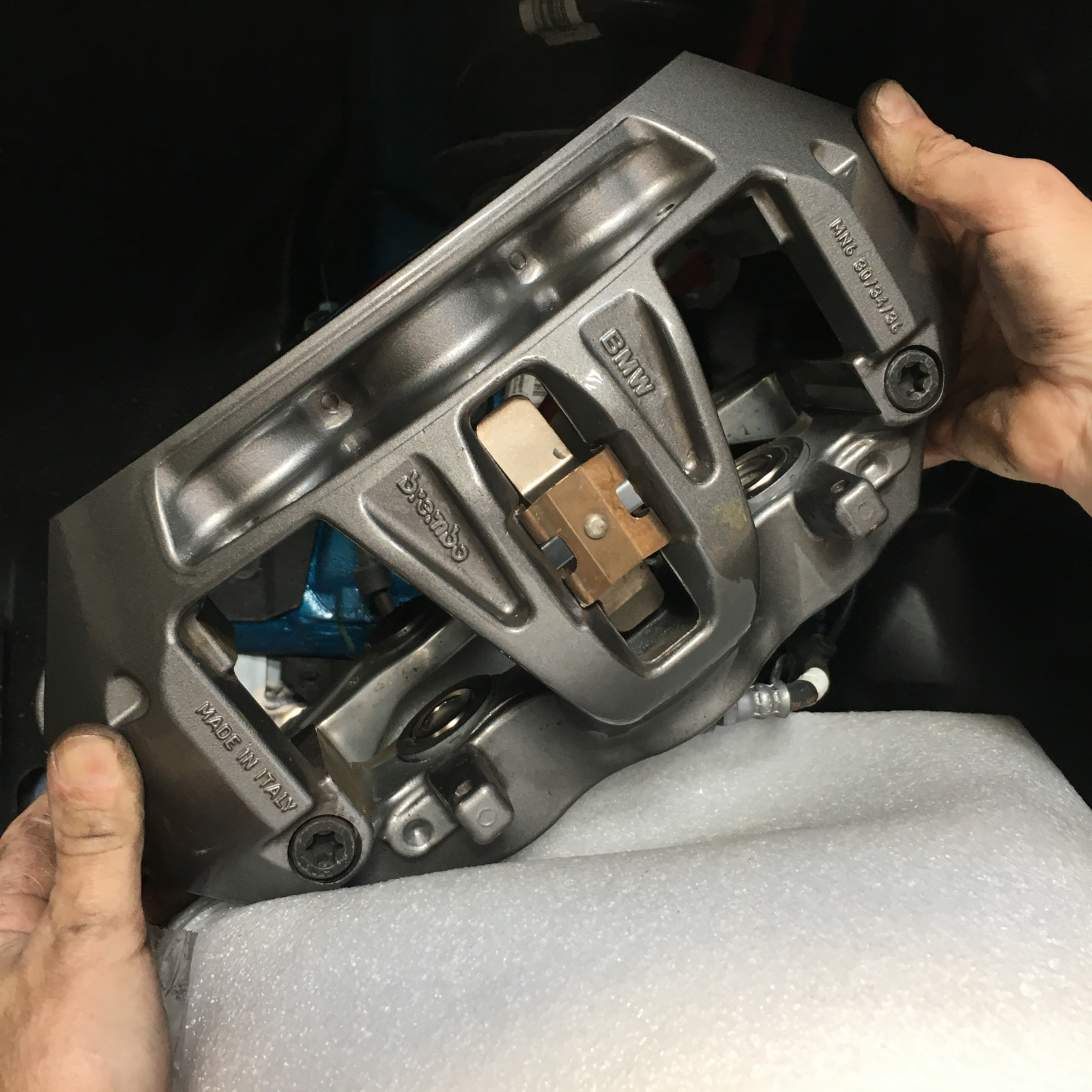 OEM mounting bracket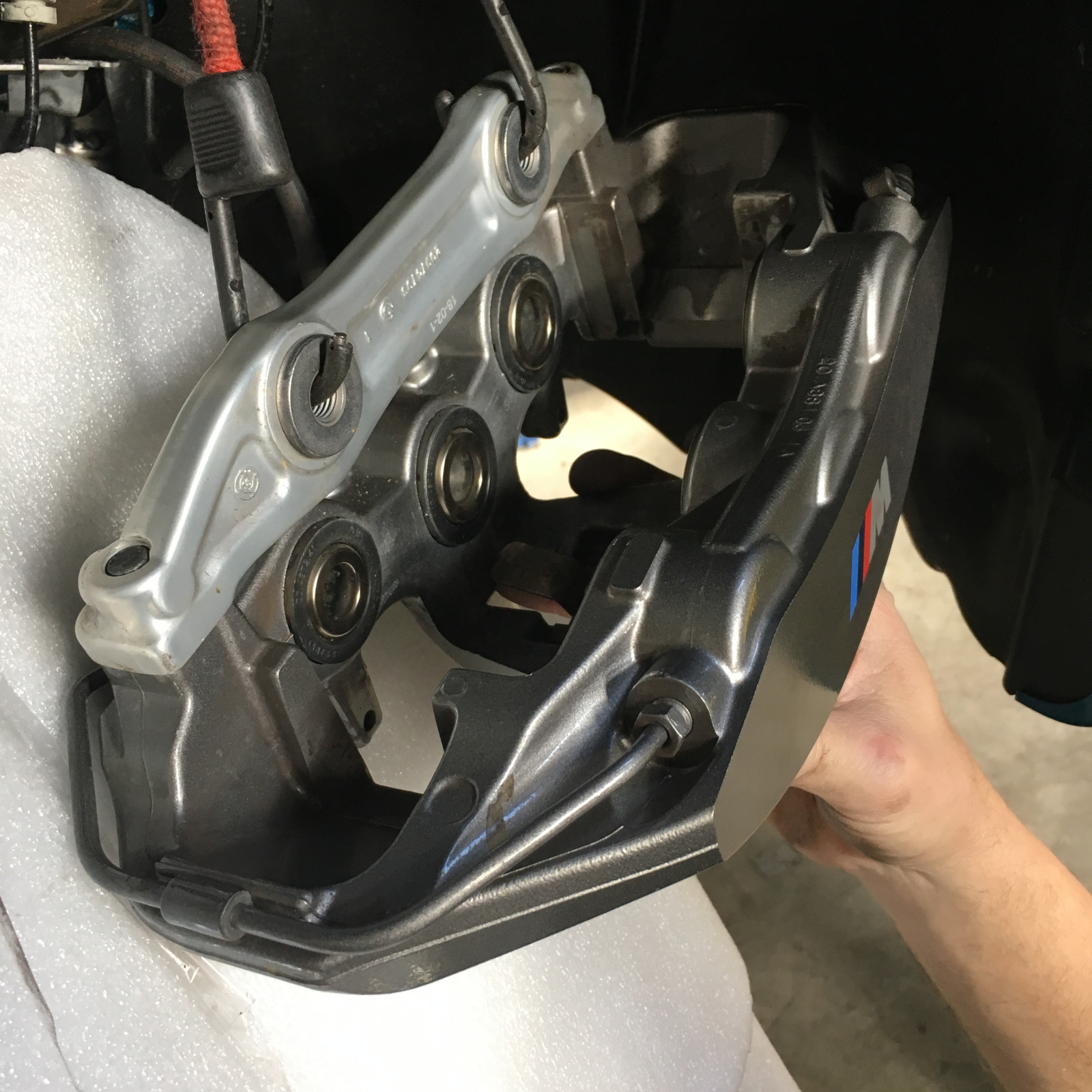 AP Racing Pro5000R Radi-CAL calipers from Essex Designed front and rear Competition Kits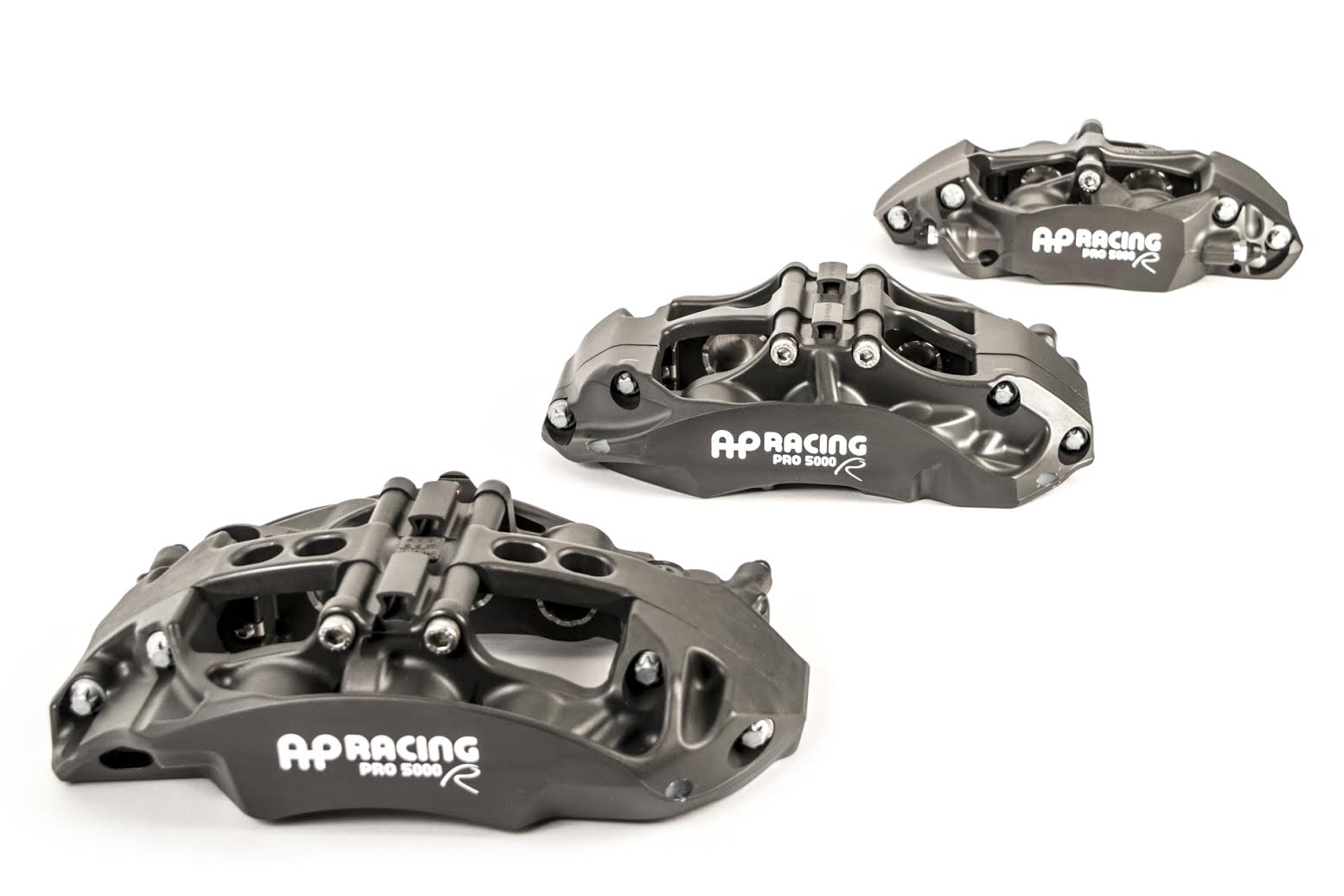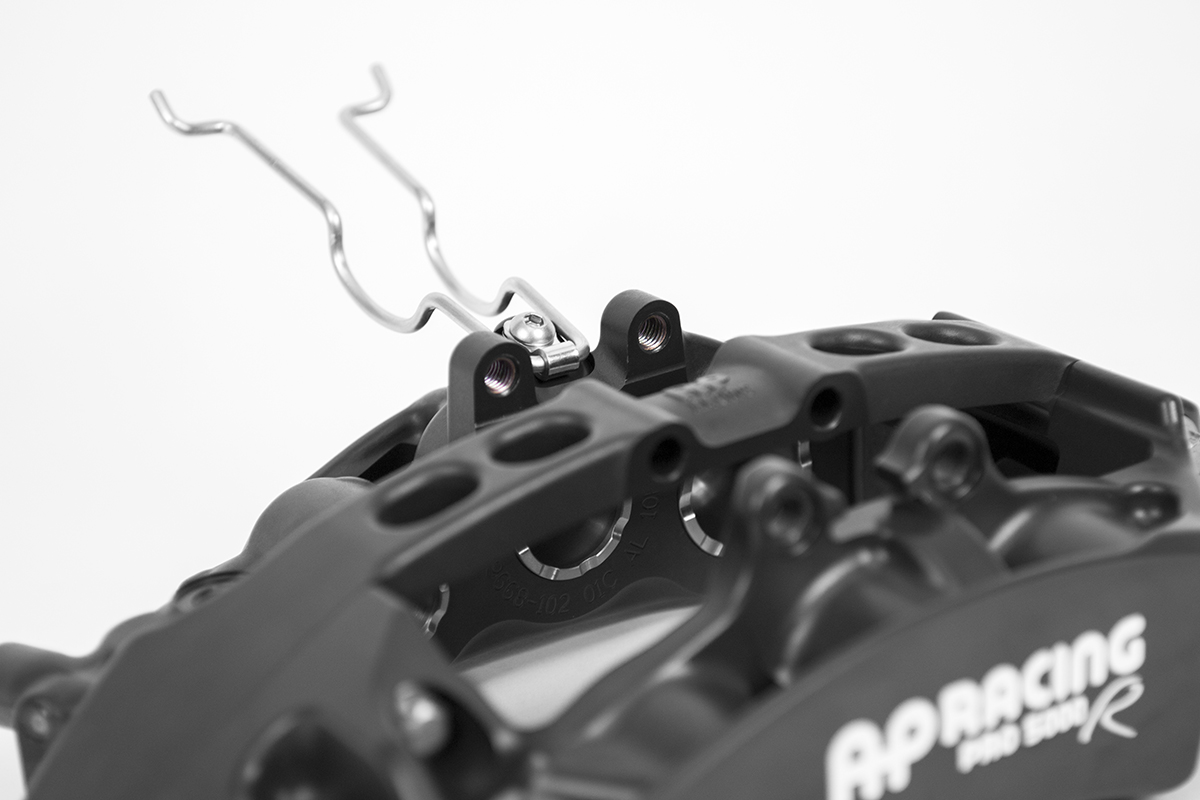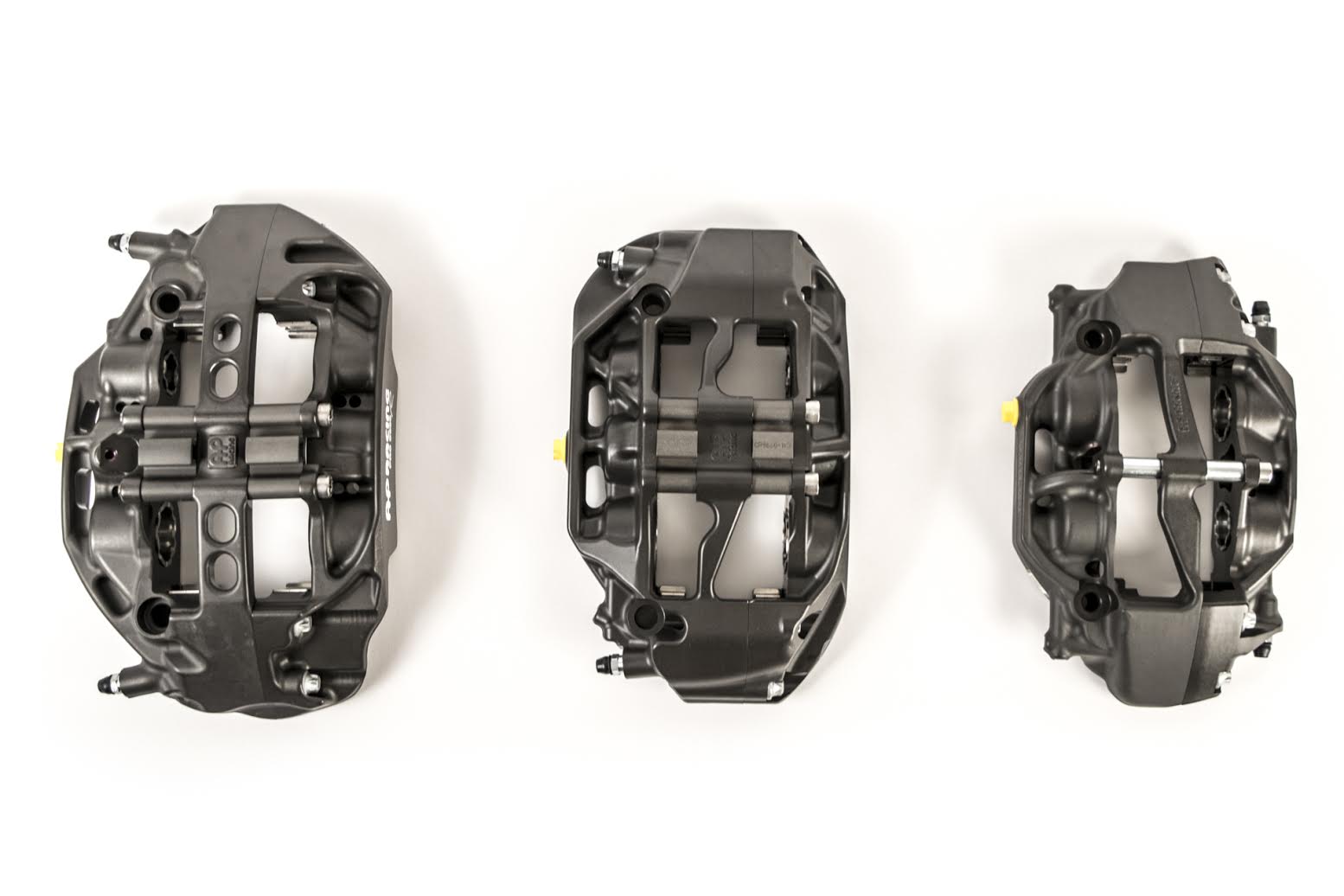 25mm thick pads from the CP9668 Radi-CAL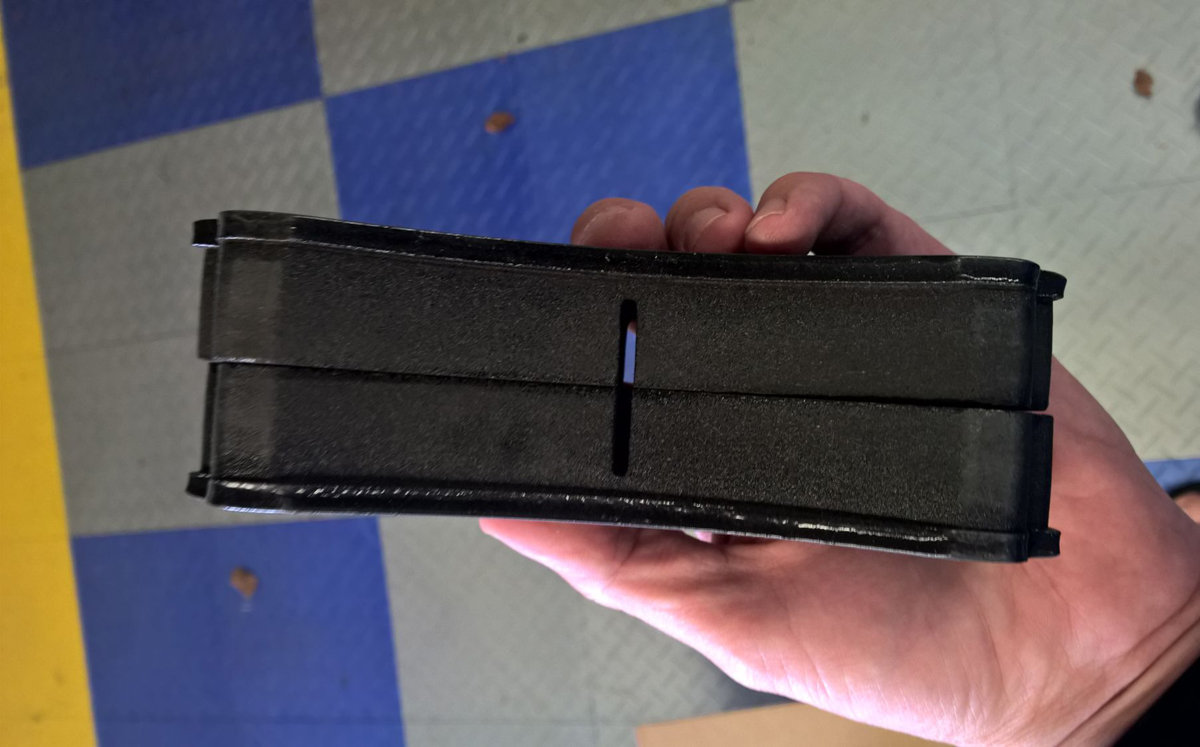 Front Essex/AP Racing kit installed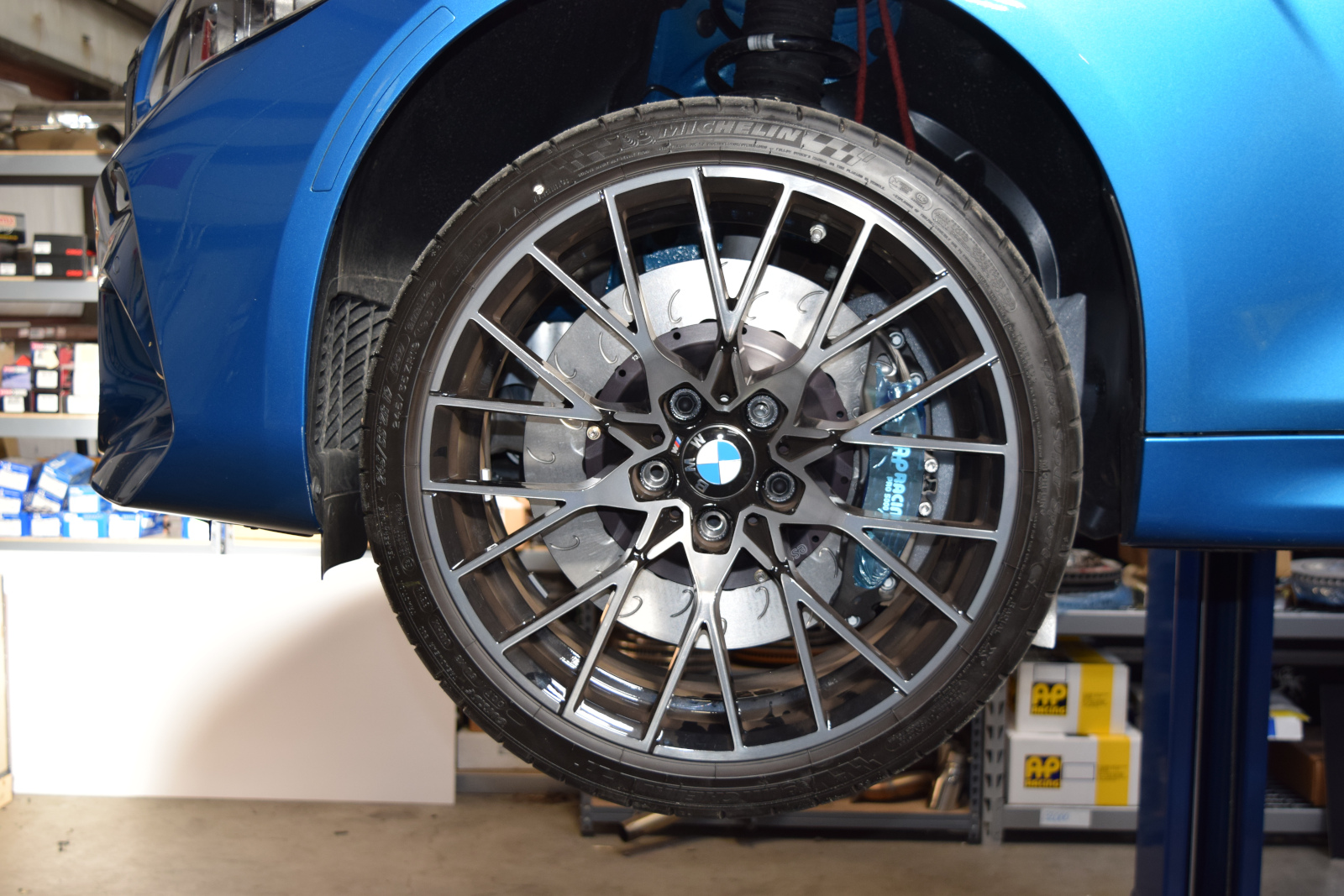 Rear Essex/AP Racing kit installed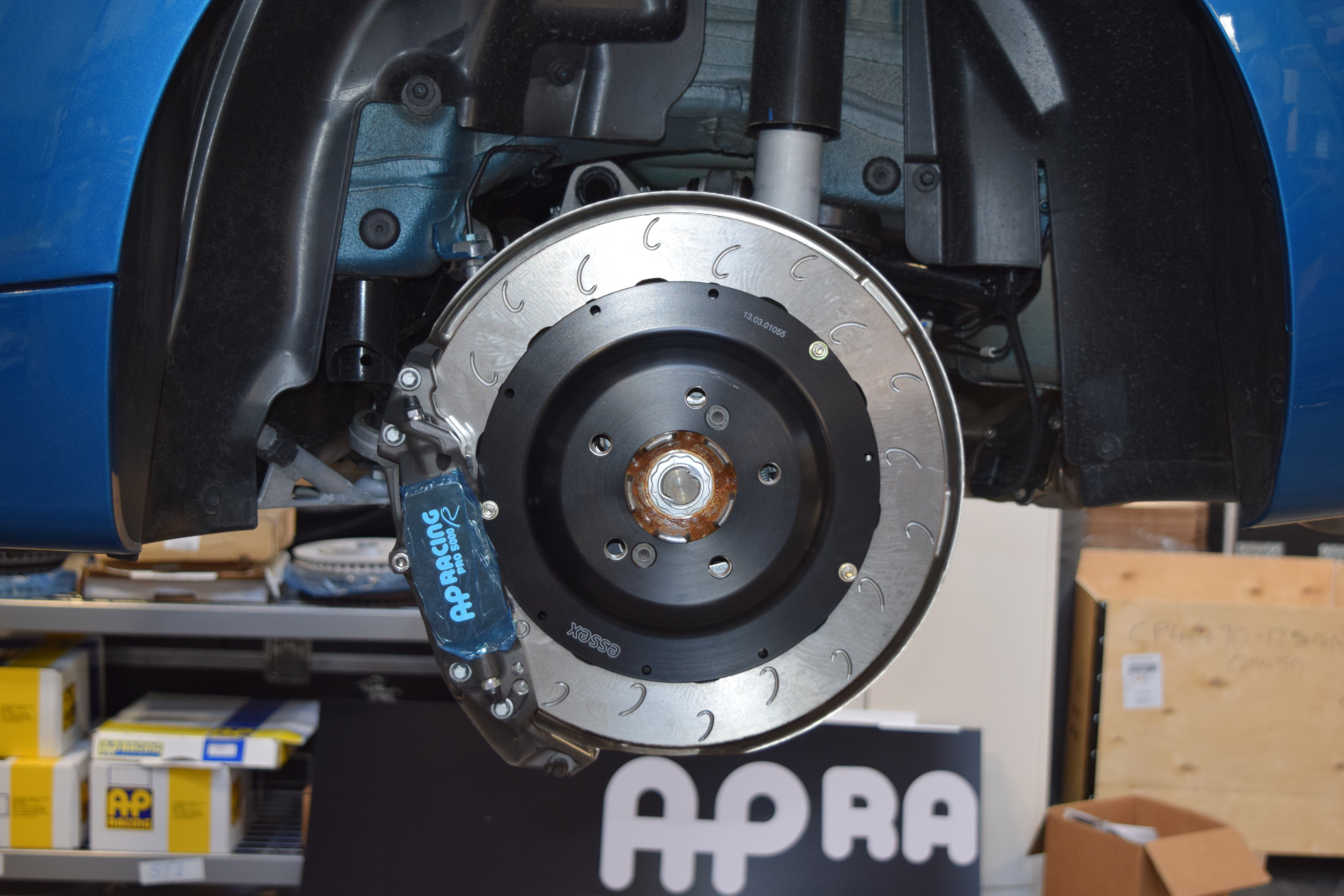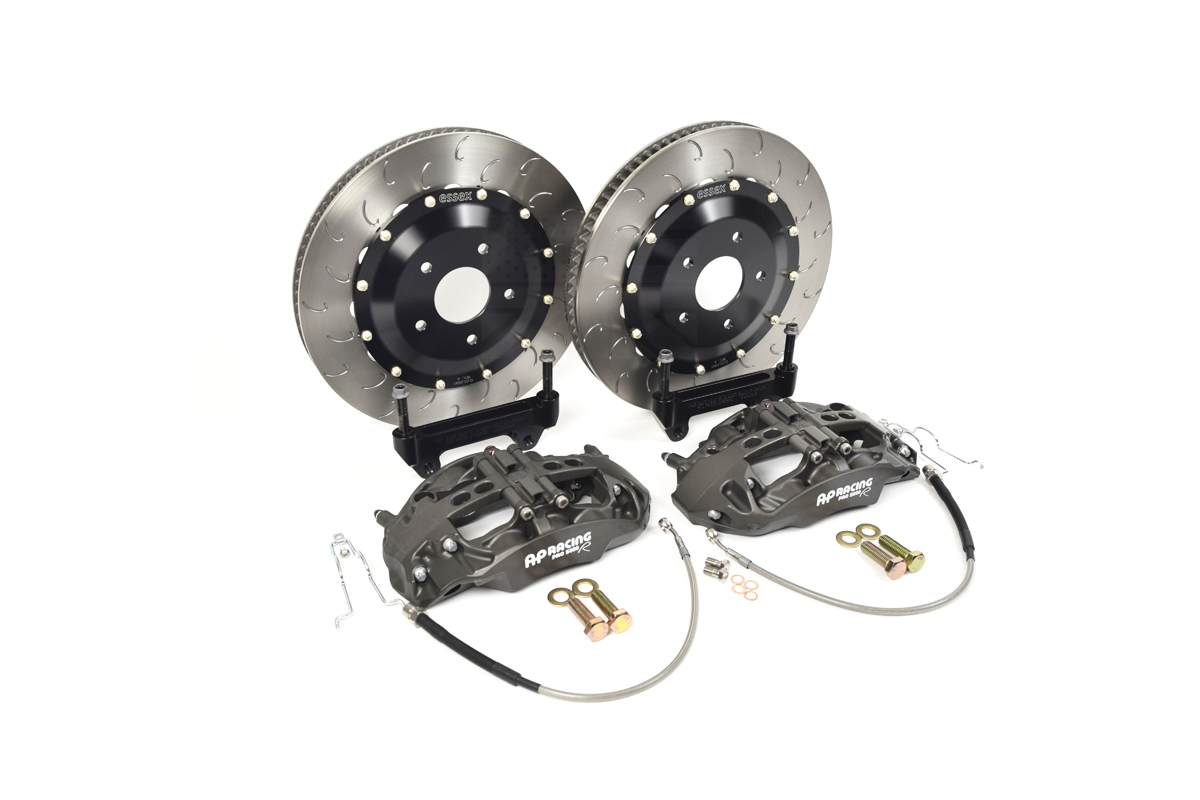 Our CP9668 Kit has tons of spoke clearance on the OEM front 19's
We put speed holes in our bracket, and eliminate as much weight as possible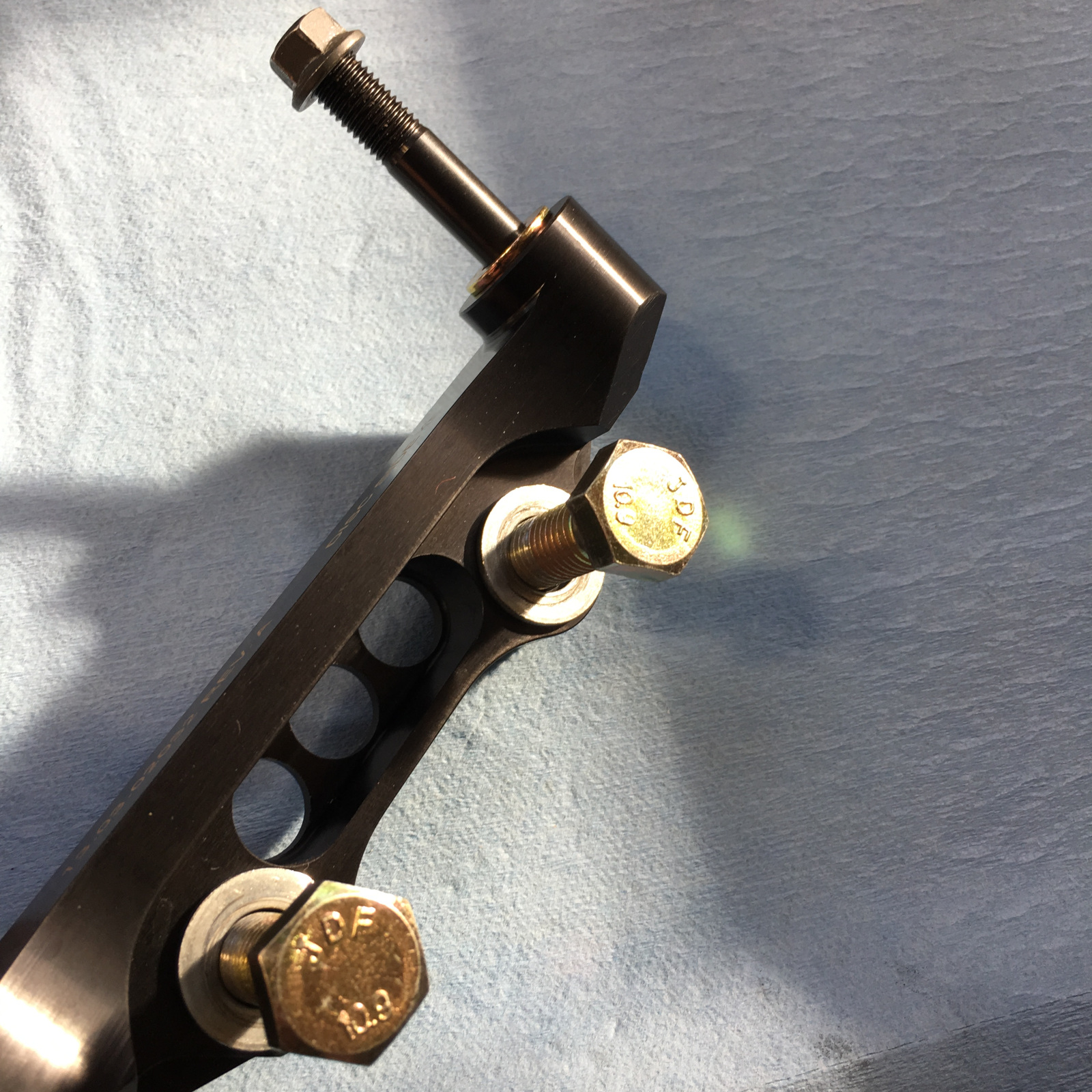 Share:
---
« Back to Listing