Pro5000R Radi-CAL's capture NASA National title!
08.04.2015
First race, first win! In a situation reminscent of the AP Racing Radi-CAL Sprint Cup introduction in 2007, AP's new Pro5000R calipers scored a victory in their debut race this past weekend! Bill B. pedaled his C5 Z06 to a NASA West ST2 title in a 25 lap race at Laguna Seca. In a gutsy and confident move that adds a little drama to the win, Bill actually installed our brake kit the week before his championship race!
Bill sent us a nice email yesterday with some thoughts on the brakes:
Thank you Jeff and the Essex team for my new Radi-Cal front brake kit! I was anxiously awaiting these to come out so I could retire my 10 year old Stoptechs. They arrived just a few days before my NASA national championship race. With most items I would be hesitant to make a big change right before a championship race, but I was confident with the AP brakes since I already had excellent success with the rear kit so I installed them, and I'm glad I did. BTW, the kit is very professionally done and packaged. It only took me one hour to remove my old stoptechs and install the new AP kit. The brackets fit perfectly with no grinding or shimming necessary. The calipers are a work of art.

This year's nationals were at Laguna Seca and once I put a session on them, I could definitely feel a difference in performance. The pedal position really jumped out as always being at the top and firm. Pedal modulation was easy and the brakes never changed over 30-40 minutes of hard racing. Zero fade and consistent braking at Laguna Seca which is notoriously brutal on brakes. I could also really feel the difference with the anti-kickback springs. It became obvious this brake setup was in another league from what I had been running. The rotors were capable of removing the heat and show no signs of heat checking after 3 days of racing. I was able to out-brake my competition and even the class above mine which was a huge advantage. After the race weekend both of my colleagues sharing the podium with me were asking about my brakes. They were that good.

After 3 days of hard racing this is how they look. Good as new! I went with the narrow version. The wide version wouldn't fit some of my wheels but they would be amazing for longer races.
Please take a look at the pics below. The brakes are in incredible condition after a full race weekend on a notoriously tough braking track. They look like they've barely been used! Only a couple mm of pad material was burned up, and the discs look they just came out of the box.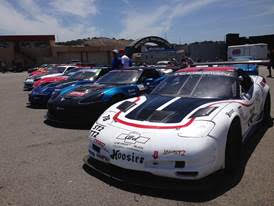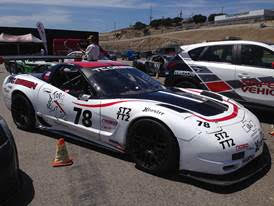 Essex and AP Racing would like to congratulate Bill on a job well done!
AP's Radi-Cals performed a similar feat when they were first introduced into NASCAR Sprint Cup back in 2007. The first on-car application of the AP Racing Radi-CAL occurred during a confidential NASCAR test on August 6th, 2007 at Road Atlanta. Tony Stewart had won two out of the past three Nextel Cup races and was preparing for a race on August 12th at Watkins Glen International. Although Tony's team, Joe Gibbs Racing, was pushing towards the end of an extremely successful season on AP's latest conventional caliper system, AP encouraged the immediate implementation of the new CP5845 Radi-CAL based on the astounding results they had achieved during dyno testing (a 33% reduction in deflection vs. the leading caliper at the time). The Gibbs team liked the idea of a potentially significant technical advantage for the Glen, a track that is notoriously brutal on brakes, so they installed them on the car for testing.
Stewart drove the new Radi-CAL system back-to-back with the conventional AP short track setup, and the results were both instantaneous and impressive. Stewart and the team noted a marked improvement over the existing setup on all parameters: improved pedal modulation and required effort, a noted reduction in braking distance, and a substantial temperature reduction. In an unprecedented move at the elite level of the sport, the team decided after only one day of testing to run the new calipers in a race that was less than a week away!
The results at the Glen were just as dramatic and remarkable as what occurred during testing. Tony Stewart was leading the race at Lap 45, but spun going into Turn One. He then had to fight his way back through the pack, ultimately passing Jeff Gordon under braking in that same turn with only two laps remaining. Stewart went on to claim the win, and in doing so set the stage for the Radi-CAL's future dominance in motorsports. After the race, one of the larger teams complained to NASCAR officials that Stewart's Radi-CAL brakes offered him an unfair advantage. As a result of the ensuing investigation, it was decided that even though the CP5845 caliper was technically compliant with the rules, they couldn't be run again in a race until they were available to all of the teams. The calipers were immediately put into full production and adopted by most of the major teams. AP Racing Radi-CAL's have since been a fixture on most of the front-running cars in the NASCAR Cup series, and many other professional racing series as well.
Share:
---
« Back to Listing