Our C7 Stingray Competition Big Brake Kit transforms this owner's track day from frustrating to fun!
07.01.2014
Since we took delivery of our C7 Z51 in the fall, I've been a rather harsh critic of the car's brakes. I wrote a blog post about their track-worthiness (or rather, their lack thereof). Now my concerns are being validated as more fast drivers with these cars hit the track. The customer review below comes from a C7 owner who was becoming increasingly frustrated with the stock brakes on the track. As you'll see, our Essex Designed Competition Big Brake Kit had a dramatic impact on both his driving, and the amount of fun he had at the track.
"I have had nothing but brake boil issues with my C7 Z51 manual since I got it. I use it at the track only. I run track mode and manually turn off all electronics. I personally believe that much like my Porsche, even though the manual says Race mode turns off all nannies; I believe there is still some assistance. I therefore turn it off by holding the button until both lights appear on the dash.

First track day decided to use the following combination:
Stock pads
Stock fluid
Rotor rings installed
Thunderhill Raceway
Ambient Temp 72degrees.
The pedal went soft in the first session after about 4 laps. Keep in mind, the first 2 were nice and easy and the second two were at about 7/10 pace. Had to come in early.
For the rest of the day, the pedal would go soft after a lap.

Second track day:
Added Carbotech XP 12 pads, ATE fluid DOT 4.
Rotor rings still installed.
Buttonwillow Raceway
Ambient temp 82 degrees
Brakes held the heat better, but still faded. Usually, fade would happen somewhere on lap two. I was driving 8.5/10 pace. Brakes would be present if I "pumped" the pedal.

Track day three:
Added steel braided lines
Castrol SRF fluid
Maintained Carbotech XP12 pads
Kept rotor rings on
Thunderhill Raceway
Ambient temp 79 degrees
Used a laser temp gauge to check rotor temps after sessions.
STILL got brake fade after 2 laps. Driving 8.5/10 pace
Rotor temps were 650 degrees after sessions.

The fact that GM gives us these goofy rotor cooling rings is evidence of a known heating issue. The stock air ducting looks like it is effective, but really doesn't direct the air anywhere towards the rotor. My opinion is that the car requires additional, more direct ducting to get some air to the brakes. It is also my opinion that the quality of the rotors is suspect. I also don't think the 4 piston calipers are up to the task of handling the race track. I'm just not sold on their true trackability as touted by the Z51 package. Don't get me wrong, I am psyched to be able to buy such an amazing machine for $60K. GM had to cut costs somewhere and the brakes are one of those areas in my opinion.
Enter the AP Racing Competition Big Brake Kit. I spoke with Jeff at Essex regarding this kit and decided to give it a try. Going in, I was hopeful that the AP Racing BBK was going to solve my problems; but was also somewhat skeptical as I had no experience with the brand. Upon receiving the kit, I was impressed with the quality and finish of all items including the hardware. It was clear that the kit was made with quality material and clean finish. The install was quite easy. It took longer to remove the old system then to install the new BBK. Total install time was 1.5 hours working solo. The next step was to bed-in the pads, which I promptly did in preparation of a track day the following day. Conditions at track day:Sonoma Raceway Ambient Temp 95 degrees AP Racing Competition BBK installed. Recent brake fluid bleed. Driving 9/10 pace.
The brakes had a great initial bite with very good modulation capabilities. They were very responsive and worked very well with the stock ABS system. As the day drew on, I drove harder and harder into the braking zones. Turns 4,7, and 11 are all hard braking corners. The track really doesn't have solid straights, therefore; the brakes get worked very regularly without much cooling. It isn't the hardest track on brakes, but the ambient heat was not going to be helpful.
The kit exceeded my expectations in every way. I never once felt a single hint of brake fade. I never once felt as though the brakes were anything but solid and consistent. I continually worked on trail braking into turns 4 and 7 in order to properly rotate the car for the drive off the corner. The brakes did a fantastic job of letting me come in hot and brake hard and late, while carrying them to the apex.
The corner worker in turn 11 commented that he was surprised that I was braking so late for that corner. He works every race normally held at the track and he is accustom to street cars braking at a certain marker. His comments validated what I was feeling from the brake pedal- these things are good!
I finally feel as though the car is track capable without worry. The issues that I had prior were very concerning and caused me to drive differently while always thinking about the braking ability. I never once had a negative thought on this day and was able to focus on doing what I wanted to do in the car.
Jeff was very helpful in selecting the appropriate system for my car along with proper brake pads. Now, if only they had the competition kit in Red! Actually, I'll likely add an AP racing kit to the rear once available in order to match the system up.
I highly recommend the AP Racing BBK for anyone interested in tracking the C7 with any sort of pace. I also highly recommend Jeff at Essex as he is very customer friendly and knowledgeable.
This was a great buying experience."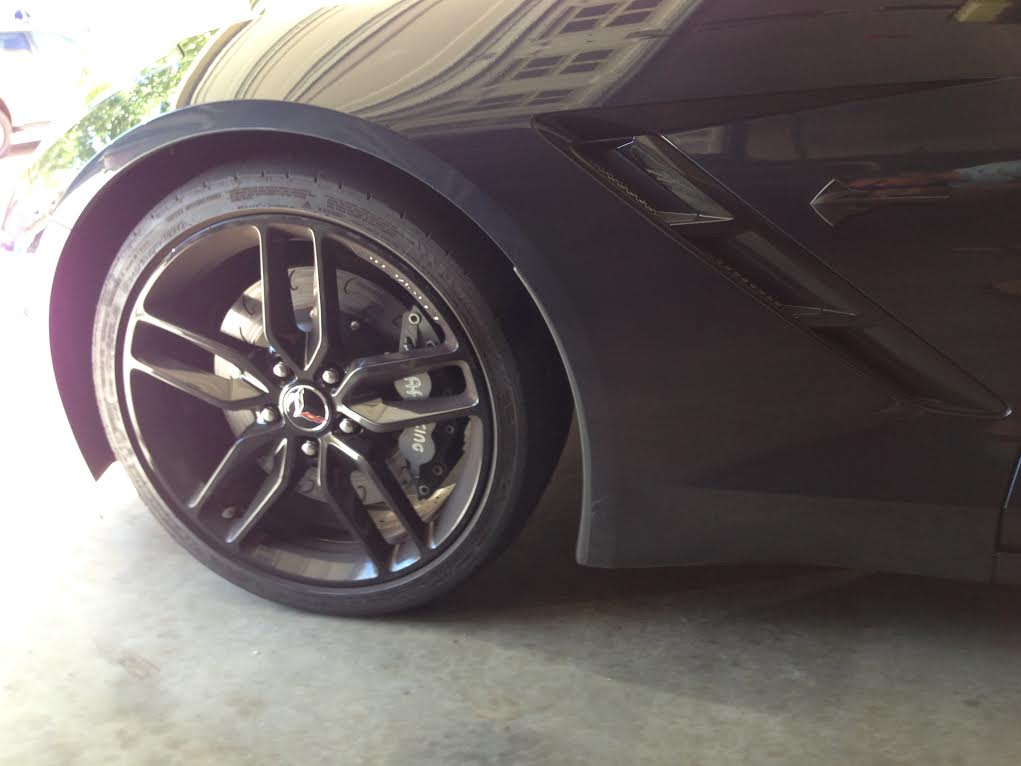 Share:
---
« Back to Listing