How much money can you save with an Essex/APRacing BBK? Lots!
11.24.2015
One of our FT86 Sprint Big Brake Kit customers took a close look at his brake expenditures, comparing the long-term cost of ownership vs. the OEM brakes. His analysis is below.
So after 6 months of running the BBK, I want to provide some insight on my consumables of the AP Sprint Kit (what you can use to justify to your wife/significant other why you "need" this kit!)

Before the AP Sprint Kit, I was running OEM calipers and rotors with SS lines, Cobalt Friction XR2 pads, Torque RT700 brake fluid with the Touge Factory brake cooling kit.

Tracking the car for about 2 years in that configuration, I was going through pads every 3 days on track (sometimes 4 if I was easy on it), and rotors every 7 days on track.

I installed the AP Sprint Kit back in March, along with fresh Torque RT700 fluid, and now have 23 track days on the AP Sprint Kit in the past 6 months (6 days at Road Atlanta, 10 days at Sebring, 2 days at Homestead-Miami, 1 day at MSR Houston, 2 days at VIR and 2 days at Barber).

So far I have gone through 1.5 set of pads (first set Cobalt XR2s, second set that is currently installed - Hawk DTC-60s) and am still on the original rotors.

So, to compare and break down the numbers....

The OEM setup was costing me approximately $85.76/track day, while the AP kit costs me $28.46/track day (estimating the rotor replacement at 25 days, which is very conservative, as they just have normal heat checking on them now).

Including the initial cost of the AP Sprint Kit at $2,099, the AP Sprint Kit LITERALLY pays for itself after 38 track days in my case (wear/costs of consumable may vary depending on track, experience level, etc). For me, that's less than a year of track days.

Here are some numbers and a chart to give to your wife to justify your purchases .

Thanks again to Jeff @JRittand the Essex Parts team for their support throughout the purchase and installation process, as well as checking in with me routinely post-sale. Great group of folks, and I highly recommend them.
AND not to mention the performance difference... These numbers don't count the constant brake service, cost of band aids & gauze, beer, caliper rebuilds, brake cleaner, and the headache of constantly servicing the OEM brakes!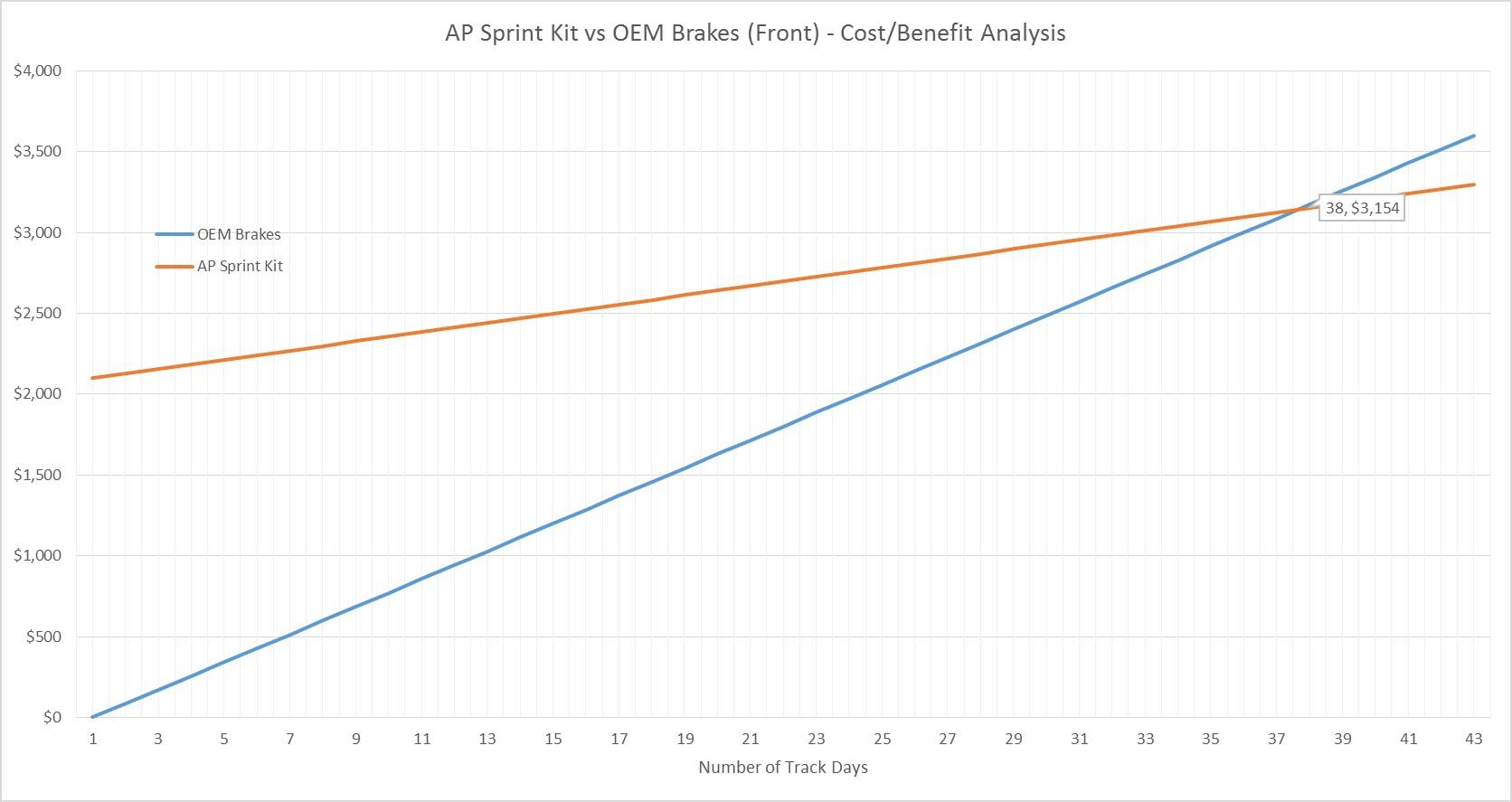 Share:
---
« Back to Listing