Gen.5 Chevy Camaro Pro5000R Radi-CAL Competition BBK...Incoming!
01.13.2016
A couple weeks ago a 2013 Camaro SS owner approached us with a story about losing his OEM brakes on the track at 140mph. The pedal went to the floor, and although he walked away without a scrape, the whole scene sounded like a pucker-factor 11! He explained that he's never once had complete confidence in his brakes, and that he's at his wits' end with toasted pads, melted dust boots, and leaking bleed screws and seals. He told us that he never wanted an on-track moment like that again, and that he wanted the absolute best brake system possible. We agreed to see what we could do, so he loaded his car on a hauler at his home in Florida and shipped it to us in Charlotte, NC (go Panthers!).
When the car arrived we pulled the wheels and brakes off to find a lovely mess. Despite the fact that he was running the upgraded ZL1 six piston calipers with a nice brake duct setup, he was clearly still annihilating his brakes. We don't have any temperature data, but it's pretty obvious from the carnage below that he was getting them ridiculously hot. Technicolor red, orange, and black paint, melted dust boots, leaking bleed screws...yikes. Although these pics may be a bit shocking to some of you, it's exactly the type of brake carnage we see all the time with OEM road car brakes, particularly on powerful, fast, heavy cars.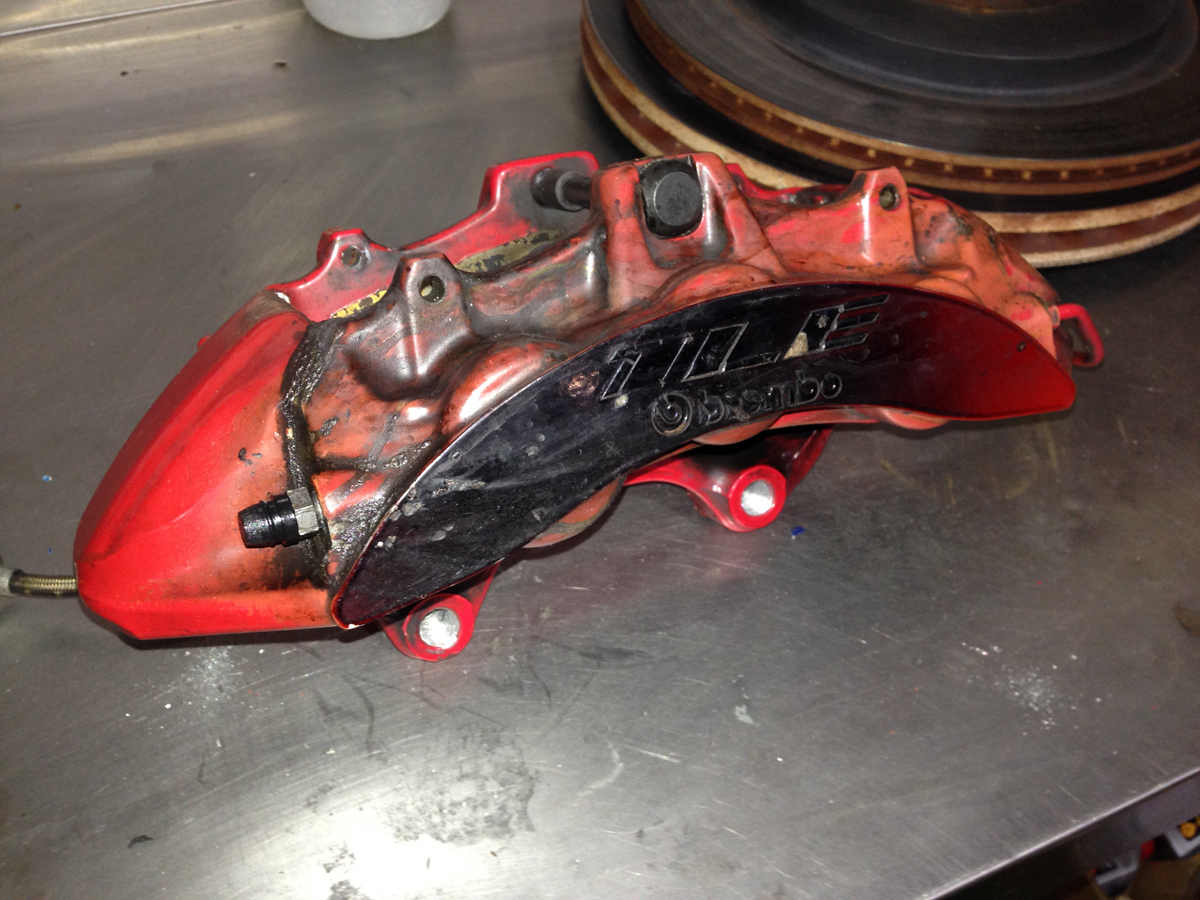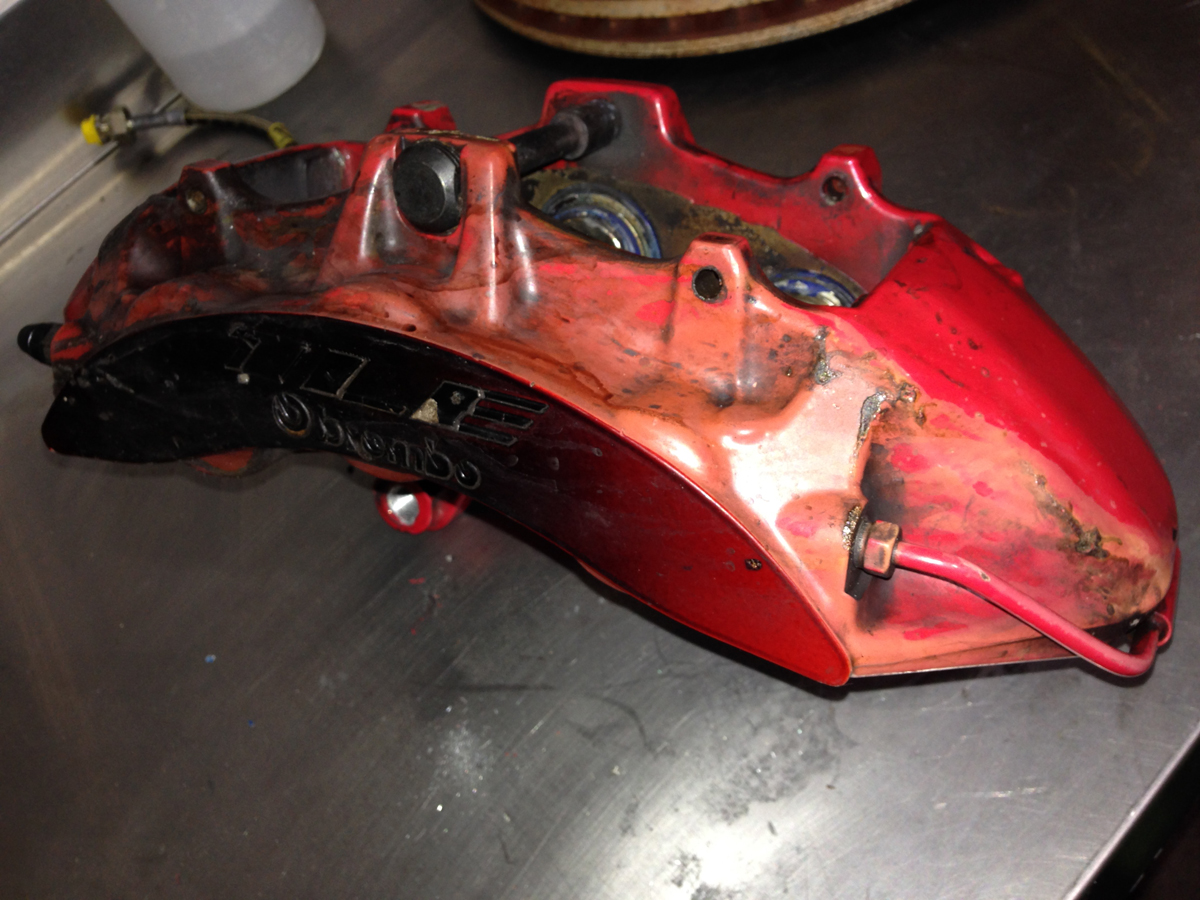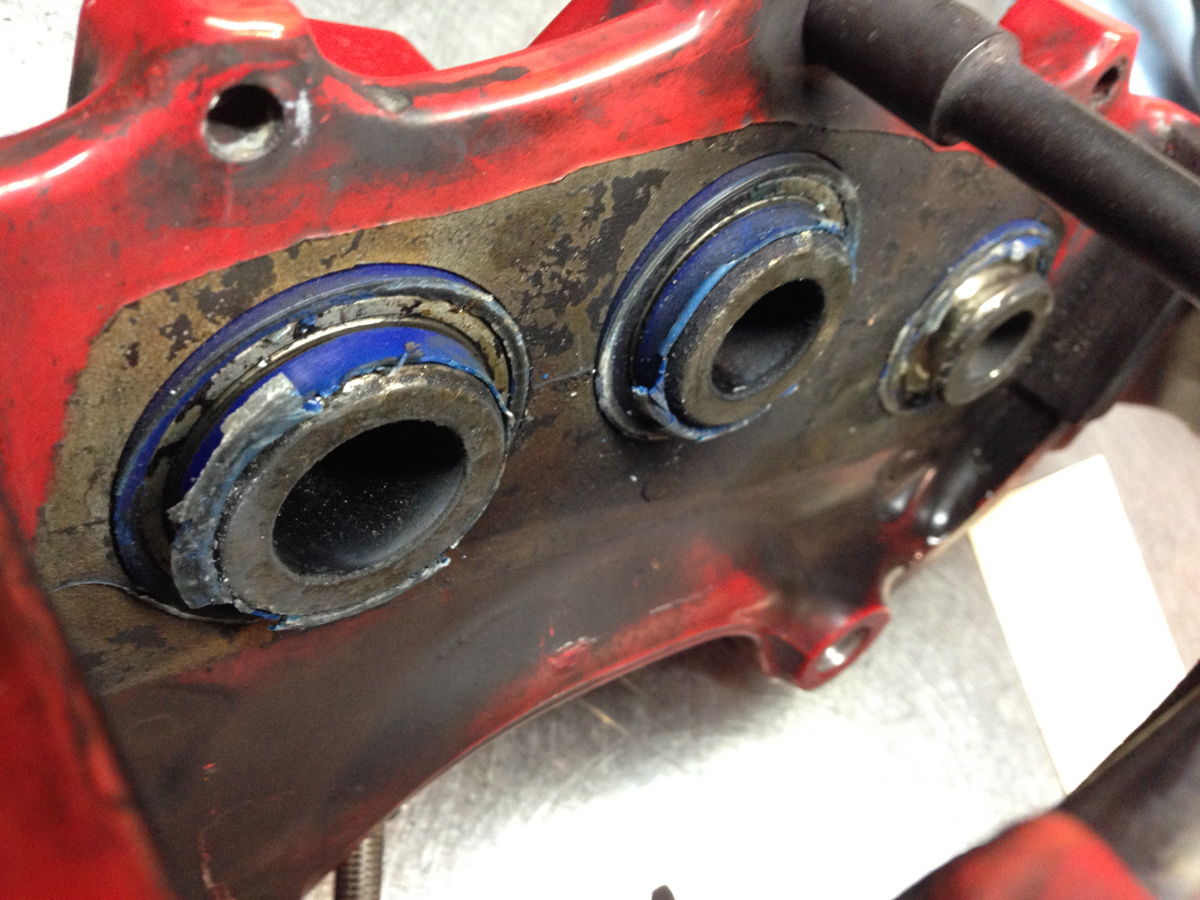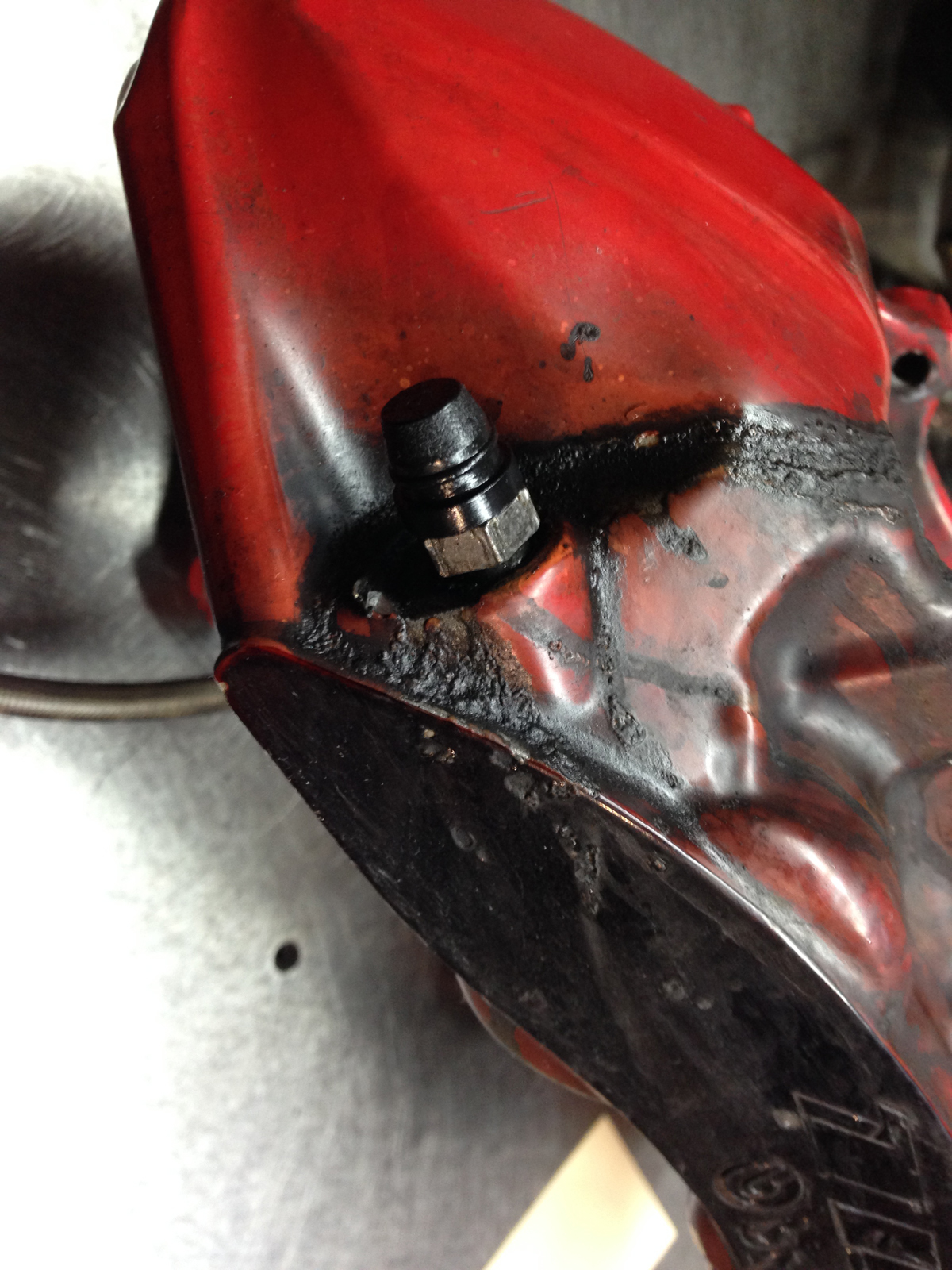 Why Did That Happen?

The fundamental question after looking at the above pics is, "Why are the factory painted road brakes falling apart?" There are a variety of reasons, but they all boil down to not having the proper tools to deal with the heat of a typical track session. Road brakes are designed to handle some gentle stops on the way to the grocery store, a single panic stop on the highway from 75mph, or some sporty back road driving. They're also designed to look pretty, not make much noise, and fill up big wheels. In order to keep the overall price of the vehicle down, they're also designed to hit a certain cost point. They're not designed to handle stops from 150mph to 40mph all day long, and they are a compromise in both materials and design.
That's where Essex and AP Racing come in. Each day Essex and AP Racing support professional race teams in Formula 1, NASCAR Sprint CUP, IMSA, IndyCar, and World Challenge. We've used that knowledge and experience to bring professional-grade brake technology that was previously reserved for the elite level of the sport to the common enthusiast and club racer. Every component in our Essex Designed AP Racing Radi-CAL Competition Brake Kits are designed explicitly to handle heavy track abuse. That means no shortcuts or compromises. Our Competition BBK's increase cooling capacity, reduce unsprung weight, optimize wheel fitment, provide superior feel, and reduce long-term running costs. The more you track your car, the more money, track time, and headaches our kit will save you.
Below is a basic comparison between road car brakes and our Essex Designed Competition Brake Kits. The road car brake descriptions below not only encompass OEM brake systems, but also most of the aftermarket brake systems our competitors produce.
Calipers
Finish
Road= Paint / Powdercoat
Look pretty, but will look horrible after hard use (see pics above for evidence).
Changes color dramatically at track temps
Easily damaged by brake fluid
Holds up better to road salt in winter road conditions
Essex/AP Racing Competition= Anodized
Look 'racier' (like what you see on full-blown race cars) and do not color shift nearly as much under high heat track conditions
Is not impacted nearly as much by spilled brake fluid
Pistons

Road= Non-ventilated, flat back, cast aluminum, no AKB Springs (Anti-KnockBack), low cost seals, dust boots
Fairly lightweight
Not particularly good at keeping heat out of brake fluid
Average pedal feel
Doesn't prevent knockback through S turns
Standard seals become brittle with heat, leak, and require more frequent replacement
Dust boots burn up at track temps and become useless (see pic above)
Essex/AP Racing Competition= Domed-back, ventilated, machined stainless steel, with AKB Springs, high temp silicone seals, no dust boots

Stainless steel dramatically slows heat transfer into brake fluid
Domed-back enhances pedal stiffness and feel
Ventilation helps reduce brake fluid temps
Helps eliminate knockback through S turns
High-temp seals retain pliability at track temps and need less frequent replacement
No dust boots to maintain and replace
Pads
Road= Determined by manufacturer, sometimes proprietary
Limited race compound availability in many cases
14-18mm thick, lower overall pad volume and heat sink, require more frequent replacement
Essex/AP Racing Competition= Use common racing pad shapes
Virtually unlimited pad compound choices among all pad manufacturers
18-25mm thick pads have greater volume and require less frequent replacement
Size / Unsprung Weight

Road=
Typical front caliper weight= 9-12 lbs.
Typical rear caliper weight= 5-7 lbs.
Elongated shape that is less stiff and require larger wheels
Essex/AP Racing Competition=
Typical front caliper weight= 5-7 lbs.
Typical rear caliper weight= 3-5 lbs.
Tighter, stiffer, more compact shapes that also improve wheel fitment
Hydraulics
Road= External hydraulics without protection
Prone to damage from road debris and wheel knocks when changing wheels

Essex/AP Racing Competition= Protected hydraulics, or internal porting
On conventional designs, bleed screws have protection from debris and wheel knocks (when changing wheels)
Radi-CAL Pro5000R has integrated hydraulics and eliminates outer bleed screws and crossover pipes
Rebuild and Service

Road= Service yourself or buy a new caliper in most cases
Due to inferior component specification, materials, and durability, require more frequent service when used under high-heat track conditions

Essex/AP Racing Competition= Essex offers our lifetime professional caliper reconditioning service to all BBK customers
Designed explicitly for the track with the finest components, and require far less frequent service and/or repair
Discs
Basic Construction

Road= One-piece, dual-cast
Disc cones at high temps
Inexpensive, crack-prone metallurgy
Sub-optimal slot or drill hole design
Heavy weight
Due to inefficiency, require huge disc diameter and surface area to radiate heat= require larger wheels & tires
Essex/AP Racing Competition= Two-piece, fully floating
Disc free to expand at track temps
Crack-resistant metallurgy based on 50 years of motorsport development by AP Racing
Optimal J Hook slot pattern offers even heat distribution and fewer cold spots
Lightweight aluminum hat reduces unsprung weight
Efficient designs allow for smaller disc diameter and use of smaller, lighter wheels and tires
Internal Vanes

Road= Straight, pillar, low vane count
Low airflow, higher running temps, more prone to cracking
Essex/AP Racing Competition= High number of curved, directional vanes
Huge airflow increase, lower running temps
Less prone to cracking
More consistent contact with pads
Long-term Running Costs

Road= All components of lower cost, quality, and durability, and require far more frequent replacement and maintenance
Essex/AP Racing Competition= Components and materials of highest possible quality, designed specifically for track abuse. Require far less frequent replacement and maintenance
Conclusion
Regardless of what the manufacturer tells you, OEM brakes are not designed for racetrack use. How do we know? Because we supply brakes to the top professional race teams every day. We're intimately familiar with the equipment on those cars, and it definitely isn't the same as what came from the factory on your car! As our Camaro owner found out firsthand, brakes designed for the road are a compromise and a liability on the racetrack. If you want to save yourself a lot of time, headaches, and money during the years you'll be tracking your car, please do yourself a favor and get the proper tools for the job.
Specific Options for the Camaro
We will have two different option packages available for the Gen. 5 Camaro. Both will use the same 372x34, 84 vane AP Racing J Hook disc. The only difference will be the caliper. One will use the CP9660 caliper, which uses an 18mm thick pad. The other will be geared towards endurance racing and will use the CP9668 caliper, which has a 25mm thick pad and a quick release bridge for fast pit stops.
You can see full details on each kit in the links below:
CP9660/372mm Essex Designed Competition Brake Kit for the Gen. 5 Camaro
CP9668/372mm Essex Designed Competition Brake Kit for the Gen. 5 Camaro
Both calipers are in the pic below, with the CP9660 on the left, and the CP9668 on the right: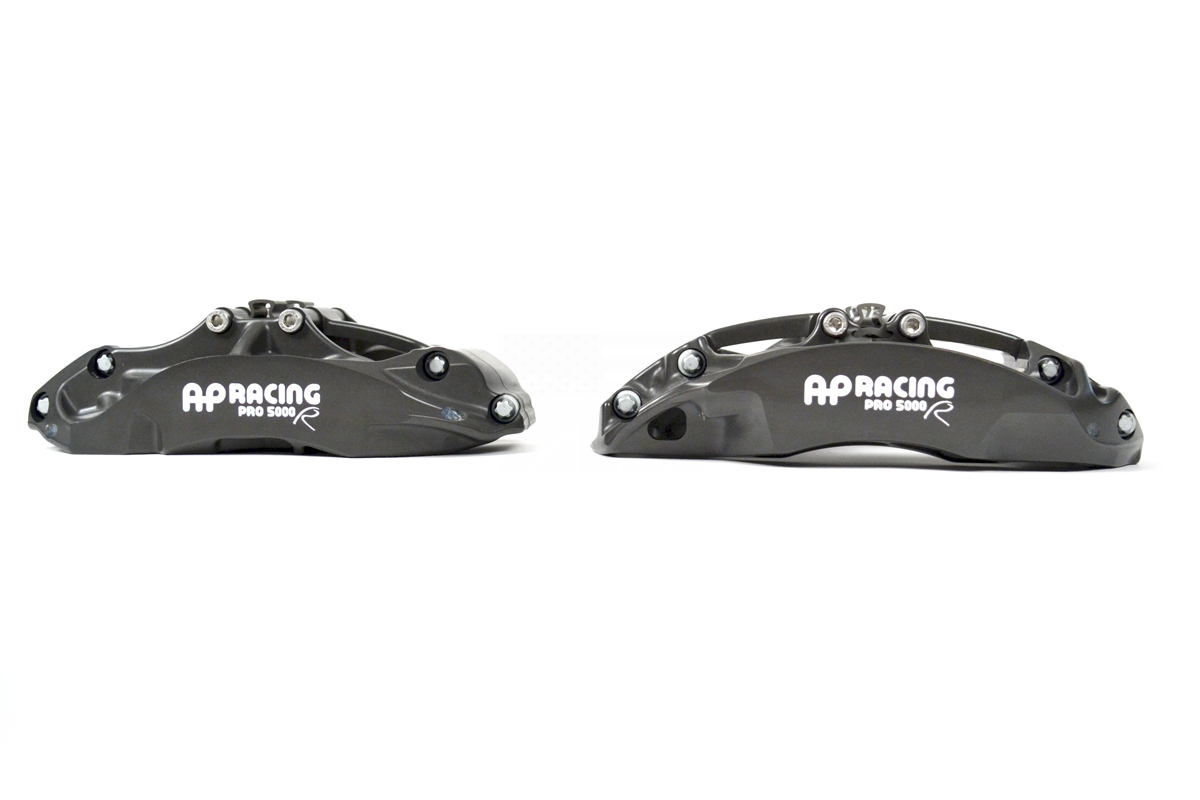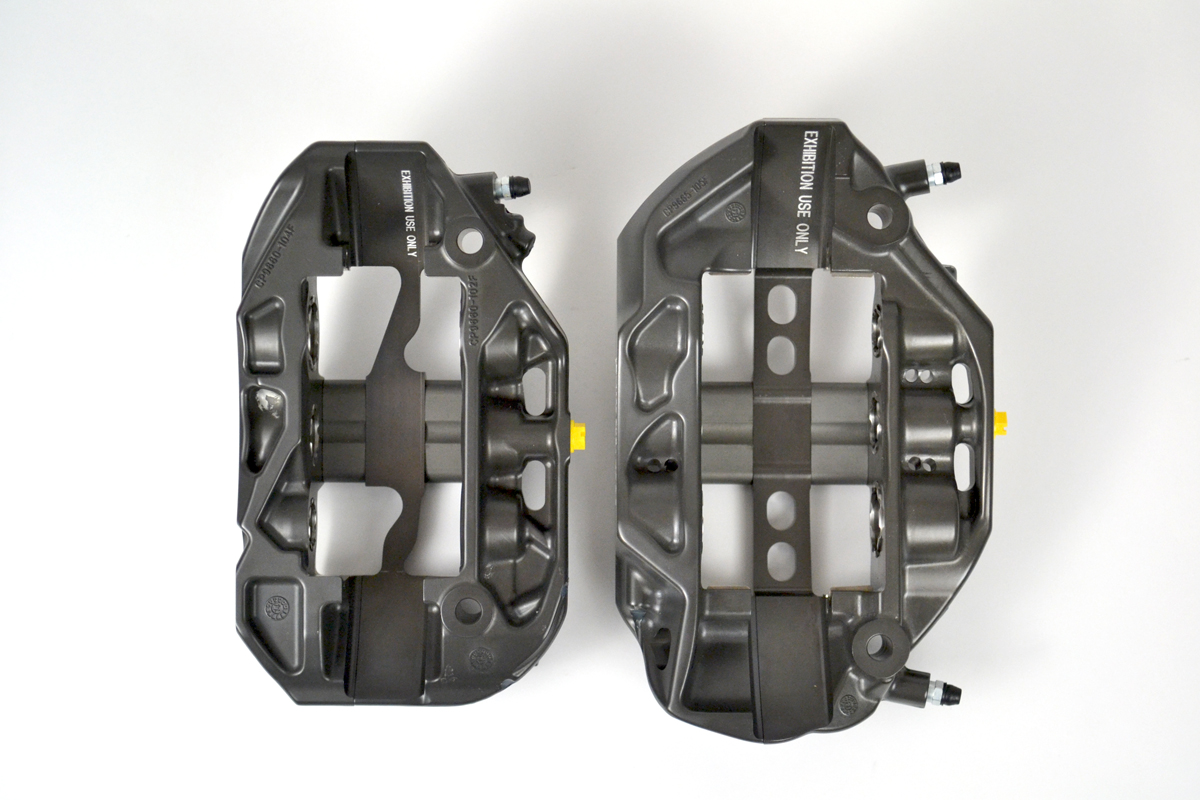 CP9660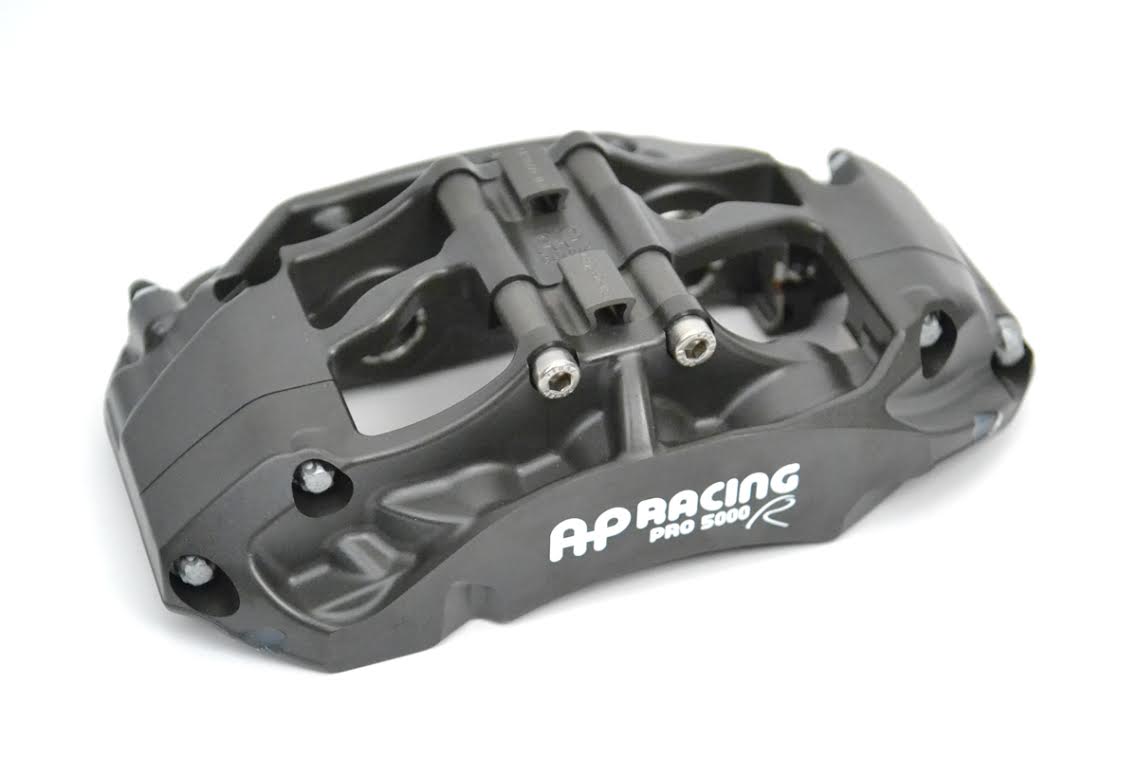 CP9668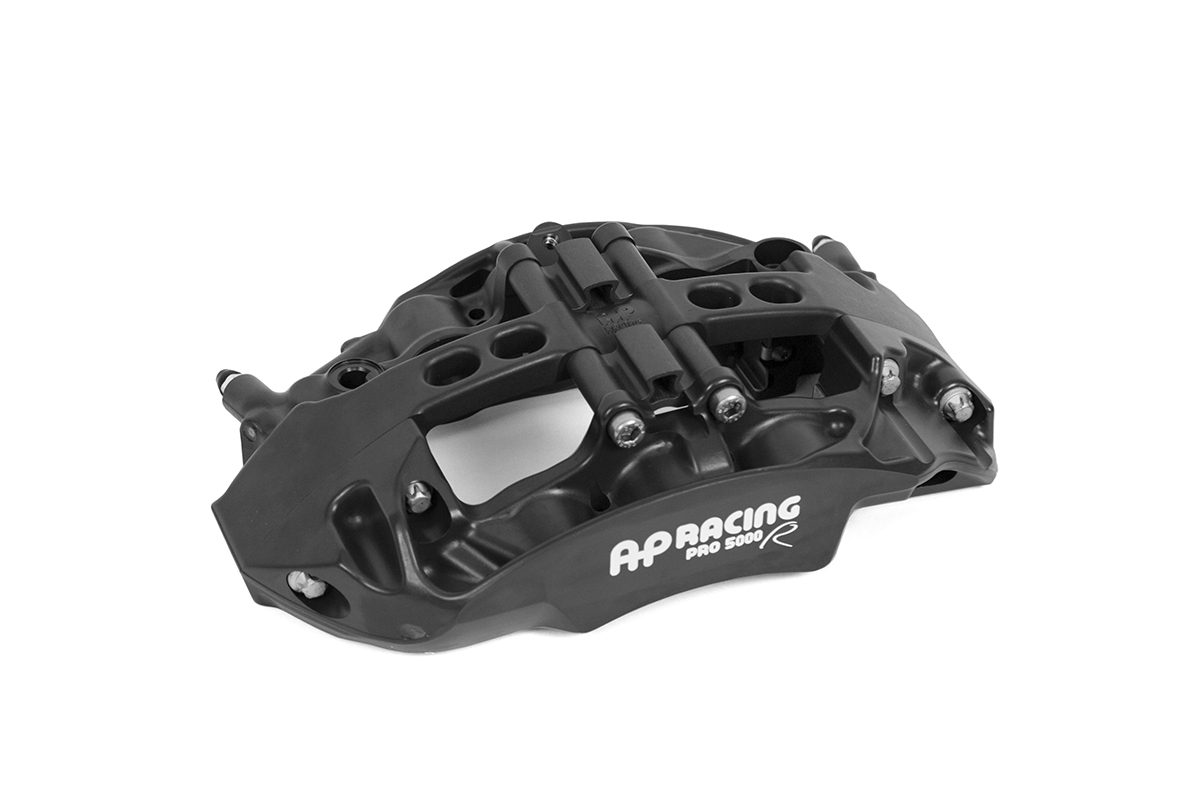 These weapons-grade brake systems will be available in a matter of weeks, and we're also working on a matching rear system that will be available later this year. Tell your friends, stay tuned, and feel free to send us any questions that you might have!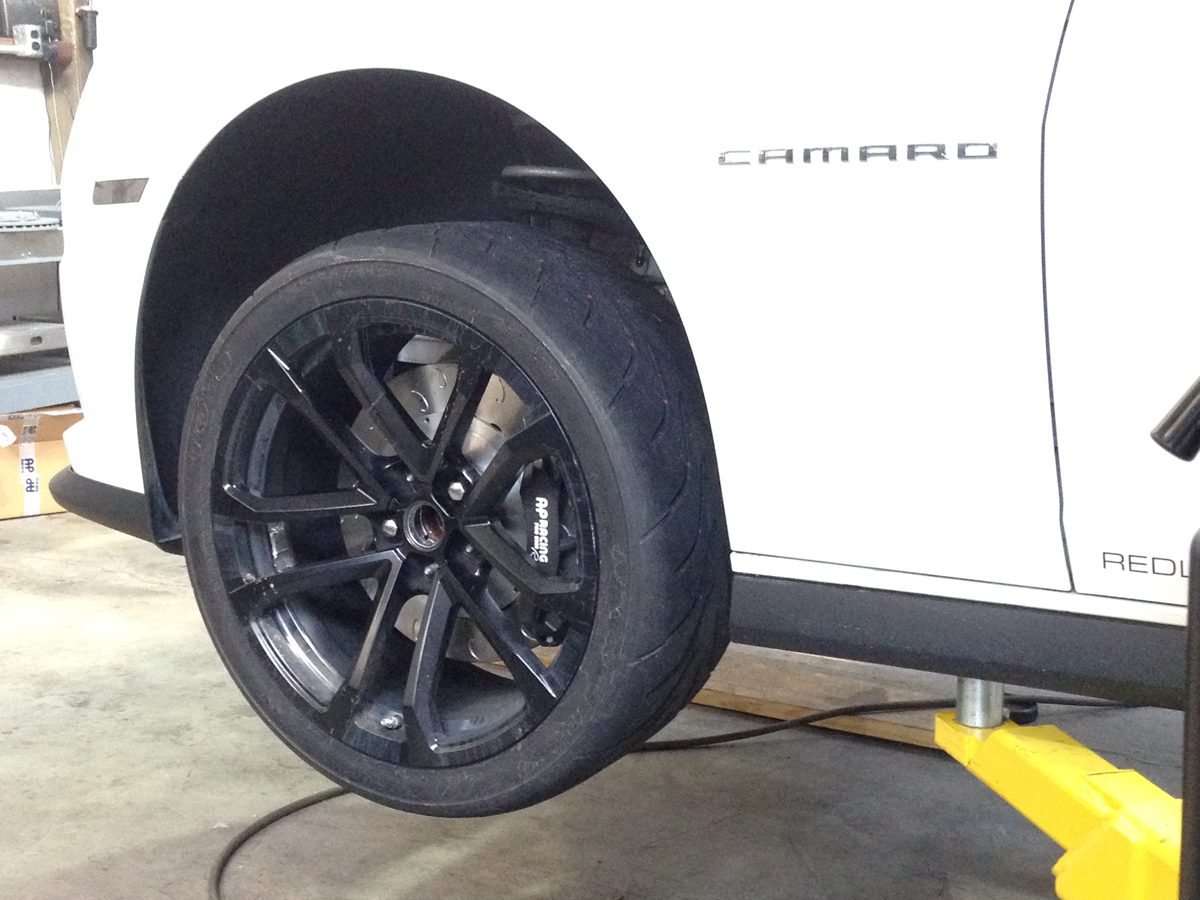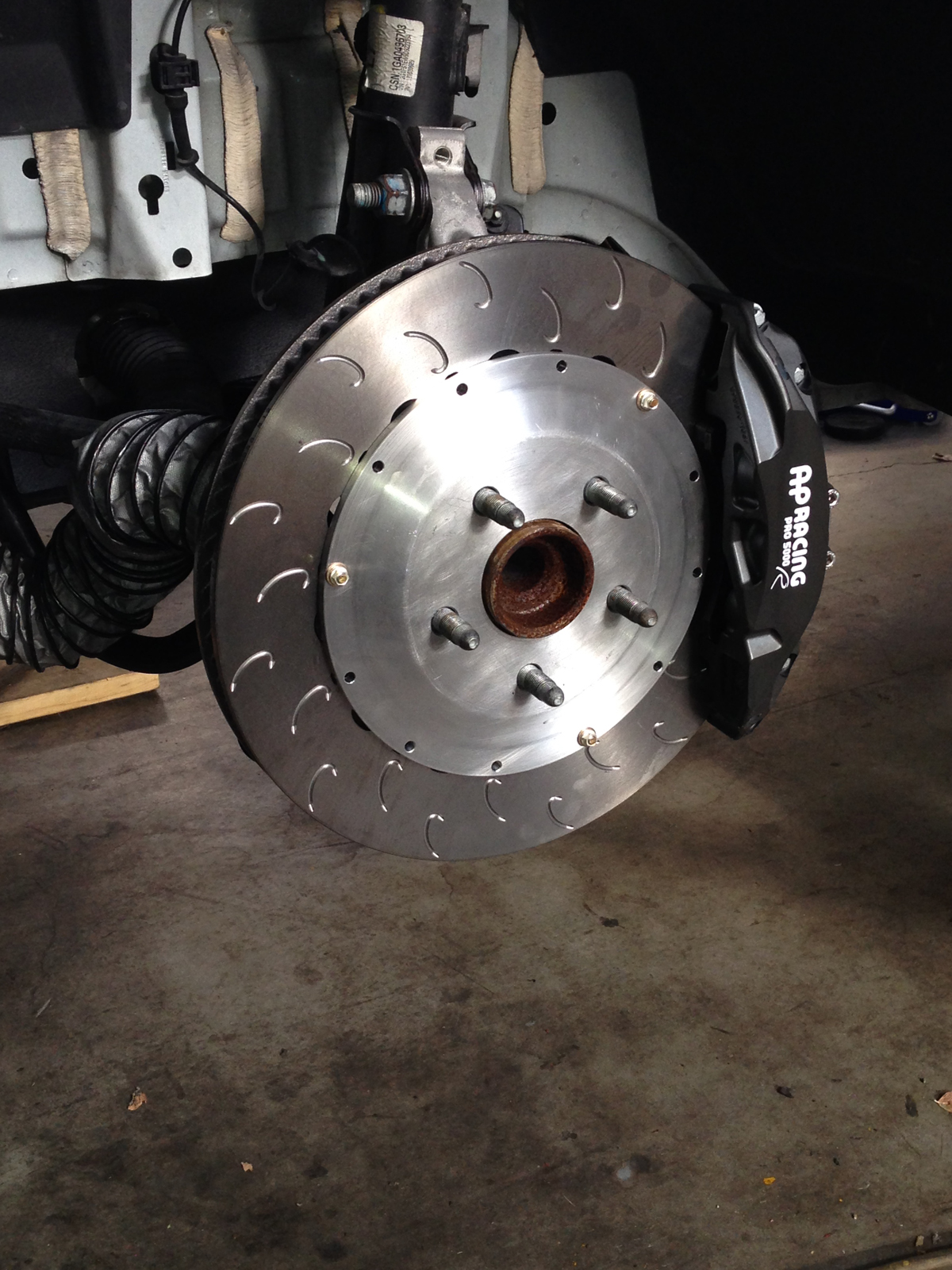 Share:
---
« Back to Listing