Essex/AP Racing BBK helps 2015 WRX win 3 trophies in one weekend!
07.08.2014
When our friends at JSC Speed said they were planning to run their new 2015 WRX at the Optima Ultimate Street Car event at Road America, we knew they'd potentially be facing some serious brake issues. Road America is known to be an extremely fast and tough braking track, and the OEM binders on the '15 WRX are not terribly impressive. We got them set up with our complete Essex/AP Competition front Big Brake Kit, and it helped them bring home three podiums over the course of the weekend. What really surprised me was that because of the event format, they actually ran the Ferodo DS2500 pads in our kit the entire weekend. The DS2500 is a mild track/street pad, and not ideal for an intense pounding on a WRX at Road America. They worked great though, and the results are testament to the versatility and durability of the Ferodo DS2500 compound.
Here's what JSC had to say about our brake kit:
"When we first got our 2015 WRX we took it to the track to identify areas that needed to be improved. The biggest problem we had with the equipment Subaru outfitted the new car with was the brakes. On the street stock 2-piston fronts and 1-piston rears were perfectly adequate; they could stop the car quickly and safely. But on the track the factory binders couldn't keep up with the rigorous demands of repeated high load braking.

We talked about our first steps of replacing the pads, fluid, and lines in an earlier post. This made a noticeable improvement in braking performance, but was still not enough bite or heat dissipation for track use. We turned to our friends at Essex Parts Service who are our AP Racing and Ferodo supplier to see if they had gotten their hands on a 2015 WRX yet to get a kit developed. We volunteered to drive down to NC so they could use ours, but they had beat us to the punch by picking up one themselves. A couple of days later we got word that their Essex Competition Brake System for the 04-14 STI kit would bolt on to the front as long as we had larger than stock wheels, which we do.

A day later a bunch of AP Racing boxes arrived at our door. The Essex Competition Brake System includes a pair of AP Racing CP3850 4-piston forged calipers, AP Racing CP3908 325mmx32mm 2-piece heavy duty rotors, mounting brackets, stainless steel lines, and amazingly detailed instructions. We opted to get two sets of Ferodo pads to match the new binders: DS2500 for street and autocross and DS1.1 for track use.
Installation of the new gear took less than an hour, thanks to the excellent instructions Essex includes. Everything is detailed and all of the parts fit perfectly. We had problems bleeding the new caliper, but that was user error and no fault of AP Racing or Essex. Once we got smart enough to figure out how to properly bleed these beauties, we were rewarded with a rock hard brake pedal, amazing improvement in stopping ability, and world class on-track durability. Not only were we getting a larger swept area for pad contact and more heat sink from the larger rotors, but the new, bigger rig is 12lbs per corner lighter than Subaru's OEM caliper and rotor. 24 pounds off the front axle is nothing to sneeze at.
Our first test of the Essex Competition Brake system was at the Ultimate Street Car Association's Shootout at Road America. We would be using the short course (the old Skip Barber course that cuts out T14-T4). For the time attack portion and the go-kart track for the autocross. We knew going into Road America's Canada Corner lap after lap at speed would require a stout brake kit.
The AP Racing calipers and rotors worked wonderfully with the Ferodo DS2500s (we opted for the less aggressive pad due to the event format, knowing we wouldn't get full bite from the DS1.1s in the autocross portion of the day). We did experience some fade in our third session of the day, likely the result of using the wrong compound for the job, but a brief rest and a quick bleed and refresh of fluid brought the pedal back to life (again, this is due to user error, not any fault of the Essex kit). The #jscredwrx brought home third place in the AWD class behind two well prepped and well driven GTRs. Without the confidence we had from the AP Racing gear, we would not have done so well.
We followed the Road America event up with a quick day trip to our home track, New Jersey Motorsports Park, for their On-track Experience day on the Thunderbolt Circuit where Justin@JSC was instructing. For this event we took the ten minutes to swap the DS2500s out and dropped in the DS1.1s. Once these got bedded in (about one lap) we were absolutely amazed at the amount of bite these pads had. Breathtaking (quite literally for one passenger) stopping ability. We spent all day pounding on the DS1.1s and they never once displayed any sign of fade or degradation of bite. The AP Racing calipers with the Ferodo DS1.1 are definitely a track dedicated set up, one we are glad to have on our car. When the day was over we took another ten minutes to swap back to the DS2500s for the drive home and the regular commute our WRX sees.

As you can tell by the pictures, the DS2500 create a good deal of brake dust. If you are a clean wheel connoisseur, these are not the pads you are looking for. We got less dust from the DS1.1s, but they are not great at cold stops and squeal like banshees when they are not hot, so they are not at all appropriate for street use. Fortunately, the AP CP8350 calipers use a very common pad shape so there are myriad compounds to choose from and the pad swap is super easy so changing the pads at your event is a no brainer."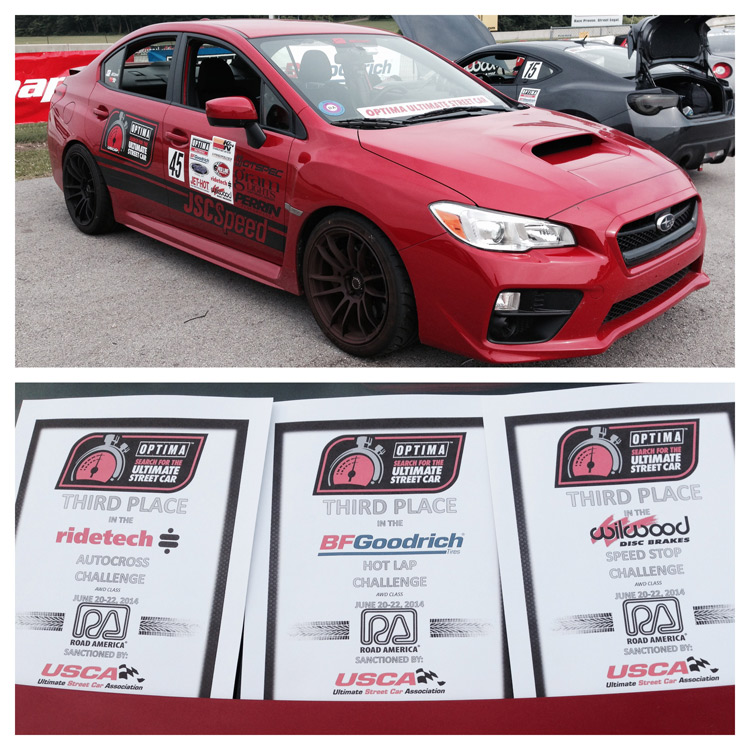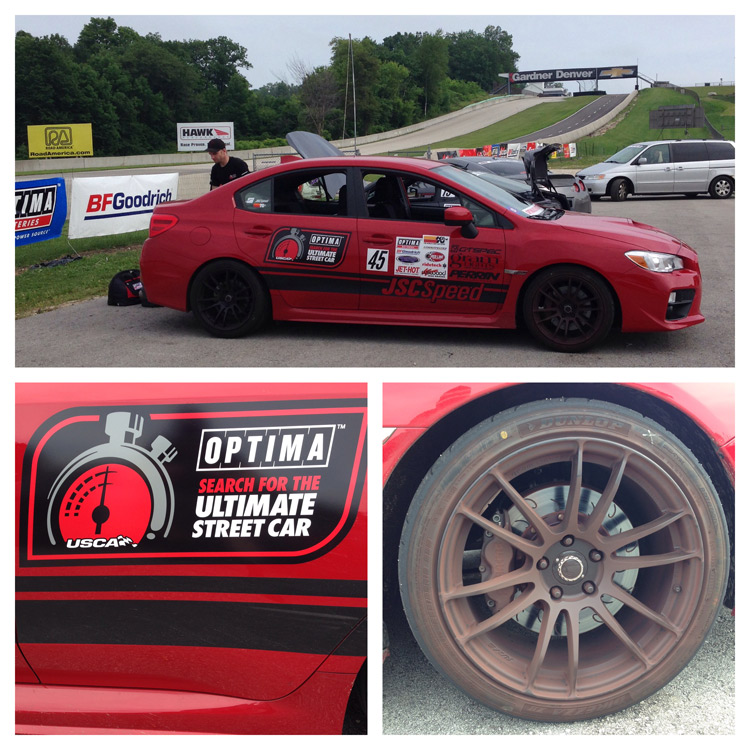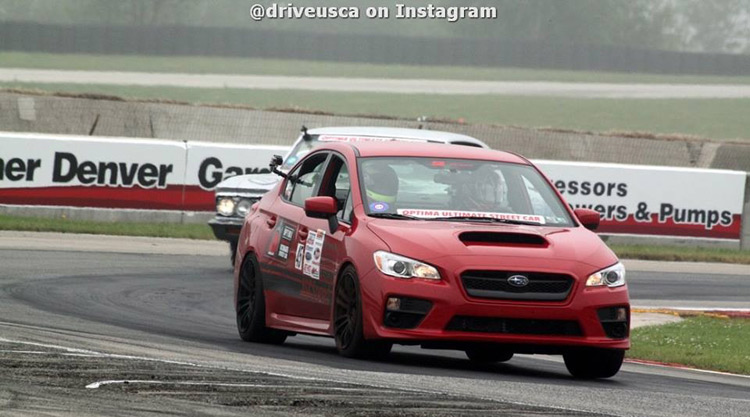 Share:
---
« Back to Listing