Customer's Initial impressions of our Ford Focus ST Competition BBK
10.22.2014
I'm continually surprised by the low expectations our customers seem to have when purchasing aftermarket parts for their car! We know that our customers LOVE their cars. They spend a good chunk of their time and disposable income on their baby, and it's a shame when they're repeatedly let down by bad purchase experiences.
Fortunately, we believe that we're doing it the way our customers want it done! We put a ton of time and effort into our products. We try to think through all of the pitfalls someone could face when researching, purchasing, installing, and abusing our brake kits. Then we try to overcome those hurdles. Finally, we collect feedback from existing customers and try to continually improve.
Anyway, enough of my rambling. Below is what our customer had to say after receiving and installing his BBK. I think he's going to be even more pleased when he pounds on the car at the track!
"Installed the kit last Saturday with help from a buddy, and was pleasantly surprised how straightforward the brackets, rotors, calipers, and Speigler stainless lines went on. Could've easily done it myself, just would've taken longer.

Excellent printed instructions included with the kit made it easy. All hardware bolted on directly with no spacers included - or needed. Machined caliper locating brackets were spot on.

The 20mm thick Hawk HPS pads dropped right in, and after installing the pad retaining bolt, I was ready to bleed the system.

My Motive Products Euro Bleeder made it easy to do it by myself, and I chose Pentosin DOT 4 LV (low viscosity) fluid for its corrosion resistance, low moisture absorption, good dry/wet boiling points, and its ability to help ABS, ESC, and torque vectoring work more effectively due to better flow characteristics.

The AP front BBK feels very smooth and linear in its response to brake pedal pressure. After bedding in the HPS pads, the system offers great stopping power without a trace of abruptness.

Extra noise is minimal to non-existent. No pad clunking; only a muted whirring sound around 30-20 MPH from the J-hook slotted rotors.

Track time will be the ultimate test, but my biggest take-away until then may be the greater-than-expected civility of this full race system. Only a couple of hundred miles on it yet, but am experiencing exactly what Essex promises for the kit."
All I can say to that is, "AMEN!"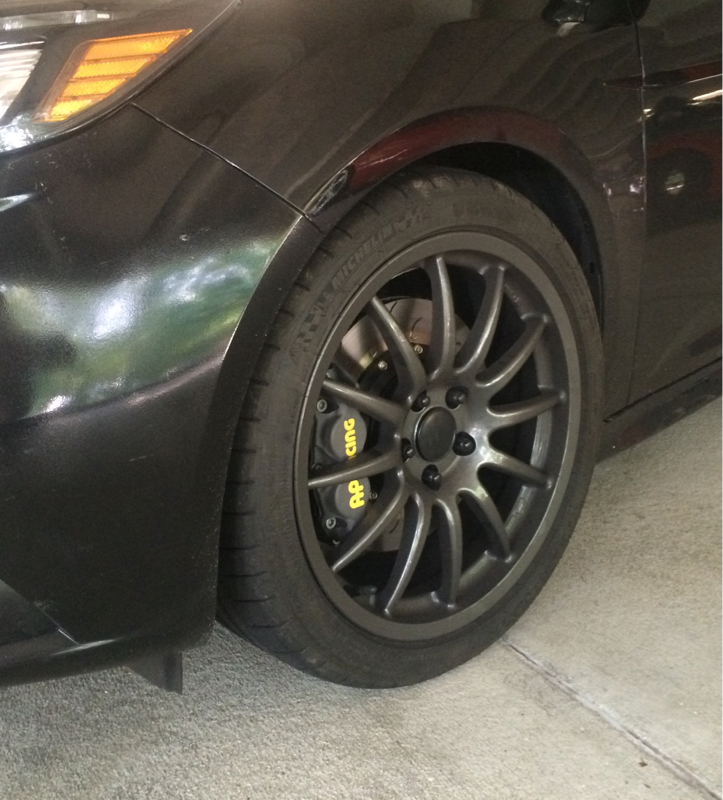 Share:
---
« Back to Listing