Customer Review: Husband and Wife put our Ford Focus ST Big Brake Kit to the test in California
06.25.2014
We just received some great feedback on our Essex Designed AP Racing Competition Big Brake Kit for the Ford Focus ST. A couple from California recently put our kit to the test after exceeding the limits of their OEM Focus ST brake system on their local road courses. I love hearing feedback about how much confidence our brake kits inspire, and the smiles on their faces are what it's all about!
"After some online research, several very helpful phone calls to friend racers and BBK dealers (all very nice by the way), and way too much deliberation, my wife and I purchased the Focus ST AP Racing Competition Brake Kit from Essex for her 2014 Ford Focus ST. Why did we hesitate? This kit is simply amazing.

This turned into a long review, but bottom line: my wife is a thousand times more confident on the track, and I am a thousand times more confident in her safety when she is out on track. And she goes faster too.

My wife and I have only been involved in HPDE for a few years, me driving a GT500, and she driving a Focus ST. We have now been to all three of our local road courses, Sonoma, Laguna Seca, and Thunderhill, our favorite. As we have gained experience, we have of course approached, reached, and are now exceeding some of the limits of our cars in stock form. Now, the stock brakes are actually pretty darn good, but the two biggest problems (in my mind) are the extremely grippy, too-grippy initial bite of the OEM pedals and the limited heat capacity of the whole front system. The overzealous OEM pads were a nuisance on the street and difficult to modulate on track. The limited heat capacity, in truth, was not a problem at first, but with experience and speed, clearly became a limiting factor. After a spirited session at Sonoma a couple of months ago, my wife was clearly taxing her front brakes. Time to upgrade.

Full disclosure, I am partial to AP Racing hardware, I upgraded to AP calipers and rotors on my GT500 as well, so choosing AP was a no brainer for the ST. Essex had the kit for us.

I have zero mechanical aptitude so I had them installed professionally at River City Differentials in Sacramento. Sean said no problems whatsoever with installation of the kit . . . except . . . wheel studs. Those interested in this kit for their Focus ST should know that: (1) the calipers do not clear the ST's OEM wheels in stock wheel spacing, so a 15mm wheel spacer is needed, which is clearly stated by Essex, and (2) therefore you need to install longer wheel studs on the front hubs. Rear hubs and studs came out and got swapped easy. Front hubs: problem. The 2013-2014 ST knuckle is cast in just the wrong way, such that the studs just barely, by a millimeter, will not clear the knuckle with the hub in place. So the hub needs to be pressed out, meaning control arms need to be disengaged, and new bearings, etc. etc. With my approval, Sean did the most sensible thing: grind down a millimeter trough off the leading edge of the cast knuckle with a die grinder, just enough to snake out the old studs and pop in the new studs. Worked like a charm. Everything else about the installation was a walk in the park. Grinding down the knuckle sounds bad, but it ended up really being no big deal, the knuckle has plenty of thickness all around, and the amount of material removed is minimal compared to the knuckle thickness.
(Note from Essex: All of the above is only required if you're trying to fit our kit behind the OEM wheels. Many aftermarket wheels can be applied without any modifications to the car! Click here to check wheel clearance.)
Our next track day at Sonoma: AMAZING TORQUE, EXCELLENT MODULATION, SOLID PEDAL, ZERO FADE. COMPLETELY CONFIDENCE INSPIRING.
We initially installed DS1.11's with the kit, which did the job well, but we did notice a couple things: (1) in this particular setup, in this particular car - extremely loud in low and medium pressure braking, and (2) less loud but still very noticeable brake squeal when ACCELERATING out of a turn. Huh? Wheels off, check all hardware: nothing, everything buttoned down perfectly from installation. Could not replicate at low speed. Asked one of the coaches, an old school racer (not old, but old school), what he thinks it might be. As we are all scratching our heads, a guy walks up to us interested to talk because he saw our Focus ST. I kid you not: he is an instructor for the Ford ST Driving Academy, enjoying a track day with some friends. After we tell him how much fun the car is, we ask him what he thinks of this brake noise on corner acceleration. Oh, simple he says: torque vectoring. I knew it! The rest of the day, the harder my wife launches the car out of a corner, the more pronounced the brake noise is, always coming from the inside front wheel. Technology.

After some more consultation with Jeff Ritter, who helped us settle on this kit, we switched to DS2500 pads up front just to see if it would make things better. Thunderhill: much much quieter, still a mild squeal at low/mid energy braking, but totally quiet when on the brakes hard, and no more brake squeal from the inside front brake on acceleration. Still some noise at the end of a street stop, but much better than the DS1.11's for daily use.

Summary thoughts for future owners of this kit (because, trust me, you should get it):
absolutely amazing brake kit
need 15mm wheel spacers and longer studs if you want to keep running OEM wheels (see pics beow for spacer and stud details)
if you do, the front hub wheel stud swap is a pain in the ass, best way to do it is to grind down the anterior part of the knuckle, just a millimeter is all you need
a cinch to install (the brakes themselves)
J-hook rotors give a cool high-tech whirrrring sound when braking (best heard outside the car)
DS1.11 pads are super loud in this setup, in this car
DS2500 pads are probably the best, nicest, best-of-both-worlds pad for street and track, quiet on street and more than up to the task even on a fast track like Thunderhill
super easy, super quick pad changes (I've changed pads more than a few times already!)
if you notice brake squeal from the inside front wheel on corner acceleration, thank Ford for giving you torque vectoring instead of a torsen diff!
brake noise issues (for those of you that actually use it as your daily driver) can be remedied with prudent pad selection, courtesy of Jeff Ritter
Jeff Ritter and Essex Racing - amazing customer support
In the end, the few stumbling blocks we had with this kit were easily overcome with good mechanical skills and a great technician, and great customer support, and do not detract from the kit one iota. It hits all the right spots for those serious about a performance brake upgrade. We're very glad this kit is on our car!"
AP kit with Jongbloed Racing Wheels and R888's. Open ended lug nuts were needed as my race wheels have custom offsets to fit a 9" width inside the stock fender. These wheels easily clear the caliper, so I wanted to run them without spacers. The longer ARP studs thus required open ended lug nuts when using these race wheels.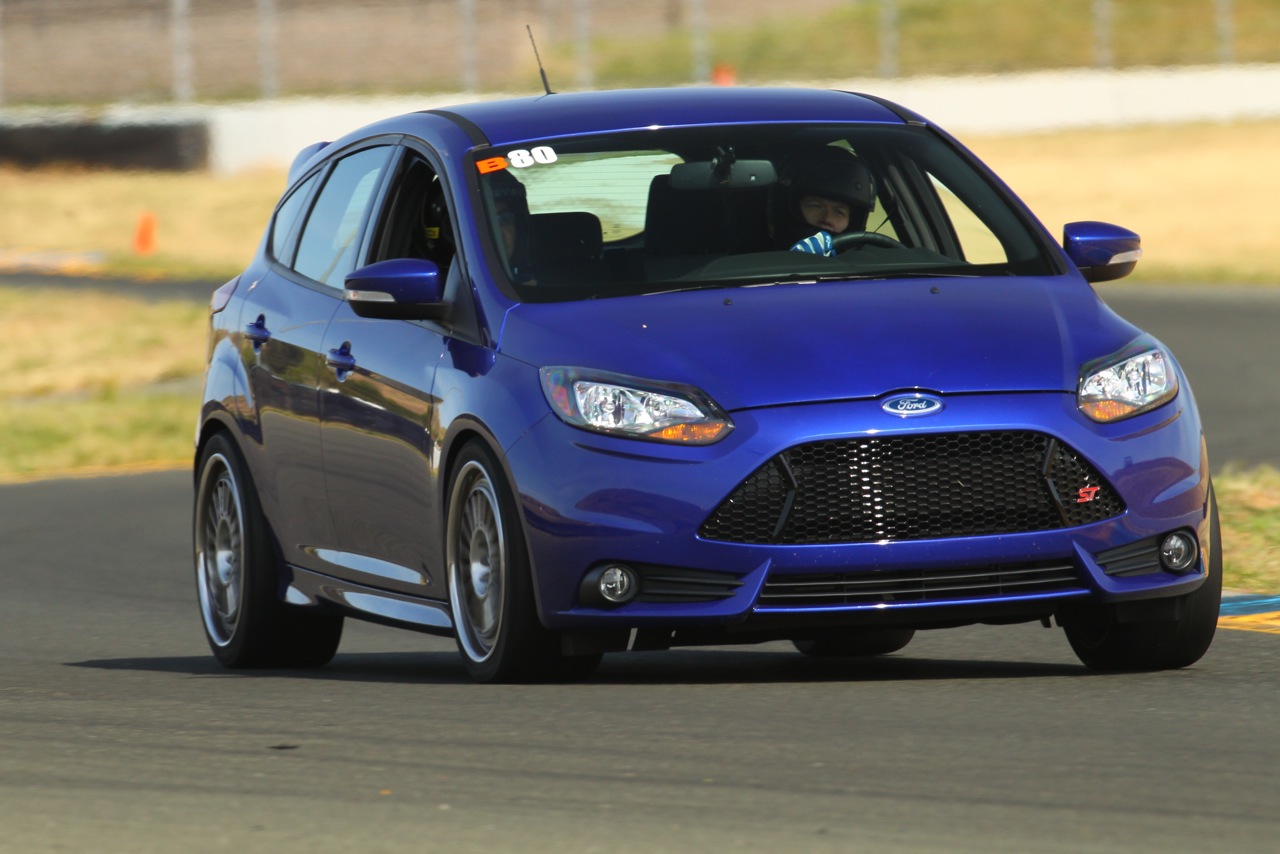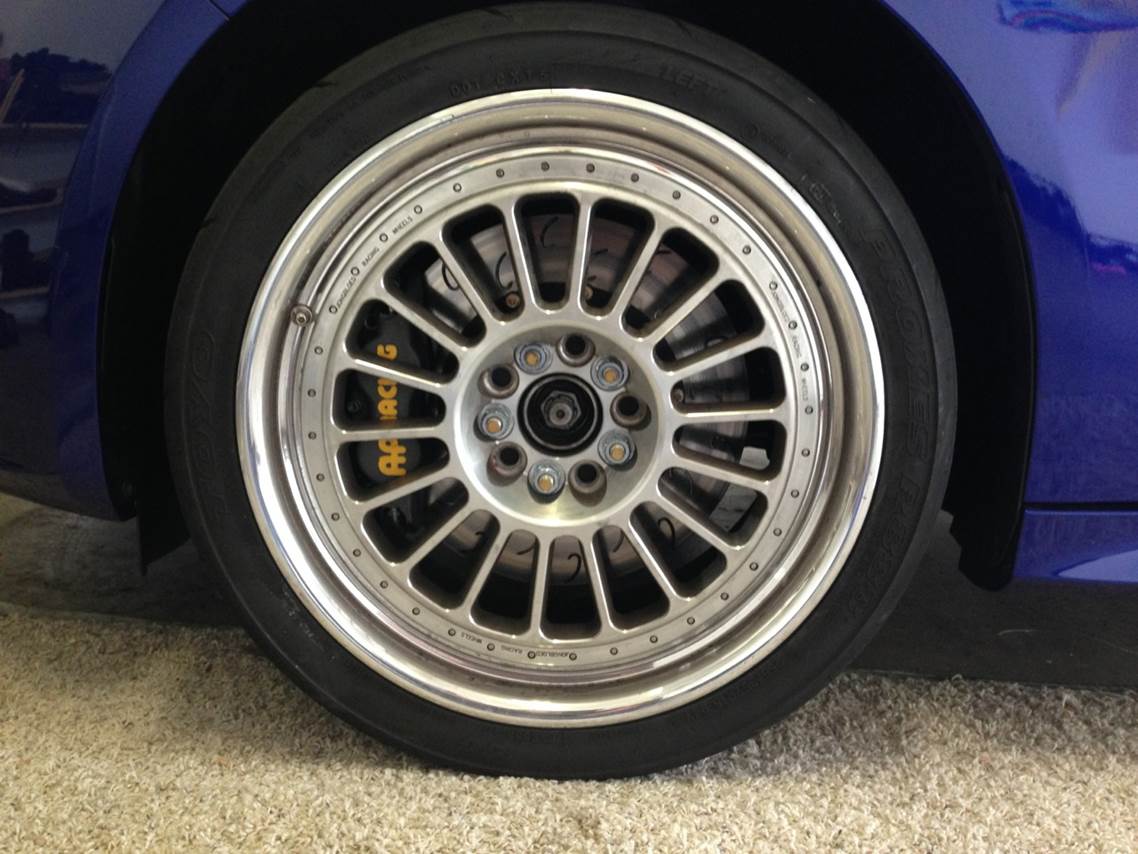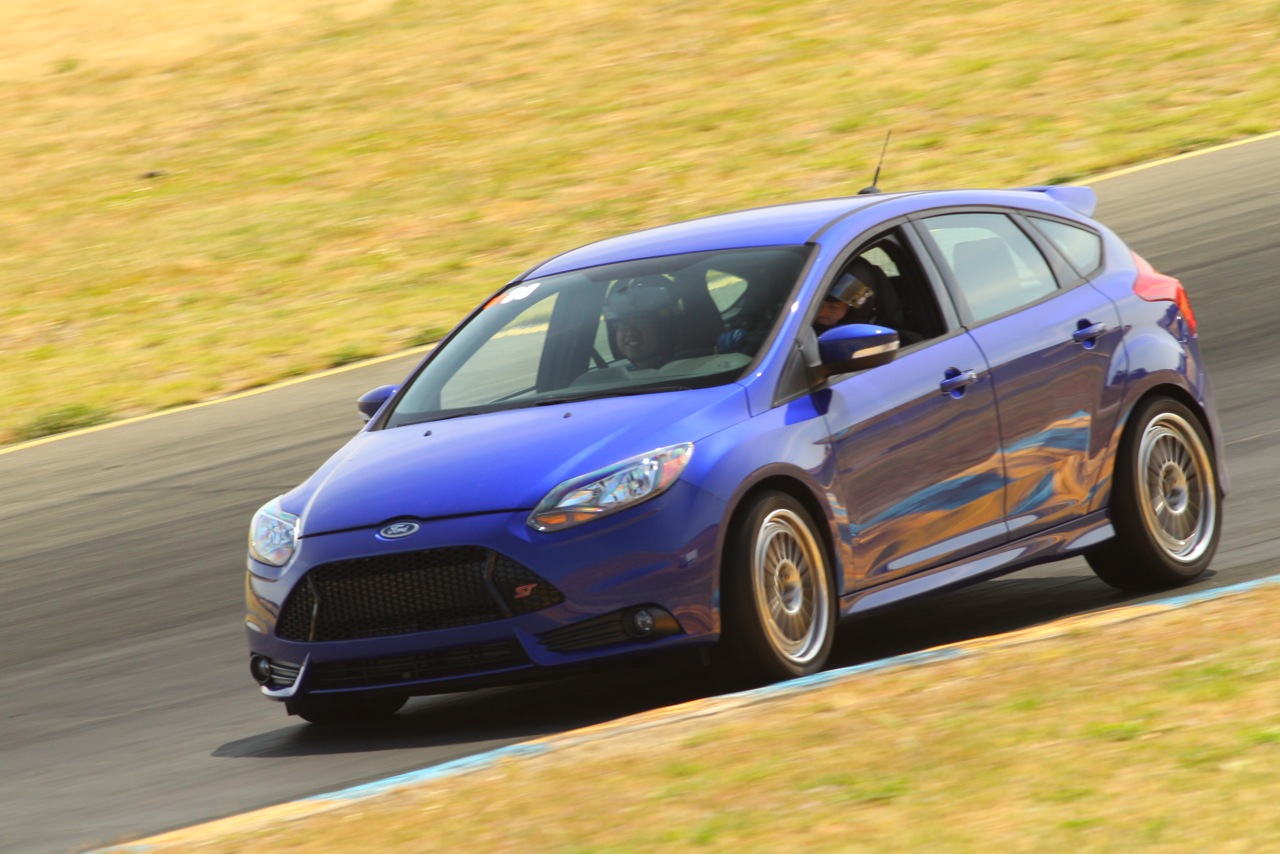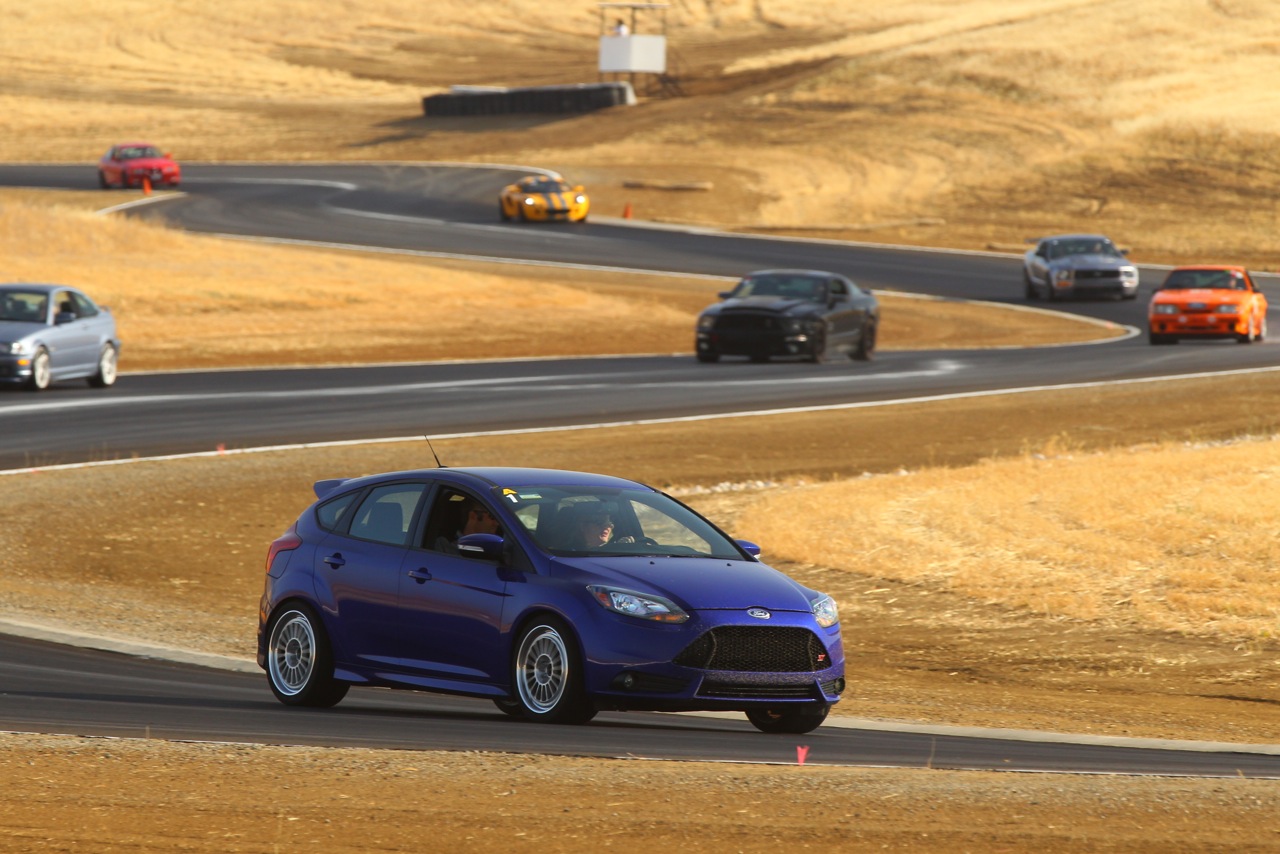 Share:
---
« Back to Listing