Customer Review: Essex Competition Brake Kit takes C6 Z06 from feeble to fierce at Watkins Glen
08.27.2014
Our customer took his Corvette Z06 to Watkins Glen with factory brakes, and didn't have the best day. Watkins Glen is brutal on brakes, and is a track that serves up the conditions for which our Competition Kits were explicitly developed. Here's what he had to say about his frustrating experience with the factory brakes:
"Took my '12 ZO6 to Watkins Glen. Pedal straight to the floor near the end of the first session into the bus stop. Exciting but all is well.

I have the DBA two-piece rotors, Motul 600, OEM lines, Quantum cooling kit. All essentially brand new. Carbotech 12's up front, 10's in back.

When I got back to the pits there was brake fluid all over both of the calipers and wheels. Not enough to where the reservoir was really low or anything. Just enough to ruin the calipers.

Wheels off, bleed, confirm the bleeders were on firm and reset them, cleaned it all up and went back out.

Second session I was doing the left foot double pump prior to corner entry and while I never lost the pedal, it got soft so I went in.

Same deal basically.

The DBA rotors have three paint markings in them. The hottest one is 1160. It has changed color so my rotors are really hot. I am threshold braking and doing so from 156mph so far but nothing others aren't doing as instructors.

So, I guess I have three issues.

Very hot rotors

Leaking bleeders..

Lastly, now I have ruined the paint on the calipers. Big time.

I've also lost faith in these brakes."
Install AP Racing Brakes...Decidedly Different Results!
At this point, we intervened and suggested our Essex Designed AP Racing Competition Brake Kit for the C6. The customer installed our front system and returned to the Glen. Here's what he had to say afterwards:
"My first day back at Watkins Glen following the pedal to the floor deal here one month ago was interesting.

The front brakes are very impressive. Super smooth feel to the Ferodo pads, almost a bit softer a bite than expected but so progressive. Your calipers with those pads is really a huge amount of brake force that just keeps digging in as you go deeper into the pedal and brake zone. Nice.

Back brakes, not so good. I still have my factory calipers etc on the back. DBA and Carbotech. Those calipers had not leaked before. It was just the fronts.

First session out I had a little fluid seepage now this time from those rears. Had not seen that before. Thought I'd be parking her again but ran a second session, double pumping the pedal and expecting some hint of a soft pedal. Never happened. The rears never leaked again.

The OEM calipers are just weird. Without getting too long winded, I've lost faith in them now too and will be ordering the rear Essex kit. Between the fluid leak session one and then no leak, the slight wiggle out of the rear at threshold braking and my prior experience, I'm done with all the factory calipers. I want rears to match the front.

No, the leak is not residual fluid from the bleeder valve. I use a Moroso trick and put a pipe cleaner in the bleeder after bleeding so there simply is no fluid to then come out of the bleeder. It must be from that first "cold" session where the caliper and bleeder metals are not mating.

The rear wiggle could be for a variety of reasons but I'm not going to have calipers that weep on my car. Whatever, I want AP brakes on all four corners. Someone please buy my DBA 5000 front rotors and Carbotech 12 pads for sale. My rear DBA 4000 and Carbotech 10 pads will be for sale soon. My issue is the factory calipers. You can't stand on the brakes at Watkins Glen with OEM calipers. Not the first session, not all day. The AP's seem like they are just all to happy to have you brake harder and harder and I keep saying "Really? There's more brake?" Thanks Jeff at Essex for a ton of info."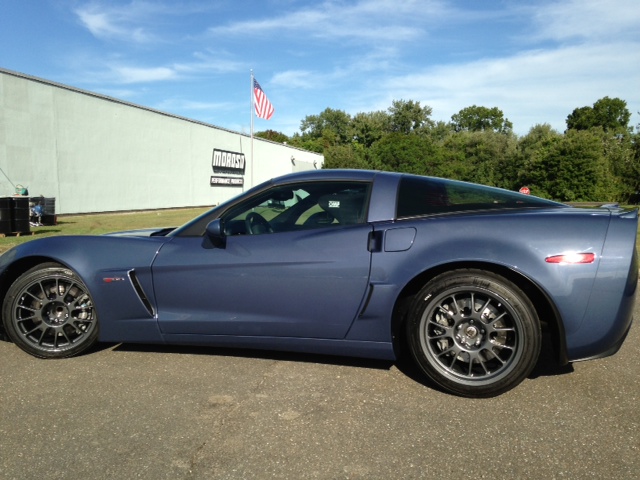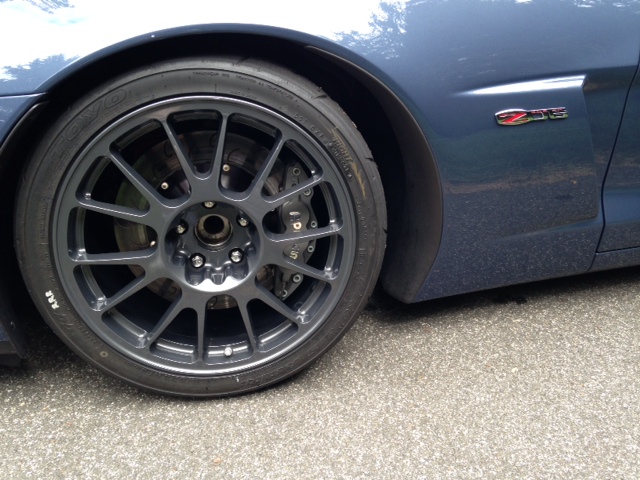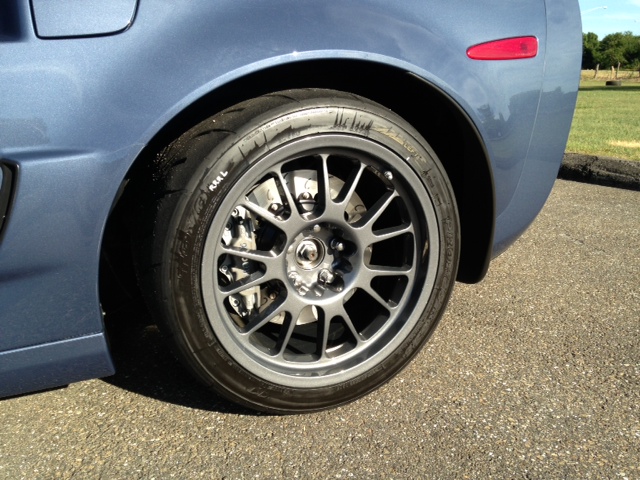 Share:
---
« Back to Listing