Swapping Engines for More Horsies!
09.25.2019
The owner of FT-86 Speed Factory recently swapped a 4.0L engine into his 981 Cayman GT4, increasing engine output from 370 hp to 520 hp and redistributing the weight into a more ideal location. The car features our AP Racing by Essex Competition Brake Kit and an array of other premium go-fast upgrades. Jeremy is running our front and rear kits loaded with Ferodo's DS1.11 pads. Watch for this beast at the next Gridlife event near you! Here are the details from the owner:
I bought this car back in 2016 and was my first Porsche, my first real "exotic". I took it to the track a few times, and absolutely fell in love with it as a track car. I ended up racing it a couple times in 2017 with a group called GridLife in Time Attack format. After that the rules changed which removed a stock GT4 from the lowest class and bumped it to the next level. That next level has a lot of higher HP cars in it so the GT4 needed some serious work to be competitive in this class. So it became time to get it built for that class.

The car was dropped off in April of 2018 to Verus Engineering. ( https://www.verus-engineering.com/ ) These guys are mad scientists when it comes to aero and other witchcraft. They took the next 9 months working on an aero package for the car. This involved scanning the entire car and then countless hours designing the kit in CFD, real world testing, and etc. The end result is a complete kit that not only looks stunning but performs. The kit consists of a Front Splitter with Diffuser, Front Canards, Side Splitters, Rear Diffuser, and Rear Wing. Verus-Eric and Verus-Paul can chime in with more details about this package. Top notch work by everyone at Verus on this package. I can't wait to see how others out there use this performance package on their GT4's. If you are serious about running your car and need some more downforce, these are your guys. They have the proof to back it up.

After picking up the car from Verus in January 2019 I then hauled the car down to Florida where BGB Motorsports took over the build by diving into the mechanical bits of the vehicle.

Mod list by BGB.
4.0L X51 Engine
- Competition Cylinder Head CNC Port/Polish + Race Valves
- Upgraded Intake Cams
- 82mm Throttle Body
- Intake Manifold
- BGB Motorsports Spec Pitons, Rods, Crank
- Custom BGB Dyno Tune 98 Octane
BGB Motorsports 4 Point Harness Bar
DSC Sport V3 Controller + Custom Tuning
Tarett Engineering Swift Spring Upgrade
OEM Taller Heat Exchange
Aasco Motorsports Lightweight Flywheel + Clutch Kit
Transmission 3/4/5 Short Ratio Gear Set
Guard Transmission Limited Slip
Guard Transmission 981 Oil Sump Upgrade
Wheel Stud Conversion
Tarett Engineering GT3 Monoball Front and Rear
Tarett Engineering Solid Adjustable Thrust Arm Bushings
Tarett Engineering Motorsports Rear Toe Links
Corner Balance + Alignment
AP Essex Radi-Cal Competition Brake Kit - Front and Rear
(OLD Mod used on new build) - Fabspeed Catted Headers and Valved Exhaust

The guys at BGB are absolutely great to work with. Easy to communicate with and they provide real world knowledge on set up for the car. After sales support has been great as well with feedback and suggestions. Anyone looking to mod their GT4 should definitely give BGB a shout and see what they can do for their race set-up.

After getting the car back home, we added some finishing touches. The wheel and tire package was changed from 20inch TE37's over to Titan7's in 19" format to get some better front tire size options, ending up with 255/35/19 and 285/35/19 RE71-R's which rear 285s being the class limiting factor at 200TW. Sparco seat installed with harness. Then RaceDevelopementCenter GT4RS Style Carbon Fenders were added to give a bit more flare to the car.

Last week was the cars first outing after all of this. Mid-Ohio was the test bed for the car's first outing. Weather was decent and the field this year for SM Time Attack was stacked. Some nice higher HP cars punching holes down the straightaways, and sorted cars with great drivers behind the wheel filling the field. The car did great beating my personal goal of getting into the 1:35s, just touching into the the 1:34s. The times were tight with 4 of us in the top 5 being in the 1:34s for the class and Josh in a Z06 running away with the class win at a 1:31.4. This year is going to be a ton of fun!

One issue I need to sort out yet is the understeer and lack of camber. Going to work on those couple things over the next 30-45 days or so with some camber plates and ride height adjustments. Going to swap headers for a race set up, and hope to get a few more reliable ponies out of it. Number 1 goal is to maintain the reliability of the car!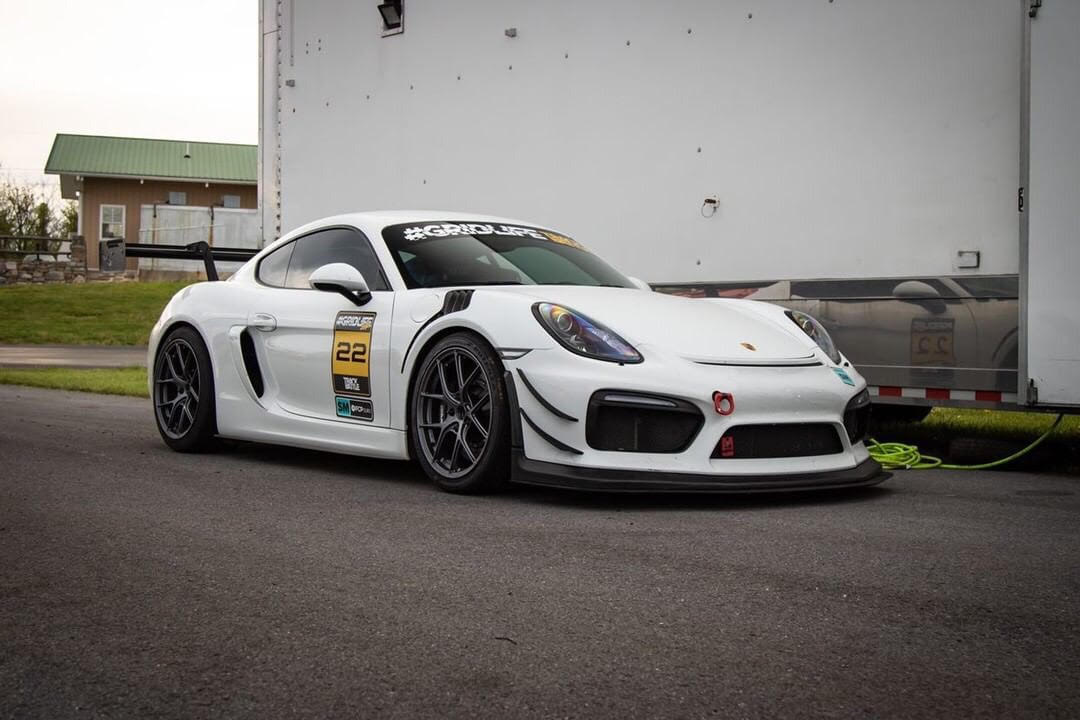 Share:
---
« Back to Listing