FT86 299mm vs. 325mm AP Racing by Essex Brake Kit Comparison
02.09.2022
Over the past decade, many of our 86 customers (BRZ, FR-S, GT86, GR86) have told us they a hard time deciding between our 299mm (Sprint) and 325mm (Endurance) AP Racing by Essex Competition Brake Kits. They aren't sure what the exact differences are between the two kits, and which one would be the better fit for their car and driving needs. We've put together this handy guide to help you make the correct choice.
It's All in the Discs

The primary difference between these two systems is the discs. The larger system uses a 325x32mm, 70 vane, fully floating 2-piece disc, while the smaller system uses a 299x32mm, 60 vane, bolted (non-floating) 2-piece disc. That means that the larger 325mm has greater heat capacity. It has more mass to store heat, and the floating mechanism allows it to take more abuse without deforming. The added size of the 325mm does come with a weight penalty of about 5 lbs. per disc however. That said, even our larger 325mm systems weighs a considerable 10 lbs. less than the OEM front brake system.
The fundamental choice between our 299mm and 325mm systems comes down to how much heat capacity 'headroom' you want in your brake system. For anything close to a stock-powered car, the smaller 299mm (Sprint) system will get the job done nine times out of ten. We've had numerous 86 win racing championships on our 299mm Kit and they've also been used all over the world with engine swaps, forced induction, etc. Our 299mm Kit has been one of the most popular brake kits we've ever sold, and our Essex Blog is littered with owner reviews of that system. You should consider the larger 325mm system if you plan to run big horsepower, want to fiddle with your brakes as little as humanly possible, and if you don't mind the additional 4 lbs. of unsprung weight on each side.
The pics below show our 299mm and 325mm iron disc rings side-by-side. A few notes:
The 325mm discs have 70 internal vanes vs. 60 on the 299mm.
The swept area of the 325mm discs is taller (radial depth), meaning that it accommodate a slightly taller brake pad than the 299mm disc (50mm tall pad vs. 43mm tall). A larger pad can absorb more heat and spread that heat over a larger area, meaning that the pads will last longer. The larger discs will also run cooler and last longer, as they spread the heat over a larger area.
The outer disc walls are slightly thicker on the 325mm discs
You can see that the holes to mount the 299mm iron ring are round, whereas those on the 325mm are oblong. The oblong holes allow a bobbin to 'float' as the disc heats and grows.
The J Hook pattern on the 325mm is what we call our GC pattern, which creates more leading edges for the pads to bite into vs. the GA slot pattern on the 299mm.
The 325mm discs have ten attachment points vs. eight on the 299mm disc, making them a bit more stout.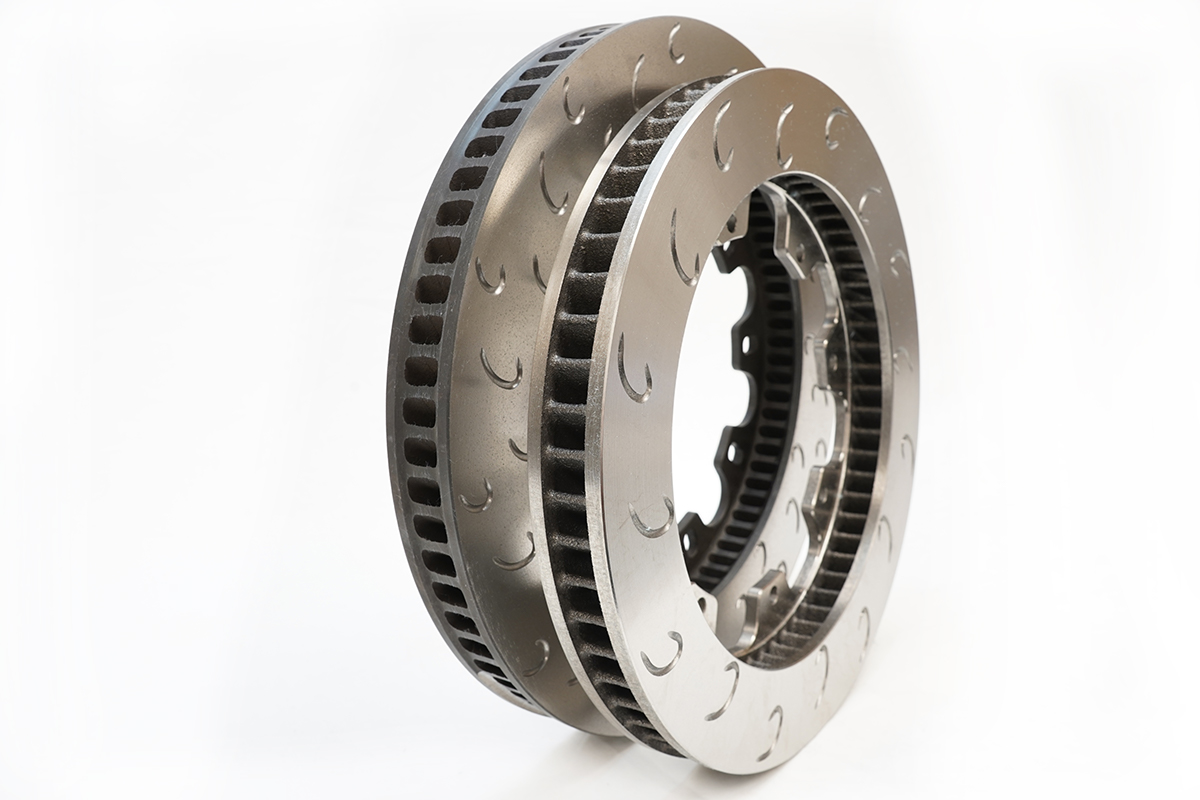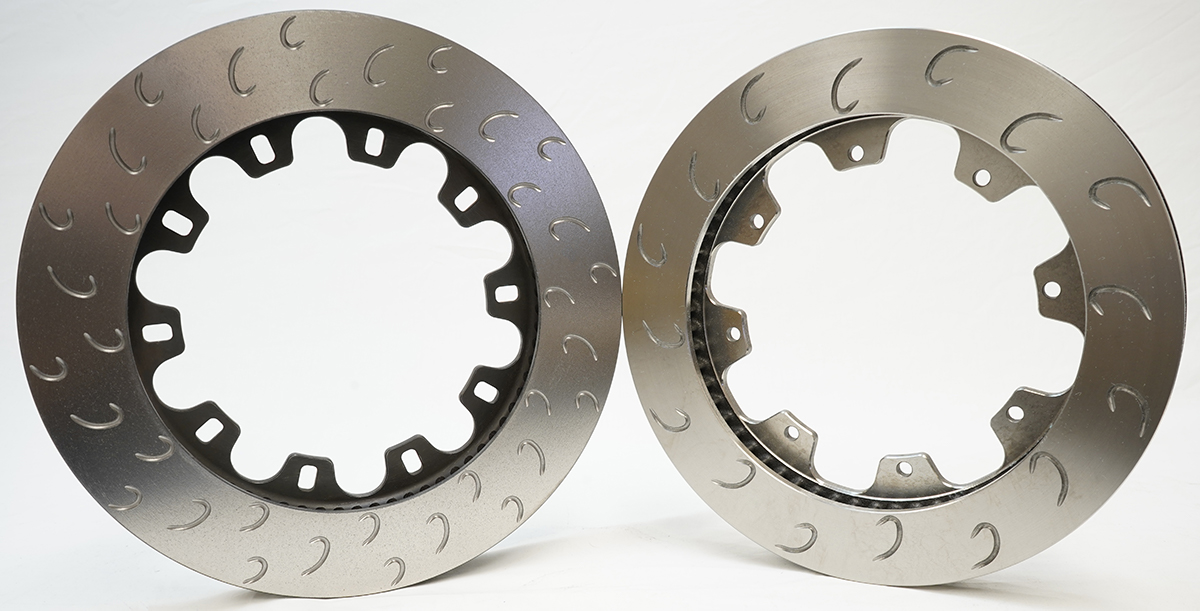 Do it Once, Do it Right
The calipers, adapter brackets, brake pads, and brake lines are very similar between our 299mm and 325mm Kits. Please note however, that the components are not identical and cannot be swapped between the 299mm and 325mm kits. In other words, you cannot buy the 299mm system now, and then later add the other components to turn your 299mm Kit into a 325mm Kit. If you wanted to move up to the 325mm system at a later date, you would need to sell your 299mm Kit and purchase the complete 325mm Kit. That means it is important to choose the kit that best fits your needs the first time, and that's what this guide is intended to help you do.
Below are some considerations when deciding between these two systems:
The 299mm Sprint Kit shaves about 20 lbs. unsprung weight vs. stock, whereas the 325mm Endurance Kit still shaves about 10 lbs. vs. stock.
They both use the same basic caliper body and pad shape, and both have street and track pad compounds readily available in many flavors.
The pads in the 325mm kit are a slightly taller variant of the same basic shape, which adds some volume and heat capacity vs. the pad used in the 299mm Kit.
The 299mm Kit will offer slightly better wheel barrel clearance for smaller diameter wheels
The 325mm Kit has floating discs, whereas the discs on the 299mm Kit are non-floating. Floating discs distort less under extreme heat conditions.
Spare discs are less expensive with the 299mm system, but you'll likely have to change them more frequently than you will with the 325mm kit.
Our 299mm Kit is likely your best choice if:
You are using the car to compete in autoX, Time Trials, or wheel-to-wheel racing and every tenth of a second is important to you.
You are a weight reduction junkie and want the absolute lightest weight brake solution possible that will still get the job done
You want to use the absolute smallest, lightest wheels and tires possible
You have no plans to add big power to your car via forced induction, engine swap, etc.
Our 325mm is likely your best choice if:
You are endurance racing and want the stoutest brake system available.
You use your car more for fun than competition (HPDE), and you place a greater value on not having to fiddle with your brakes than you do saving every hundredth of a second.
You want to change your pads, discs, and bleed your brakes as infrequently as possible.
You think you might someday add significant horsepower via forced induction or an engine swap, plus race tires, plus aero to your car, and you drive tracks that are notoriously hard on brakes (Watkins Glen, Road America, Sebring, COTA).
You like the look of a slightly larger brake package behind your wheels
At the end of the day, they're both fantastic options, and they both still weigh far less than stock. There are many upsides to both vs. the OEM brakes, and no downsides, so you can't really go wrong with either. Below is a comparison grid of the differences between these two systems.
Technical Comparison


$2,299.00

$2,899.00

Front system total weight savings vs. OEM= 20 lbs.

Front system total weight savings vs. OEM= 10 lbs.

Weight savings per front corner vs. OEM= 10 lbs.

Weight savings per front corner vs. OEM= 5 lbs.






AP Racing CP3862-104/5GA


AP Racing CP3870-138/139GC


299mm x 32mm

325mm x 32mm

60 Directional Vanes

70 Directional Vanes

J Hook Slot Pattern

J Hook Slot Pattern

2-piece fixed mounted


Fully floating


Crack-resistant metallurgy

Crack-resistant metallurgy

Approximate weight with hat= 12.0 lbs.

Approximate weight with hat= 15.9 lbs.

Spare Disc Price= $193 per iron replacement disc

Spare Disc Price= $329 per iron replacement disc

Brake pad thickness= 20mm

Brake pad thickness= 20mm


Brake pad maximum radial depth 43mm

Brake pad maximum radial depth 50mm







299mm Kit inside OEM 17" 2022 BRZ wheel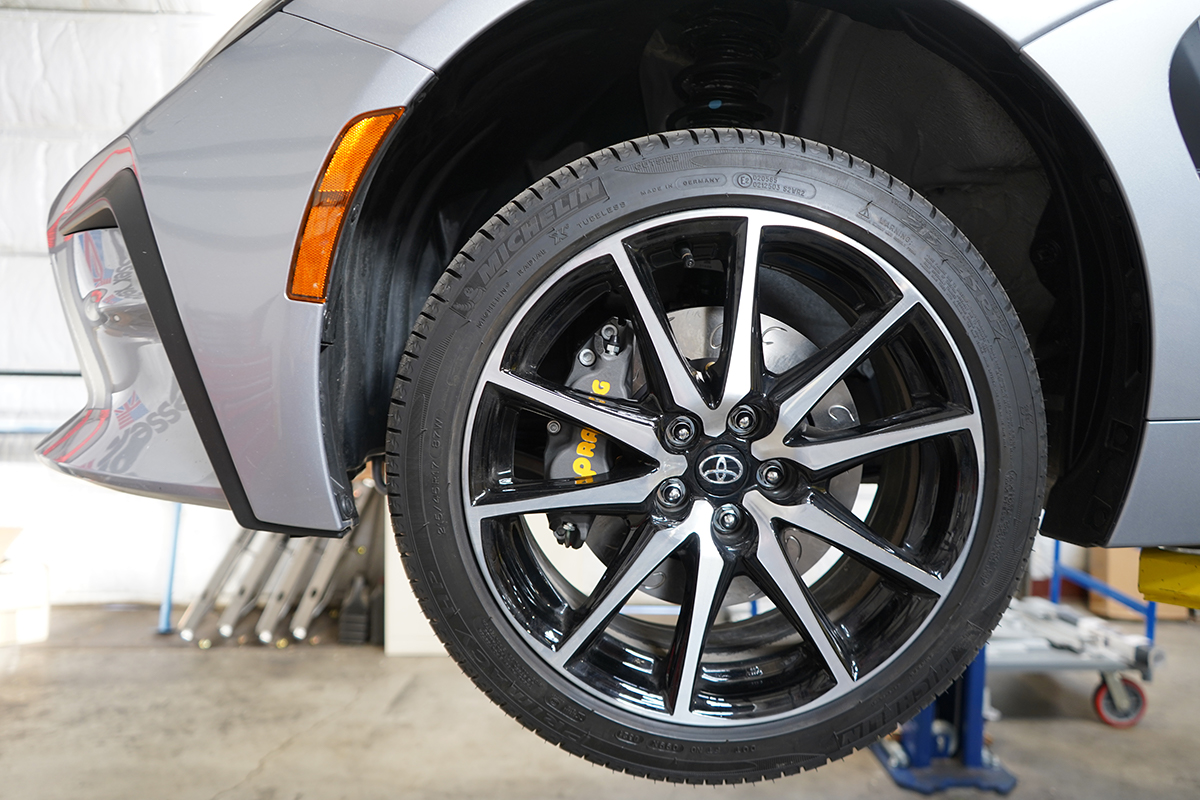 325mm Kit inside OEM 18" 2022 GR86 wheel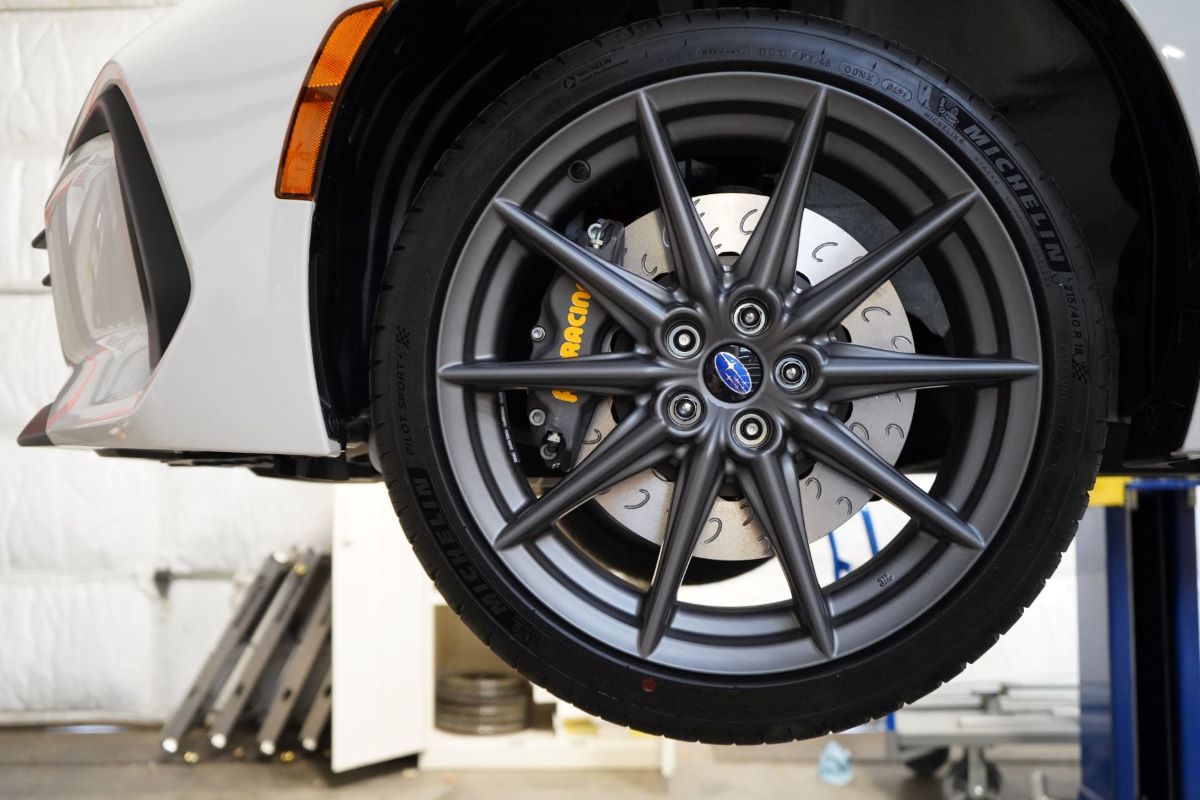 Share:
---
« Back to Listing