New Product: AP Racing Radi-CAL Brakes for the Toyota GR Corolla
04.18.2023
Click here for our full menu of brake products for the 2023 Toyota GR Corolla.
Judging by the popular response to the GR Corolla, it's clear many enthusiasts are fired up about the return of a turbocharged AWD hatchback with a proper manual gearbox. These cars have become exceedingly rare since the demise of the Ford Focus RS and the WRX hatchback. Due to various factors at play in today's market, the GR Corolla is also a limited-production offering, with only 8,000 cars being offered worldwide in the first model year. While the lion's share of that will be for the US market (6600 units), we don't expect to see these on every corner. So, we were excited and incredibly thankful that a local client offered us a few days to examine what's become a very exclusive car.
Front Brake Kit Options (click kit below for more info)
System Benefits
Increase disc diameter to 372mm and thickness to 34mm without increasing weight over the considerably smaller stock system (356x28mm)
Fit inside lightweight 18" track wheels despite substantial size increase (CP9661 systems fit inside OEM 18" Core Wheels without a spacer)
Front kits integrate seamlessly with OEM rear brakes
Disc metallurgy specifically designed to handle the temps typically seen on track offer a long service life
Simple pad change with two bolts vs. the OEM spring clip that is retained by multiple pins which are tedious to align and secure
6-Piston AP Racing Radi-CAL calipers are the stiffest, lightest, and most technologically advanced calipers available at any price
Commonly available brake pad shapes with either 18mm thick (CP9661 caliper) or 25mm (1 inch) thick pads in the wider CP9669
Ventilated, domed back, stainless steel pistons keep heat out of the brake fluid and provide an ultra-firm pedal
Mitigation of pad knockback via anti-knockback springs behind the caliper pistons
Anodized or ENP (Electroless Nickel Plated) caliper finishes that are resistant to wear and deterioration at elevated temperatures
Stainless steel caliper hardware for a long caliper service life under frequent pad change conditions
High temperature, low drag seals that will hold up to track temps= less rebuilding and longer service life
No dust boots to burn up
Lifetime professional caliper rebuilding support by Essex (at a fee)- pull off your calipers, send them to us, we clean, inspect, and rebuild them
Available disc burnishing service ensures that your kit arrives ready to be installed and driven hard immediately
Championship winning, 72 vane, fully floating, AP Racing J Hook racing discs with 12 attachment points to hat
Anti-knockback/anti-rattle disc attachment hardware
Highest quality, Spiegler stainless steel brake lines with clear sheath that reduces compliance over OEM rubber design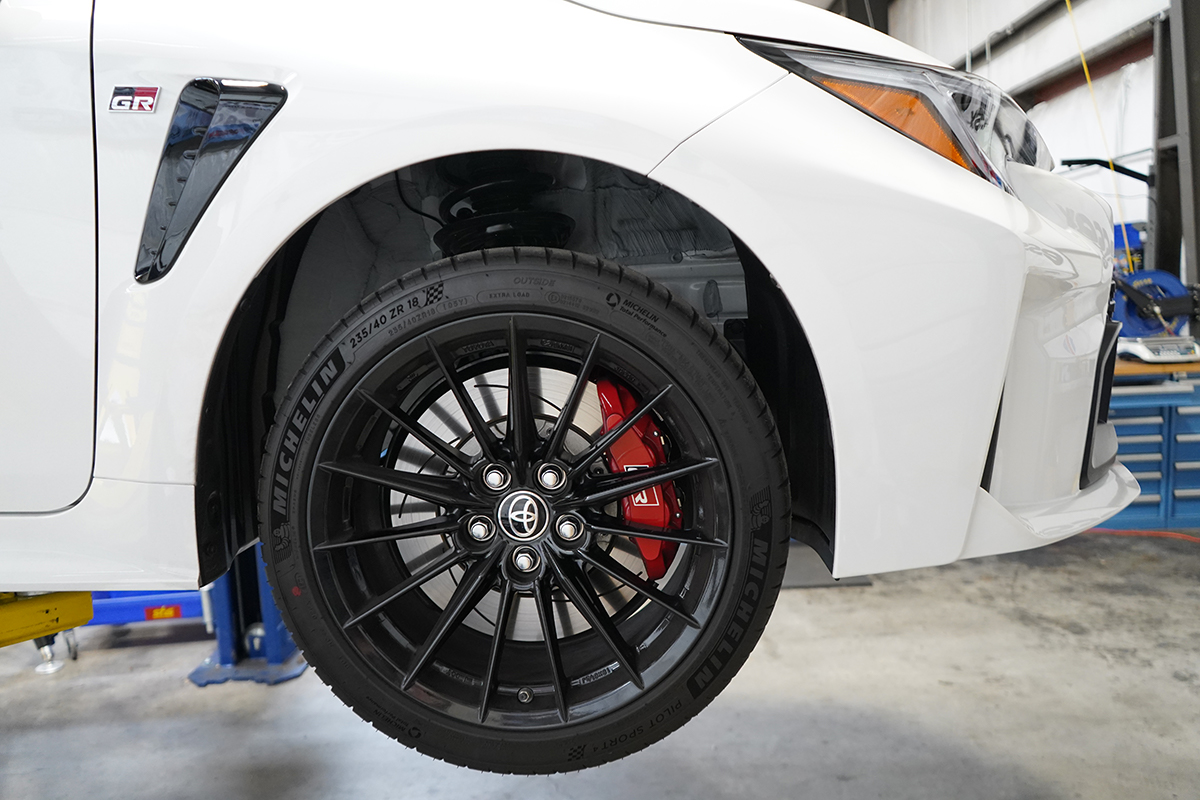 The GR Corolla's are provided by OE suppliers ADVICS and Akebono. As with most Toyotas, the system is certainly suitable for pure street driving applications. However, during the initial track tests at launch, some media reviewers noted vibration after prolonged lapping, which suggests (unsurprisingly) that the factory equipment is not up to the task of sustained use on the circuit.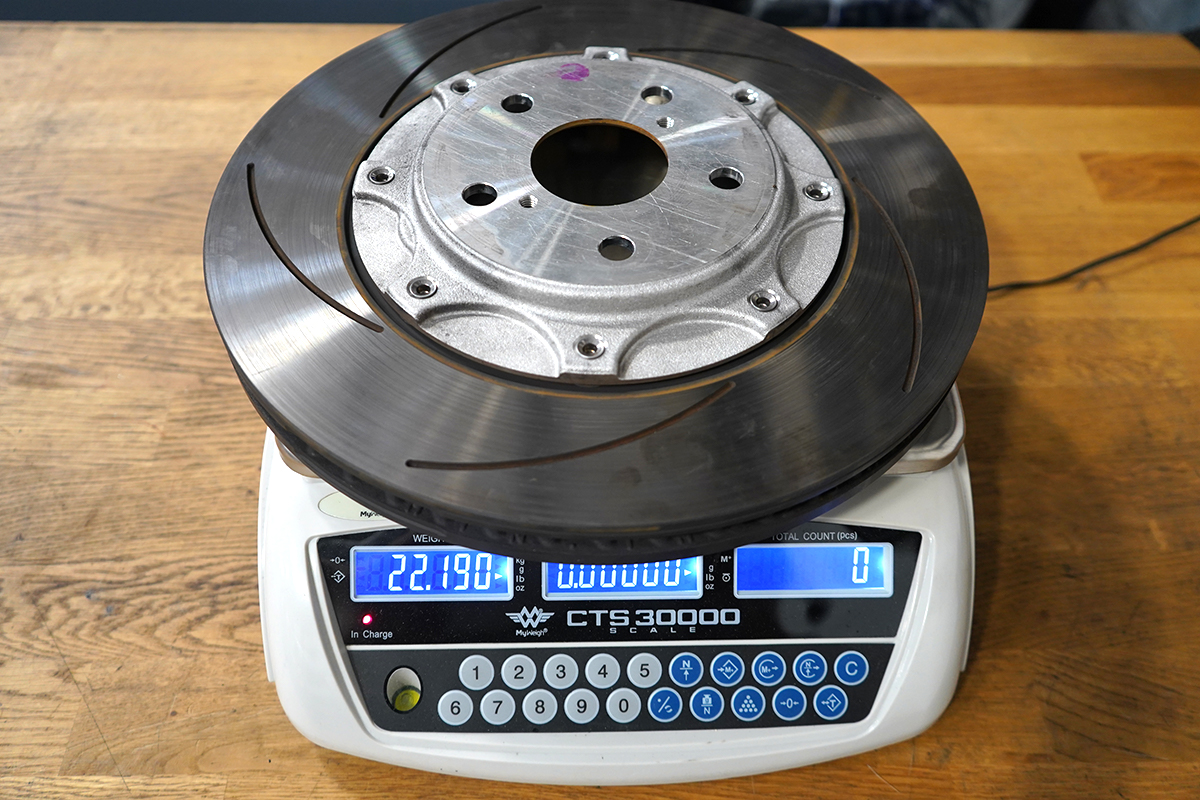 The OEM discs measure 356x28mm and weigh in at just over 22 lbs. Believe it or not, our 372x34mm AP Racing by Essex 2-Piece J Hook Disc weighs approximately the same number, despite being 16mm larger in diameter and 6mm thicker.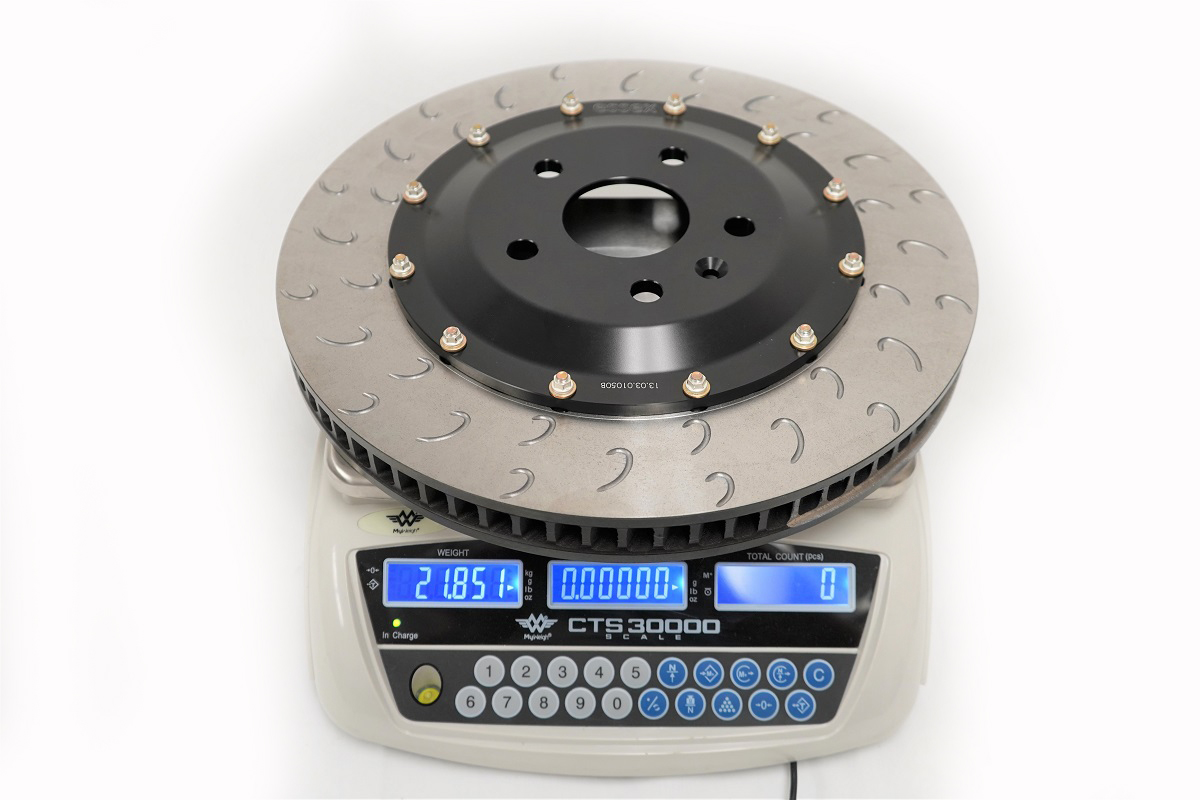 Our larger floating 372mm x 34mm AP Racing J Hook Discs also have 72 vanes (versus 52 vanes on the OEM disc). With more surface area, higher vane count, and 60% larger air gaps, they offer significantly increased flow over stock for better cooling performance and efficiency. While close in terms of numerical weight (5.85 lbs. for OEM / 6.2 lbs. for AP Racing), the calipers have some significant differences. Regardless of which AP Racing caliper you choose with our GR Corolla kits, you'll have a leg up on the fairly conventional OEM 4-piston setup.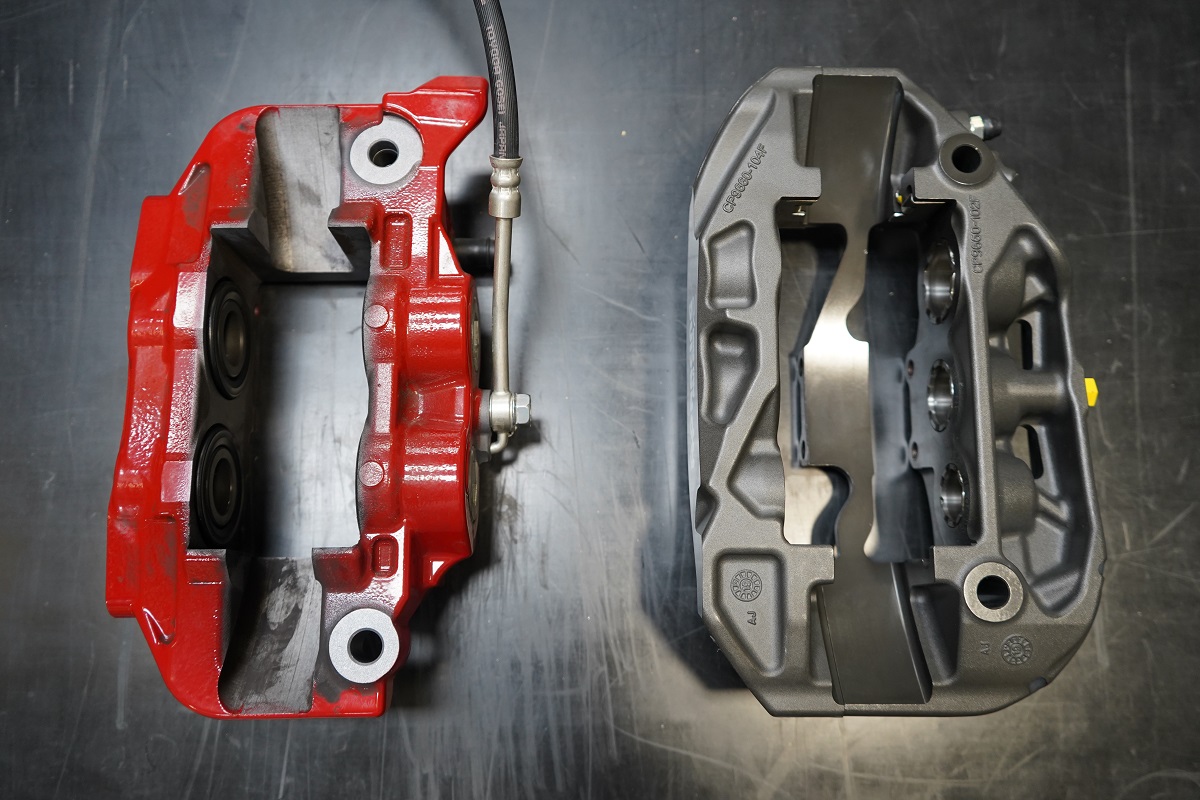 Our race-proven Radi-CAL calipers leverage a staggered array of 6 pistons within a patented asymmetrical forging, specifically designed to mitigate pad taper and maximize rigidity. Speaking of pads, with the factory setup you are limited to 15mm of thickness (not generally conducive to long life on the track), not to mention, a proprietary pad shape (length, width, pattern) with limited compound options. With our Competition Brake Kits, you can chose between pads with either 18mm (CP9661 caliper) or 25mm (CP9669 caliper) thickness, with the other dimensions fitting within a common and proven AP Racing pad shape (available in a wide variety of friction compounds). Of course, we recommend (and offer at a discount) Ferodo Racing pads with our kits, but it never hurts to have options.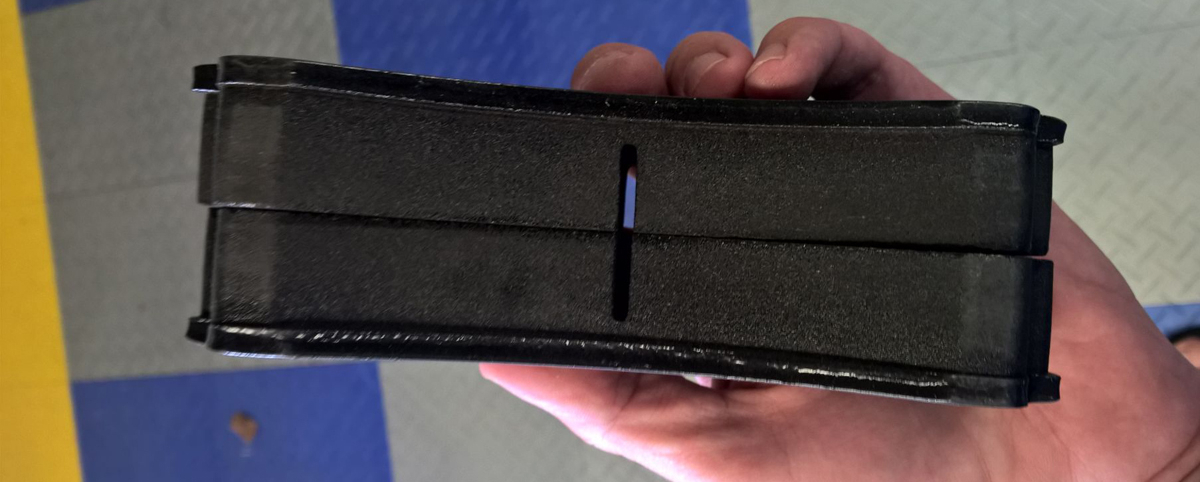 Pictured above - 1 inch thick (25mm) Ferodo Racing FRP3014 brake pads available on the AP Racing by Essex CP9669 Competition Brake Kit.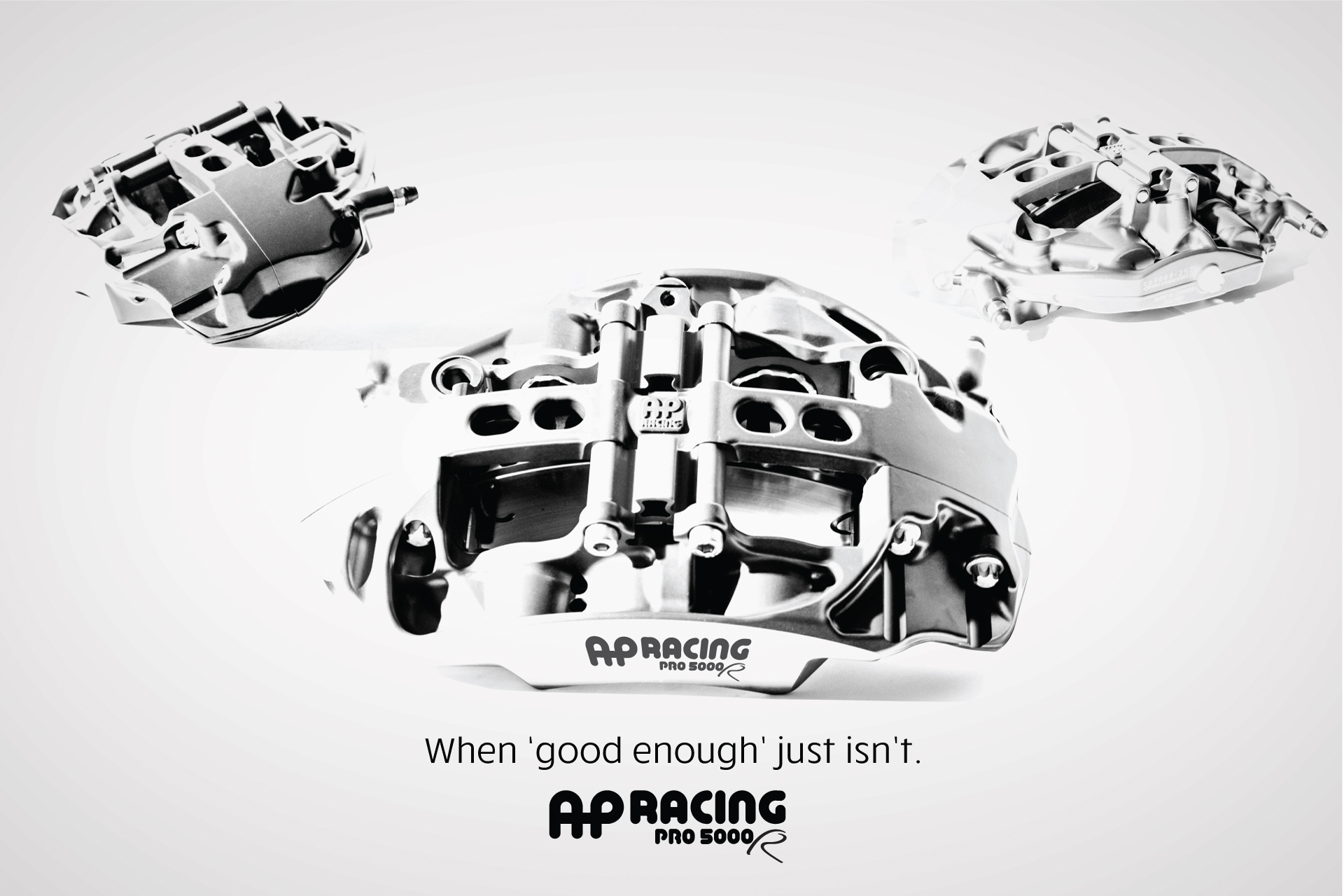 Share:
---
« Back to Listing