AP Racing Radi-CAL Brakes for the 2023 Nissan Z
03.13.2023
Our full menu of brake products for the 2023 Nissan Z can be found here.
One thing is abundantly clear about the 2023 Nissan Z: It is practically begging for aftermarket upgrades! Initial media reviews of its track performance have noted some key limitations holding it back from the lap times we all expected it to set. With a few choice upgrades (tires, suspension and of course, brakes!), we think it's going to be an extremely potent track platform. Underneath the revised RZ34 bodywork is a stiffer 370Z chassis. The major news is under the hood, with a healthy power bump to 400hp and 350 ft-lbs. of torque, thanks to the VR30 Twin Turbo V6 that it shares with the Infiniti Q50 and Q60. Since Nissan tuners have been exploiting that engine for years, extra power should be just a few key strokes and bolt-ons away.
Due to current supply issues, it was difficult for us to even find one of these to measure. Thankfully, our friends at SOHO Motorsports here in Charlotte, NC were kind enough to let us use their shop development car for prototyping. Though theirs has already been "under the knife" with various modifications, brakes were one area that desperately needed attention.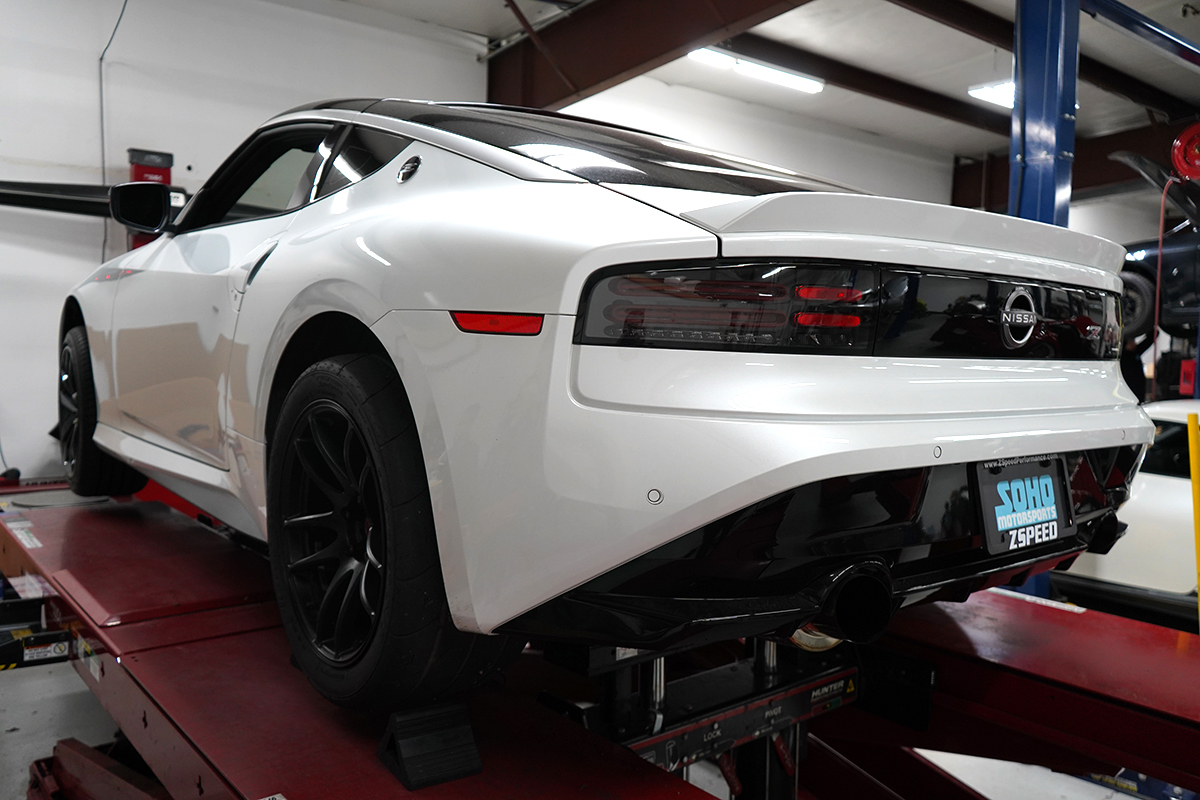 We're now excited to launch our AP Racing by Essex Radi-CAL Competition Brake Kits for the Z. They feature the renowned AP Racing Pro5000R calipers paired with 372x34mm 2-piece floating discs. Proven over many thousands of track miles, races won, and championships, our discs are highly efficient and able to absorb and shed heat far more quickly and effectively than OEM discs, while also weighing considerably less and lasting much longer.
front BRAKE KITS
What are the AP Racing by Essex Advantages?
Shaves approximately 25 unsprung lbs. from nose of the car vs. OEM brakes, despite being considerably larger. Kits utilize competition-proven AP Racing CP9660 (Anodized or ENP Finish) or CP9668 Radi-CAL Pro5000R calipers (Anodized or ENP Finish)
Even our wider CP9668 caliper package fits behind OEM 19" Rays wheels without a spacer
Also fit behind lightweight 18" track wheels and tires (use our wheel templates to confirm fitment: CP9668 caliper / CP9660 caliper).
Dramatically increase your brake pad options. Radi-CAL calipers use some of the most common pad shapes on the market, and every pad manufacturer makes the shape in nearly all of their compounds
Allow you to move to a 25mm (1 inch) thick pad while still fitting behind the OEM wheels. Our CP9668 caliper features pads that are a full inch thick. No spacer is required behind OEM wheels, and as noted, you'll be able to stuff them behind many 18" wheels (depending on offset and spoke clearance).
372x34mm, 72 vane AP Racing J Hook 2-piece floating discs
Every component designed to resist the heat of extended track sessions
Pistons sized properly to allow for seamless integration with OEM master cylinder and ABS system
Our front kits are designed to work with OEM rear brakes or our AP Racing by Essex Rear Brake Kits
Below are some other specific highlights and comparisons to the OEM brakes on the new 2023 Nissan Z: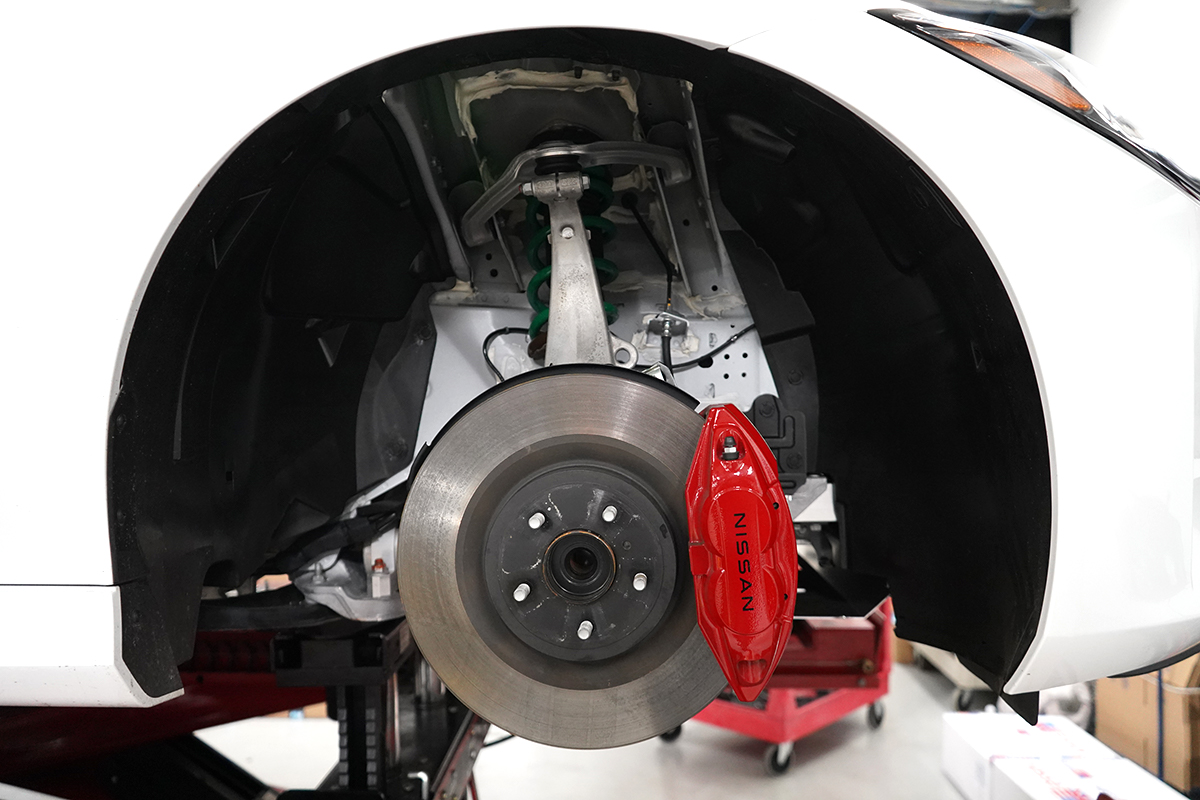 The braking system on the Performance trim of the new Z is very similar to the previous Sport trim of the 370Z. At the front it uses Akebono 4-piston calipers, which provide adequate performance for street use, but are extremely heavy for their size at around 11 lbs. While pads can be removed with the OEM caliper in place, there's an array of small finicky pieces to contend with, including a tiny cotter pin that can be easily dropped and lost.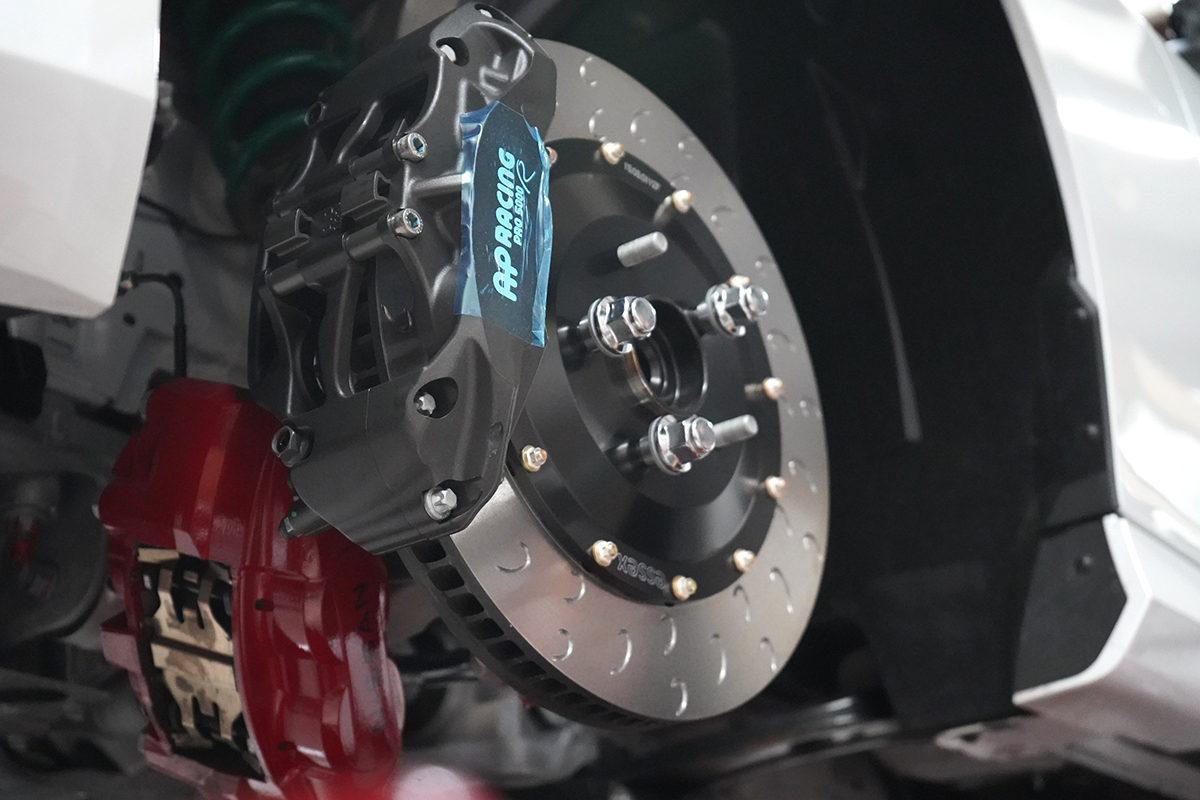 In contrast, our AP Racing Radi-CAL Pro5000R calipers weigh about 1/2 of OEM despite having 2 more pistons and leveraging larger, more durable brake pads. Changing pads is also far less tedious on the AP Racing units, with just two hex bolts to remove versus 4 pins and an OEM spring clip that must be kept under tension during removal and installation.
The OEM discs on the front of the new Z measure 355 x 32mm, and weigh in at a whopping 29.2 lbs.! Thanks to AP Racing's strategic design, we're able add thermal mass via a larger 372mm 2-piece disc that removes 18 lbs. of combined mass from the two front corners. Combined with the weight savings from either of our Pro5000R caliper options, and you shed approximately 25 lbs. from the nose of the car with our Competition Brake Kits!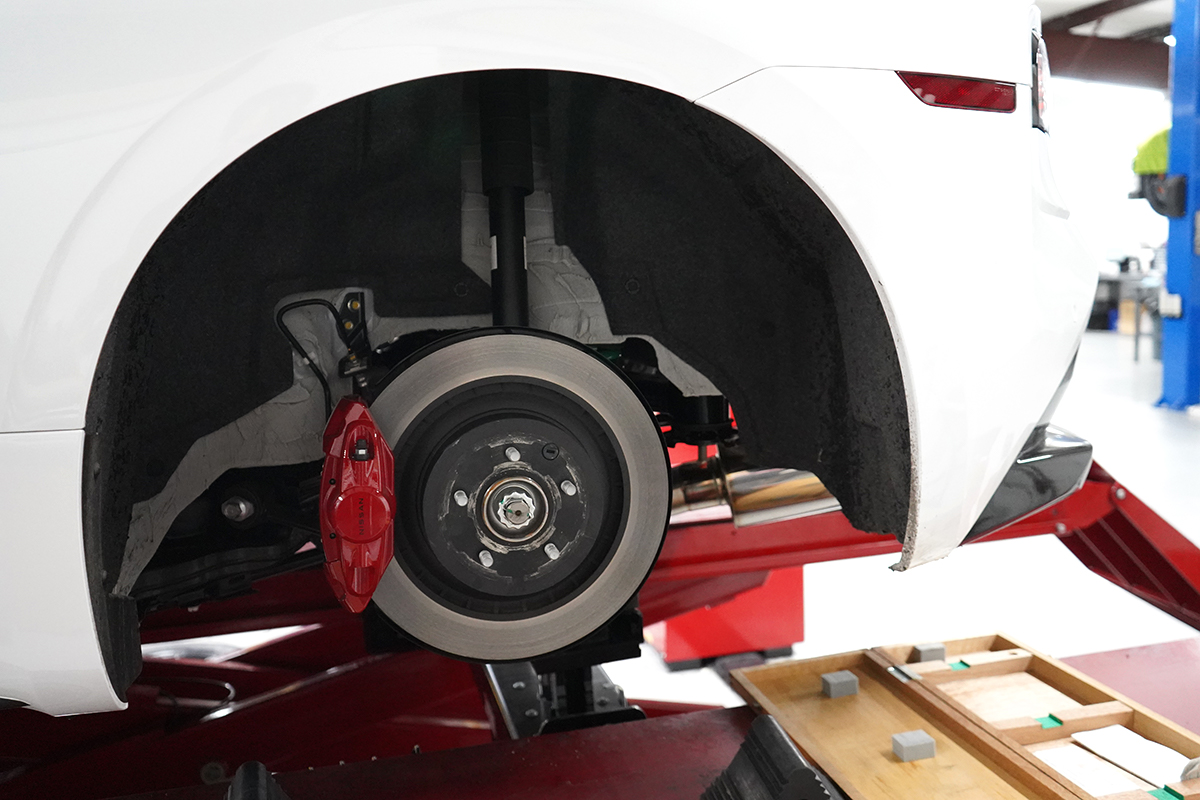 At the rear, Nissan mates 2-piston Akebono calipers that weigh approximately 5.5 lbs. each to discs that measure 350 x 20mm and weigh of 19.4 lbs. each. Despite increasing the diameter by 15mm and thickness by 10mm, our 2-piece 365 x 30mm disc weighs slightly less at 16.8 lbs., while the AP Racing CP9449 4-piston caliper clocks in at a feathery 4.85 lbs. Factoring in bracket weight, you end up with a larger, far more capable rear brake package that weighs roughly the same as the smaller, street-oriented OEM setup. You also get to keep your factory parking brake!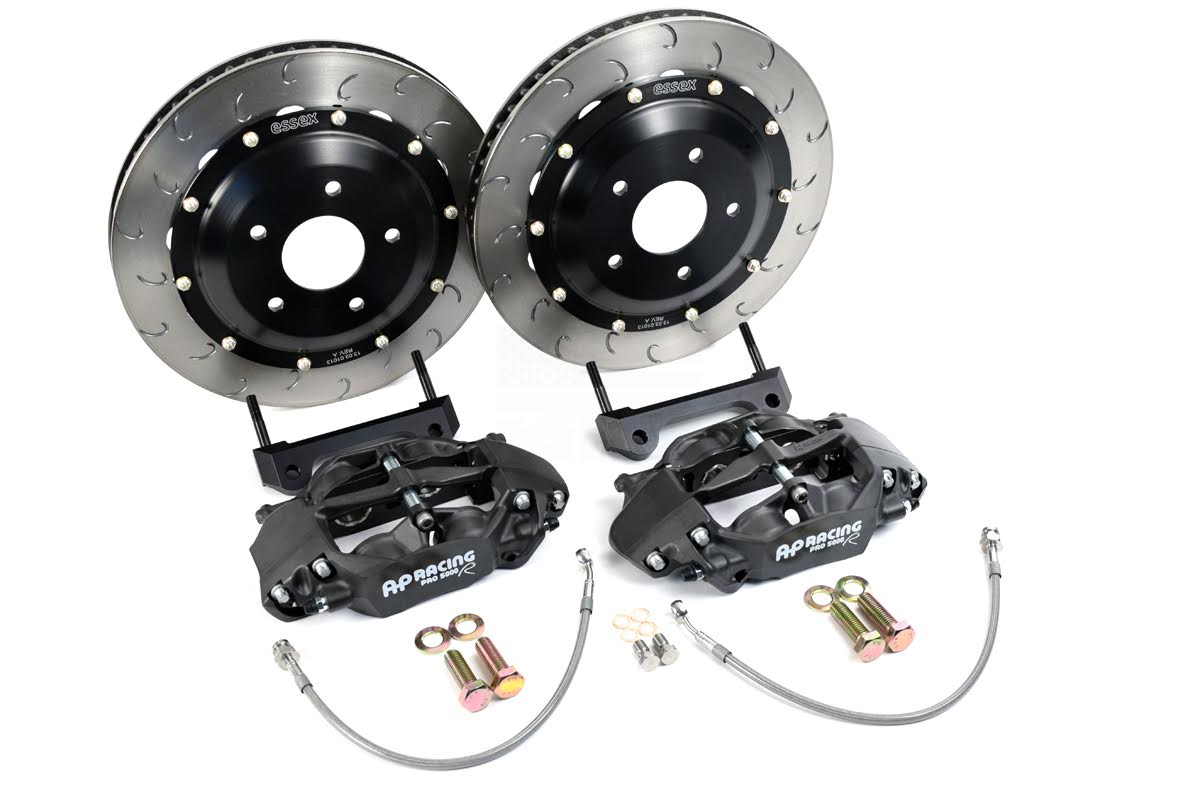 What are the AP Racing by Essex Advantages?
Weighs roughly the same as the OEM Performance trim setup, despite being significantly larger (15mm larger in diameter and 10mm thicker)
Retains OEM parking brake functionality
Features AP Racing CP9451 Radi-CAL four piston calipers
365x30mm, 72 vane AP Racing 2-piece floating discs
Every component designed to resist the heat of extended track sessions
Pistons sized properly to allow for seamless integration with OEM master cylinder and ABS system
Designed to work with our front AP Racing by Essex CP9660 and CP9668 Competition Brake Kits
Major thanks to the crew at SOHO for access to their new Z! Definitely check out their channel on YouTube to follow their journey with this car, as well as the others in their shop. They offer a wide variety of performance upgrades for several Nissan and Infiniti models, including engine building services.
Share:
---
« Back to Listing