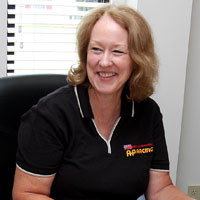 Janice Gordon, Product and Information Management
Janice had no knowledge of the racing industry until she met Ken Gordon 26 years ago, at which point she was instantly thrust into the crew-chief role. Her racing experience escalated quickly as she learned to watch endless hours of racing on TV, fetch gasoline and tires, wash race cars, time laps, curse when the tow truck broke down, and be thankful when the ambulance didn't go out on the track.
Her motorsports involvement inspired her to leave the banking industry for a career in racing at Essex. Her early work involved learning the latest desktop publishing tools, in order to bring Essex's critical catalog work in-house. Janice's duties and skills expanded over the years as she helped push the company towards prosperity, and she has become Essex's information specialist (meaning she can run or destroy anything on Essex's server).
In her time off, Janice plays tennis, and has also been an avid rider and owner of horses.

« Back to Listing