AP Racing Factory Big Brake Kits (Road/Track)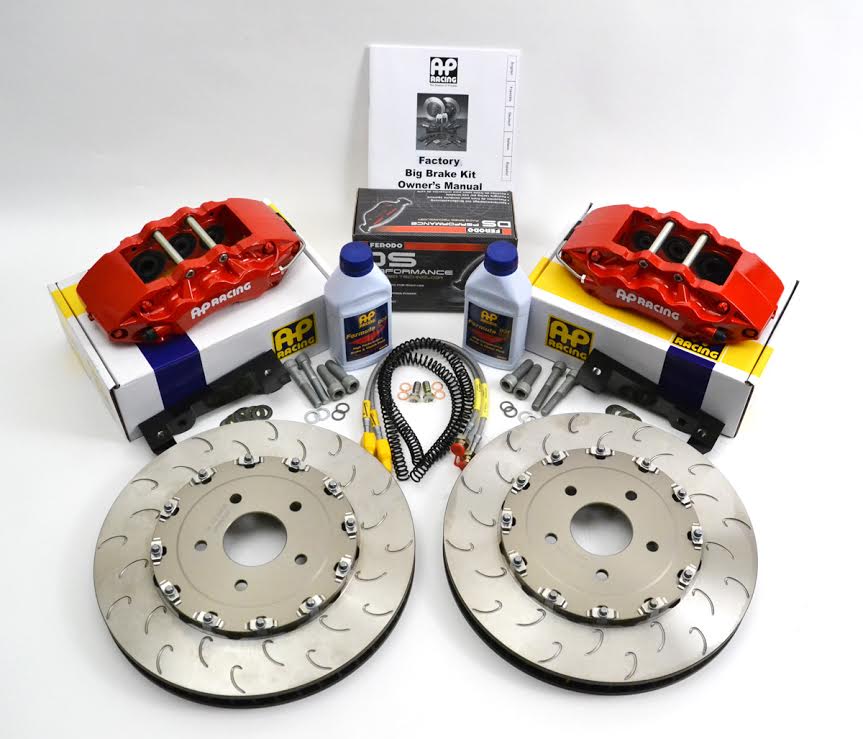 AP Racing's Factory Big Brake kits are the finest systems available for enthusiasts wanting to run their car on both the street and track. These systems are fully designed, manufactured, and assembled by AP Racing in England, and imported to the USA by Essex.
While some of our more hardcore customers favor our more track-focused Essex Designed AP Racing Competition Brake Kits or Radi-CAL BBK's, others are looking for something with more street-friendly features such as dust boots, painted calipers, etc. For these customers, the Factory Kits are the perfect fit. They bridge the gap between daily driving and weekend track thrashing.
The specification of these systems vary by application, but some general features and benefits include:
Carefully chosen piston sizes for proper brake bias and seamless integration with OEM master cylinder & ABS systems
Front-only kits are designed to mate perfectly with stock rear brake components
Larger than stock discs and calipers to improve system thermal capacity and fade resistance under high heat conditions such as track use
Directional brake discs, ranging from 24 to 72 vanes, with floating or fixed aluminum hats depending on application
Lightweight, anodized aluminum disc hats and caliper mounting brackets
Optimized disc width to allow for a wide range of wheel fitment
AP Racing street pads, AP Racing DOT5.1 brake fluid, and Goodridge stainless steel brake lines included with every kit
All associated mounting bolts, hardware, and detailed installation instructions
For a comparison between AP Racing Factory Big Brake Kits, Essex Designed AP Racing Competition Brake Kits and Radi-CAL Kits, please visit our big brake kit overview page.