AP Racing Factory Big Brake Kit Chevy Corvette C5 (1997-2004) Front Black Six Piston
Part #: 13.01.90009
Brand: AP Racing
C5 Corvette front road/track brake system, fully designed & built by AP Racing in England. Requires 18" wheels.
Fits all C5 trim levels (base, Z51, Z06)
Weighs less than the OEM front brakes, despite being considerably larger
Integrates seamlessly with OEM rear brakes
Includes front Goodridge Stainless Steel Brake Lines
Includes Front Ferodo DS Performance high performance road brake pads
Includes two bottles of AP Racing DOT 5.1 brake fluid
All associated brackets, hardware, detailed instructions, etc.
Show All vehicles this product fits
Application: Road & Track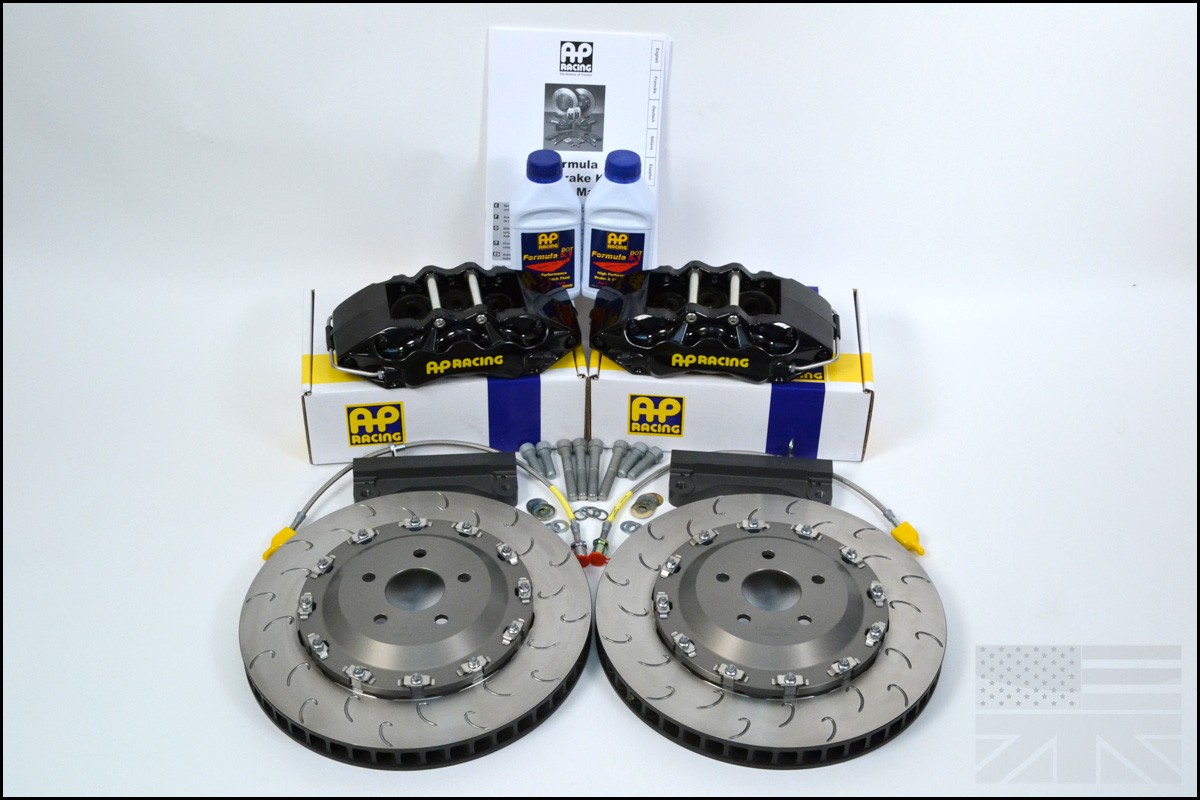 AP Racing Factory Big Brake Kits are fully designed and built by AP Racing in England, and imported to North America by Essex. These kits are designed for those who interested in driving their car on both the street and the track. They will provide a giant step forward in terms of performance, all while looking amazing behind the wheels. The fronts feature a newly designed AP Racing six piston caliper, mated to a huge 362mm (approximately 14.25" inches) x 32mm AP Racing J Hook disc. The disc is about as large as you can possibly cram into an 18" wheel, and the 18" OEM C6 Z06 front wheel will fit without a spacer.
This AP Racing system contains the following components:
AP Racing CP9040 Brake Calipers
Caliper Specifications

Part #

CP9040

Weight

7.6 lbs.

Caliper Material

Forged Aluminum

Caliper Environment

Road/Track

Finish

Red or black paint

# of Pistons

Six

Piston Type

Aluminum, differential bore

Piston Sizes (mm)




Dust Boots

Yes

High Temperature Seals

Yes

Anti-knockback Springs

No

Pad Shape

CP7040D54

Pad Thickness

16.75mm

Pad Area

68.35cm2

Pad Radial Depth

54mm
The CP9040 is a newly designed forged six piston unit, with a beautiful painted finish (available in red or black). These calipers are incredibly stiff and incorporate AP's latest design elements, with cutaway pistons and a very svelte 7.4 lbs. body weight (that's about a pound less than many competing six pistons on the market). These calipers also feature dust boots to resist road debris, so you don't lose any of the OEM caliper functionality.
Our brake system follows a simple philosophy: Anything larger than necessary to get the job done is simply dead weight to drag around. One of the major problems with many of the brake packages currently on the market is wheel fitment. You're offered gigantic discs and 12 piston calipers, with a pat on the back and a, "Good luck finding wheels to clear those things (insert sinister chuckle here)." The reality is that many weekend track warriors want to use their OEM size wheels on the track, or the smallest, lightest wheel they can find. Not only is saving unsprung weight critical, R compound tires are much more plentiful and cheaper for smaller wheels. If the components are designed properly with heavy use in mind, you don't need to cram boat anchors under your wheels. Our brake system clears the front OEM C6 Z06 wheel.
CP9040 weight vs. C5:
CP9040 six piston caliper and bracket= 10.0 lbs.
OEM C5= 10.1 lbs.
Despite being considerably larger with greater pad volume than the OEM calipers, there is no weight penalty when running the AP Racing CP9040!
The pads used in this system are much larger than C5 pads, and deal with heat through their significantly larger size. Two simple hex bolts are all that stand in the way of a pad change, rather than removing the OEM calipers.
The pad shape used in the CP9040 caliper is very common, and below are some of the compounds we sell from various manufacturers in this shape. There are many other pad compounds available on the market from other manufacturers as well.
FERODO
FRP3084H DS2500
FRP3084R DS3000
FRP3084W DS1.11
FRP3084Z DSUNO
CL BRAKES
CL 5043 RC5+
CL 5043 RC6
CL 5043RC6E
HAWK
HB586.660Z Performance Ceramic
HB586.660U DTC-70
HB586.660S HT-10
ENDLESS
RCP 098 = shape
The full range of Endless compounds is available in this pad shape
AP Racing J Hook Brake Discs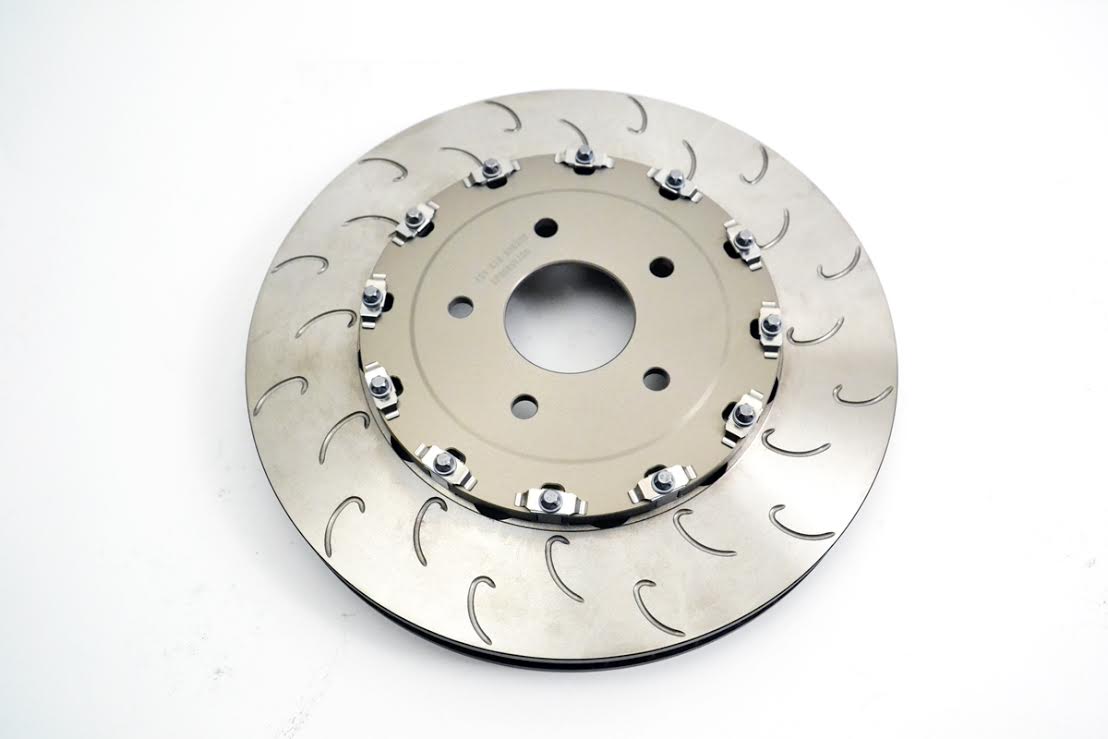 The AP Racing J Hook discs are a massive 362mm x 32mm and feature 48 curved directional vanes. They have a tremendous amount of thermal mass and do a great job of filling up large wheels. While looking good was a priority, we also wanted these discs to provide as many benefits on track as possible, so they are fully floating with anti-rattle spring clips. That means they won't make any noise on the street. They also have AP Racing's patented J Hook design, which promotes even heat distribution throughout the disc.
The aluminum disc hats have a natural anodized finish, and the complete disc assembly weighs in at only 20.6 lbs. Despite being considerably larger than both the OEM C5 discs, the AP Racing disc weighs substantially less.
Weight vs. OEM C5 Discs:
C5 OEM-style disc= 21.8 lbs.
AP Racing CP 362x32mm 48 vane J Hook= 20.6 lbs.
Weight savings on AP Racing disc vs. OEM-style base 325x32mm C5 disc= 1.2lb
Summary and Conclusion
Based on everything we've learned during development, we believe our system offers our customers the following advantages over the OEM brake systems:
Despite having considerably larger and more durable pads and discs, no weight penalty vs. the OEM C5 components.
Calipers use a commonly availble brake pad shape, in a single piece design (no padlets). These pads are large/thick enough to handle typical lapping/race sessions.
Simple pad change with two bolts, and no caliper removal
Lifetime professional caliper rebuilding support by Essex (at a fee)- pull off your calipers, send them to us, we clean, inspect, and rebuild them
Fully floating, AP Racing J Hook discs with 12 attachment points to hat, and anti-rattle disc attachment hardware
Disc metallurgy specifically designed to handle the temps typically seen on track offer a long service life
AP Racing brake fluid, Goodridge stainless steel brake lines, and Ferodo DS Performance road pads included for a complete solution
Track purists, please don't despair! If you are focused primarily on track use, our Essex Designed AP Racing Competition Brake Systems are the ticket. They are designed with everything a track junkie could wish for in a brake system, and achieve their goal of going faster through efficiency: Small, light, and with extremely low running costs. If you are the guy who has rubber continually plastered on your car, or if you view rock chips as a badge of honor rather than a problem, the Competition Systems are for you.