18x9" ET30 APEX ARC-8 BMW Wheel
Part #: 27.01.189ET30
Brand: APEX
18x9" ET30 APEX ARC-8 wheel

Show All vehicles this product fits
Application: Road & Track


Arc 8 Design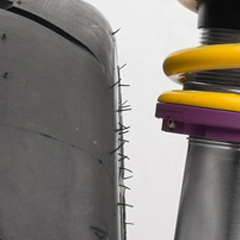 Fit Matters- The right solution for every application
An optimized car setup begins with the perfect wheel and tire fitment. Without model-specific attention to each wheels specifications, maximum
performance is compromised. Each size was selected to find the right balance between a clean fit and the most grip possible. The ARC-8's wide range of widths, diameters, offsets and face profiles result in unique fitments ranging from 8.5" to 10.5" wide. Each wheel combines these features to meet the different brake caliper, strut, and fender clearance needs of each BMW model. Most vehicle models have options for wheels that range from direct-fit to aggressive for specialty applications. Daily drivers and professional racers don't have the same needs, so why should they be forced to buy the same exact fitment?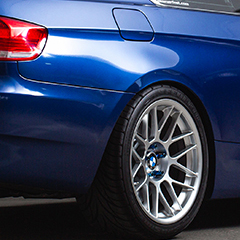 Face profile- One design, many levels of beauty
The spokes of the ARC-8 were designed to be robust where they need to be, and extra lightweight where they should be. In each iteration of our ARC-8 design, the split spokes The ARC-8 wheel is available in two unique face profiles. The shallower face provides increased caliper clearance on narrow applications, while the deeper concave face reduces weight and creates a stunningly aggressive appearance on low offset and wide width applications. These two face profiles are available in all 17", 18" and 19" diameters.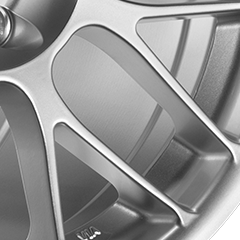 Spokes- More than just a pretty face
The spokes of the ARC-8 were designed to be robust where they need to be and extra lightweight where they can be. The split "Y" spokes were carefully evaluated from every aspect to ensure light weight and remarkable strength. The lack of a deep front lip and spokes that connect directly to the barrel's lip create a rigid wheel with even load distribution. These features help reduce one of the most common concerns with aftermarket wheels — bending. Beauty follows function with this extremely popular design, as it adapts perfectly to both flat and concave versions.
Brake Clearance- Spokes that work for you
If the spokes of a wheel don't clear your brake calipers, then the wheel can't turn. We made sure the spokes on all 18" APEX wheels properly clear all OEM brake calipers, spacer free. Because of the large variation in clearance needs, APEX produced the ARC-8 wheel using two unique face profiles. When the correct profile is used for each specific vehicle application, most Big Brake Kits fit behind our 18" spokes, although a few applications will need a thin spacer due to the added width of aftermarket calipers. The flatter face profile offers maximum caliper clearance for high offset, narrow wheels, and older vehicles with Big Brake Kits. The deeper 18" concave face still has enough room to clear wider aftermarket Big Brake Kits on almost all applications, as we designed the spoke profile to require a thin spacer only in a few rare situations. Contact us to confirm brake clearances for your specific application.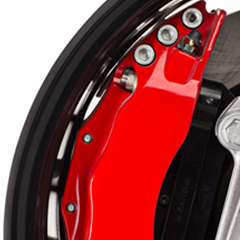 Barrel Clearance- A lot of room in a tight space
Spoke clearance is only half the problem. The barrel opening on a wheel also needs to be large enough to clear the sides of your caliper. Many wheels on the market make aesthetic compromises to their design that have a major negative impact on barrel clearance. Those wheels may work with stock brakes and smaller diameter big brake kits (BBKs), but larger brake kits can pose major clearance problems. Our barrel opens up wider and earlier than most aftermarket wheels. This creates the largest possible inside diameter to accommodate a wide range of BBKs.
Open Hub Center- Form follows function
Race wheels can't just be light, they need to function in a high performance environment. Unlike the narrow lug recesses of most other wheels, the ARC-8 wheel boasts a completely wide-open design that easily fits over-sized race lugs and beefy impact sockets. This allows for quick and easy wheel changes at the track, and as a bonus prevents chips and scratches from tools for those just running these wheels on the street.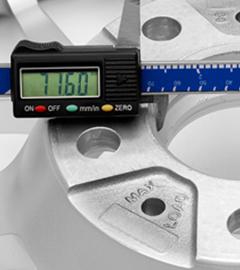 Hub Centric- No rings or adapters here
All ARC-8 wheels are purpose built for select vehicle applications, and centering rings are never required for any BMW application. All 5x120mm bolt pattern wheels feature a direct-fit 72.56mm center bore.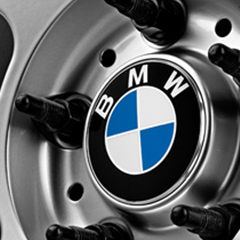 Center Cap- A factory fit and finish
We don't reuse one cap design for all our wheels. Every ARC-8 wheel is designed to work with factory center caps. You can easily replace APEX center caps with OEM roundels for a clean factory look. The ARC-8 wheel will come with either our carbon-look center cap or our redesigned, Gloss Black center cap that mimics the size and shape of a BMW factory center cap.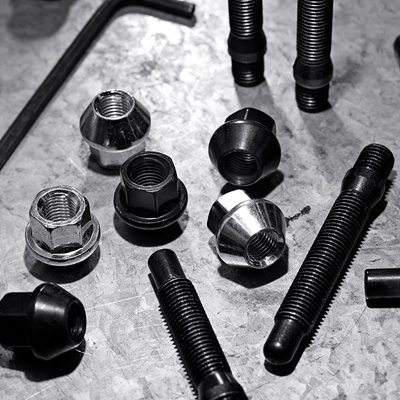 Wheel Hardware- Original or Aftermarket, it all works
Go ahead and take your pick! The ARC-8 wheels can be used with all FR-S/ BRZ/ GT86 OEM and aftermarket mounting hardware with a 60° tapered seat (i.e Muteki, Project Kiks, etc). We've slightly tweaked the design of the lug nut seats to perfectly support the use of OEM hardware without compromising strength or safety.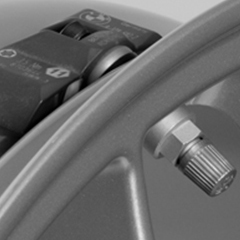 TPMS Sensors- They all fit
TPMS sensors, which monitor tire pressure, are one piece of technology that can't be compromised. The attention to OEM compatibility on the ARC-8 wheel doesn't end with center caps. All APEX wheels accept OEM and aftermarket equivalent BMW TPMS sensors, and any standard sized metal or rubber valve stem.
The APEX Standard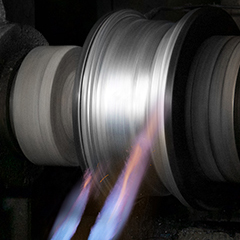 Flow Forming-Benefits of forging, without the pain
These APEX wheels are produced using a manufacturing process known as flow forming. This process significantly reduces weight in the barrel, which has the greatest impact on rotational mass. During the manufacturing process, rollers apply high pressure to the inner barrel, compressing the aluminum into its final shape. This effectively eliminates porosity and aligns the grain structure of the metal, which increases tensile strength. The end result is a lightweight and extremely strong barrel that equals that of a traditional forged wheel at a fraction of the cost.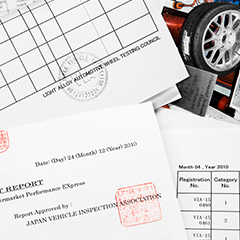 Testing & Certifications- Verifiable 3rd party testing
Many companies promote their wheels as being certified by the VIA when they actually aren't. That's like using the USDA logo on food without permission. APEX wheels get officially tested and registered by the VIA in Japan, and we have the proof to back it up. Learn more about false VIA claims.

Japan's JWL is a commonly followed standard for wheel load ratings. Our flow formed wheels meet, and most exceed, their load rating requirements. Most manufacturers only meet the minimum while some don't even do that. Check and verify load ratings before you buy. Learn more about wheels that aren't JWL.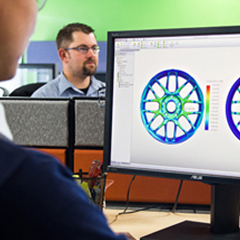 Weight & Strength Optimization- It's all in the details
Various design features were implemented to ensure that the ARC-8 wheel design was as light and durable as possible. We began with a strong one-piece design featuring an open hub center and reliefs in the mounting pad to remove weight between lug holes. The design was then run through Finite Element Analysis (FEA) to further optimize the spoke and barrel design. The result is a light weight wheel with extra strength in all the right places, while keeping weight to a minimum.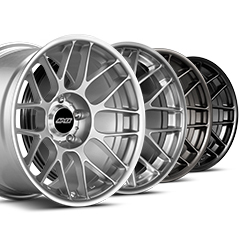 Finishes- Because being faster is just not enough
The ARC-8 wheel is available in multiple finishes, in addition to exclusive finishes available only through select dealers. All APEX wheels are finished using a comprehensive multi-stage liquid paint system over a powder coated base coat. Standard finishes include gloss metallic finishes, and semi-gloss or matte finishes. Hyper finishes include an additional coating of a premium liquid-like metallic silver to create a uniquely bright finish that can only be achieved through misting liquid paint.

Often overlooked, painted or powder coated lug hole seats can cause hardware to loosen or begin the spread of chipping the paint to more visible sections. The ARC-8 wheel's coating process leaves lug holes, center bores and mounting pads unpainted, which ensures proper fit and torque values.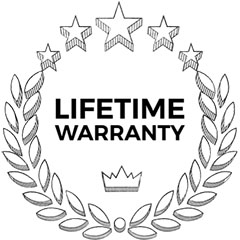 Lifetime Warranty- A wheel you can depend on
As of recent, all our wheels now come with a lifetime structural warranty and 1 year finish warranty, so you can be confident in your purchase. See here for full terms and conditions.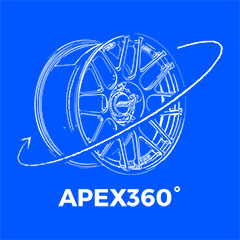 50% Off Replacement Wheels- Hit those berms like you don't care
Do some serious damage to a wheel that's not covered under warranty? No worries. Curb rash or even totally mangling a wheel in a car accident is covered by our APEX360° program. We offer replacements for wrecked wheels at 50% off our standard prices. See our full terms and conditions for more details.
Brand: APEX
Wheel Construction: Flow formed
Model: ARC-8
Wheel Diameter: 18"
Wheel Width: 9"
Wheel offset: ET30
Face profile: Profile 3, Deep concavity
Bolt pattern: 5x120
Center bore: 72.56
Wheel weight: 18.05lbs
Load rating: 1550lbs
VIA regitstration #:VIA-24-0135
Not sure if this is the right wheel for your BMW? Check out these fitment guides:
These wheels clear the following AP Racing by Essex Brake Kits without a spacer:

You must log in to leave a review